SteelSeries Arena 3 Review – The Arena series are SteelSeries' first set of desktop speakers and surely they are not going to be the last. While I'm very happy with their gaming headsets like the SteelSeries Arctis Nova Pro (one of the best wireless gaming headsets out there), there are times when I just want to chill and listen to sound coming from a desktop speaker.
The one I have here to review is their lowest end model, the Arena 3 which is a 2.0 Desktop Gaming Speakers system.
SteelSeries Arena 3 Review – Unboxing and Packaging Contents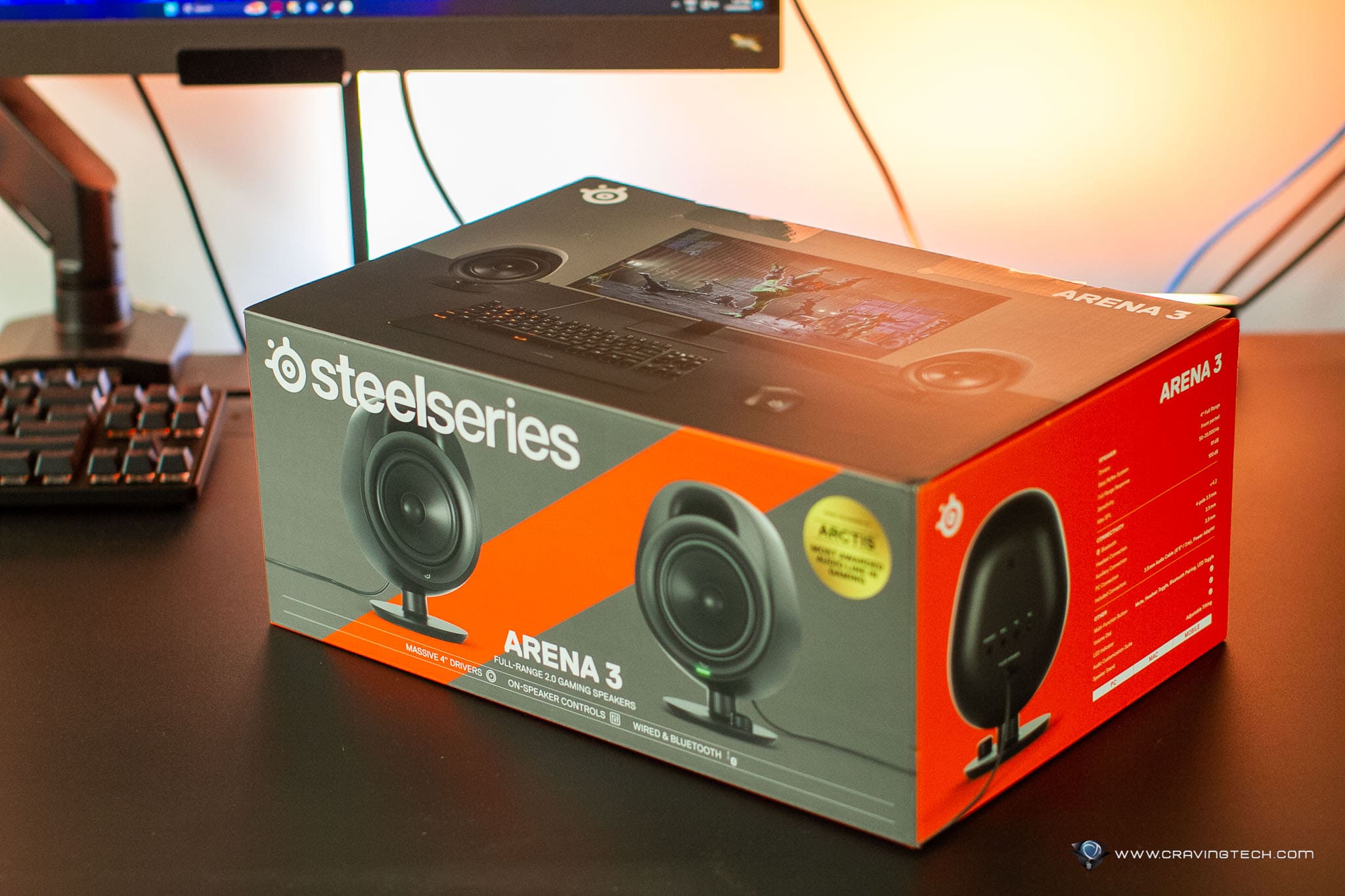 SteelSeries Arena 3 Review – Design and Features
Compared to the standard (and sometimes boring) bookshelf speakers' look, the Arena 3 looks rather unique on the desk. The speakers look like eggs being perfectly cut in half, sitting on a stand. On the Right speaker stand, a volume knob is easily accessible to control volumes (and other functions like mute, switching between audio sources, etc). You can't put anything on top of the speakers (due to their shapes) and yes, they do take some space on the desk.
Each speaker unit houses a massive 4″ drivers and you can really see them front and centre. With the Arena 3, you get just the Left and Right speakers without any Subwoofer.
The lack of Bass is quite obvious even when SteelSeries mentions on the product page that it has a "powerful Bass". You can hear some, sure, but those who crave for more oomph should look at their higher-end models like the Arena 7 that has a dedicated subwoofer.
But if you are looking for a sound upgrade from small desktop speakers or even monitor speakers (like my BenQ EX2780Q gaming monitor), the Arena 3 is a nice, fitting upgrade. The front-firing bass port does help in delivering warm, low frequency sounds.
Turn the volume up and these speakers can easily fill your gaming room. I have the Arena 3 in my Study and I've never found the need to crank the volume high to enjoy these speakers to the fullest.
I've tested the speakers for different activities such as watching movies on Netflix, listening for music, and playing games like Overwatch 2 and Uncharted IV on PC .You can definitely feel the game ambiance clearly through these speakers, but games with many explosions and gunfire suffer a bit from the lack of a subwoofer (unless you don't care much about that deep, low rumble).
If you install the software on the PC, you can further adjust and personalise your sound even further. The sound signature of these speakers out of the box is rather flat but once you do some tweaking through the software, you'll get a much more immersive audio tuned to your personal preference. You can even enable Spatial Audio to get a quite good audio surround experience, even with just these two speakers.
Connectivity wise, the Arena 3 supports a few connections through 3.5mm ports – to your PC, phone, tablet, TV, etc. If you are looking for wireless connectivity (Bluetooth), the speaker does support it as well with Bluetooth 4.2.
SteelSeries Arena 3 Review – Conclusion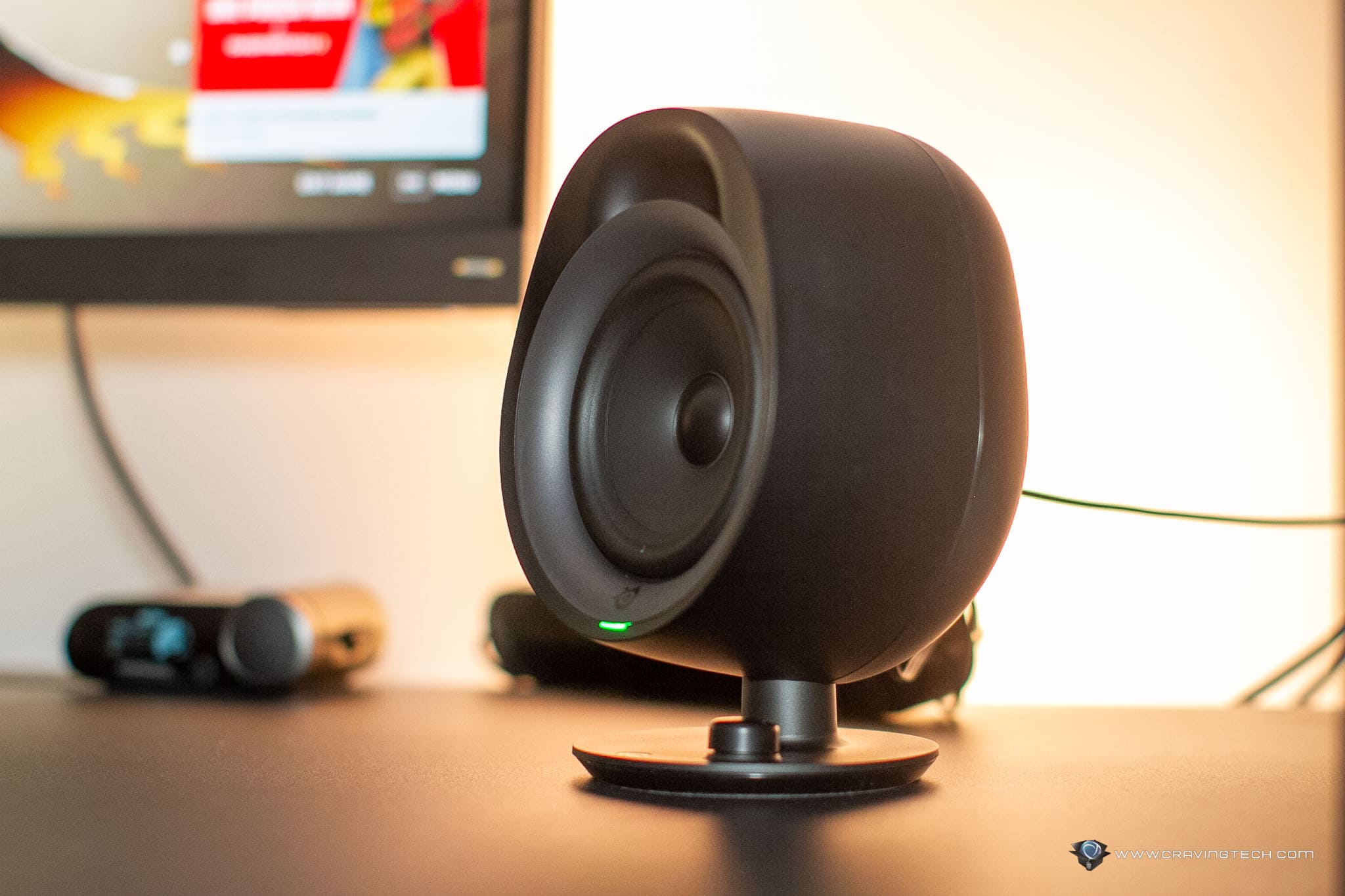 SteelSeries Arena 3 is a nice sound upgrade from small desktop speakers that distort at higher volume, or if you've been relying on your monitor speakers to listen to your favourite music and gaming.
The sound coming from the speaker units is clear, loud, and clean. Sure, the lack of a dedicated Subwoofer means you won't be hearing those low rumbles, but it is decent enough to deliver good audio experience – especially after you do some tweaking through the SteelSeries GG software.
SteelSeries Arena 3 is available now for purchase and retails for A$199 at PCCaseGear Australia. Also available at Amazon.com.
Disclosure: SteelSeries Arena 3 review sample was supplied for reviewing
SteelSeries Arena 3 Review
Summary
SteelSeries' lowest-end desktop speakers deliver clean audio and volume with unique, egg-shaped design
Pros
Unique design
Multiple connectivity ports + Bluetooth
Doesn't have distracting LEDs
Easily accessible knob
Can further be personalised through SteelSeries' powerful software
Cons
Lack that low rumble/Bass
Takes a good amount of space on the desk