BenQ EX2780Q Review – BenQ EX2780Q is quite a popular gaming monitor and I can understand why. It's a large, 27″ 2K (2560×1440) QHD IPS monitor with 144Hz refresh rate and FreeSync, but also G-Sync compatible for gamers having NVIDIA graphic cards. A smooth gameplay is easily achievable with the monitor.
Combined with some of the features within (like the Eye-Care and built-in treVolo speakers), it is also a perfect monitor not just for gaming, but for work and regular desktop use.
If your first comment is "But this is not a 4K gaming monitor", then stay a while and listen. I've had my play with a 4K monitor (BenQ EL2870U) and a 4K gaming laptop (ASUS ROG GL502VT). Honestly, a 27″ monitor with 2K (2560×1440) is my sweet spot. For a start, 4K gaming monitor is not cheap but most importantly, quite taxing to the graphics card to run such a high resolution (unless you have a monster card that can run your game in 4K with awesome fps). Not to mention some texts will appear tiny on a 27″ and some apps are still struggling to do upscaling on Windows 10.
So, the BenQ EX2780Q with 2K QHD, IPS panel, 144Hz refresh rate, 5ms GTG response time – all looks really good on paper.
The monitor has a USB Type-C, 2x HDMI and DisplayPort ports at the back, with a cool remote control being included. Those who are watching movies and playing games on their PC monitor will love this as you can be lying on the bed, changing the monitor settings instantly for a different experience. With a few port options, you can plug-in your MacBook through USB Type-C, your PS4, and PC at the same time and switch in between.
Compared to my Acer Predator XB271HU gaming monitor, I so much prefer the BenQ EX2780Q monitor stand. It doesn't have those big, long monitor legs which means the stand takes less space, and the "empty" rectangular area allows me to place the SteelSeries Arctis Pro Wireless hub there to even save more space on the desk. Thanks to the angled, main stand structure, I can also place the monitor all the way to the edge of the table. Spacious!
The monitor has a volume wheel on the bottom left of the monitor to control its built-in speakers volume, and an easy-to-use 5-key navigator accessible on the back. Compared to having to use awkward navigation buttons to change settings, this is the most natural way to traverse through different monitor settings.
Speaking of built-in speakers, the monitor actually comes with a 2.1 channel sound with 5W subwoofer. Now, when I first tested the speaker for a week, I was quite disappointed because the sound felt hollow and boring. But! I realised that I had the DSP (Digital Signal Processing) set to "Dialog/Vocal"! If this is the default setting, then BenQ needs to change it to "Cinema" – which is the most satisfying experience to me, thanks to the more prominent Bass and everything is livelier.
Now with the DSP set to "Cinema", I understand why BenQ has these speakers in. They definitely have the best sound I've ever heard coming from a built-in monitor's speaker – which I normally couldn't be bothered with. I definitely can vouch for these BenQ treVolo speakers if you want to save space on the desk or don't have a good desktop speaker yet. While they definitely can't replace my AudioEngine A5+ speakers, I'm thinking to move my speakers somewhere else to make more space on the desk. The treVolo speakers are more than adequate for occasional music listening while I work and YouTube videos watching after. For gaming, I mostly use a gaming headset anyway and I watch movies primarily on the big 65″ TV in the living room with Focal Chora 806 speakers and AudioEngine S8 Subwoofer.
If you want to know roughly how they sound, check this out:
So if you are thinking to grab the BenQ EX2780Q plus some desktop speakers, hold that thought. Try these treVolo speakers first at least, as you might love it and save some money + space on the desk.
I've been working from home due to COVID-19 and BenQ's Eye-Care has helped to reduce strain in my eyes. Being a coder who stares at the monitor all day (often without blinking or a good break), reducing harmful blue light is a priority. I normally turn the B.I.+ (Brightness Intelligence Plus) on to let the monitor sensor decide on the brightness and colour temperature based on the room lighting condition. Seeing lots of texts on this monitor has become a breeze.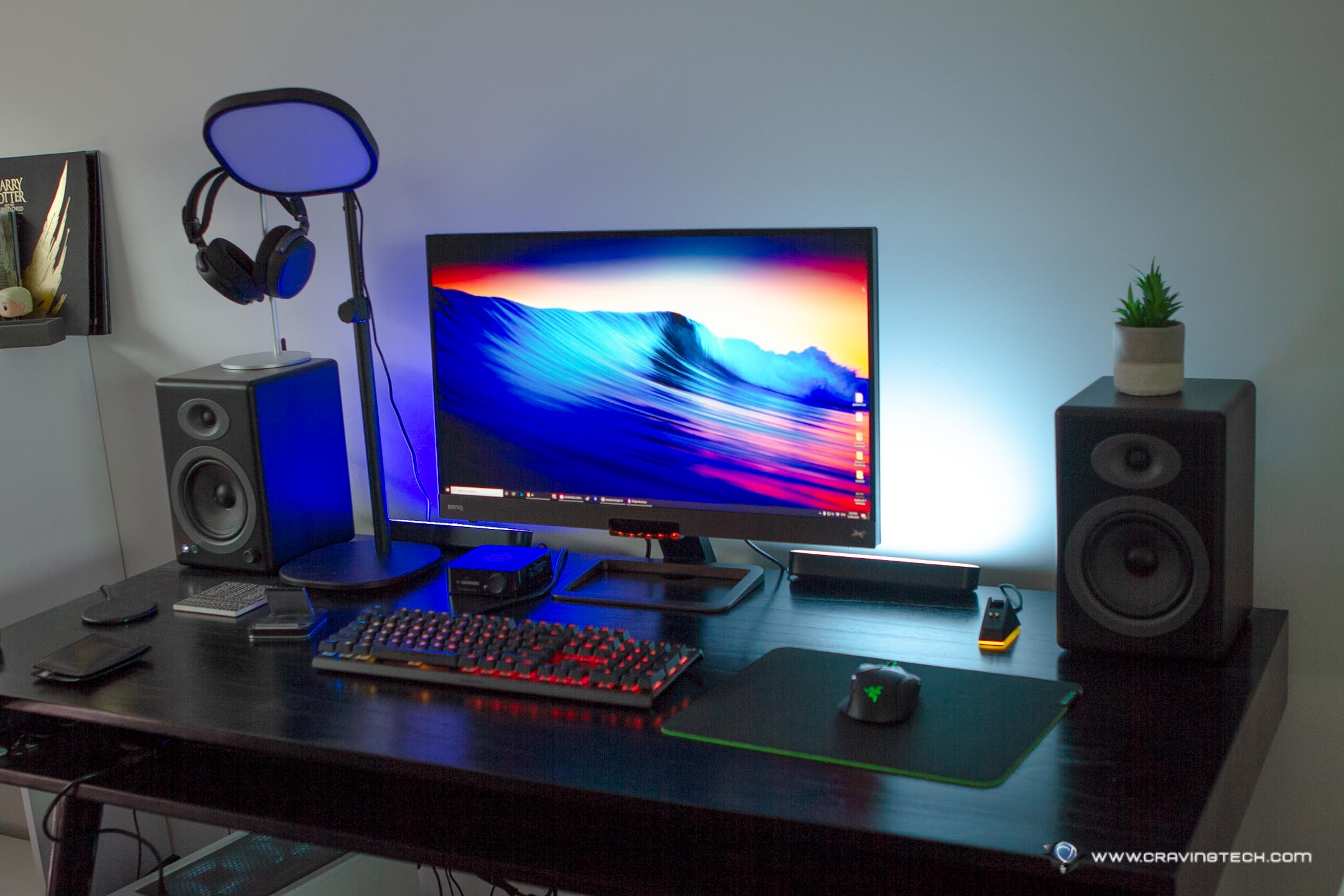 What about BenQ HDRi (HDR intelligence)? It has different settings for Game, Cinema, and Display. The idea is to switch these on when you are doing different activities, i.e Cinema when you are watching movies, and so on. The difference being:
CinemaHDRi is to "enhance contrast and the color performance so as to prevent washed-out images" whereas GameHDRi is to "enhance the contrast to the details in the darker scenes and also the color gradations so as to avoid overexposure."
Colours definitely more vivid with deeper saturation when they are switched on. Playing Overwatch, for example, makes everything much more vibrant and colourful. Movies have more contrast as well, but the Cinema option can be quite overwhelming on brighter scenes in my opinion. Again, all these depend on the games and movies you are watching, so you have to try them out yourselves. Darker movies with colder colour tone definitely get better as you can see from the Greyhound trailer video above.
Games like The Witcher 3 also gets a boost in saturation, which makes the scenery comes more alive. But I'm not exactly a fan of HDR so I usually keep them off as the monitor already offers great balance in terms of colour and brightness.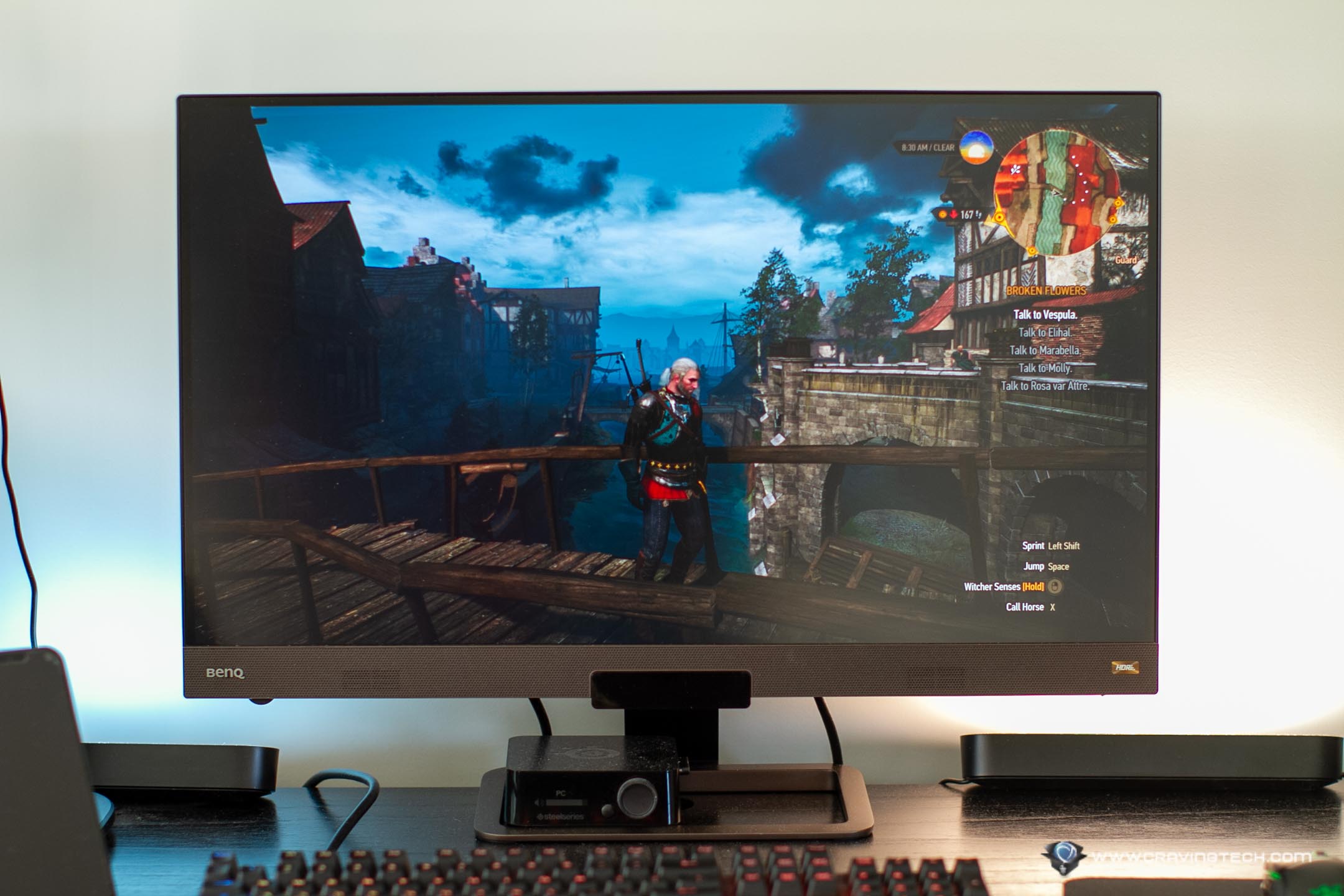 Even without the HDRi turned on, I still feel that the BenQ EX2780Q already gives me a much more vibrant colour compared to the Acer Predator XB271HU, and I already love it.
Playing fast-paced First Person Shooter games like Overwatch feels smooth without the stutter and jitter. Even when I have to move my aim cursor from one screen to the next, the monitor can keep up just fine. This makes playing games really enjoyable and if you've never had a monitor with FreeSync/G-SYNC with 120-144Hz refresh rate, you'll be in heaven.
I have an NVIDIA GeForce 1080Ti and can confirm that the BenQ EX2780Q supports G-SYNC, which can be enabled on Windows Display Settings.
Here is how the monitor performs while playing Overwatch:
BenQ EX2780Q Review Conclusion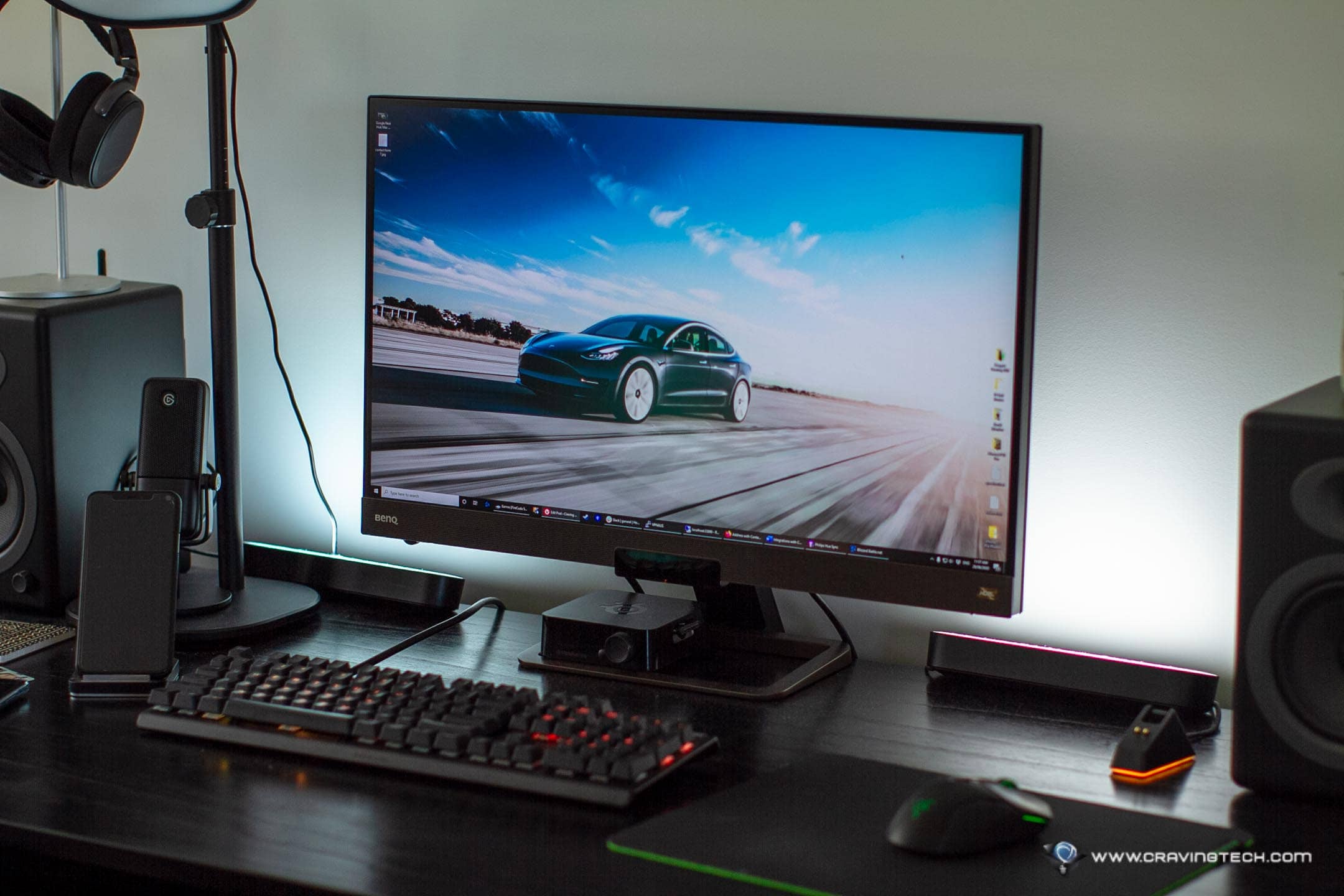 BenQ EX2780Q is an incredible gaming monitor that ticks many boxes in terms of screen quality, performance, design build, plus some extras. It has nice, bright, vivid colours and 144Hz refresh rate for playing games – especially fast-paced, competitive, first person shooter games. It's also FreeSync and G-SYNC compatible, in case you ever want to switch from GeForce to Radeon cards.
The built-in 2.1 speakers are not just gimmicks, or something that you'd ignore completely like many other monitors with built-in speakers. In fact, the Bass is quite thumpy (on Cinema mode) and music listening is also pleasing to the ears. If you already have your own 2.1 speaker system with dedicated subwoofer or quite an audiophile in a way, then you most likely won't be satisfied with the quality. But if you don't have anything, you can save money and desk space by using these BenQ treVolo speakers.
I'm personally not a fan of HDR but in games and movies, BenQ HDRi can make the scene brighter, sharper, and more vibrant. It is a matter of personal opinion and the experience can be varied between games and movies.
If you are still gaming with 60Hz refresh rate and looking to grab a good gaming monitor, BenQ EX2780Q will definitely give you the best bang for your buck. Plus, it's not a 4K gaming monitor which to me, is a plus, because 4K on a 27″ is not that great and the higher resolution is quite taxing to your graphics card when you play games.
BenQ EX2780Q retails for AU$799 and available at many retailers around Australia like JB Hi-Fi. For the price, you'll get good speakers, HDRi to play around with, a remote control, and a monitor where you can plug your PC, console, and USB-Type C MacBook or gaming laptops. I'd say it's a money well spent.
Disclosure: BenQ EX2780Q review sample was supplied for reviewing but all opinions are mine and not paid
BenQ EX2780Q Review
Summary
One of the best 27″ gaming monitors out there with 144Hz refresh rate, FreeSync & G-SYNC Compatible. Plus, the 2.1 built-in speakers come as a nice addition
Pros
144Hz refresh rate
FreeSync, also G-SYNC compatible
Slim bezel
Bright, vivid colours even without HDRi turned on
Eye-Care, great for those who are sitting in front of the monitor all day (i.e me)
2.1 speakers that are not gimmicks
Remote control for quick access/actions
HDRi to those who love them
2 HDMI, 1 DisplayPort, 1 USB-C
Cons
No DisplayPort cable included
Limited monitor adjustment
HDRi might be a hit and miss