BenQ EL2870U Review – 4K and HDR are definitely the trend words for the past year on the monitor or television category. They have become the important factors when making a purchase decision and more movies + games have thrown in their support for 4K and HDR.
BenQ EL2870U offers these at a great package price, and it even supports AMD FreeSync technology to Radeon card owners.
Whether you are going to use this monitor for PC Gaming, Console Gaming, or even for work, the monitor offers plenty of goodies at an interesting price point.
BenQ EL2870U Review – Setup/Installation
BenQ EL2870U comes with an HDMI 2.0 cable and setting up the monitor with the base/stand is very simple and straight forward. It only took me minutes to set it all up and the unit is also not as heavy as I thought it'd be.
BenQ EL2870U Review – Design & Features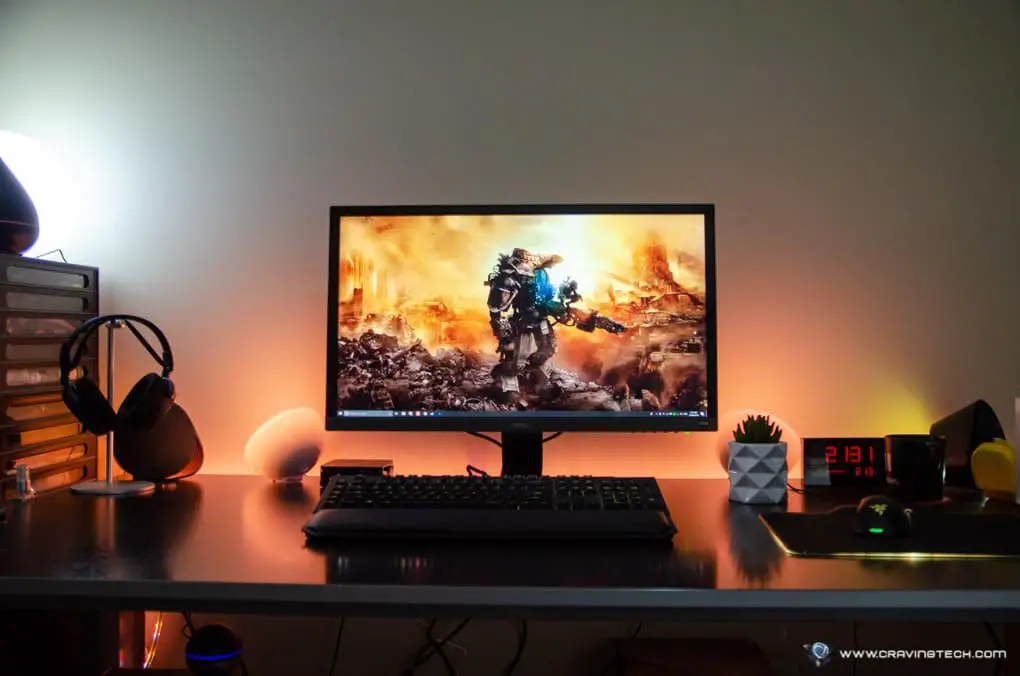 Looks
I personally like how minimalist BenQ EL2870U looks. Compared to my previous Acer Predator monitor which feet was large and somewhat felt like it's taking up more space on my desk, the EL2870U's stand is pretty compact, yet sturdy, and I can even push the monitor further back to the wall.
For a 28″ monitor, I find that the BenQ EL2870U does not feel bulky at all.
4K, HDR, 1ms Response Rate
BenQ EL2870U is a 28″ (27.9″ to be exact) 4K Ultra HD (3840 x 2160 resolution) supporting HDR with 1ms response rate. It only supports up to 60Hz refresh rate, but there are not yet many 4K gaming monitors out there that can support 120Hz or 144Hz (and they cost a fortune if they do). Those who game will know the benefits of having a 1ms panel response rate, especially for playing fast-paced games as it eliminates ghosting and 1ms is as best response time as you can get on a monitor.
As such, for console gaming with a PS4 Pro or Xbox One, BenQ EL2870U shines even more with its 4K and HDR support. There's a quick button at the bottom right of the monitor to enable/disable HDR and Bright Intelligence Plus (B.I.+) quickly – though I've always left them on.
The monitor will let you know whether your display stream supports native HDR (by displaying "HDR:On") or emulated (i.e it does not support HDR directly but the display is running on an emulated HDR mode). You can also enable HDR on Windows display settings.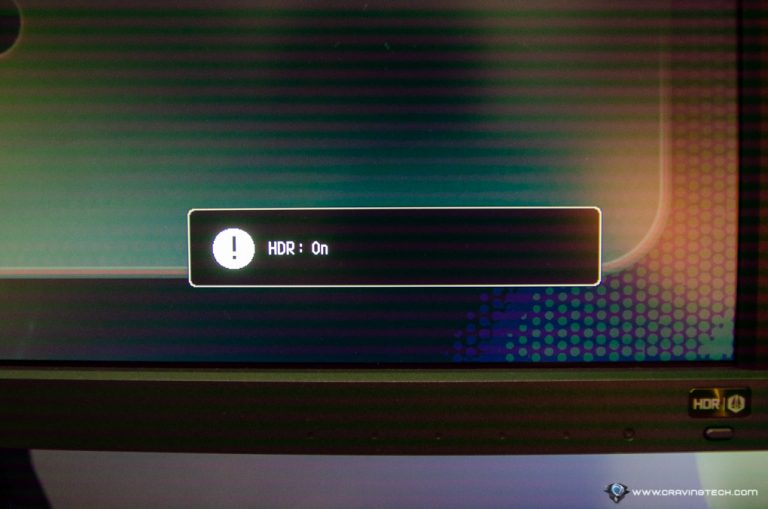 I was expecting over-saturated colour and over-bright scenes whenever I'm expecting to see things in "HDR", but thankfully this is not the case. Tested by watching several movies that support HDR (HDR 10, not Dolby Vision) on Netflix and playing Mass Effect: Andromeda, things were looking pretty good. I could see darker blacks and scenes don't look like they have a white layer being masked on top. The colour is a bit desaturated compared to my previous monitor though (i.e there's no "Wow" factor when I see it for the first time), but I guess you should be able to play around with the Saturation settings if you like.
Note that I've never had or reviewed an HDR monitor before so I unfortunately can't compare or tell how good the HDR is on the EL2870U. I reckon there might be better ones out there, considering the low price tag of this monitor.
Bright Intelligence Plus (B.I.+)
I really love the Bright Intelligence Plus (B.I.+) feature a lot. It automatically adjusts the brightness and colour temperature of the display based on the lighting condition of the room. I find that during my 2 weeks of testing the EL2870U, this is a major selling point and thankfully not a gimmick at all.
Combined with the Low Blue Light Technology, my eyes were not as tired as before from staring at the screen after a few hours and I didn't have to stare intensely while my bedroom light was dimmed. With Philips Hue bulbs in my room, I normally like to change my lighting based on what I'm doing and the B.I.+ detected these changes and adjusted subtly.
For example, when you are looking at a Microsoft Word document or even a Windows Explorer (i.e things that have lots of white
BenQ EL2870U is actually a monitor from the EyeCare line ups and your eyes will thank you for it, especially when you are doing long hours of coding, writing, or editing. I'm definitely going to bring this monitor to the office and replace my old monitor with the BenQ EL2870U. I'm a coder and sometimes I'd have to wear special glasses to filter out blue light or reduce the glare like with this pair of EXYRA glasses. Guess I won't be needing it now.
Other things worth considering
BenQ EL2870U also includes monitor speakers with headphone jack that can be handy for a compact desk environment (such as my fiancee's room) where you don't have space for desktop speakers. But if you do have space, I'd recommend to turn this off as any desktop speakers can beat the quality of any built-in monitor speakers.
BenQ EL2870U Review – Should you get it?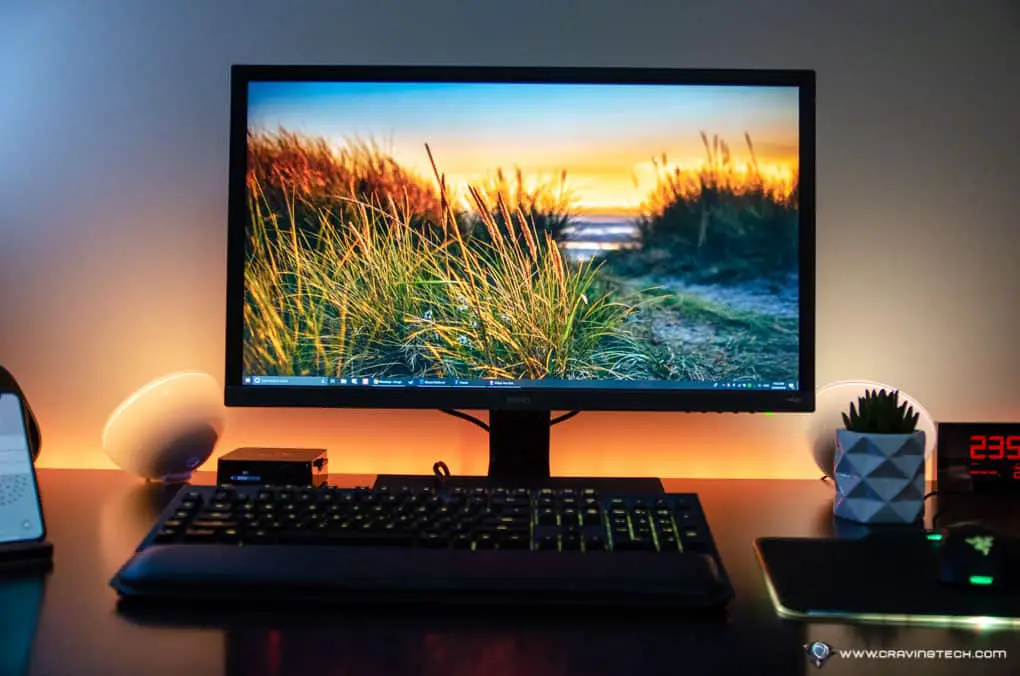 All these sound wonderful but should you get it? It depends. I was using an Acer Predator XB271HU IPS gaming monitor with 144Hz refresh rate, 4ms response time, and G-Sync. I can definitely feel the difference when I had to go back using a 60Hz monitor (from 144Hz), even when the EL2870U has a much better response time (but the XB271HU is almost twice as expensive). If you just game on PC and have a good NVIDIA card, then the EL2870U is not for you. Or if you already have a 120Hz/144Hz/165Hz monitor, I wouldn't call going for 4K, HDR but at 60Hz an upgrade.
BenQ EL2870U, however, does support 4K resolution and it does make me smile when I can change a game's settings to this (tried it on Mass Effect: Andromeda, Overwatch, the Witcher 3 and Kingdom Come: Deliverance). A few PC games support HDR too but you'll get more value out of this monitor if you also hook it with your PS4 Pro or Xbox One as there are more titles supporting HDR on these platforms. Thanks to the 1ms response time and 60Hz refresh rate, you'll get the best console gaming performance possible on the BenQ EL2870U. HDR is probably not at its best with the EL2870U (and colours are not as striking as I'd love it to be) but you can't complain much at this price point.
Watching #CyberPunk2077 4K HDR trailer with #BenQ #4K #Gaming #Monitor EL2870U – https://t.co/3VQmQqTTQe @BenQ_AU pic.twitter.com/hlLSawf5Zf

— Michael Aulia (@michaelaulia) August 30, 2018
I also like the fact that it's a 28″ monitor so if you don't have a powerful graphic card that can dish plenty of power (for PC gaming), you can tone down the resolution settings a bit to 2560 x 1440 (like a native 27″ monitor resolution) and you won't get weird scaling looks.
For just A$569 at Amazon Australia (or Amazon US if you are not from Australia), you'll get a 28″ 4K HDR monitor, with 1ms response time + AMD FreeSync support for PC gaming. At this price, this is definitely a steal, especially if you are gaming on the console. Definitely a great value monitor for the money, even if you just want to use this monitor for work.
Disclosure: BenQ EL2870U review sample was supplied for reviewing but all opinions are mine and not paid