SteelSeries Arctis Pro Wireless Review – As gaming desktop gets more powerful (with better, bigger, faster RAMs or graphics processing power), unfortunately the sound department has not evolved much. Newer mechanical keys on gaming keyboards with faster response rate are constantly being researched and manufactured, and yet, gaming headsets don't really differ much from one to another in terms of sound quality.
SteelSeries planned to change all that. With their latest launch of the new SteelSeries Arctis Pro family, they wanted to shake the gaming market with headsets that can make your ears proud (if there is such a thing).
SteelSeries Arctis Pro Wireless is one of the product line ups, which is the one that we'll be taking a look at closely today.
SteelSeries Arctis Pro Wireless Review – Packaging
SteelSeries Arctis Pro Wireless Review – Design & Features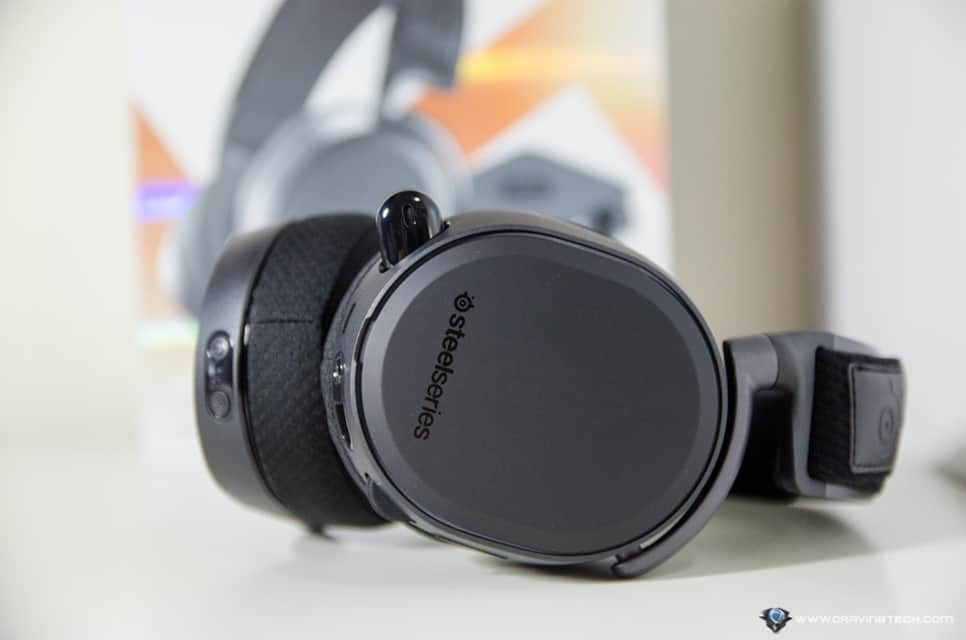 SteelSeries Arctis Pro Wireless has a similar resemblance to the highly popular Arctis 7 (check out our review if you haven't), which is also a wireless gaming headset from SteelSeries with many praises around the world. However, unlike the Arctis 7 which requires you to plug the microUSB charging cable to charge, Arctis Pro Wireless follows the battery design of the older H Wireless (a.k.a Siberia 800) and Siberia 840 headsets.
The difference lies in the hot swappable battery feature that allows the battery inside the headset to be swapped instantly to another. As "simplistic" as this may sound, it actually works like a treat and makes a huge difference when you are gaming and your are low on battery.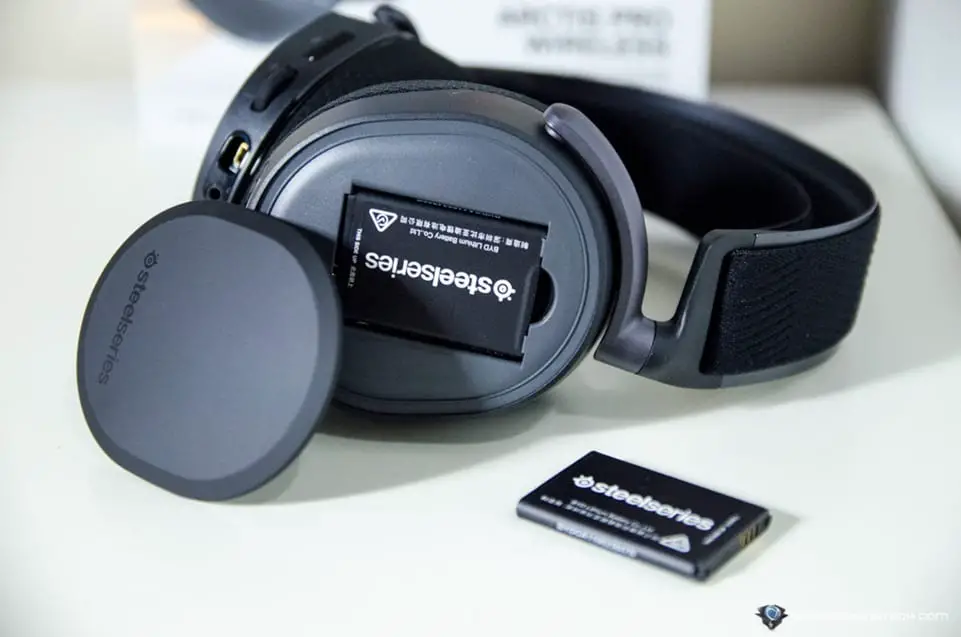 Traditionally, you'd have to plug your cable to start charging while you are still wearing the headset. If you swear by playing wireless, you may get frustrated with this sudden restrictions of movement. While this can be avoided by charging early when you are not using the headset, more often than not, you'll forget every now and then.
Thanks to the hot-swappable batteries in the Arctis Pro, you'll always have a spare, fully-charged battery handy. This is because the wireless transmitter box charges the spare battery while you are gaming with the other. For your information, the 1,000mAh battery is the same model that's been used on the Siberia 800/H and 840.
There are no RGB lights in the Arctis Pro but who needs one when you are playing at home and can't see them anyway? I'd prefer turning them off to gain more battery life out of my wireless gaming headset.
But before we get to far, let's talk about the Arctis Pro headset design itself. As mentioned earlier, it has a resemblance to the Arctis 7 and it's a good thing. The headset does not feel like cheap plastic (like Razer ManO'War) and the plush ear cups are a joy to wear. At first, I thought it'd be a tight fit on the head, but I was wrong. It feels just right but I don't have a large head, so I can't comment how comfortable the Arctis Pro Wireless on those with bigger heads or if you are wearing glasses. I've gamed for hours with the Arctis Pro Wireless non-stop and never feels any discomfort. Options to adjust the headband strap are offered as well.
According to SteelSeries, by "reducing the lateral force via the mechanical design of a new headband with deeper and thicker ear cushions", the Arctis Pro line should even be more comfortable than the Arctis 7. In my opinion, they feel similar, in a good way.
The Transmitter Base Station houses all the goodies of the Arctis Pro Wireless. Apart from being able to charge the other battery, the box can adjust the volume (though you can also do this on the headset directly), change the EQ, manage Bluetooth connectivity, and customise between the in-game volume and chat audio. It will also manage the connectivity between your PC and PS4. And if you own a PS4, you'll also be happy to find that these features will work on the PS4 too.
If you hook your PC to a desktop speaker like my setup now (with the Logitech MX Sound), the box automatically detects whether you have the headset turned on. If you do, it will redirect all audio output to your headset automatically. If the headset is disconnected, it will redirect sound output to my desktop speakers automatically. I don't even have to use my SoundSwitch app for this. The switch is flawless and seamless.
When I play Rainbow Six Siege with my friends, we usually use Discord to communicate. But sometimes the team can get too chatty, so with the Arctis Pro Wireless ChatMix feature, I can adjust the volume and get the perfect balance quickly with just the tap on the headset, or using the Base Station.
With Bluetooth connectivity support, you can now answer calls while playing your game at the same time. This definitely comes in handy because every gamer has faced a situation when you are playing a ranked online game (Overwatch or Dota 2) and your partner calls. Do you answer it and throw the game, disappointing your teammates? Or should you ignore the calls and reap the consequences of ignoring your partner after? Thankfully SteelSeries has the answer to this. This is a similar feature with the Plantronics RIG, but without having the bulky cables and a mixer unit.
SteelSeries Arctis Pro Wireless Review – Sound
Compared to the Arctis Pro with GameDAC (which I'm reviewing next), the Arcis Pro Wireless doesn't get the "Hi Res Audio" certification because the 2.4GHz wireless connection doesn't support audio sampling rates above 48KHz. However, the Arctis Pro features speakers drivers that can reproduce audio out to 40,000 Hz with lossless and high fidelity. It has a frequency range of 10Hz – 40,000Hz (most gaming headsets only support 20Hz – 20,000Hz).
It also supports DTS Headphone:X v2.0 that you can turn on and off, but I personally have fallen in love for Dolby Atmos (I might give it a try when I play Left 4 Dead 2 again though). The Arctis Pro is also the first gaming headset offering DTS Headphone:X v2.0 which is the next generation of DTS surround sound.
Overall, the sound quality is pretty amazing. It's the gaming headset that I really won't mind listening to music with, while I'm writing reviews or blogging. My favourite songs come to life, especially at louder volume where the Arctis Pro Wireless has no struggle with to keep up. Details inside songs emerge more, cleaner, and it's a joy to listen with the Arctis Pro Wireless.
The soundstage feels narrow due to the closed back design, but I never have any troubles also to pinpoint where the enemies are while playing competitive games like Rainbow Six:Siege and Overwatch, which offers great advantage in any game that requires accurate audio positioning.
SteelSeries Arctis Pro Wireless Review – Conclusion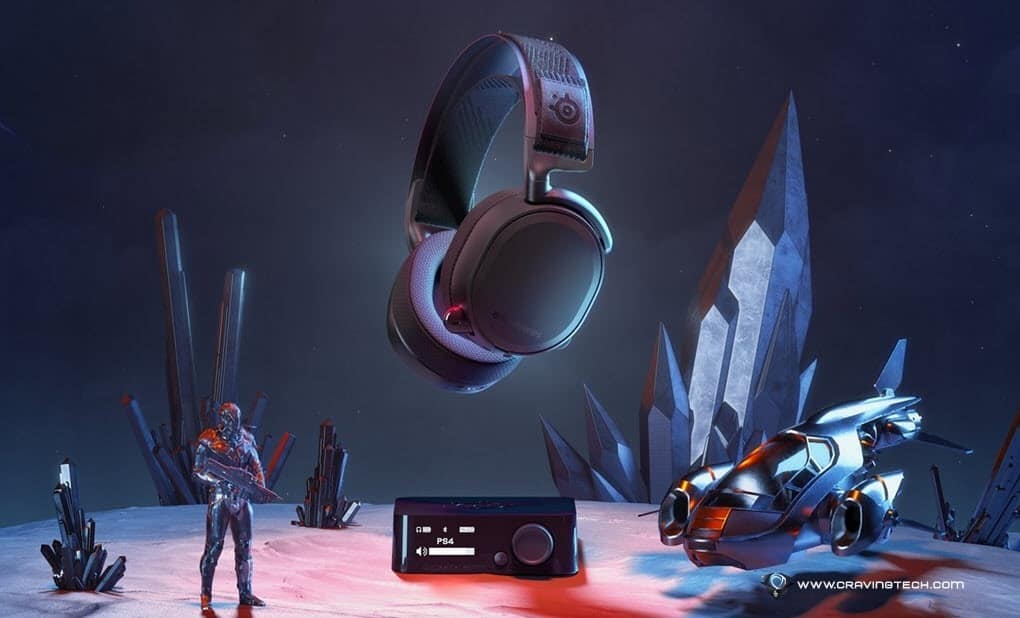 SteelSeries Arctis Pro Wireless is an awesome, wireless gaming headset for both the PC and PS4. Switching between the two is pretty easy and there are plenty of connection types available through the Transmitter Base Station.
While you wear the headset, the other spare battery charges inside the box so you can always hot-swap them while loading a map, or searching for a game when the battery gets low. There is never a moment where I have to plug the charging cable in, but SteelSeries kindly gives that too inside the packaging, just in case (or if you are travelling and don't mind using it wired).
With built-in ChatMix, audio auto-switch from the headset to your desktop speakers, and the new, premium speaker drivers that will tingle your senses and ears, the SteelSeries Arctis Pro Wireless has definitely won me over!

Is it worth upgrading from an Arctis 7? I'd say yes if you don't mind paying the price. The hot swappable batteries are just too good to pass, and you get an upgrade in the sound department (though if you are very happy with the Arcis 7 sound quality and not a somewhat audiophile or audio-conscious, you'll probably be ok without the Arctis Pro).
It's going to be tough to review the next Arctis Pro with GameDAC (as I truly love the comfortability and the joy of wearing wireless headsets with no cable restrictions), but the promise of getting an even better sound is quite enticing. Stay tuned for the Arctis Pro + GameDAC review at Craving Tech!
Disclosure: SteelSeries Arctis Pro Wireless review sample was supplied for reviewing but all opinions are mine and not paid