SteelSeries Arctis 7 Review – Many wireless gaming headsets are in the market now and with so may products in a saturated market, how do you pick the best wireless gaming headset?
In short, you can't. There is always a compromise somewhere. Want a longer battery life? The headset would need to be bulky to accommodate bigger battery. Want something light and easy to be carried around? You'll have to sacrifice battery life and possibly sound quality.
SteelSeries Siberia 840 is almost perfect in every ways and I've been using it ever since I've got it for reviewing. And when I thought I could never find a better one, I was wrong.
SteelSeries Arctis 7 wireless gaming headset, probably has less features than the Siberia 840 but for some reason, I actually prefer it than the Siberia 840 headset. The main thing that I like most about it is how light it feels on the head – but we'll come back to that later.
SteelSeries Arctis 7 Review – Packaging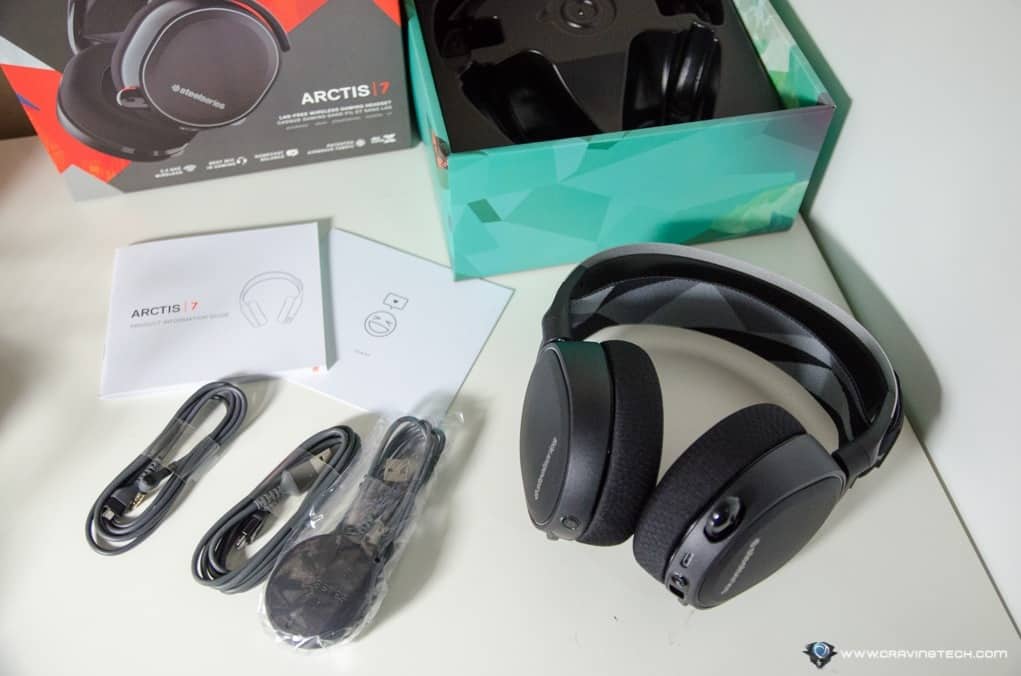 SteelSeries Arctis 7 Review – Design & Features
SteelSeries Artic 7 wireless gaming headset seems to focus on having a clean, minimalist design which I really love. It's sleek and somewhat has a modern feel to it.
It combines a few different materials that excel in their purpose. For example, the Ski Goggle Headband is lighter than a regular plastic headband and also evenly distributes the weight of the unit on your head. It'll also fit a variety of different head sizes without having to make step adjustments beforehand.
The ear cushions are of high quality and has not made my ears sweat or go hot so far (but I probably have to revisit this in Summer and see how the statement holds up). The cups and frames don't look cheap and give a nice overall impressions on the headset build quality.
A retractable microphone also keeps the look clean and at the same time, does not feel wobbly and powered by an exclusive bidirectional design for clearer voice (feel free to check on the SteelSeries article about the ClearCast technology). The voice is really clear even if I don't speak very loudly, which I really like.
I've reviewed many gaming headsets and not many sound as good as the SteelSeries Arctis 7. The moment I put it on and tried listening to my favourite tunes, I was blown away on the spot. It really sounds that good and gives a great balance to power and clarity. Orchestral music feels orchestral, and the headset has no shame in being able to deliver a deep, strong Bass as well.
As I crank the volume up, bad headsets usually struggle to keep up and you can hear distortions, but not with the Arctis 7. Music backgrounds in Overwatch and Heroes of the Storm sound just as awesome as listening to my music, and it has heightened my gaming experience.
Through the SteelSeries Engine software, you can turn the 7.1 Surround Sound on and off (DTS X), along with selecting some of the available quick presets and other settings. I usually turn the virtual 7.1 off when I play Overwatch as I prefer to use the in-game Dolby Atmos. From my experience, I could totally hear what's happening in the battlefield at all angles and react accordingly, thanks to the expansive sound stage of this headset. Not once have I saved my teammates by letting them know that our backline was about to get ambushed. Audio Positioning on the SteelSeries Arctis 7 is excellent, as good as the Siberia 840.
One of the cool things the Arctis 7 offers is the Dual Source Audio Transmitter which has an automatic audio switching. When you turn the headset on, the audio will route to the headset. If you turn the headset off, it'll route to the connected desktop speakers instead. This makes it easy to switch between audio source (without doing nothing) than having to toggle it with SoundSwitch on Windows.
It also has a ChatMix Dial so if you are coordinating with friends at Discord, you can quickly adjust between the in-game volume and the audio-chat on the fly. Nifty.
Arctis 7 has around 24 hours of battery life which lasted me almost a week before I had to totally recharge the headset again. As you turn the headset on and off, you can see roughly how much battery you have left through the power button LED (Green, Yellow, and Red).
There is no charging dock or station unfortunately, so you'll have to do it through a microUSB cable running through your computer (or a USB power plug on the wall). Thankfully, you can still play while it's being plugged and recharged).
SteelSeries Siberia 840 vs SteelSeries Arctis 7 – Which one to get?
If you are not sure which to get, it's probably worth knowing these comparisons between them:
They both sound good and in my opinion, have the same audio quality and clarity that you'll love.
They are both wireless, but Siberia 840 has a hot-swappable battery system. I found it cool than having a cable plugged to charge the Arctis 7, but now, I don't really mind it at all and find it somewhat tedious. Not to mention that SteelSeries can only ship new replacement batteries to US customers only due to lithium ion batteries international shipping regulation.
Siberia 840 is probably better if you have multiple inputs and outputs like having a few console system or audio sources. It's easy to switch between one to the other.
Siberia 840 has Bluetooth support, the Arctis 7 does not.
Arctis 7 is lighter and more comfortable, due to the weight and Goggle Ski Headband design.
Arctis 7 should have a better microphone technology, but I haven't really tested and compared them personally.
Price wise, you can make the judgement on which one to get based on your needs, but Arctis 7 is almost half the price of Siberia 840.
SteelSeries Arctis 7 Review Conclusion
I've tried and reviewed different gaming headsets for the past years and so far, SteelSeries Arctis 7 hits the best spots for me. It's minimalist without a cheap plastic look, sounds excellent, and one of the most comfortable headsets I've worn so far for hours of PC gaming. Note that the headset also works with Mac and your consoles, though some features are restricted to the PC. You can also plug any device like a Nintendo Switch to the headset via 3.5mm audio cable.
I wasn't sold when I first saw it being released by SteelSeries (probably due to the Goggle Ski headband design and my early judgement of seeing it as a "dumbed-down version of SteelSeries 840"). Clearly, I was wrong.
SteelSeries Arctis 7 is definitely the premium wireless gaming headset without a premium price that you should get. It excels in design, comfort, and sound quality in many ways. Looks like I've found my new favourite, main PC gaming headset.
Disclosure: Sample was supplied for reviewing but all opinions are mine and not paid