SteelSeries Siberia 840 Review – In search of the best wireless gaming headset, I thought I'd stop at Razer's latest ManO'War. That was before I stumbled upon the newly launched SteelSeries Siberia 840 wireless gaming headset. After using it for some time, I'm totally sold.
SteelSeries calls it "World's Best Wireless Gaming Headset" and I can't seem to find any reason to dispute that claim. I'd have to agree with them here.
Note that the SteelSeries Siberia 840 is fairly similar to the older SteelSeries Siberia 800 (rebranded from H Wireless, which I reviewed back in 2014). The Siberia 840 does have a new Bluetooth support and SteelSeries Engine 3, but not really a revolutionary change in design in a way. It still has the same 20-hours of battery life average, plus the same bits and pieces.
But that's okay. If you've already designed something that people like and then made it even better, why not?
SteelSeries Siberia 840 Review – Unboxing Video
SteelSeries Siberia 840 Review – Packaging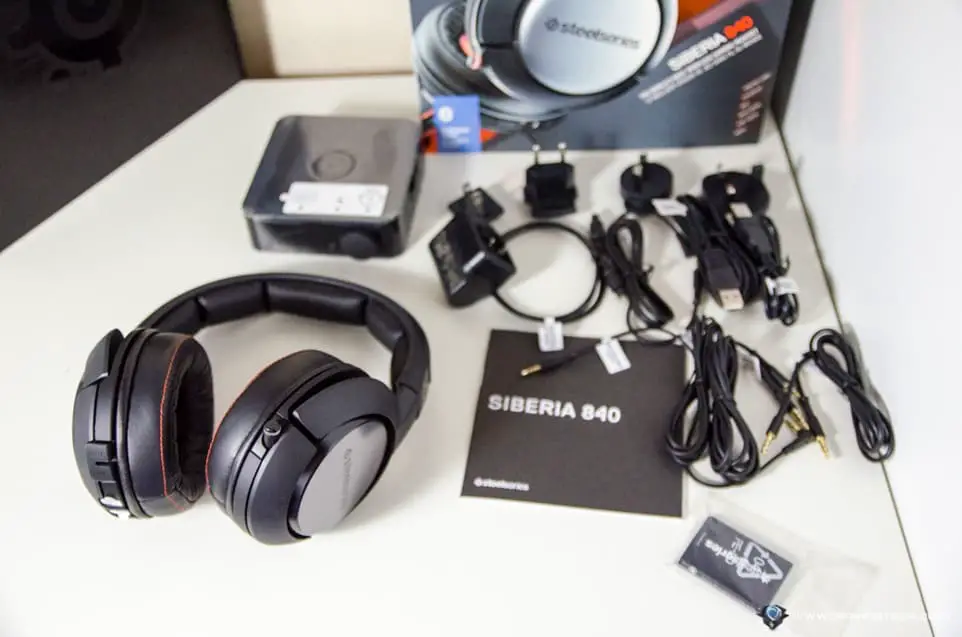 SteelSeries Siberia 840 Review – Design & Features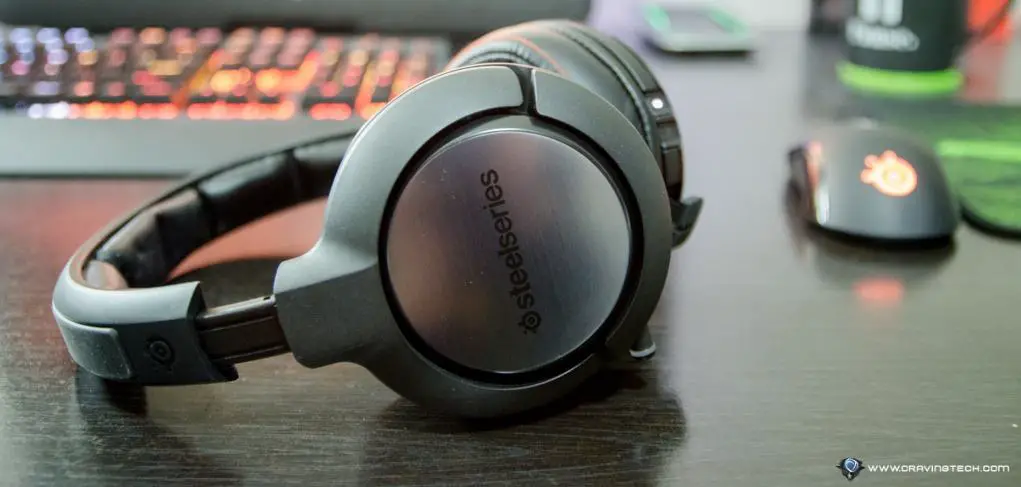 Headset Looks, Controls
The headset itself comes in a sleek, black-orange theme with a mix of matte black and glossy silver finish material. The orange stitching around the earcups also adds a subtle, elegant look.
Overall, the Siberia 840 does not feel bulky and plastic-y cheap like a few other gaming headphones in the market. It certainly has a thinner design and more luxurious feel compared to the Razer ManO'War.
The microphone is retractable to keep things tidy while you are not using the headset, and LED ring on the tip let you know visually when it's muted or not.
Crucial controls such as volume controls, media playback, power, and Bluetooth operations are located near the edge of the ear cups and they are quite easy to reach and operate. I also like Siberia 840's rotary volume control dial design better than having separate buttons to increase or decrease volumes.
They are quite functional too. For example, with one press of the Bluetooth button, you can play/pause the sound coming from your Bluetooth device or accept an incoming call. One press of the power button will do a play/pause of your currently selected audio source (such as your PC). Press twice and you can fast forward a song playing, or reject an incoming call coming from your Bluetooth-connected smartphone.
Go Wireless, Forever
What I really like about the Siberia 840 (and 800) are the rechargeable, hot-swappable batteries. My gripe about most wireless gaming headset is that you usually have to plug a cable to charge them when the battery runs out (or place them in a charging cradle). It distracts you from the experience and keep a mess on the table while leaving the headset charged overnight. Not the Siberia 840.
SteelSeries offers a nifty solution by making the batteries hot-swappable. This is done by opening the left ear cup casing to gain access to the Lithium battery. Swap it with the spare and insert the depleted battery into the Transmitter Box to charge. No fuss, no cables. This also means you will always be able to game with the Siberia 840 wireless ALL the time. Well, there is a downtime to swap the battery over while playing when it runs out, but hey, it only takes 3-5 seconds so stop complaining.
Battery indicators can be seen all the time through the Transmitter Box's OLED screen, such as how much battery you have left on the headset and also the one that's being charged.
Connects everything you can think of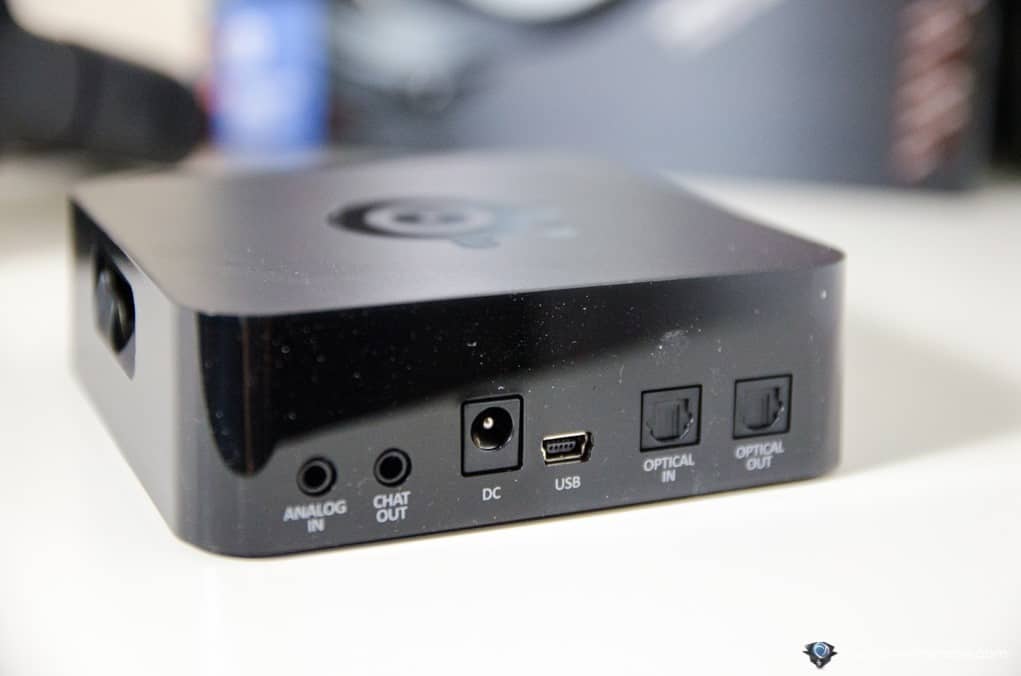 With the included cables and features inside the Siberia 840, you can connect pretty much every device and machine you can think of: PC, Mac, Xbox, Playstation, Smartphones, Tablets, and more.
With the added Bluetooth support, you can now use your gaming headset to play games on a mobile device, and also for calls. A great, all-around headsets for every situation – the ultimate, one headset you ever need.
It's also easy to switch between one platform to the next. For example, once I set up all the necessary cables (optical, USB, etc) to my PC and Playstation console, I can simply switch between them using the controls on the Transmitter Box.
Bluetooth operations (connected to my iPhone 6s at the moment) are also seamless and works simultaneously. I can listen to both my main source audio (PC) AND smartphone at the same time on the headset. Best of all, when a call comes in, I can hear the ringtone on the headset (while playing games or listening to music on my PC) + see the incoming call notification on the Transmitter Box OLED and then I can pick up or reject the call with the Bluetooth button. I can be on-call while still playing games at the same time! The source's audio dims in the background (i.e lower volume) and the Siberia 840 will focus more on the call's audio (though you can still hear the source audio in the background). This is pretty nifty (just don't tell your partner when he/she calls).
With the Siberia 840 and Windows 10 Anniversary Update, I never need to turn the Transmitter Box off (i.e put it in Standby Mode) if I ever want to switch to my desktop speakers. I can simply switch between audio playback devices quickly while having both the Siberia 840 and desktop speakers connected by just clicking on the Volume Control on the system tray.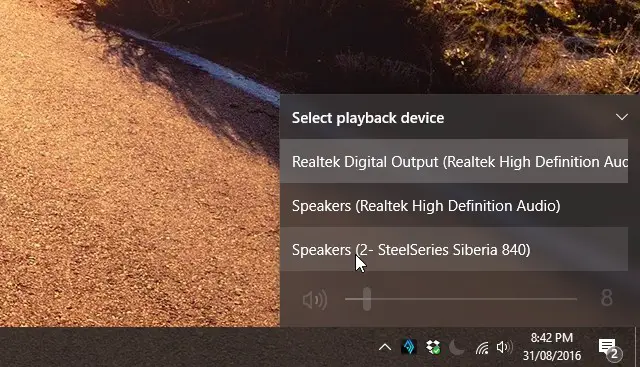 Just for the reference, I connect both the Siberia 840's USB and Analog (3.5mm) cables into my PC as the setup guide suggested, while my current desktop speaker (Razer Leviathan) is connected through Optical.
I've talked a lot about the sound experience (with 7.1 Virtual Surround Sound and the Dolby technology) on my SteelSeries Siberia 800 Review (H Wireless) page so I'm not going to go into details here. Suffice to say, the Siberia 840 sounds really good in all areas: music listening, movie watching, and gaming.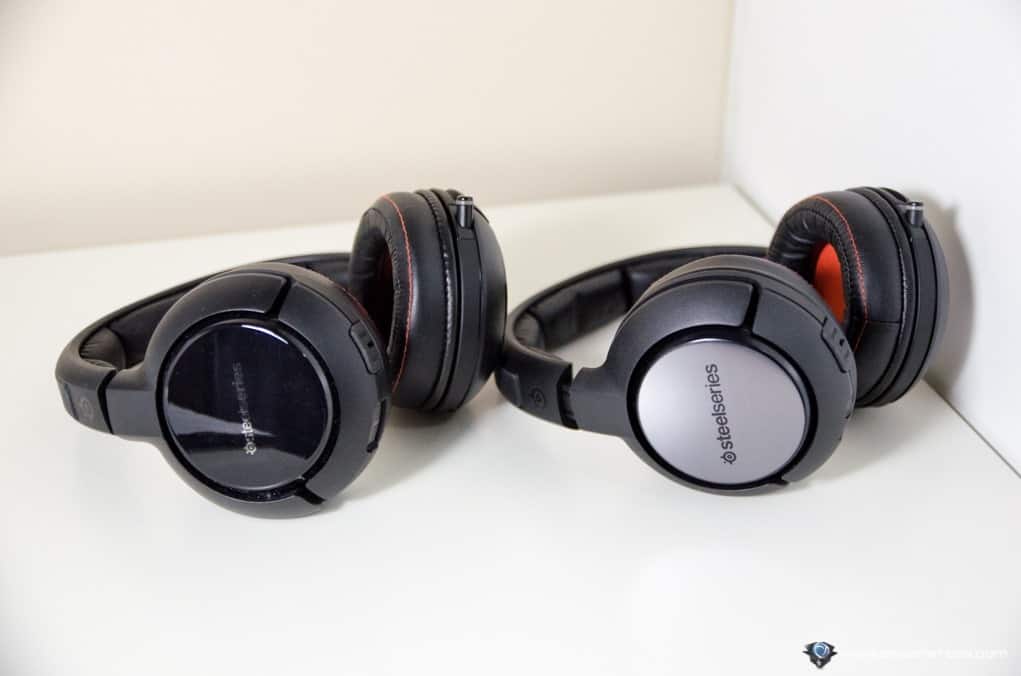 I tested the Siberia 840 playing Overwatch, Left 4 Dead 2, and Rise of the Tomb Raider. I can definitely feel the immersion once I turn the Dolby On, I can really identify where the enemies are when playing competitive FPS games. Some minor degree of customisations can also be done through SteelSeries Engine 3.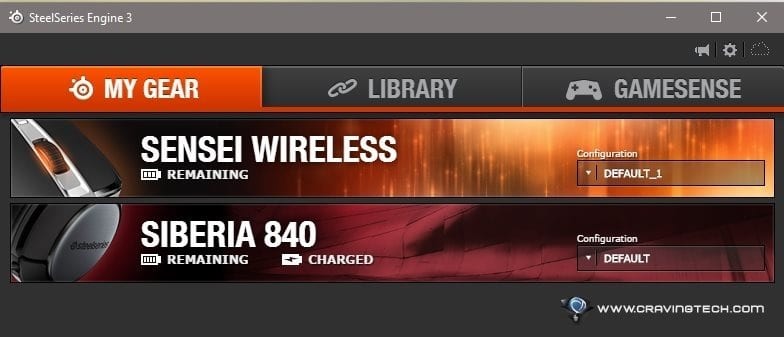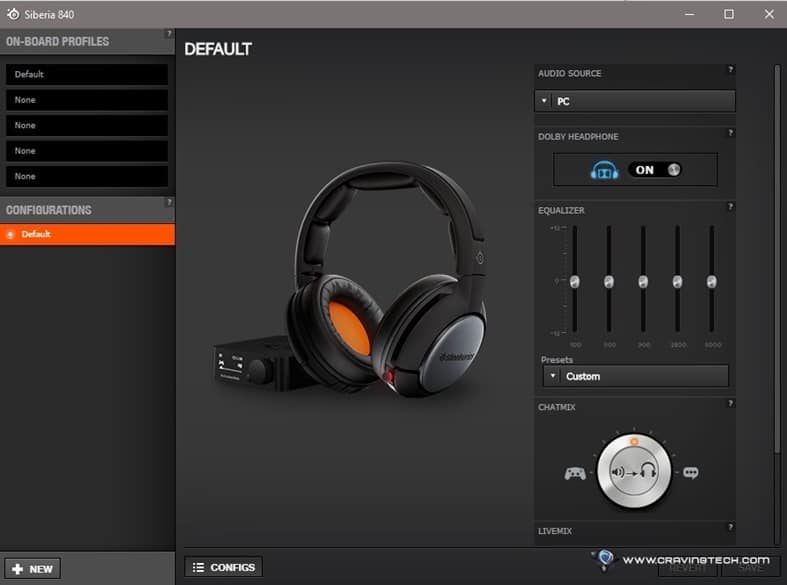 SteelSeries Siberia 840 Review – Conclusion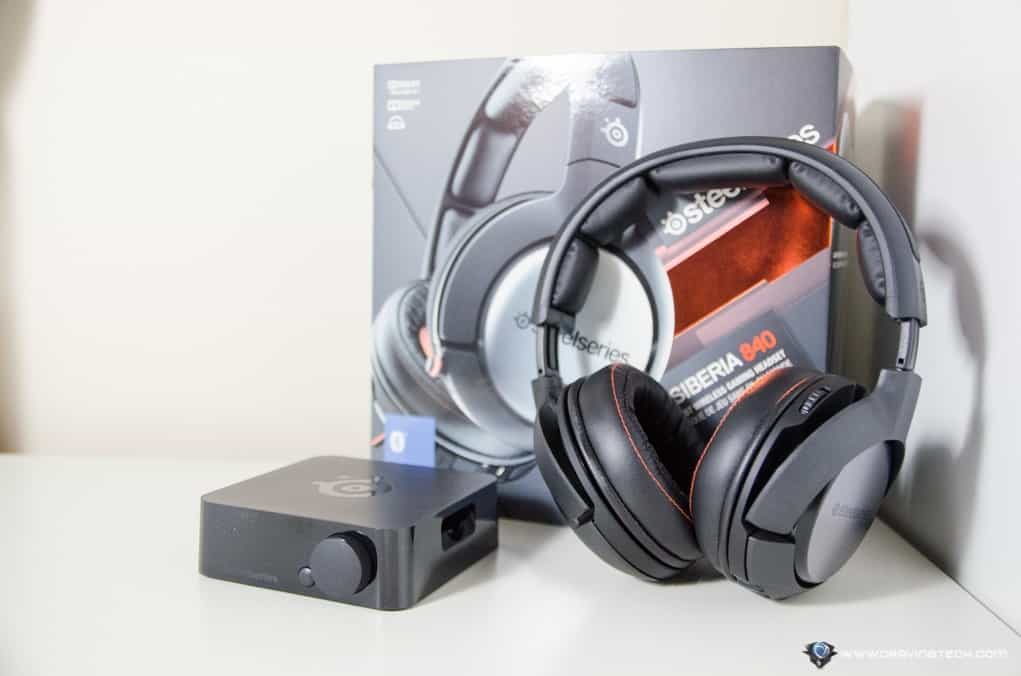 SteelSeries Siberia 840 really excels in everything and truly holds SteelSeries claim for being the Best Wireless Gaming Headset.
It has a somewhat slim design for what it offers, every connection that you can think of possible to many, multiple gaming platforms (and switching between one to the other works flawlessly too), great quality sound with 7.1 Dolby Surround, and a smart, hot-swappable battery design that gives you wireless gaming non-stop.
Oh, don't get me wrong, you'll definitely have to pay to get these premium treatments. But once you get that out of your pocket, what you get is the best wireless gaming headset that excels in everything you can find in the market at the moment.
SteelSeries Siberia 840 vs 800
In a nutshell, here are some differences between the SteelSeries Siberia 840 and Siberia 800:
Minor, updated design
SteelSeries Engine support
Bluetooth Support
SteelSeries Siberia 840 Pros
+ Lightweight design
+ Premium look and feel
+ Comfortable to wear
+ Generous connectivity: supports all gaming platforms with multiple connections
+ Bluetooth support, plus, audio works simultaneously from both a Bluetooth device (such as your phone) and a selected Source (PC, Console, etc)
+ Can be on a call (smartphone connected via Bluetooth) while playing at the same time
+ Hot-swappable batteries (and the spare battery is included in the packaging)
+ All cables are included in the packaging
SteelSeries Siberia 840 Cons
– Might feel a bit tight for those wearing glasses (untested as I don't wear one)
– Turning the Transmitter Box off (set to Standby) still requires a few presses and selections. But you never really need to turn it off and on now. You can simply switch between audio playbacks through Windows 10 volume control and just leave the Transmitter Box on all the time.
Disclosure: SteelSeries Siberia 840 review sample was supplied for reviewing but all opinions are mine
[AMAZONPRODUCTS asin="B01KMVL1L8″]