Nintendo Switch Review – Nintendo Switch has been out for a while now but I was impressed the moment I tried it during the Nintendo Switch Australian launch event in Melbourne.
It's the versatility and seamless "experience-hopping" from one to another that impressed me the most. To this day, I couldn't think of other consoles or gaming platforms that can do that flawlessly.
Just imagine being able to play on your console machine at home but also have the option to continue playing it on a tablet experience when you are out and about – keeping the game state and save games in tact. It's a "dream comes true" for gamers around the world who commute a lot to work or school.
Nintendo Switch Review – Packaging
Even by just looking at the packaging box, you'll notice that the Nintendo Switch is smaller in comparison to other console machines like the PS4 and Xbox One. Grab a small travel bag and you can carry the whole system without breaking a sweat.
Nintendo Switch Review – Design & Features
The Nintendo Switch system primary parts consist of:
A 6.2″ multi-touch capacitive screen tablet (720p resolution)
A dock (Switch Dock)
Controllers (Joy-Con controllers are included)
Here is the interesting part. With just the Switch tablet unit alone, you can already play games and fiddle around with settings, menus, and browse the Nintendo eShop. Pair that with the included Joy-Con controllers (or purchase the Nintendo Switch Pro controller separately) and you can experience both the single player and multi-player games. Dock the tablet into the Switch Dock hooked to your TV through an HDMI cable, and you can play on the TV like a traditional gaming console. When hooked into the TV through HDMI, the Switch will output in 1080p.
Similarly, undock the tablet and your experience will switch to portable gaming. The Switch' switch (pun intended) is seamless and simply works without having to tinker with anything apart from a straight-forward docking and undocking action.
Nintendo Switch Console (i.e the Tablet)
The tablet itself holds all the Switch powerhouse and weighs around 300 grams (without the Joy-Con controllers attached). In real-life experience, it does not feel that heavy and I could comfortably play on it without my arms getting tired. With the Joy-Con controllers attached, it is still lighter than an iPad Pro 9.7″ (398 grams vs 444 grams based on a Reddit thread):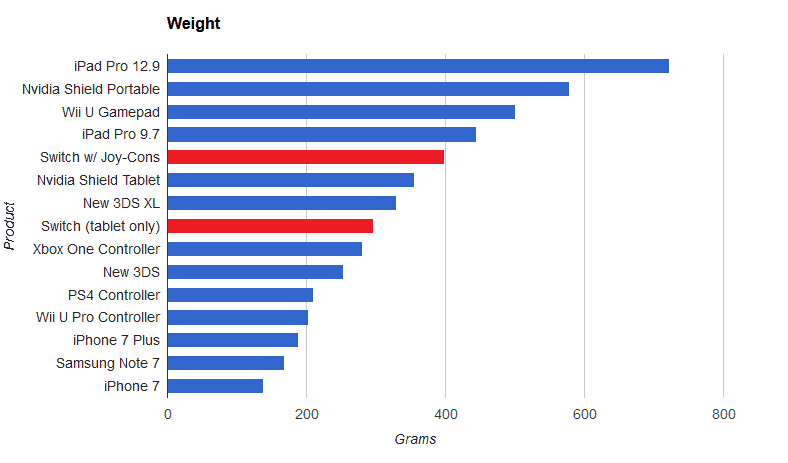 Since you'll most likely be placing the Switch on your lap or on a table, the weight should not matter much.
The screen is responsive (like your smartphone) and the NVIDIA Custom Tegra processor offers a solid, smooth experience overall.
It has a built-in 32GB of internal storage but can be expanded through a single microSD card (with up to 2TB support!). Games can either be downloaded and installed from Nintendo eShop, or played through a game card. To save storage space, it's better to just grab a game card but if you like to stay digital and want to avoid having to swap cards on the go, getting them from the eShop is better. Note that it is also much easier to sell a game card when you are done playing (or swap it with a friend) compared to having the digital version. The choice is yours.
Back to the Console (or Tablet), it only houses a 4,310mAh battery which according to Nintendo, will last you around 2.5 – 6.5 hours (about 3 hours playing The Legend of Zelda: Breath of the Wild). It's good enough in my opinion if you want to play the Switch while you commute to work or school. You can also get a portable charger and keep playing while it's being charged.
The Console has a table stand so you can even play it on a flat surface, but unfortunately the charging port (USB-C Port) is located at the bottom so you cannot charge it while it's on the table stand mode.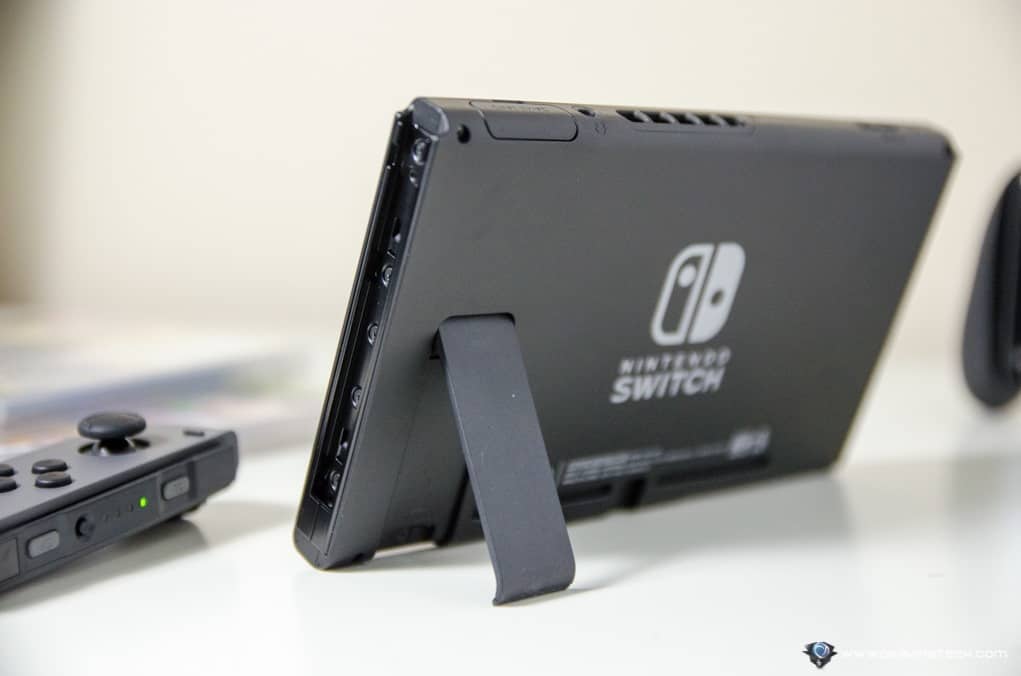 Its Ergonomics (when played in tablet mode and the separated Joy-Con controller) are not the best but for a gaming console system that can be played both on TV and also portable, I don't have any complaints here.
The rather disappointing part is that the Switch console does not support Bluetooth earphones / headphones. It does have Bluetooth to pair with the controllers and other accessories, but does not work with audio devices. It's unclear whether there will be a firmware update to enable this in the future at all. So much for using my Bose QuietComfort 35 while playing on the train or go completely wire-free.
The packaging comes with a Joy-Con Grip to transform your Joy-Con controllers to a single controller unit, but unfortunately it's different to the Joy-Con Switch Charging Grip, a similar model but has a charging port to charge your Joy-Con controllers. You have to buy it separately and it's not as cheap as you'd think.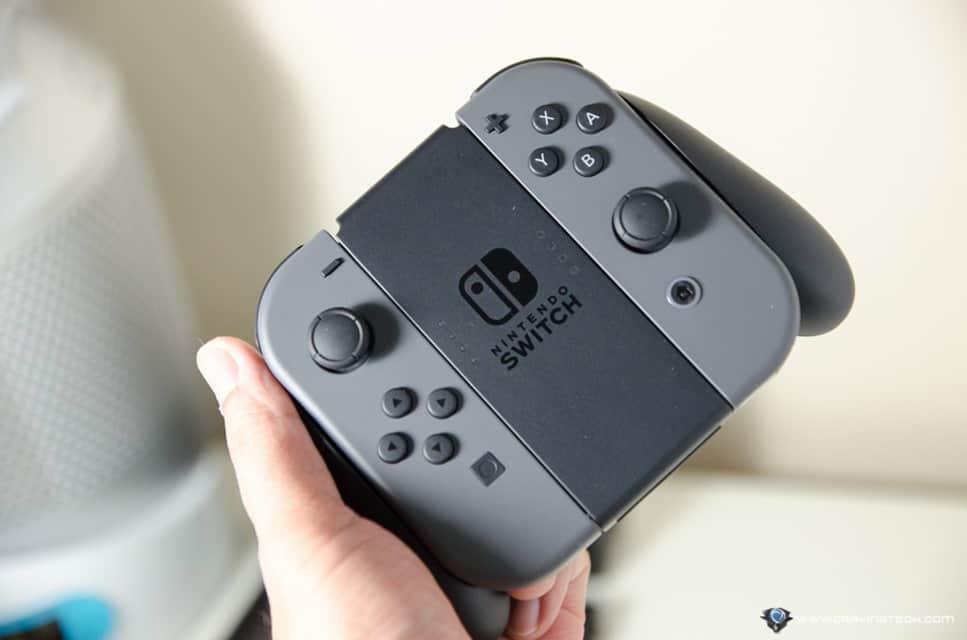 Nintendo Switch Dock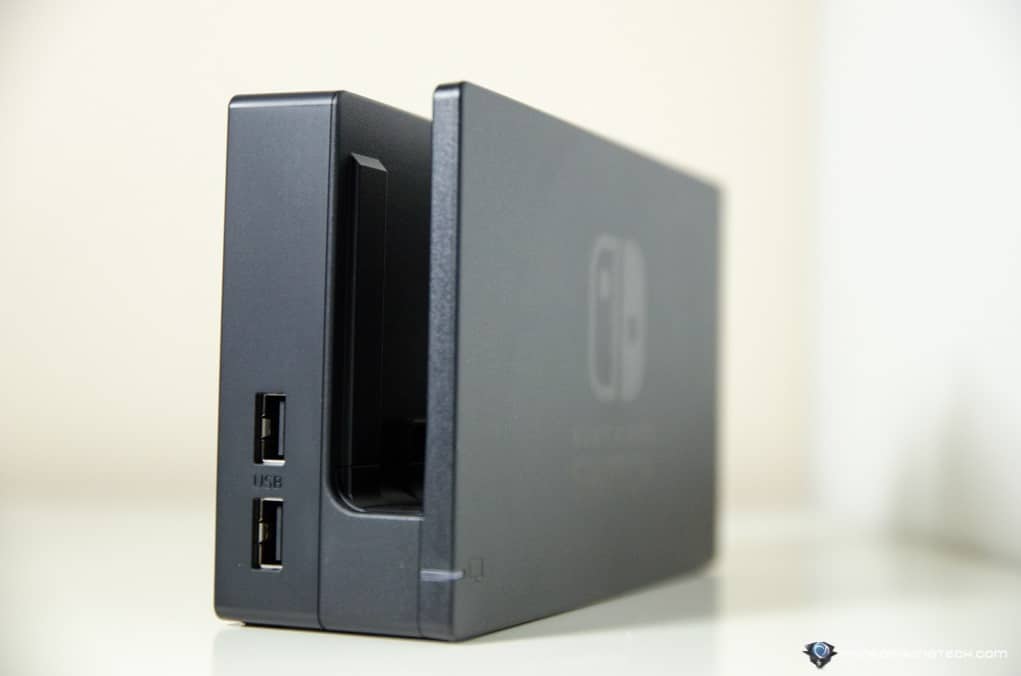 The Dock holds as the bridge between your Switch Console (tablet) and your TV. It weighs around 325 grams, which makes it easy to carry to a friend's house or for a party.
Inside the Dock, you'll find some USB slots to connect accessories and charge your controllers, HDMI port, and power. They are hidden with a simple cable management panel.
The Dock will auto-charge your Switch Console and the Joy-Con controllers when docked. It'd take around 3 1/2 hours to fully charge your Joy-Con controllers which will give around 20 hours of usage in return.
Some people get their Switch console screen scratched while docking/undocking but it looks like this is just a manufacturing defect on some batches, and does not affect every Switch owner. From what I read on the net, Nintendo is nice enough to actually swap your Switch console to a new one if you are affected through its amazing Support. Nothing to worry about here but you can always get a screen protector if you are still scared.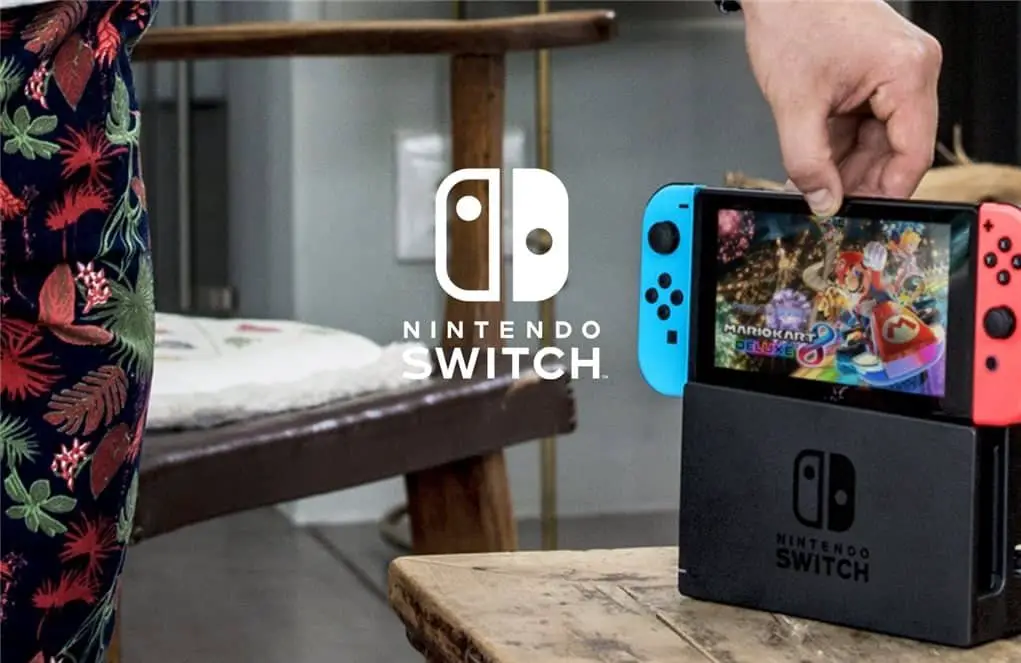 Nintendo Switch Review – Gaming Experience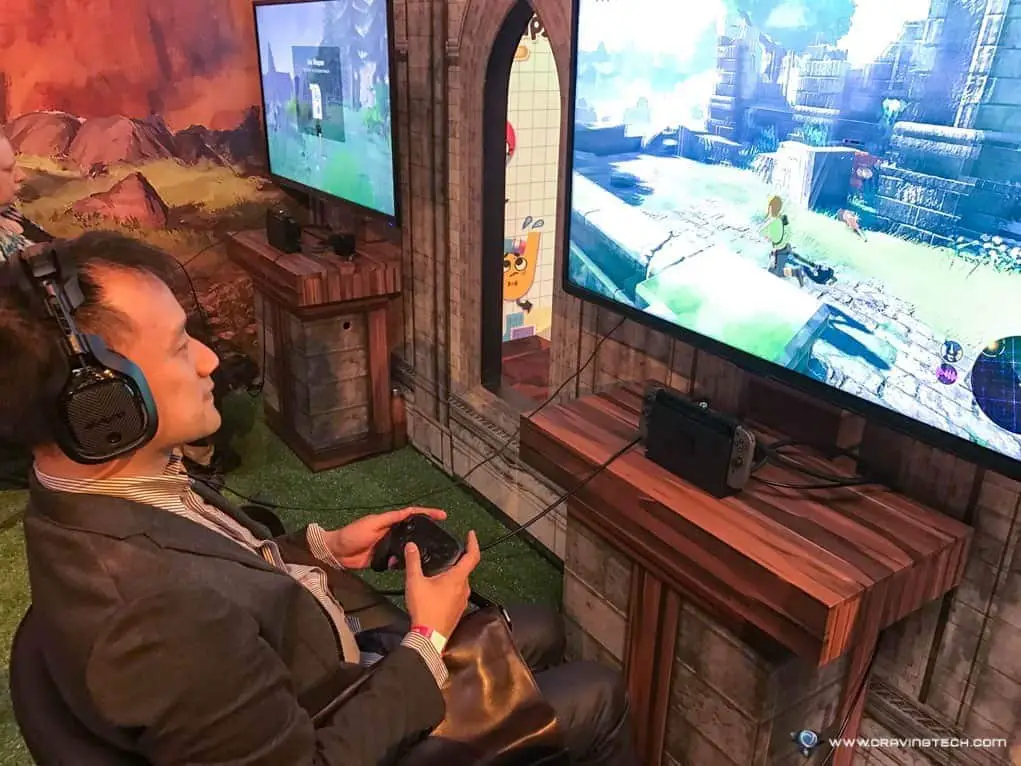 As I mentioned many times, I really love the portability and versatility of the Nintendo Switch. Play a game on the TV when you are home and undock the Switch to continue playing on the train while you commute to work. The game will instantly switch and there is no tedious method to manage between the two modes. Like Steve Jobs used to say: it just works.
If that does not sound amazing enough to you, do you know that you can also detach the Joy-Con controllers into two so you can play a game like Snipperclips (check out our review) or Mario Kart Deluxe 8 with 2 people together without having to buy a separate controller?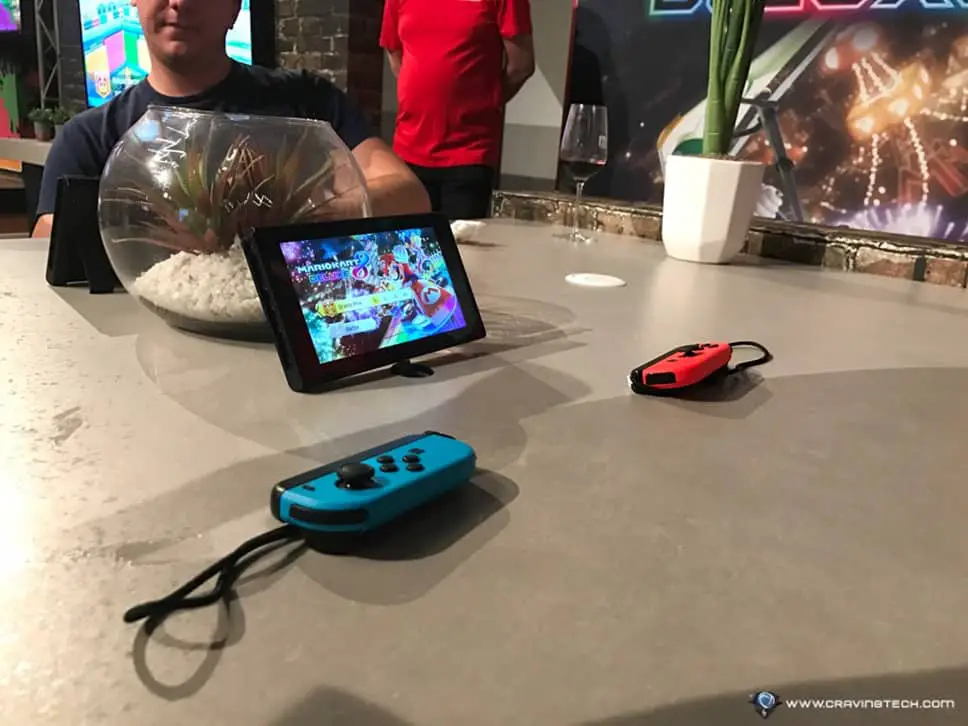 If you do decide to get an extra Joy-Con controller, you can play games with up to 4 players (or you can use your smartphone to play if the game supports it – like the Just Dance 2017). Multiple Nintendo Switch owners can also get together for a local multiplayer party, by linking up to 8 Console and each playing on their own Switch. I tried this on the launch event playing Splatoon 2.
Judging from the number of games available, it feels as if the Switch was being released a bit too early. We could only see a few games during the initial release but thankfully more are coming this year and some are also in development. Nintendo does give us The Legend of Zelda: Breath of the Wild to play while we wait, and if you check on the online reviews, it's full with glowing stars and praises. In a sense, you can still get the Switch now and it will still be a good investment in the long run.
I'd love to see the Switch to be able to browse the web (there is no web browser at the moment) and have other supported apps like Netflix, YouTube, etc. I have a hunch these will be coming in the future updates, but we'll have to wait for now.
Hardware-wise, however, Nintendo Switch is as ready as ever and the rest are just software or firmware updates that can always be released as time goes by.
Nintendo Switch Review – Conclusion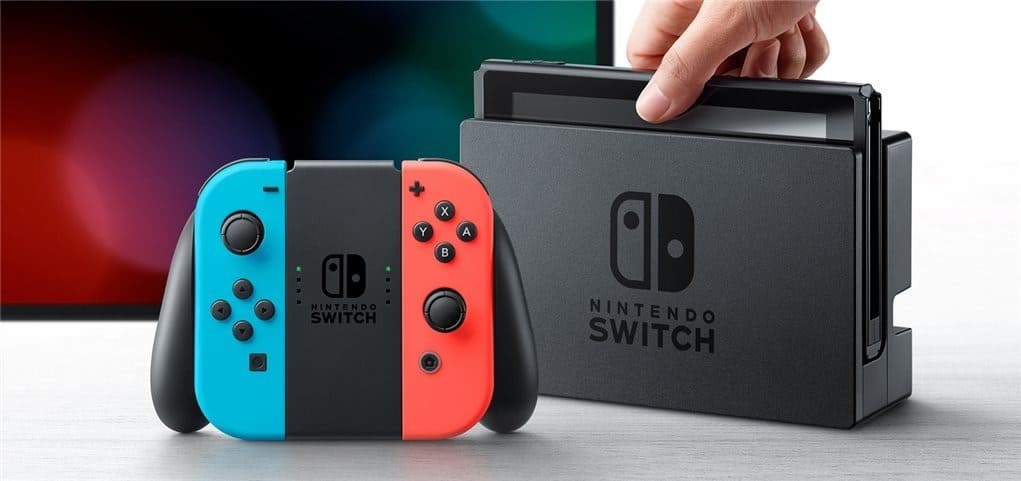 Nintendo Switch has a groundbreaking design and concept as a modern, gaming console-portable hybrid system. It is indeed revolutionary and breaks the static gaming console paradigm that only limits you to play in-house on a TV or monitor.
It was designed really well – docking/undocking is seamless, detaching the Joy-Con controllers are easy and they give a satisfying click when re-attached. The ease of use in everything you do on the Switch tells you how thoughtful the design process was.
With Nintendo Switch portability and versatility, gaming can be done anywhere and everywhere without much fuss. Going away for a holiday? Just undock your Switch Console/Tablet from the Switch Dock and keep playing either on your lap, or on a flat surface like a table.
A good gaming console system has great games. Sure, some would prefer playing exclusive, big PS4 titles like the Last of Us or Persona 5 but they are aimed for a different market. If you've always enjoyed Mario Kart, Zelda, and other games from the previous Nintendo consoles, you'll definitely love the Switch.
We bought the Just Dance 2017 for the Nintendo Switch on the first day we got it and had a blast. Next on the line: Mario Kart 8 Deluxe and Super Bomberman R. We are definitely looking forward to more exciting games coming this year and the next. Please have a new Raving Rabbid game on the Switch, please.
Review: Nintendo Switch was supplied for reviewing but all opinions are mine and not paid
Nintendo Switch Pros
+ Portable, versatile
+ Easy to use, smooth performance
+ Flawless gaming experience transition (from tablet to TV and vice versa)
+ Great display on the Switch console/tablet with multi-touch capacitive
Nintendo Switch Cons
– Accessories are quite expensive
– No Bluetooth earphones/headphones support