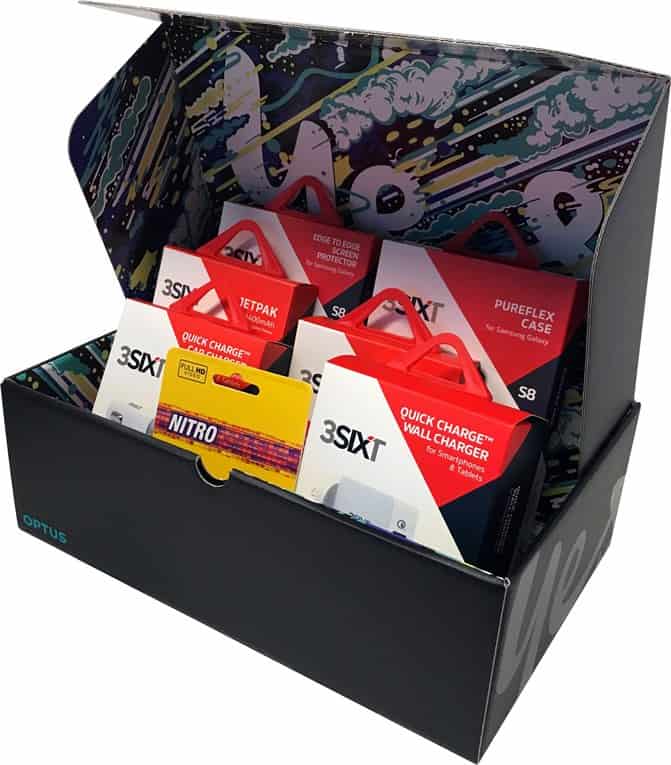 In just a short time, this awesome box containing $240 worth of accessories for Samsung Galaxy S8 or S8+ can be yours!
The 3SIXT Essentials Pack contains the ultimate accessories that you'll love and need for your newest Samsung Galaxy phone. The Essentials Pack is available from Optus stores around Australia and can be purchased for $240 AUD or can be added to your mobile phone plans.
But today, you can get it for free, thanks to 3SIXT who sponsors a prize to be given away here at Craving Tech!
Here are all the goodies inside the 3SIXT Essentials Pack:
3SIXT Quick Charge™ Wall Charger

75% faster charging | Class A 5/9/12 V

Simply plug the 3SIXT Quick Charge™ Wall Charger into your wall outlet along with your device compatible USB cable to get super-fast charging. The lightweight, sturdy design fits anywhere, not taking up valuable room on power boards and twin outlets.

 
3SIXT Quick Charge™ Car Charger

75% faster charging | Class A 5/9/12 V

 

Get extra fast charging when you need it most. Simply plug the 3SIXT Quick Charge™ Car Charger into your vehicle's charging socket along with your device compatible USB cable to get super-fast charging on the go.

 
3SIXT Charge & Sync Cable

High output up to 3A | Charge USB-C smartphones and tablets

Connect your USB-C smartphone or tablet to a device or charger with a USB-A port for syncing and high output charging (up to 3A).

The connector clicks into your smartphone or tablet for a snug and secure connection. Designed with sturdy connectors, the flexible cable has connectors with molded strain relief for frequent unplugging and durability.

 
3SIXT PureFlex Case

Transparent back | Everyday protection

Offering everyday protection in a slim, lightweight design, the 3SIXT PureFlex Case uses soft TPU edges and a transparent polycarbonate back. The impact-resistant material guards against damage.

 
3SIXT Edge to Edge Screen Protector

Anti-scratch | Anti-smudge | Case friendly

The 3SIXT Edge to Edge Screen Protector offers protection to your Samsung Galaxy device with curved edges that form perfectly to the contour of the screen. It offers full screen protection with superb optical clarity and touch sensitivity.

 
3SIXT JetPak 4400mAh

1A single USB | LED flashlight

Need a quick top-up or in desperate need of rescue from a dead smartphone battery? The slim profile and rubberised 3SIXT JetPak 4400mAh is your go-to portable power solution when your juice is about to run out.

 
64 GB Nitro UHS-I microSDHC/XC Flash Memory Card

Maximum performance | Rapid speed

Maximises the UHS-I technology for outstanding NITRO performance, including 85MB/s (566X) minimum guaranteed read transfer speed. It also can rapidly acquires, plays back and transfers media data, include extended durations of 1080p full-HD and 3D videos.

 
How to win a 3SIXT Essentials Pack for your Samsung Galaxy S8/S8+
Answer this question on the Giveaway widget below to participate in the giveaway:
3SIXT Essentials Pack for Samsung Galaxy S8

The one who provides the best answer will win the prize.
Some terms and conditions:
Eligibility: Australia
Giveaway starts on 13 June 2017, 6:00PM AEST and ends on 27 June 2017, 5:59PM AEST.
Prize cannot be exchanged or redeemed for cash.
ONE winner will be selected at the end of the competition and will be contacted by email to get your shipping address. If you don't reply the email within 48 hours, a new winner will be picked instead.
This is a game of skill, not chance. The winner will be picked based upon the best answer to the question.