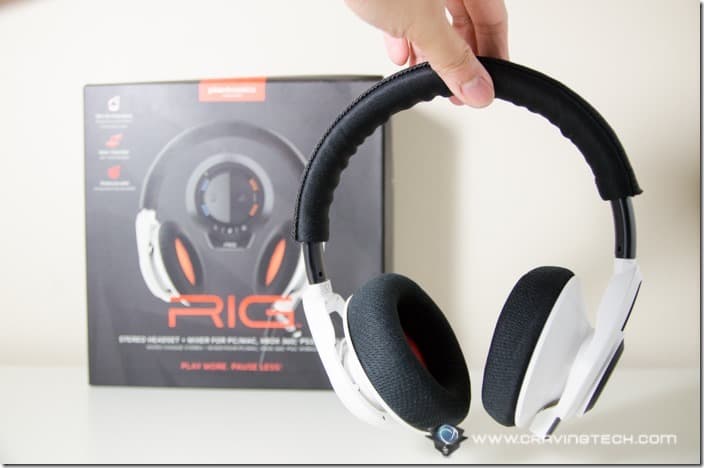 Plantronics RIG Gaming Headset Review – Plantronics RIG is a stereo gaming headset from Plantronics with 40mm speaker drivers. Unlike many other headsets, however, Plantronics RIG is special.
It's the only gaming headset (that I know of) that can hook your phone up so you can take calls and listen to your in-game's audio simultaneously. It's also the only gaming headset at the moment that gives you full control of what you want to hear and how you want to hear it. You can mix and match the audio channels to your own preference.
Plantronics RIG Review – Packaging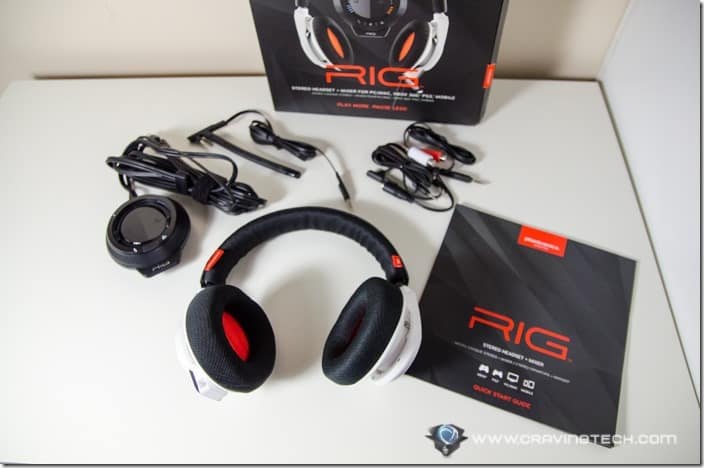 The packaging includes:
RIG gaming headset
RIG Mixer
Boom microphone
Xbox LIVE chat cable
RCA piggyback cable
In-line microphone + cable
Plantronics RIG Review – Design & Features
Coated in black & white with a touch of orange patches here and there, the Plantronics RIG review unit that I have looks pretty cool.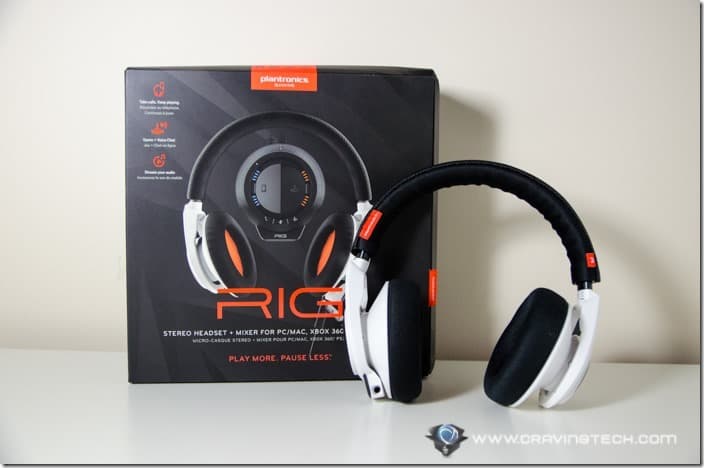 The RIG is a full ear-cup headset which covers your entire ears. The cups are made with breathable mesh cloth, which works well during a hot, sunny day. Or if you like to game for hours and hours.
The headband is made with a cloth material which makes it look a little cheap and fragile, but thankfully it's comfortable to wear. It feels as if the cloth material is prone to tearing though, but so far I haven't experienced any.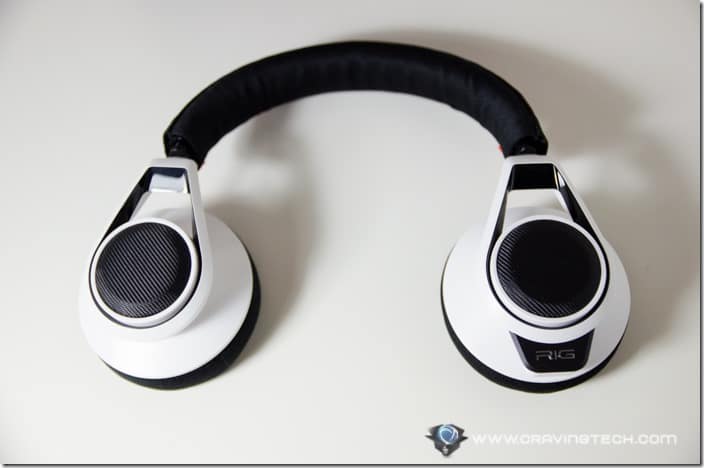 Overall, its build quality is quite decent. The headset itself feels durable and the ear cups can lay flat for an easy storage (or when worn around neck).
Why would the RIG be around your neck? It's because the RIG can be used as a portable headphone. Its microphone boom can be detached so you can comfortably wear this in public on the go. As a portable headphone, the RIG can be plugged to your smartphone via the 3.5mm audio cable (included in the packaging). The cable also includes an inline microphone, so you can also make and answer calls with it. It's pretty nifty.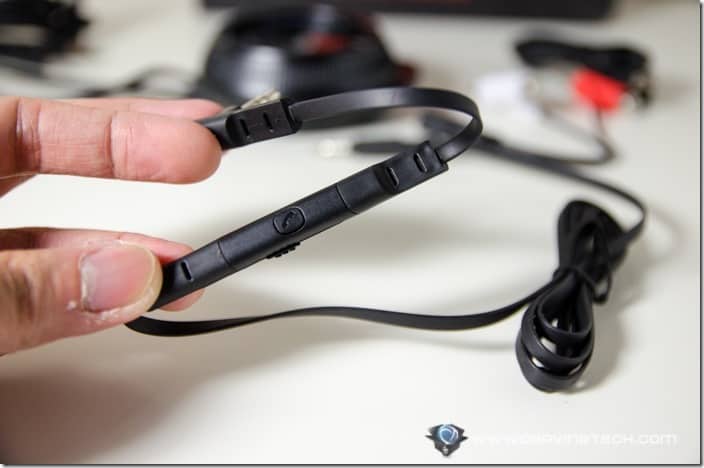 Plantronics RIG can be used on multiple platforms, such as PC/Mac, Xbox 360, PS3, PS4, smartphones, and also other devices such as tablets. Most of the needed cables are included in the packaging so you can hook them up out of the box. Most gamers own more than 1 platform (PC and PS3, in my case) so having a gaming headset that can be used in multiple gaming platform is a nice perk.
Then, there is this awesome mixer where all the magic happens. Unlike some gaming headsets with a separate control unit, changing volume levels and modes are not the only things the RIG Mixer does. Imagine this scenario: you are playing DOTA or Left 4 Dead 2 and suddenly you get an important call, perhaps from a special someone. Normally, you'd take your gaming headset off, place your phone on one of your shoulders, and lay an ear on it while you keep on gaming (without the in-game audio). With Plantronics RIG, this awkward scenario will not happen again.
You can hook your phone to the RIG so that you can take calls with the headset while you game. Both audio channels (from the call and your current game) will be streamed to your ears simultaneously. Depending on where the audio jack is on the phone (top or bottom), the setup can be a little bit awkward (upside down):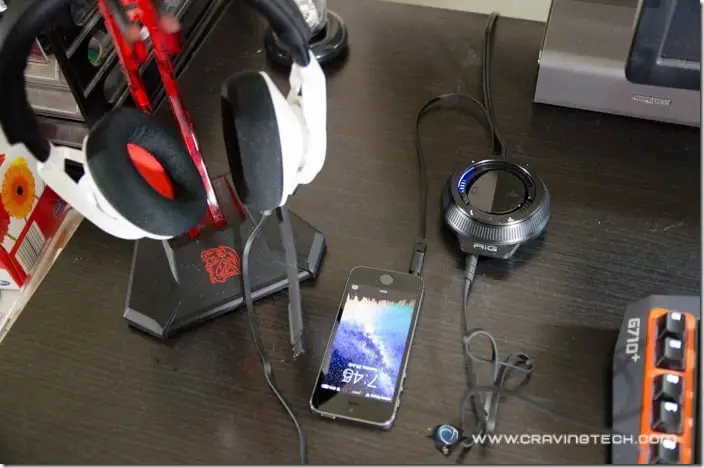 Listening to both voice call and in-game audio can be messy and that's where the RIG Mixer comes into play.
With the RIG Mixer, you can control whether you want to hear more of your calls or the in-game audio. Simply spin the dial towards the channel that you want to hear more. This way, you can control what and how you want to hear each channel to your preference. You can even mute one of them by spinning the dial all the way to the channel you want to boost. It sounds complicated but it's actually very simple and cool. When I tested this, the caller couldn't even hear my in-game audio and I could continue gaming comfortably while taking calls with the RIG headset on.
The Mixer can also be used to adjust the game and voice chat audio with the same trick. It's really useful when you want to hear your teammates more on Ventrilo. You have the control. Note that in-game audio chat (like in CS:GO) is considered as an in-game audio so you will not be able to separate them as 2 channels.
There are also other controls on the Mixer such as the answer call button, microphone mute, and mode change (Pure, Seismic or Intensify). "Pure" is great for music listening (balanced), "Seismic" for bass lovers (focus on low frequencies such as explosions, etc), and "Intensify" for highlighting mid-range audio sounds (such as footsteps and environmental sound, for pinpointing enemy locations).
Plantronics RIG Review – Conclusion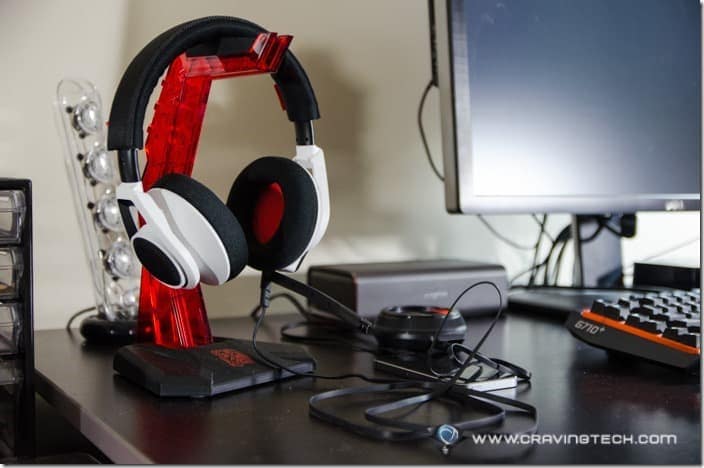 Plantronics RIG gaming headset has it all and will be loved by all gamers. It sounds good, comfortable to be wear, and most importantly, can be used to take calls while you play your favorite games. Your partner won't even notice and you can still hear what's going on in-game. Profit!
With the RIG Mixer, you are in complete control to mix and match what you want to hear more. The dials are intuitive, though it took a few tests to understand how they work. Once you can get around the learning process, however, you will fall in love with it.
You can even detach the microphone boom, plug the other audio cable with in-line microphone and controls, and use it as a portable headphone on the go. RIG can also be used on consoles, which makes it a swiss-army-knife headset for all gamers!
Obsessive compulsive gamers, beware. You may moan profusely at the sight of the Mixer and cables lying somewhat messily on the desk. Apart from that, no one should complain about what they are getting here. This is my first Plantronics gaming headset to review and I was a bit skeptical at first, but I'm totally blown away here.
Disclosure: Review sample was sponsored for the review. All opinions are mine and not paid
[AMAZONPRODUCTS asin="B00EUY5A7A"]