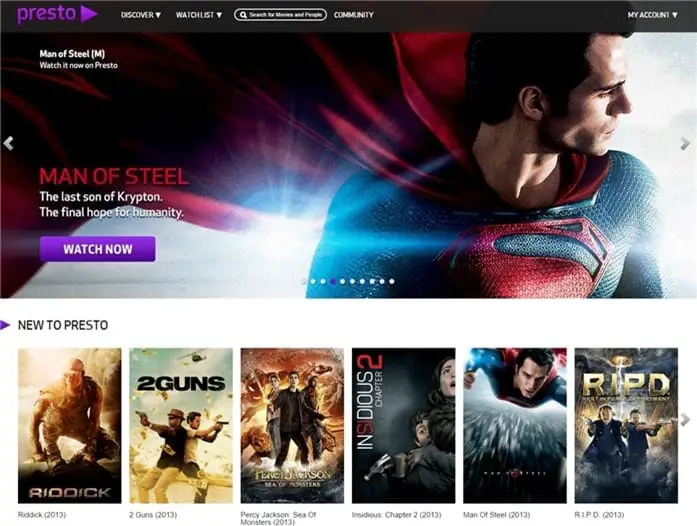 There are times when you just want to sit on your couch, relax, and watch some movies during your leisure time. At times like these, you probably don't feel like going to a cinema or to the nearest DVD rental store. Thanks to Presto, you can have access to tons of movies to watch at just $4.99 for the first month and $19.99 per month after. All you need is an internet connection.
Presto is an Australian subscription-based online movie streaming service offering no contract. You are free to stop your monthly subscription anytime, no strings attached.
Presto offers a ton of movie collections of all genre (drama, comedy, action, etc) for you to watch. There are definitely lots of movies that I haven't watched before, available on Presto. Saying that, however, there are also movies that I want to watch/re-watch but they are not on Presto (such as Lord of the Rings, Finding Nemo, or Terminator II).
New movies are being added every now and then, thankfully. For new release titles, however, you will have to "rent" them (on top of your monthly subscription) for $5.99 each and you only have up to 48 hours to watch it. After a few months have passed, these new release titles will go into Presto's subscription library so you can watch it as part of your subscription. Note that you don't need to be on the monthly subscription to rent them out.
The movies on Presto can be watched on your TV via Chromecast, iOS and selected Android tablets, or on your PC/Mac. Watching on a PC doesn't require any software to be installed, so you can just pick a movie and start watching via a web video player.
You can play/pause the movie, control its volume, go to a specific frame, and also to view it in full screen.
On the iPad:
If you can't finish watching a whole movie in one go, you can stop and continue to watch it on a different day. Presto will make a mental note of where you are when you close the player. It's pretty neat.
You can also add a list of movies to a Watch List (to be watched later) and Presto will also remember every movie that you have watched before.
As long you have a valid account (stay subscribed), you are free to watch any movie on Presto as many as you want. There are basically no limitations (no bandwidth limitations apart from your ISP's and no limit of how many times a single movie can be watched). The only limitation is the number of devices that you can register to watch the movies on Presto. At the moment, you can only assign 4 devices for your account, but you can replace one per month (for those times when you are upgrading your tablet or PC).
The movies are also not in HD quality, which can be a turn off for some. It's alright if you are watching them on a tablet or on a PC/Mac. However, if you plan to watch on a big TV screen, you may be disappointed by these SD quality movies.
Overall, I love how easy the whole experience is. I can imagine how fun it would be to bring an iPad along while you travel and have access to these movie collections. All you need is an internet connection to start watching (and that you are still in Australia). Those lonely moments in a Sydney hotel room during a product launch event will be no more, thanks to Presto!
Disclosure: I was sponsored a 1-month free access to Presto to try it out and write a review. All opinions are mine and not paid
Presto 1-month free subscription Giveaway
Thanks to Presto, we are giving away 1 voucher code to that you can redeem at your Presto account to get a whole free month of movie goodness! Simply apply this code if you win and you can watch any movie at Presto movie subscription library anytime you like. Feel free to watch 3-5 movies a day (or more, up to you) for the whole month, for free!
The winner will be picked randomly and contacted by email.
To join the giveaway, simply use the widget below:
Terms and Conditions:
Eligibility: All states in Australia, except for the state of NSW in Australia
Giveaway period starts on 4/08/2014 9 AM and ends on 18/08/2014 8:59 AM AEST
Prizes cannot be exchanged for cash