Logitech MX SOUND Review – Logitech is not a new player in the Bluetooth and desktop speakers market. They have quite an extensive range of models available, even ones with a dedicated subwoofer to deliver that extra 'oomph' you need.
However, the Logitech MX SOUND combines what you'd want on your desk – a premium, yet compact desktop speakers that will look good sitting on the desk, yet offering versatility in device connectivity. And still sounds good.
The inclusion of Bluetooth 4.1 means that the Logitech MX SOUND is not just good as desktop speakers, but can also be used with your mobile devices like smartphones or tablets. It offers 3.5mm inputs (1x PC and 1x AUX) with a headphone jack, so you can plug it into your laptop or even to a gaming desktop PC like mine.
Its unique and modern looks are fresh to see (from the traditional bookshelf-look speakers) and the design of the dedicated passive bass ports is quite smart as it also holds the unit down. Without a dedicated big subwoofer unit under the desk though, the Bass it not as strong, but still gives you that extra kick you want from songs, games, and movies compared to traditional, compact desktop speakers.
The volume can get loud and the MX SOUND is definitely more suited as the main speakers in a study or bedroom area, but may not have enough power to fill in the whole living room in a big house.
Volume controls are hidden away cleanly behind the front's fabric material and will only appear when it detects a motion nearby, i.e: they are soft buttons that are motion activated when your hands or fingers draw near. I like it, it's clean. No playback controls to be seen, however.
I've been using the Logitech MX SOUND as a desktop speaker and so far I'm loving it. The sound is not the best in terms of delivering the purest sound (you will be paying hundreds more to get that) and can only offer Stereo, but it's good enough for watching movies, casual music listening, and playing games.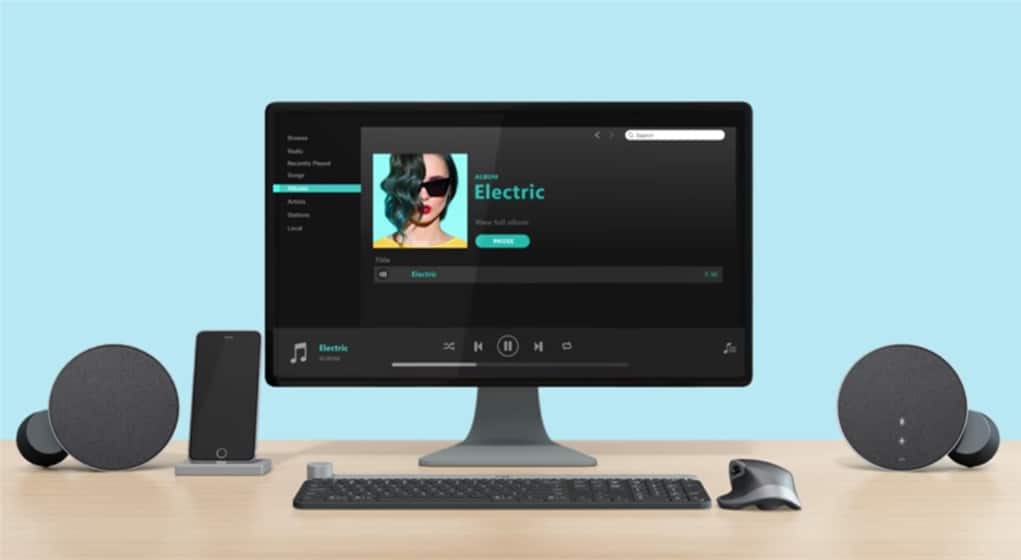 For a clean desktop set up, Logitech MX SOUND delivers a compact desktop speaker solution with elegant design and minimalist looks. It doesn't sound as amazing as a $300-400 speakers, but if you are not an audiophile, need to hook the sound up to a laptop, or usually game with a headset, then the MX SOUND is a great complement as a versatile desktop speaker.
Logitech MX SOUND can be bought at major retailers around Australia like The Good Guys with an RRP of AUD 149.95.
Disclosure: Logitech MX SOUND Review sample was supplied for reviewing but all opinions are mine and not paid