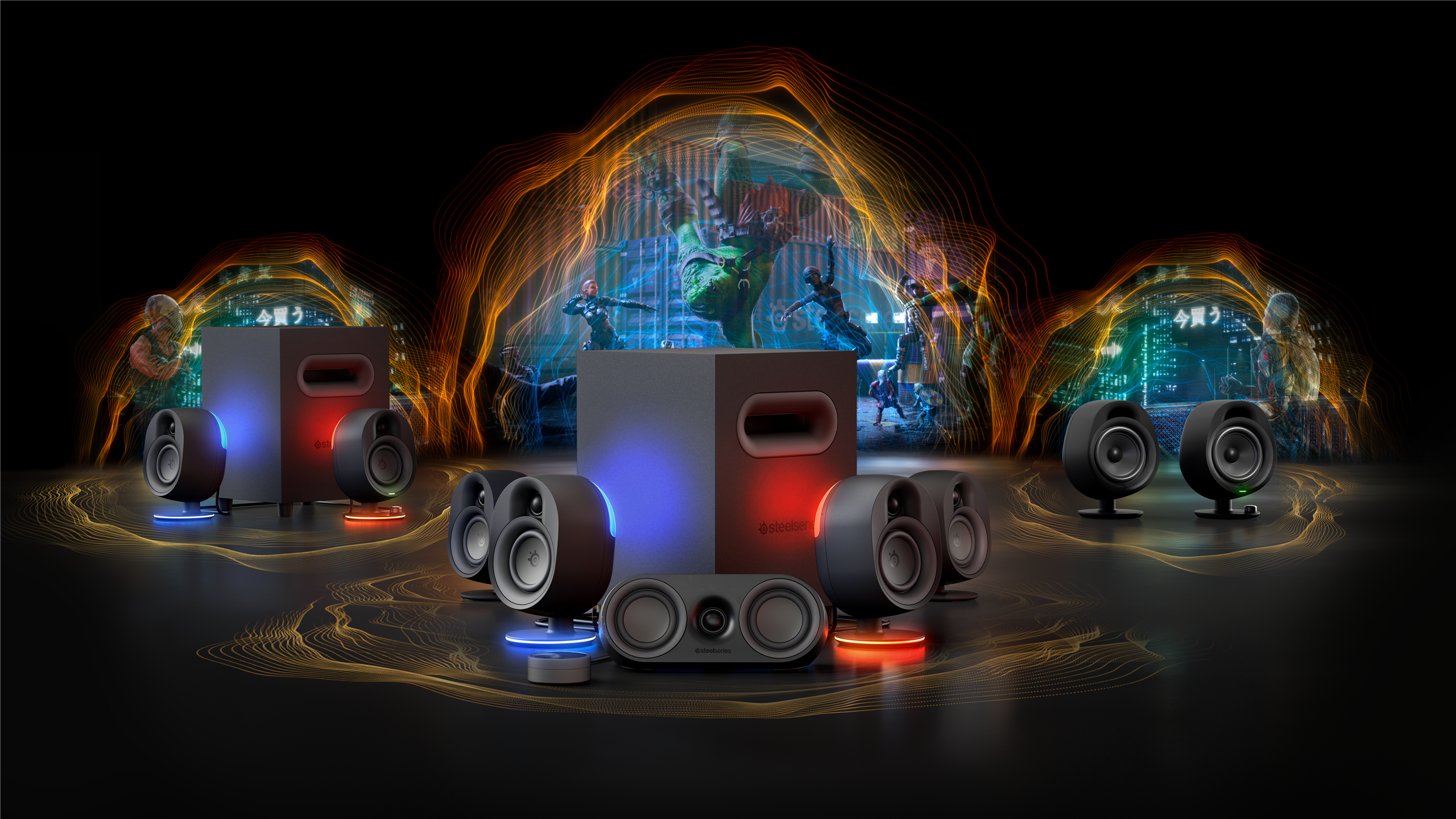 SteelSeries is one of the world's leading gaming and esports peripherals, ranging from mice, keyboards, and headsets. We've reviewed tons of them here at Craving Tech so make sure to check them all out.
But just a couple of days ago, there was a surprise. SteelSeries has unveiled a new set of gaming speakers for the desktop – a new series in their gaming products line. It's not just one product either, but three: Arena 3, Arena 7, and Arena 9.
The SteelSeries Arena 9 Speaker System is definitely the ultimate speaker setup for your full gaming immersion with 2-way speaker design, dedicated centre channel, dedicated subwoofer, wireless rear speakers, and also a screen-reactive RGB illumination. It's also the world's first 5.1 USB gaming speaker system so it's very exciting! It connects with just a single USB cable into your PC, as the rear speakers are all wireless. Connection wise, there's optical, 3.5mm Aux, and also Bluetooth.
The Arena 7 consists of a 2.1 speaker system (so two front speakers and a dedicated subwoofer) comes in configurable 4-zone RGB lighting. Connection types are the same: Optical, 3.5mm Aux, and Bluetooth.
The Arena 3 is a 2.0 speaker system so, without the subwoofer and it also doesn't have any illumination. Thankfully, it also supports Optical, 3.5mm Aux, and Bluetooth.
It's not just the new hardware that makes me excited, but the integration to SteelSeries Sonar Audio Software Suite. From the gaming headsets I've tried (most recently the SteelSeries Arctis Nova Pro Wireless) the integration between the hardware and software is top notch. It elevates the audio experience and quality as you can adjust many things in simple yet intricate manner. It will be interesting to check out how the software suite is going to boost these SteelSeries gaming speakers out.
SteelSeries is also launching the Arena Wireless Mic, a standalone wireless ear-mounted microphone that features a ClearCast SuperCardiod Noise Canceling Microphone.
The Arena 3 Speaker System retails for AU $289 and the Arena 7 Speaker System retails for AU $619.