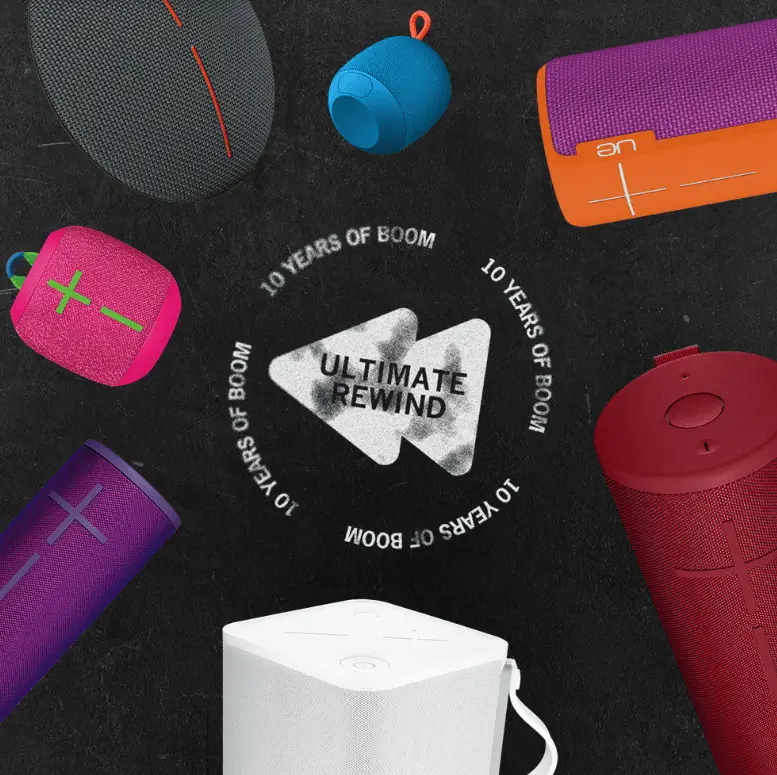 Ultimate Ears (we reviewed some of their products here at Craving Tech like the WONDERBOOM 2, MEGABOOM 3, and MEGABLAST) is marking its 10th anniversary. Ultimate Ears has been a steadfast companion for music enthusiasts, delivering exceptional sound experiences for a full decade.
To celebrate this remarkable milestone, Ultimate Ears is launching the 'Ultimate Rewind' campaign. This campaign serves as a tribute to the brand's profound impact on Australian and New Zealand culture, as well as its pioneering role in transforming how people enjoy portable music.
Damian Lepore, Cluster Head and Managing Director of Logitech ANZ, expressed his enthusiasm, stating, "It has been a once-in-a-lifetime experience witnessing the growth and success of Ultimate Ears and the BOOM Bluetooth Speakers soar through the genuine love in the Australian market. The BOOM has firmly cemented its position as a cherished addition to Australian culture, becoming synonymous with social gatherings and outdoor enjoyment, enriching the lives of countless individuals seeking to savour music in any setting. Looking ahead, we eagerly anticipate the next 10 years with the Ultimate Ears BOOM, as we strive to remain an integral part of people's lives and continue enhancing their music experiences."
Whether you're still holding on to the robust UE ROLL or have upgraded to the sleek HYPERBOOM, Ultimate Ears aims to reconnect with its loyal fans who have been with them from the beginning, as well as those who have recently joined the Ultimate Ears family.
As part of the Ultimate Rewind campaign, Ultimate Ears has collaborated with renowned Australian artist Mulga to design 10 custom-painted MEGABOOM 3 speakers. This unique collaboration offers fans the opportunity to win these one-of-a-kind prizes. Each hand-painted MEGABOOM is a distinctive work of art, adding a touch of creativity and individuality to the already outstanding sound experience that Ultimate Ears provides.
For more details about joining the Ultimate Rewind Campaign to celebrate Ultimate Ears' 10th birthday, you can visit their website here.