Ultimate Ears MEGABLAST Review – I'm having a blast with the Ultimate Ears MEGABLAST portable Bluetooth speaker (pun intended).
It has big sound with high quality audio and quite punchy Bass. That is saying a lot for a portable Bluetooth speaker, which normally lacks in audio quality.
Make no mistake, it is nowhere small where you can fit it into your pants' pocket, but with such a good sound, you will not mind the size at all.
Ultimate Ears MEGABLAST Review – Packaging
My review sample came with a Power Up Charging Dock, which is sold separately for A$49.95. It's a really convenient way to charge the MEGABLAST as you can say goodbye to messing up with cables to charge the speaker with. You can simply place it on the dock to charge, assuming you take the seal protector out, but we'll get back to that later.
The charging dock is only available in White at the moment but I hope they have other colours planned to match your MEGABLAST's.
Ultimate Ears MEGABLAST Review – Design & Features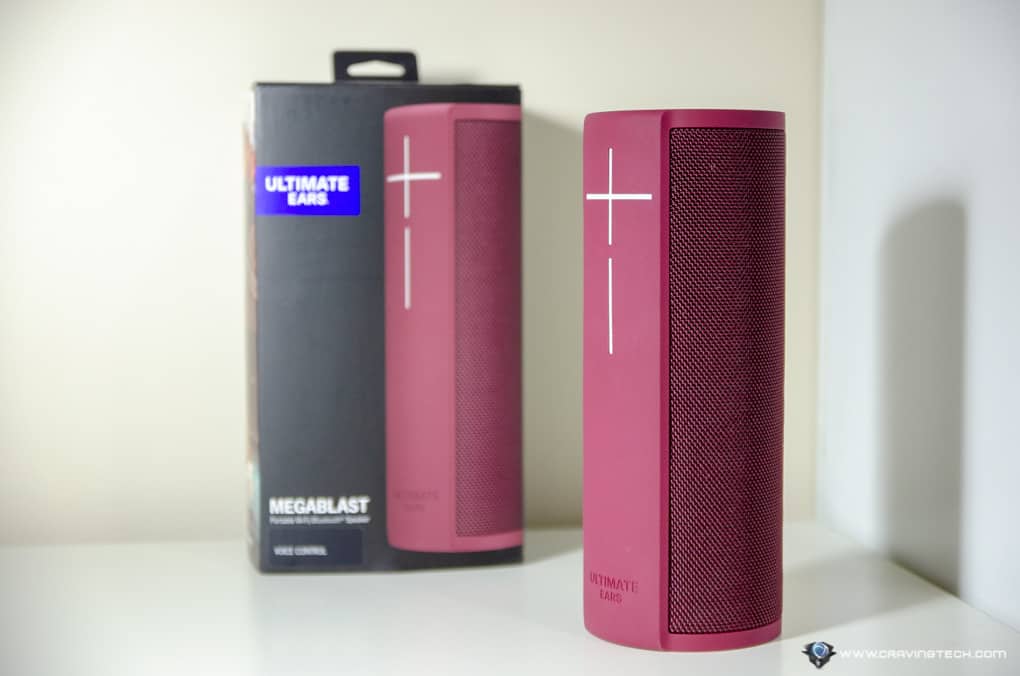 The MEGABLAST is not as compact as the Bose SoundLink Micro, but its sound output is far more superior. As Ultimate Ears put it, it's the "biggest, loudest, and most beautiful speaker" they've ever made.
MEGABLAST is available in different colours and while I tend to go for the most standard colour like Black (Graphite) or White (Blizzard), I was definitely tempted with the Merlot (Red). And I don't regret it. You can also pick Mojito (Green) and Lemonade (Yellow) for a spicier colour.
Ultimate Ears MEGABLAST looks really good and somewhat feels luxurious. It doesn't look like it's covered with cheap materials and the speaker grills add a really nice flair to it. Two huge volume control buttons are located at the front of the speaker and it somewhat adds a nice touch to the contrasting body colour on the Merlot. I can't find a way to skip a track, however, unless you use Alexa (if your music service is supported) or use your phone app.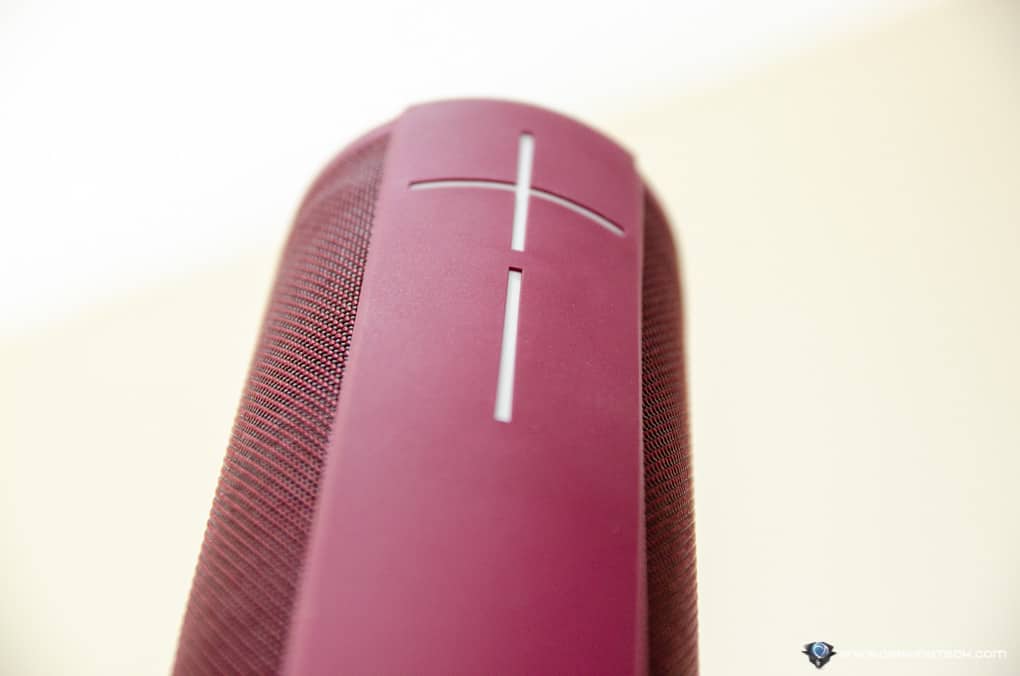 The speaker is dustproof and waterproof with an IP67 rating, meaning it can be submersed under water for 30 minutes (with the depth of 1 meter). While it's probably not recommended to listen to your music while you carry it swimming, you can.
https://www.youtube.com/watch?v=euLBfsG5aE4
This makes the MEGABLAST perfect for a pool party or when you are chilling on the beach. It's well-rugged and built like a tank. However, an IP67 rating means there is a compromise to be made, and that is the way you recharge the MEGABLAST.
The charging port is located at the bottom of the speaker and fastened to prevent water leaking in. As such, charging requires turning the speaker upside down and opening up the secure flap. But if you are not going to use it outdoor, you can unscrew the seal and just leave that part open.
Battery life is roughly around 16 hours, which is quite generous considering the amount of audio power that the speaker outputs.
Alexa is supported, which makes the MEGABLAST a smart speaker. If you own a Deezer, Amazon Music, or Spotify Premium account, you can simply ask Alexa to play you a music and control with voice.
When you say "Alexa", the MEGABLAST will give a light indication that it's responding and waiting for your command. There is no confirmation sound like Sonos One (which I prefer), but I know some who prefer not to have any audio confirmation on an Alexa-supported speaker.
I can also ask MEGABLAST via Alexa to turn my bedroom lights off (Phlilps Hue 2.0), ask for weather, and more.
And boy, sound is where MEGABLAST excels at. It's loud, strong, and punchy. I tested the speaker once at our church hall and everyone who heard it was amazed at how good and loud the sound was. In fact, it always feels as if MEGABLAST is plugged into power and has a whole complete multi tweeters and subwoofer. It actually has two 25mm tweeters, two 55mm active drivers, and two 85mm x 50mm passive radiators.
Sound signature stays strong and undistorted even at higher volume, but to be honest I was never able to crank it to the max as it has become too loud for my taste.
Through the Ultimate Ears app on your phone, you can update the firmware and also change the audio EQ (it comes with some presets too).
There is no AUX/3.5mm audio input though, which is a pity.
Ultimate Ears MEGABLAST Review Conclusion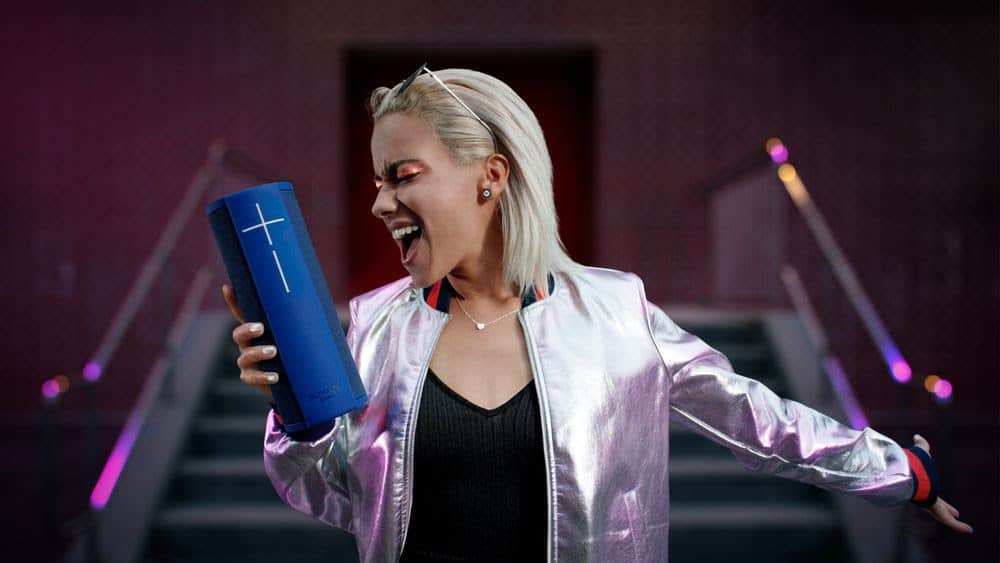 Ultimate Ears MEGABLAST is an excellent, one stop, portable Bluetooth smart speaker that will blast your room and ears with no remorse. Combined with a stylishly strong design statement and an IP67 rating (for dustproof & waterproof), the MEGABLAST is a blast to have around for different occasions.
Each time I showed this speaker off to a group of friends, they were always blown away by how good the speaker actually sounded – even when I turn it on and off (there's a big, thumping sound showing how powerful the speaker is).
Alexa on the go combined with strong, punchy audio clarity – there is nothing to be worth complaining about here. Unless you are looking for something of a smaller size, of course.
Ultimate Ears MEGABLAST is available at major retailers around Australia and online for A$379.95 RRP.
Disclosure: Ultimate Ears MEGABLAST review sample was supplied for reviewing but all opinions are mine and not paid