Turtle Beach Elite Pro Review – Turtle Beach Elite Pro is a premium gaming headset designed specifically for hardcore gamers, especially eSports players. Don't let this deter you from purchasing the headset though because if you game for hours and hours, you'll appreciate what the Elite Pro headset can offer.
So, even if you don't compete in a tournament or eSport level, you will still enjoy the Turtle Beach Elite Pro for both gaming and your other entertainment needs.
The base headset itself can be bought for A$299 at retailers such as JB Hi-Fi Australia, and has options to expand – though you have to shell out some more extra cash for that.
Turtle Beach Elite Pro Review – Packaging
Turtle Beach Elite Pro Review – Design & Features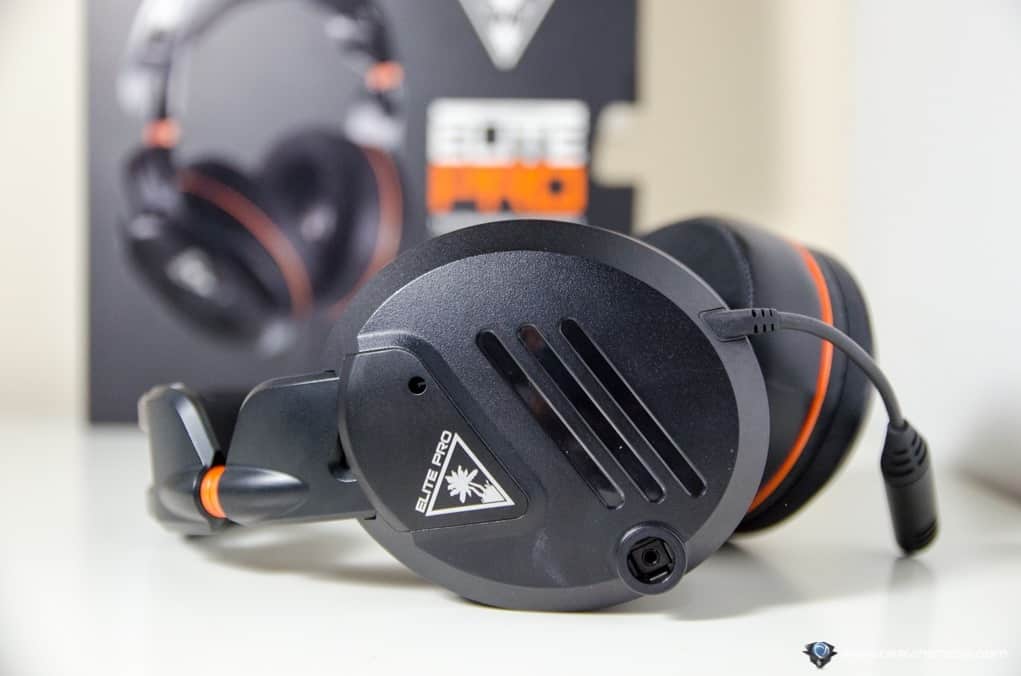 I was expecting a heavy and clunky headset (due to the size of it) but thankfully the headset itself is actually much lighter than I thought. Plus, it doesn't feel bulky and look cheap like the Razer's ManO'War headset.
The tension adjustment system is definitely a unique feature that I've never seen before in a gaming headset (or headphones in general). It gives you the most satisfying feeling of being able to adjust the fit and comfort of your headset to your preference. A truly personalised fit, thanks to the handy sliders that let you loosen or tighten the grip smoothly.
Combined with comfy ear cups that have plenty of padding, your head and ears will thank you. I've used the headset for a number of hours on a daily basis to play my games and never had a complaint with tightness or discomfort.
The AeroFit Ear Cushions (the ear cups) feature a combination between spandex fabric with gel-infused foam (on the part that touches the ears) to keep your ears cool and leather sidewalls for a better look, noise isolation, and superior sound. It is again, a unique design that I truly appreciate after using it for a couple of weeks.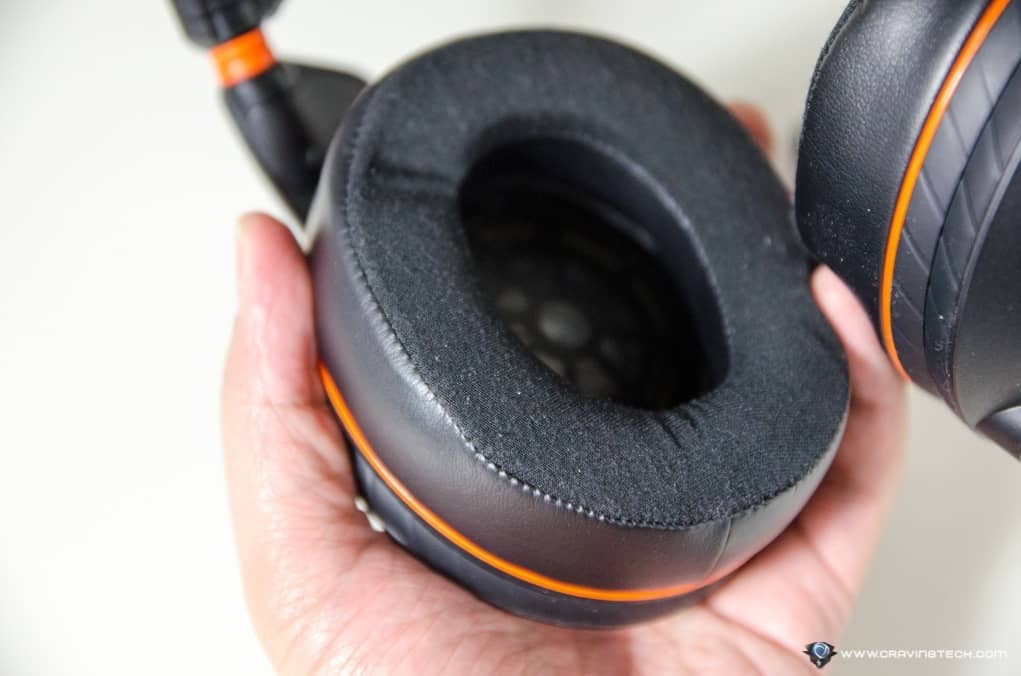 Most headsets would opt for an all-leather material on the ear cups, but leather make your ears hot and sweaty in Spring/Summer, an experience I had while reviewing the HyperX Cloud Revolver S not so long ago.
You can also wear glasses and the ear foam design would self-adjust, thanks to a patented pressure-release technology exclusive to the Turtle Beach Elite Pro headset. As I don't wear glasses myself, I couldn't test how comfy or tight it is.
Turtle Beach Elite Pro headset on itself only supports stereo mode through a 3.5mm jack, but has an excellent audio quality. The Bass is powerful and the clarity of the audio should keep you happy. Games and movies feel immersive, and the audio positioning is accurate in online, competitive, first person shooter games like Overwatch.
Also note that the headset is compatible with PC, PS4, and Xbox One – which is another plus for the purchase. Since it's using a 3.5mm audio connection, you can plug it to any compatible devices.
Those who are longing for more can make separate accessories purchase for their Turtle Beach Elite Pro headset. The ones I have for reviewing here is the Elite Pro Tournament Audio Controller (A$269) and an Elite Pro Tournament Noise Cancelling Mic (A$59). Note that if you are going to mostly use the Elite Pro headset at home, you do not need the Noise Cancelling Mic as the stock microphone is good enough.
The Tournament Audio Controller, on the other hand, upgrades your Elite Pro headset to a totally different beast.
Turtle Beach Elite Pro Review – Elite Pro Tournament Audio Controller
It's an expensive, yet impressive audio controller that gives you plenty of features and expansions on top of your Elite Pro headset. Through the Elite Pro T.A.C, you now have access to 7.1 surround sound (DTS Headphone:X® 7.1 Surround Sound) and up to around 16 EQ Audio Preset selections. There is an option to turn the Dolby Surround off too, if you prefer to play in Stereo mode using the in-game Dolby Atmos.
Through sheer number of adjustment knobs and sliders, you can adjust between your game and voice chat volume, in-game volume level, mute/unmute the microphone, and broadcast both gameplay and chat streams in real time.
Features such as being able to daisy chain multiple Elite Pro T.A.Cs together for a lag-free local chat network and some EQ presets are pretty much reserved only for highly competitive players.
You can switch between the presets and modes (i.e Gaming, Movie, Games, etc) through the "Presets" and "Surround Mode" buttons, but honestly, it'd take some time for you to remember which preset is which. There is no LCD display apart from the 4-LED-Dots so you'd need to refer to the quick user guide for a while. If you love using different presets for different activities, you'll love the T.A.C. No option to adjust your own, however.
The Mic Monitor Level gives you an option to hear yourself when you talk and the Background Noise Limiter will further cancel the noise around you when you talk. I find, however, that setting it too high would actually make my voice inaudible with significant cut-offs. In a tournament and LAN party environment with plenty of background noise, however, this feature should work as intended and your teammates will thank you.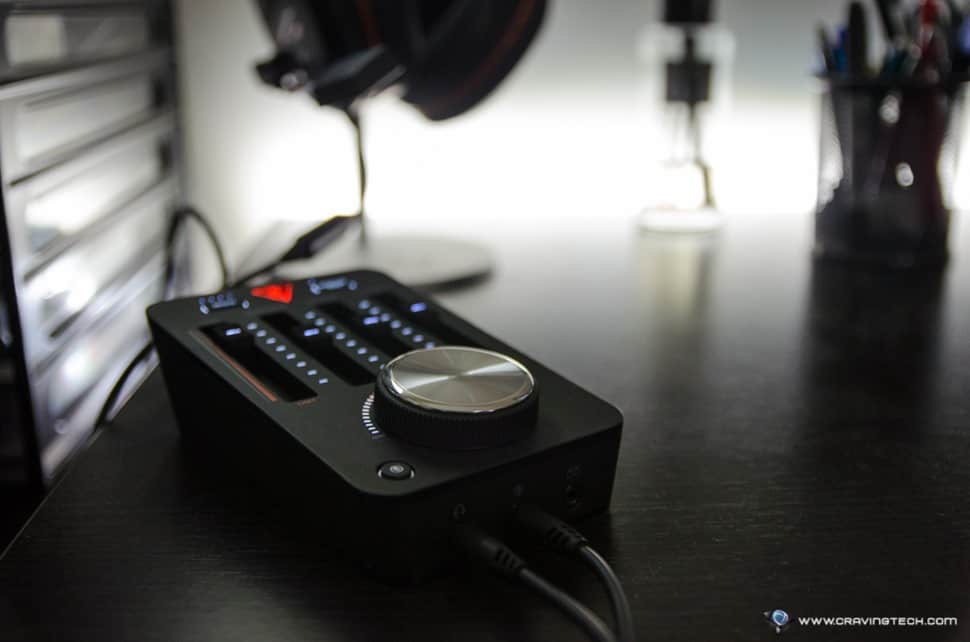 Turtle Beach Elite Pro Review Conclusion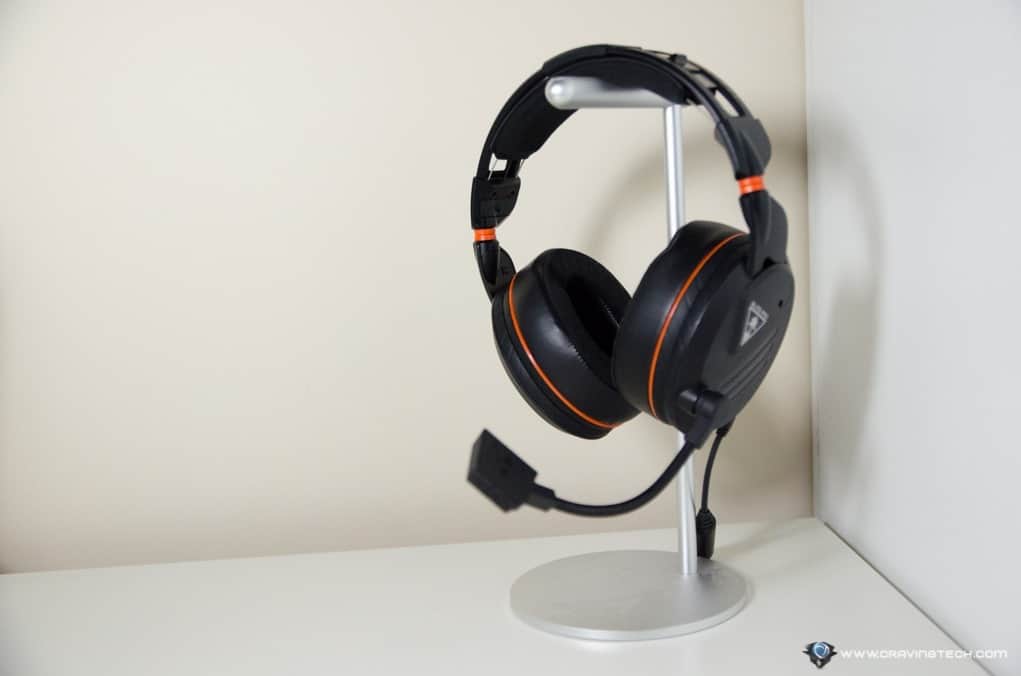 Turtle Beach Elite Pro is definitely designed and built for gamers who'd wear the headset for many number of hours on a competitive level (including those who'd only wear this at home). The headset is indeed very comfortable to wear for hours – it does not feel bulky and fit can be set exactly as how you want it to be (not too tight or loose).
The audio is clear, powerful, and has accurate audio positioning that I can vouch on. I play Overwatch competitively and could always pinpoint exactly where the enemies are at all times, especially when they execute their ultimate skill – which is a death and life situation.
As a professional gamer and eSport player, the audio controller with its daisy chain feature & specific presets, plus the noise-cancelling microphone will be your ultimate tools to win, making sure you hear what you want to hear in the heat of battle (whether that be your teammates voice chats, or in-game sound).
As a casual gamer however, you do not really need the audio controller (or the noise-cancelling microphone), but the problem is that you cannot get a 7.1 Dolby Surround without the T.A.C and buying the T.A.C itself is quite costly (A$269). If you are playing just casually, there are definitely other cheaper options out there with a 7.1 Surround (with less audio quality, comfort, and cheapy-looks).
But if you are looking for a good quality, comfy headset for hours and hours of game time and you do not need the 7.1 surround (i.e Dolby Atmos FTW), definitely check the Elite Pro out even if you are not an eSport player.
Turtle Beach Elite Pro with T.A.C and Noise Cancelling Mic Accessories Pros
+ High quality headset – design & material
+ Great, non-cheap plastic looks
+ Really comfortable and the tightness is highly adjustable
+ Ears don't feel hot, thanks to the unique ear cups design
+ Great sound with accurate audio positioning
+ Works on PC, PS4, Xbox One
+ Can be "transformed" to a completely different beast with a Tactical Audio Controller
Turtle Beach Elite Pro with T.A.C and Noise Cancelling Mic Accessories Cons
– Does not come with 7.1 Surround, unless you get the T.A.C which costs A$269 (the headset itself is A$299)
– Noise Cancelling Microphone is a bit flimsy sometimes