Kingston HyperX Cloud Revolver S Review – The HyperX Cloud Revolver gaming headset has been praised by many, delivering rich audio with comfy build and great design, despite of the low price tag. Lots of gamers own the headset and are mostly happy with what it has to offer.
To those who are longing for more, Kingston has just released the higher-end, flagship, HyperX Cloud Revolver S gaming headset and it now comes with a plug-and-play Dolby 7.1 Surround sound.
That's right, gents and ladies, no driver installation is even required – you can simply carry this headset around and plug it to another computer or machine, and it'd still work with all the bells and whistles.
HyperX Cloud Revolver S Review – Packaging
HyperX Cloud Revolver S Review – Design & Features
With an overall matte black finish mixed with faux leather ear cups, self-adjusting straps, and steel frame, the headset looks great overall. It doesn't feel bulky or flimsy. Thanks to the self-adjusting strap, the headset will fit nicely into any head size and you do not need to fiddle with any adjustment mechanisms.
The full ear cups design covers the whole ears and give me the immersion I love while I game or watch movies with the headset. Due to the leather material, I find my ears get sweaty during the hot days in Melbourne. A simple wipe to the ear pads does a good job to clean them though.
Overall, the headset is comfortable to wear and it does not weigh my head down while playing for hours.
The microphone is detachable, because you can actually use the Cloud Revolver S with your phone (through the 3.5mm audio jack). This way, you can walk on the streets and listen to your music without looking silly. While attached, the microphone is pretty flexible but you cannot retract or fold it away (for example, when you just want to chill and watch movies).
I'm amazed with the sound quality too. The volume is loud, yet clear. The USB sound card that comes with the packaging offers the Dolby 7.1 Surround (with DSP – Digital Signal Processing) but you have an option to plug the headset to your own sound card if you wish (through the 3.5mm). I've been using the Cloud Revolver S' USB sound card and I think it sounds amazing.
The audio control box is clippable (to your shirt), and can be used to adjust the volume, microphone, turn Dolby Surround on and off, and 3 different presets (should you want a Bass Boost, say). There are no volume controls on the headset itself though and it is a bit harder to try and find the volume dial on the control box.
The cable to the audio control box is long enough that it can rest on the floor if you don't like clipping it to your shirt. This is great because the box has a weight to it and you do not want it dangling and weighing you down.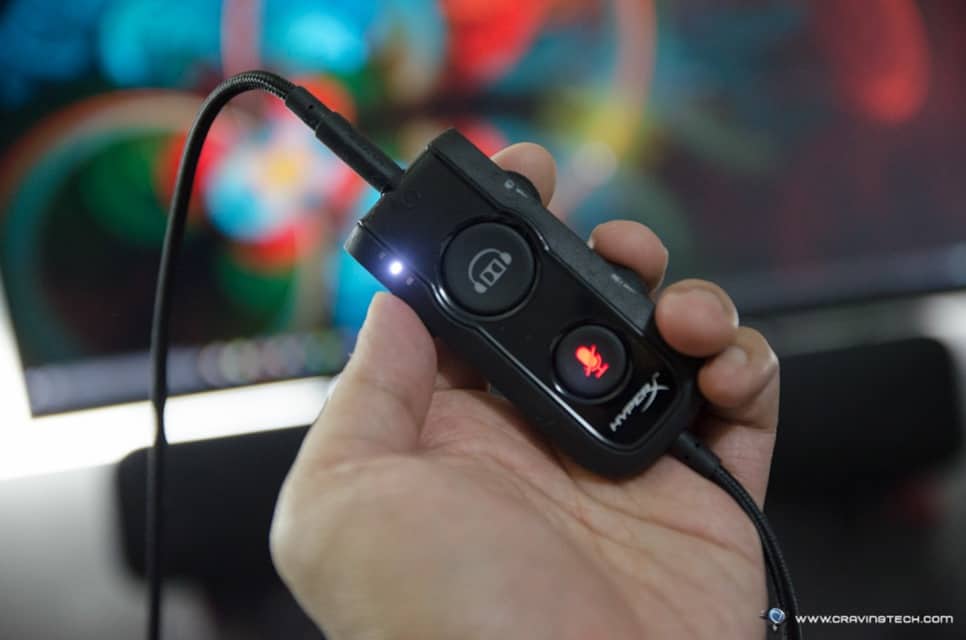 What owners of HyperX Cloud Revolver S will love is the versatility of the headset. The USB Plug N Play Dolby® Surround 7.1 is compatible with PC, PS4, PS4 Pro and devices with USB audio support. It's also stereo compatible via 3.5mm plug with Xbox One, Xbox One S, Mac, PC, PS4, PS4 Pro, mobile devices and VR systems. It's truly a "one headset to rule them all", really.
I'm quote amazed at how powerful and clear the HyperX Cloud Revolver S is. The full ear cups help in giving me the passive noise isolation and as a result, I can hear every little sound coming from my games (playing Deus Ex Mankind Divided and Overwatch at the moment).
In Overwatch, HyperX Cloud Revolver S offers accurate positioning with the help of Dolby Atmos in Stereo mode, immersion with its powerful Bass, and rich sound that I could even hear the water flowing inside Mei's gun when she reloads. The headset often gives me a "I've never heard that before" moment a few times.
Some sound and vocals seem distant when the Dolby Surround is turned on and some headphones I've tried have better acoustics for music listening, but nothing much to complain here really.
HyperX Cloud Revolver S Review – Conclusion
HyperX Cloud Revolver S is a great all rounder of a gaming headset. It has multi-platform support and best of all, can be used with any device that supports USB Audio or the good, old 3.5mm connection. The microphone boom is detachable so you can use the Cloud Revolver S as a regular headphone while you commute to work or school. The sound does not disappoint either and the headset is comfortable to use. I do feel that the Sennheiser PC 373D sounds better for music listening but you are paying much more for it (+ it only works in PC)  – which can be an overkill if you don't need a super rich audio quality.
With an affordable price tag, we should see glowing reviews all over the place real soon. HyperX Cloud Revolver S will be available soon in Australia and I'll update this review post once I have the information. HyperX Cloud Revolver S is available now (as of 24th of April 2017) with an MSRP of A$249 at Microsoft Online Store and other retailers with a 2-year limited warranty.
Disclosure: Review sample was supplied for reviewing but all opinions are mine.
HyperX Cloud Revolver S Review Pros
+ Sturdy build, steel frame
+ Great sound, powerful and clear
+ Option to use its USB sound card or your own (if yours is better)
+ Full immersion due to the ear cups design (and that powerful, tight, Bass helps too)
+ Comfortable
HyperX Cloud Revolver S Review Cons
– Mic is non-retractable and cannot be folded away if not used
– Kind of bulky to chuck into a bag
– No volume control on the headset
– Ears can get warm & sweaty due to the leather material in Summer/Spring