Seagate IronWolf 110 SSD for NAS Review – The Seagate IronWolf 110 SSD is specifically designed for NAS (Network Attached Storage) system. While you can technically use it on a desktop environment, you are undermining what it's built for.
NAS is designed to run 24/7 so it'd require a more robust disk drives to ensure stability, endurance, and performance for a daily, non-stop operation. The Seagate IronWolf 110 SSD definitely ticks these boxes as I'm hooking it up to my Synology DiskStation DS218j NAS system.
Since you can usually just do a plug-and-play on most NAS systems, you do not need to get extra cables to install the drive. My IronWolf 110 SSD 2.5″ review sample comes with 1.92TB capacity but there are other options ranging from 240 GB to 3.84 TB.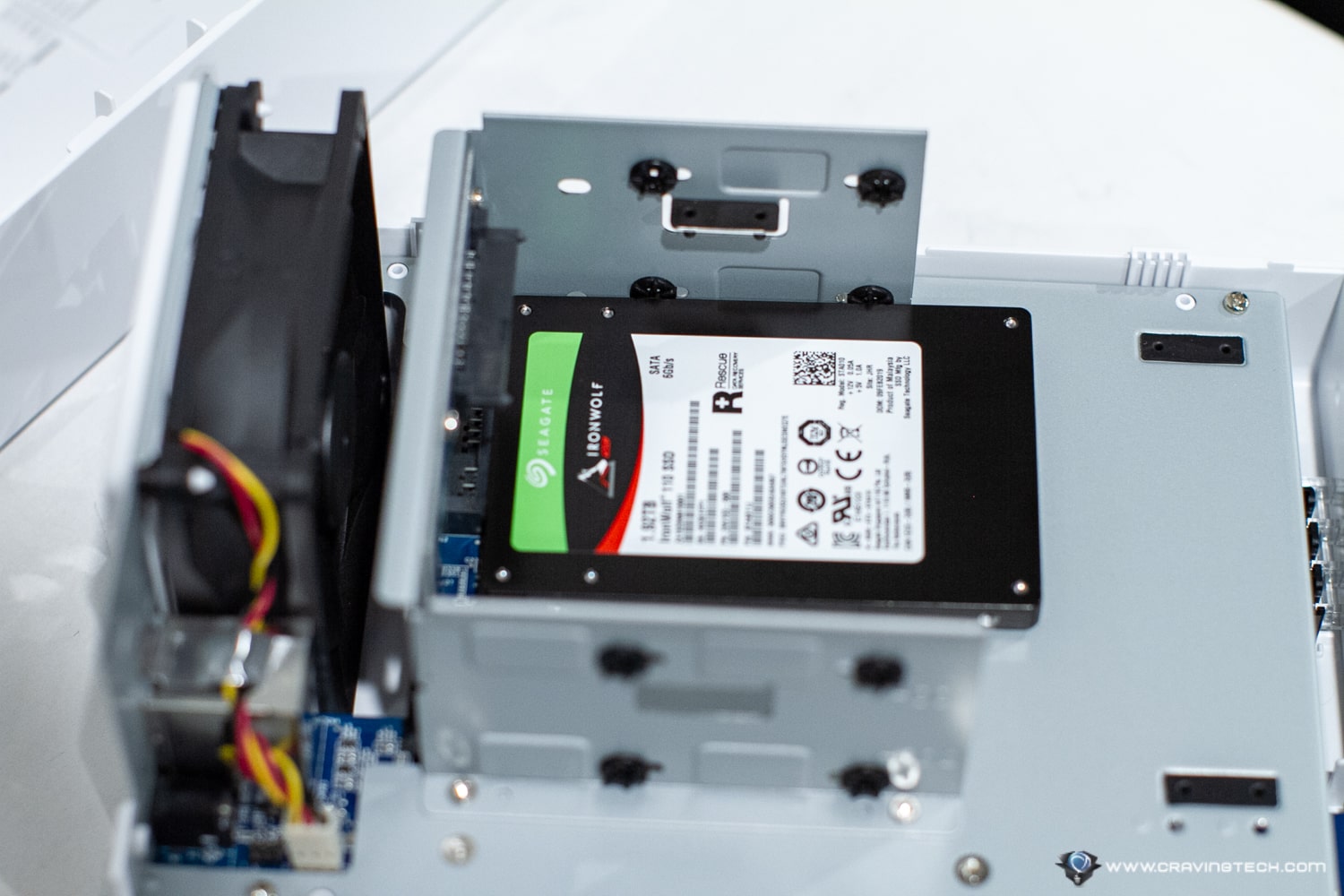 What makes the IronWolf 110 SSD stands out? For a start, the AgileArray is the one powering behind the drive which provides speed and stability for running it 24/7. The drive is definitely built to last.
Performance wise, the IronWolf 110 SSD has around 560MB/s read & 535MB/s write speed (limited by the SATA 6GB/s limit). If you've been using the good, old HDD on your NAS system, this might be a good time for a performance upgrade. The drive is an SSD so it doesn't have any moving parts like an HDD and that comes with bonuses like durability, quiet operation, and more.
The IronWolf 110 SSD is also powered by the DuraWrite technology for extra performance and durability (lossless data reduction, write less to Flash, lower power consumption, less heat), making it an enterprise-class drive that may sound like an overkill to a NAS home owners, but if you are looking for the best of the best, why not?
Inside the Synology DiskStation DS218j NAS, the IronWolf 110 SSD is very fast and responsive. Files operations such as files transfer between network devices, movies streaming, backups, and even file upload/download are snappy. Combined with a good router and network speed, you'll get the perfect NAS setup at home or at work for your business.
Running a NAS means you are going to expect lots of read and write operations. Having a daily backup, for example, means you'll need a fast write speed to the drive and more importantly, longevity. Seagate offers a 5 years limited warranty on these drives, plus a 2 years of Rescue Data Recovery Services plan.
For businesses that run many, frequent incremental backups every day, you want durability and the IronWolf 110 SSD definitely offers one.
I tested the drive with my DiskSTation DS218j NAS and set it up to do a lot of things like an NVR (using Synology Surveillance Station), backing up my computers' important files like photos and documents, Media Server (to stream movies & my old music files to the TV through Apple TV), and more.
So far, the drive has not failed me and I've never encountered any stuttering while streaming my security camera feed straight from the drive (or our 20-minute wedding video), or notice any missing file writes and saves.
And if your NAS supports it, the IronWolf 110 SSD can be integrated for caching to further bring out the extra performance of your current NAS setup (if you are using a hybrid of HDD and SSD).
Seagate IronWolf 110 SSD for NAS Review – Conclusion
Overall, the Seagate IronWolf 110 SSD is a killer drive in a NAS system. It ticks all the boxes you are looking for in a NAS drive: silent, longevity of the drive for 24/7 operations, durability of the write, less power consumption, less heat generation, and speedy fast performance.
While the Seagate IronWolf 110 SSD itself is nowhere cheap (the 1.92TB is around AU$795), it's definitely the best NAS drive you can get at the moment if you are looking for the performance, durability, and reliability. And in a NAS system, these traits are more important than you think.
The IronWolf 110 SSD is the World's First SSD built specifically for NAS and I'm sure it will leave a smile on the face of serious NAS owners looking for performance for a very, very long time.
Disclosure: Seagate IronWolf 110 SSD review sample was supplied for reviewing but all opinions are mine and not paid
Seagate IronWolf 110 SSD Review