D-Link Full HD Outdoor Wi-Fi Camera (DCS-8600LH) Review – After the successful launch of the OMNA Wire-Free (DCS-2802KT), the guys at D-Link has launched a new Wi-Fi surveillance camera, the DCS-8600LH.
This one is a wired, Full HD, Outdoor, Wi-Fi Camera aimed specifically to be placed Outdoor (though you can also place it indoor if you like) and has a modern, smart home integration.
D-Link Full HD Outdoor Wi-Fi Camera (DCS-8600LH) Review – Packaging
The packaging comes with a complete mounting kit where the camera can be installed on different surfaces around the house (wood, concrete, plaster, etc).
It comes with a lengthy power cable (about 7 meters in total) so I have plenty of options to run the cables neatly along the edge of my fence & alfresco boundaries.
D-Link Full HD Outdoor Wi-Fi Camera (DCS-8600LH) Review – Installation
I installed the mounting unit on my backyard fence with the provided screws. Once the mounting part sits sturdy on the fence, the magnetic dome can be slided in to hide the screws and also to host the camera unit.
With the help of mydlink app (available for free on both iOS and Android), the camera was connected to my Home Wi-Fi network and was up & running in no time.
The rotatable head on the camera unit makes it easy to set up as I can adjust the camera angle quite freely while being held in place magnetically.
D-Link Full HD Outdoor Wi-Fi Camera (DCS-8600LH) Review – Design & Features
The camera can record in Full HD (1080p) and has a wide angle lens to cover a good amount of area (117° horizontal, 59° vertical, and 135° Diagonal). With a built-in IR LEDs, the camera can also capture up to 7 meters in complete darkness.
It has IP65 rating and so far has withstood Melbourne's worst weather condition this year (with heavy rain and low temperature as cold as around 3 degrees in my area). According to D-Link, the camera should be able to operate within -25 to 45 °C.
D-Link Full HD Outdoor Wi-Fi Camera will record a clip whenever a motion or sound is detected and the clip can either be stored locally (through a microSD) or to mydlink cloud subscription. A 1-day free cloud recording offered for free users, with up to 3 D-Link cameras.
Smart Home Integrations include voice assistants like Amazon Alexa and Google Assistant (also supports IFTTT). I like how I can just say to my Google Nest Hub (formerly Google Home Hub): "Show me Backyard cam" and it will display the live stream directly on the screen.
With mydlinkapp, you can set how you want the cameras to work and schedule when you want them to be turned on and off. I don't want to repeat myself but feel free to check out the screenshots and see how the app works on my D-Link OMNA Wire-Free Review.
Clip recordings are definitely in good quality and I have no trouble identifying what's happening in the scene. Even in complete darkness (say, after midnight), the night vision works great and still produces a clear clip.
The camera can't be set to only detect people like Ring's Video Doorbell Pro, so it depends on how you set the motion trigger sensitivity and zones (yes, you can customise the detection zones, which I like very much). So if you have trees or things that may trigger false alarm, you can remove those grids out from the scene. It'll take some time before you can get the right sensitivity & grid settings – which depends on your scene and conditions.
When the camera changes itself to night vision mode, it also somehow automatically triggers a motion change so you'll always get a motion notification when this happens. It's something that hopefully can be fixed via firmware update.
D-Link Full HD Outdoor Wi-Fi Camera (DCS-8600LH) Review – Conclusion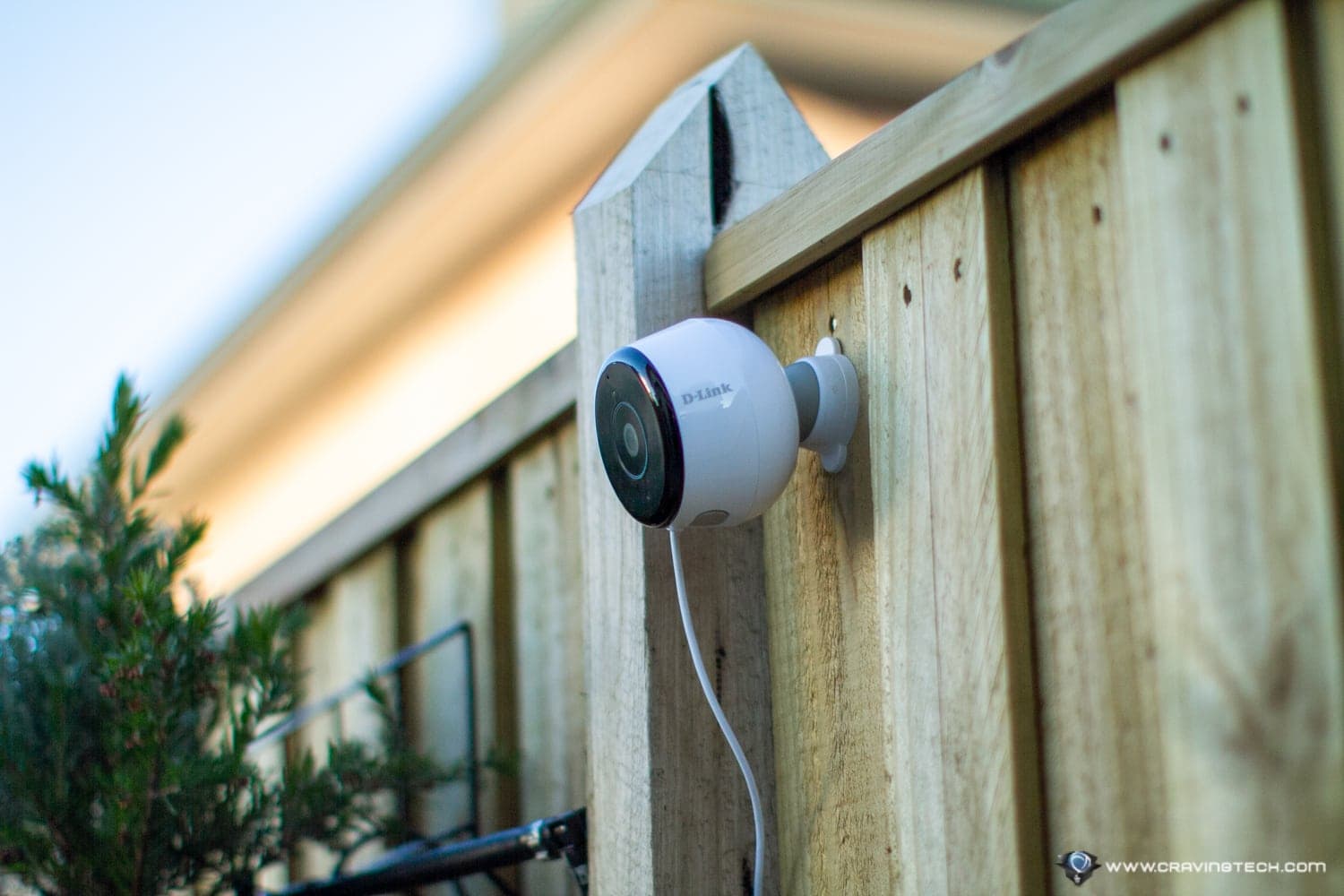 D-Link Full HD Outdoor Wi-Fi Camera records in high quality, full HD (1080p), and also works great in complete darkness, protecting your home from morning til night.
There is an option to store the recordings locally on the camera through microSD, or you can also take advantage of mydlink cloud recording. Through motion and/or sound detection, you can be alerted when these get triggered, but you can also schedule when you'd want to be notified. For example, if no one's at home on weekdays, then you can schedule the sensors to be turned on and off at certain hours automatically.
With the integrations to IFTTT, Amazon Alexa, and Google Assistant, D-Link Wi-Fi cam gets a smart home integration upgrade and it plays nicely to Google Nest Hub.
There is no heat sensors or an advanced sensor to only detect People, but thankfully you can adjust the motion zones and also sensitivities to hit that sweet spot. Or if you can't be bothered, you can set it to always record but never notifies you. At least you have that evidence if something bad happens.
D-Link Full HD Outdoor Wi-Fi Camera is available now for purchase at AU$279.95 at D-Link website or retailers around Australia. It's also available at Amazon.
Disclosure: D-Link Full HD Outdoor Wi-Fi Camera (DCS-8600LH) review sample was supplied for reviewing but all opinions are mine and not paid
D-Link Full HD Outdoor Wi-Fi Camera Review