Google Nest Hub Review – To those who wish their voice assistants can do more than simply replying to your voice command with a voice, you are in for a treat. Google Nest Hub (which was a rename recently from Google Home Hub) is technically a 7″ touchscreen display powered by Google Assistant.
With a gorgeous screen, microphones and speakers built into the whole package, Google Nest Hub is a great addition to your home. It also has many integrations to other services and smart home devices, making it a formidable piece of tech to have. Plus, it serves as a really good decoration at home too.
Google Nest Hub Review – Packaging
Google Nest Hub Review – Design & Features
One thing for sure that I wouldn't have expected is how good and sharp the screen is. Back in the days, I remember having a digital photo frame and I wouldn't call the screen great. But Google Nest Hub is like having a small, high-quality tablet on a stand. It also has an Ambient EQ Light Sensor which will respond to how bright the room is and will match the ambient colour automatically.
I love how the screen gets sharper and brighter in daylight and then dimmer at night. Volumes can be set like this too after a certain hour of the day. The ambient sensor never fails, and if I turn the whole lights off to go to bed, it also responds accordingly. I currently set it to display a clock full screen, but you can change its settings to switch the display off. There are also dedicated volume controls at the back of the Nest Hub.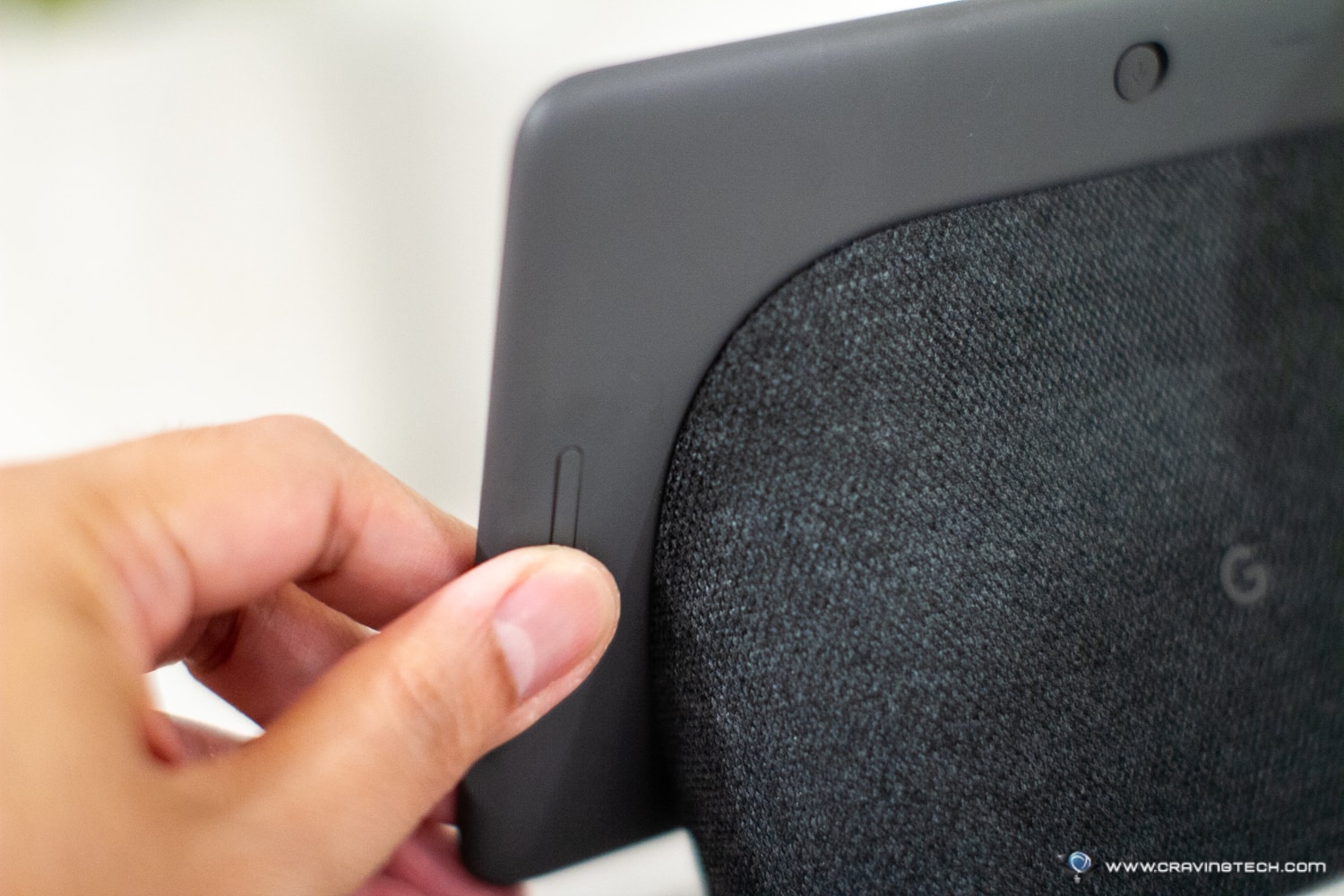 Google Nest Hub also serves as a perfect, digital photo frame. With such sharpness and screen clarity, photos look absolutely stunning. Photos can be set to sync from Google Photos and you have plenty of options to set what photos should be displayed.
Through Google Home app, you can set specific albums to be shown but the cool one is grabbing photos dynamically with the "Live Album" feature. With Live Album, you can let the Nest Hub to automatically add photos of specific people or pets (using face recognition system) and display them. If you add new photos in the future, they will be sorted and added automatically to the Live Album. This means that the photos being displayed will always be recent and you will never get bored seeing them. Very nifty!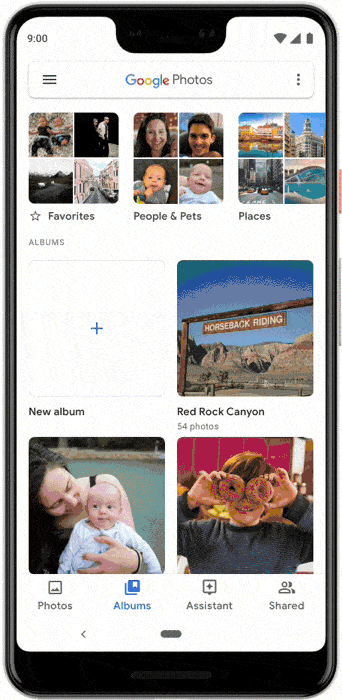 If you are feeling lazy, you can set Google to automatically pick the best photos through highlights and photo curations. This relies on Google's algorithms but if you lots of collection of photos, it's a good "set it and forget it" method.
While it's great to have a wonderful, beautiful looking digital photo frame on a kitchen bench, Google Nest Hub can do much more.
Powered by Google Assistant, you can ask many things like showing you the weather, how-to videos from YouTube, stream music from online music streaming services, and even control your smart home devices. I have added my Philips Hue setup so I can say "Hey Google, turn my backyard lights on" without lifting a finger (check out the Philips Hue Lily Outdoor Spot Lights). Or to turn my living room Hue lamps on while I'm cooking as the sky gets darker.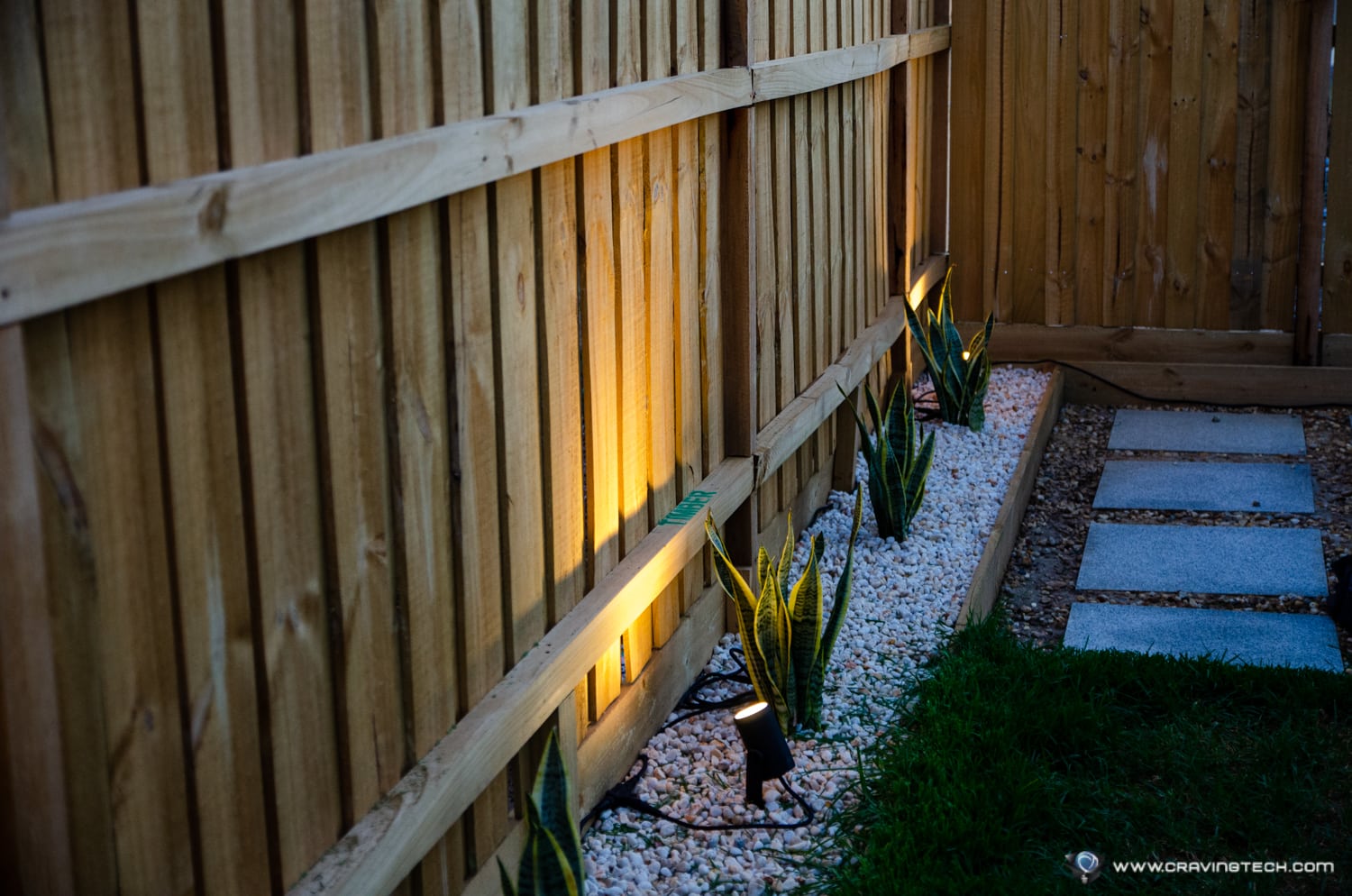 I was also preparing food the other day and a simple voice command to create a 5 minute timer worked really well.
And if your hands are busy, you can also ask it to show you a tutorial cooking video, and many more. All navigation controls can be done with voice (and hand if you want).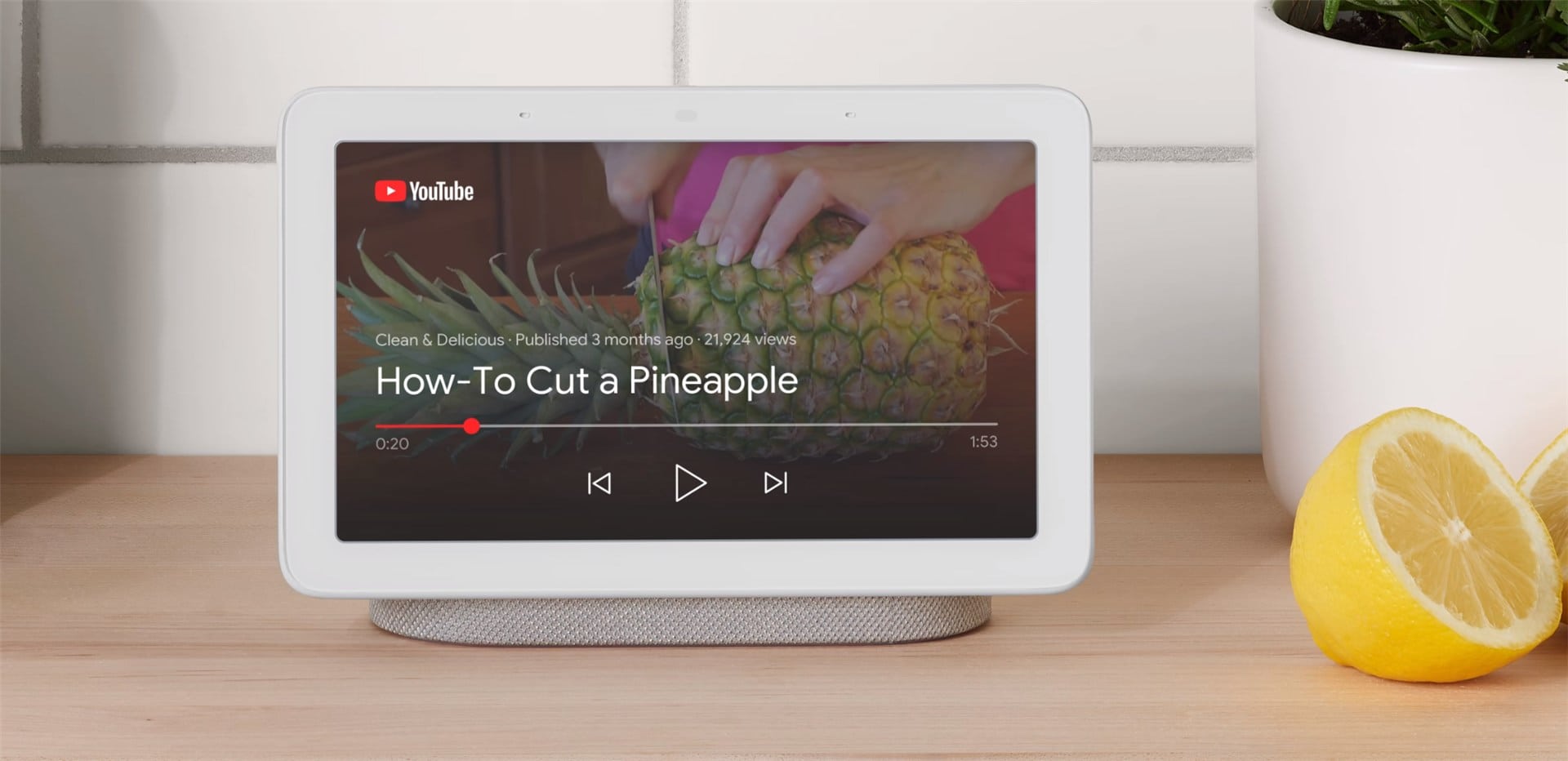 The Nest Hub can be set to learn your voice. For example, you can check your today's calendar using your voice and Google Nest Hub can identify who the speaker is and displays the corresponding schedules.
If you have the Nest Hub on your bedside table, you can also ask it to show a supported security camera feed. Compared to grabbing my iPhone, open the camera app, and check who's outside, I can just use my voice and do it quicker with the Nest Hub. Unfortunately my home is secured by Ring, D-Link, and Swann security cameras at the moment and none of them are supported yet. For a list of supported devices, make sure to check the Google Assistant partners site.
My favourite part is saying "Hey Google, good morning!" every morning and it will do a bunch of actions such as displaying today's weather (to know whether I need to carry my umbrella), my commute time, and today's news (audio and/or video if available). I really enjoy watching news every morning while having my breakfast on the kitchen bench.
Apple Music is not supported but there are Spotify, YouTube Music, Google Play Music, and Deezer. To be honest, the Nest Hub is not my go-to music device because while the speakers are decent, I'd rather have my Sonos Play:5 or AudioEngine A5+ play my favourite playlists.
There is no front camera so you can't unfortunately use it for video chat but those who are concern with privacy would welcome this missing piece. Its microphone is sensitive and always managed to pick up my voice well without having to shout. I also love how Google Assistant can seem to understand my Asian accent (and my wife's) well, even better than Siri at times.
Google Nest Hub Review – Conclusion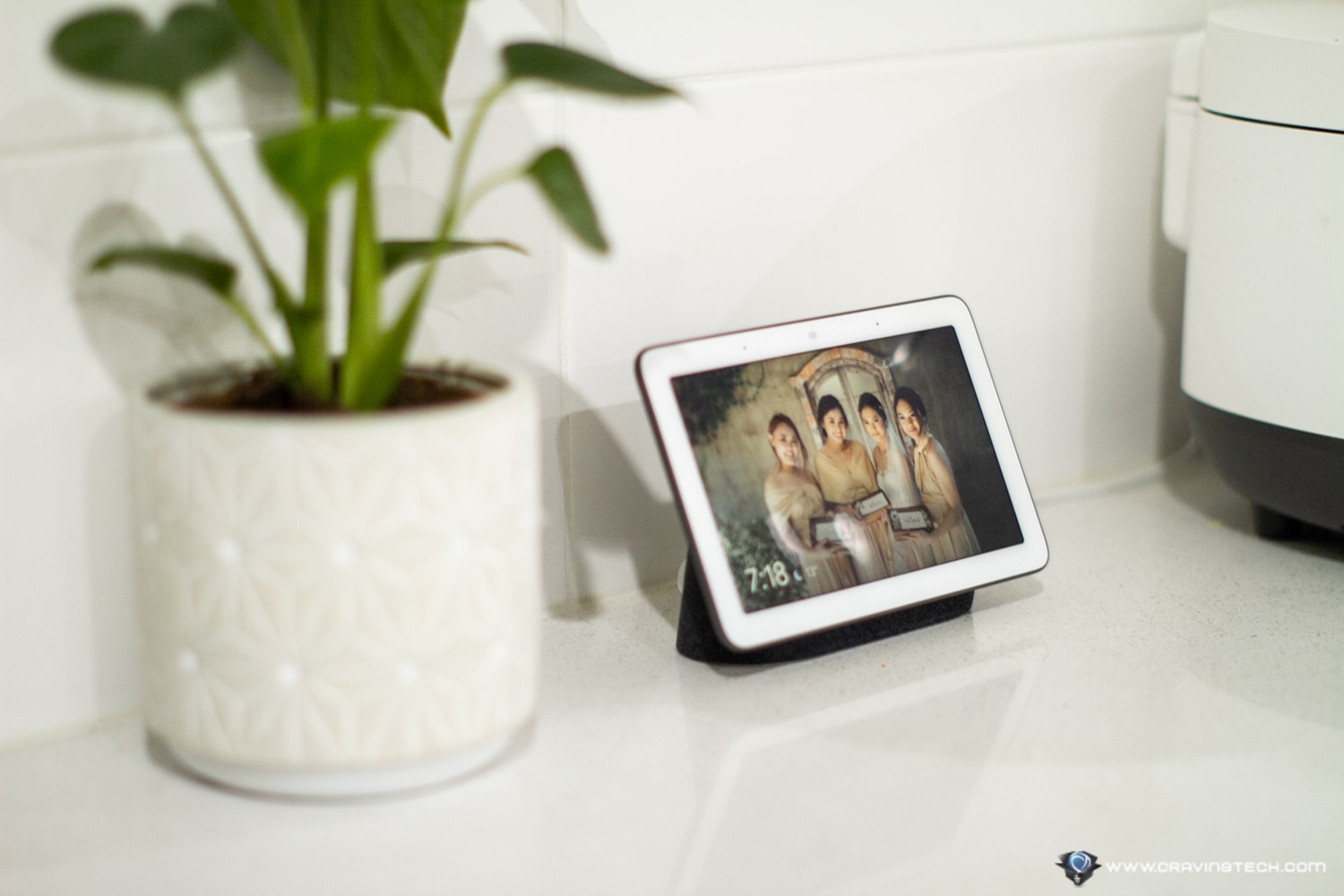 Google Nest Hub is a very affordable smart device that can do many things thanks to its built-in Google Assistant, and acts as a great decoration piece at other times. When not in use, it can be set to display your favourite photos (acts as a digital photo frame). It has a sharp, bright screen that you'll love and has definitely made our kitchen bench move lively. It responds to voice commands well without having to shout and supports touch interaction – which is a great alternative to voice commands.
Its integration to many smart home devices is a bonus as well and I like that I can speak where ever I am in the room to turn specific lights on and off. If you have other smart home devices, then you are open to a lot more goodies with the Nest Hub such as turning a heater on and off, display a live feed from a home security camera, and more.
Google Nest Hub is the perfect decor, dynamic digital photo frame, mini tablet for watching videos, and smart home controller in one with a very affordable price. It's available for purchase online and at many retailers around Australia for AU$199 RRP.
Disclosure: Google Nest Hub review sample was supplied for reviewing but all opinions are mine and not paid