Swann Wi-Fi Indoor Security Camera Review – Is everything ok back home while I'm on a holiday? Is my dog behaving badly while I'm at work?
All these concerns can easily be addressed by installing a Wi-Fi indoor camera at home and the Swann Wi-Fi Indoor Security Camera definitely fits the bill – it's also simple to install and simple to use.
Swann Wi-Fi Indoor Security Camera Review – Packaging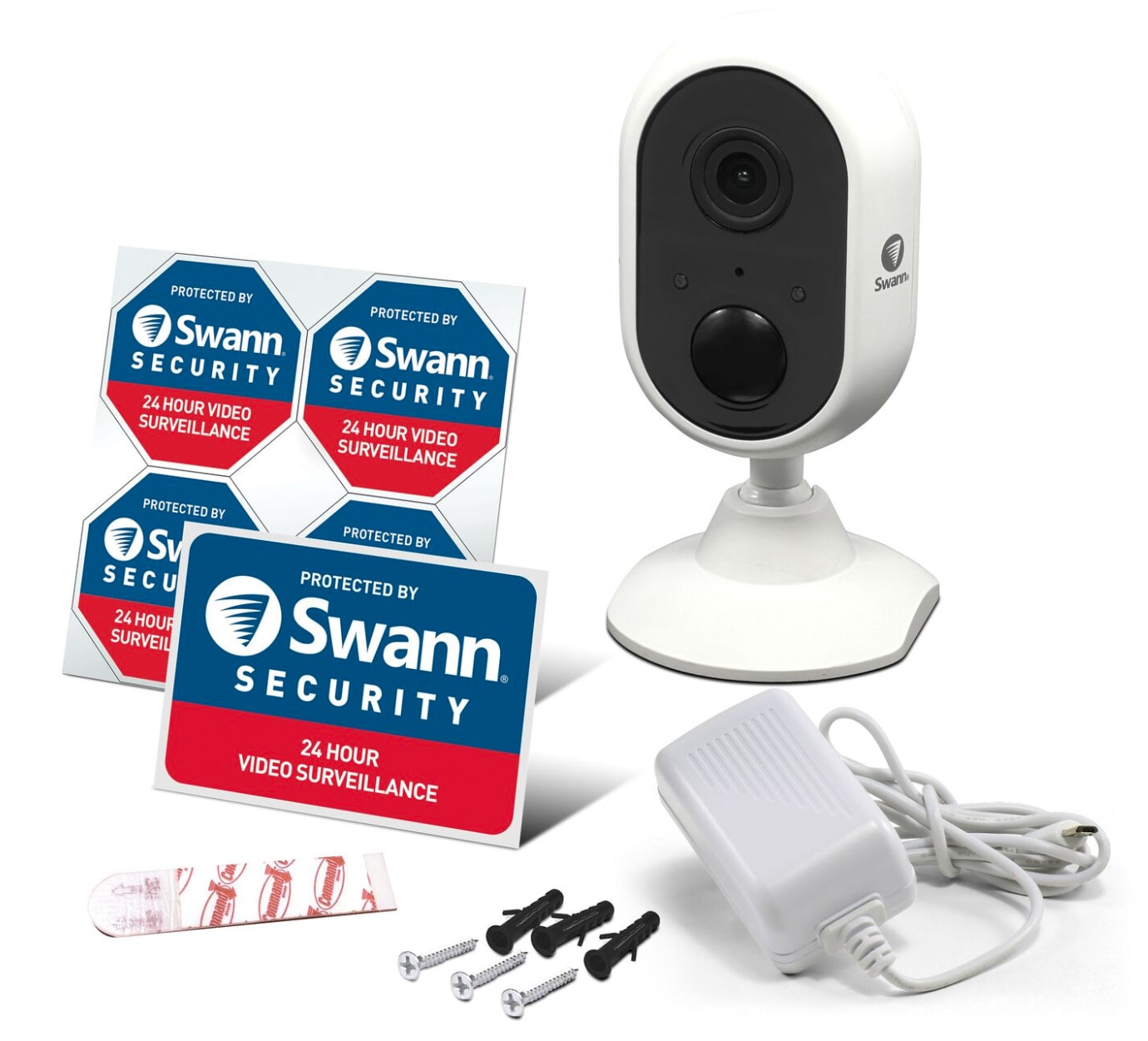 Swann Wi-Fi Indoor Security Camera Review – Design & Features
Swann Wi-Fi Indoor Security Camera records everything in Full HD (1080p) with 110-degree-wide-angle-lens continuously, 24/7 (it has night vision of up to 8 meters). It has to be plugged to a power point and connected to your home's Wi-Fi network to function.
With its minimalistic and modern look, the camera looks good on the kitchen counter or where ever you are placing it on. There is also an option to mount it on the wall with screws, but you don't have to.
With the passive infrared heat sensor, only warm objects will trigger the motion detection sensor. This is good because you do not want the camera to trigger a false alarm, but only warm objects like humans or pets.
Installation was pretty simple and took me only about a minute or two before the camera started running. Through the free app, you can also change a few, straightforward settings that anyone can understand.
Unfortunately there is no motion alerts time scheduling, so you can only turn it on and off, or change its motion sensitivity levels. Meaning, it will trigger alerts when you are at home and you have to manually turn it off (and on when you are away).
There is a built-in microphone and speaker too so you can have a chat with whoever is at home (I did this to my wife when I was upstairs so I didn't have to shout through the stairs) or when your dog is misbehaving while you are away. There is a second or two delay even on a 100Mbps NBN connection like the Ring security cameras, but it's good enough.
When motions are detected, the camera starts recording and stores the clips in the cloud (FREE for 2 days or 30 days if you subscribe to Swann's ExtraSafe cloud recording plan) or locally in a memory card for 7 days. You can view these clips from the app anytime.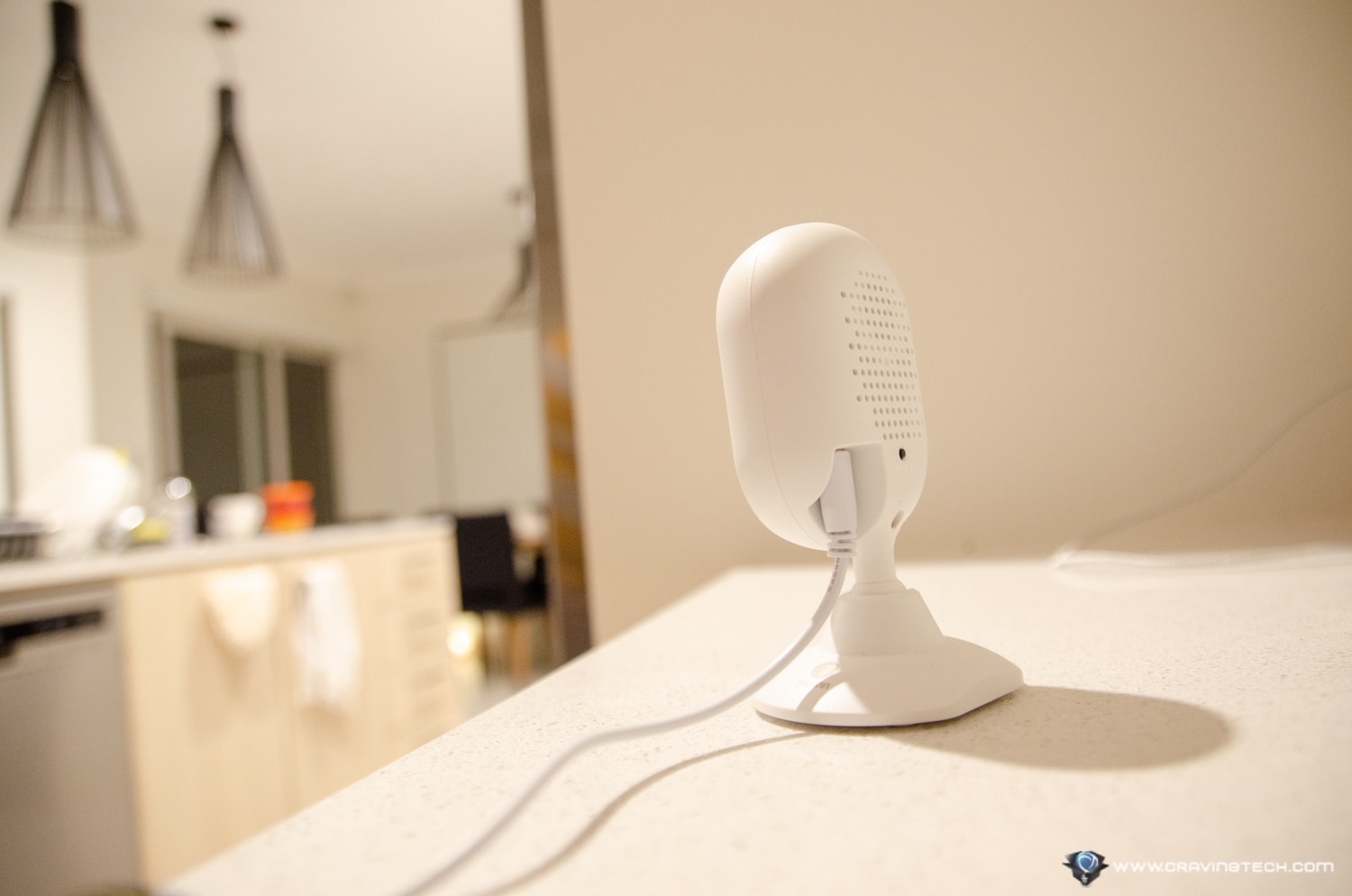 You can also use voice commands if you have Alexa-supported devices at home.
The video clips' quality are good and the live view is also reliable. I checked my home while I was having a holiday in Bali last week and I had a good connection with good image. So far during testing, the live view never failed me and the motion alert notifications were reliable too. If Swann can somehow add a motion scheduler (such as to only turn alerts on while I'm at work), that'd be perfect.
Swann Wi-Fi Indoor Security Camera Review Conclusion
While Swann Wi-Fi Indoor Security Camera is great for security footage and evidence for insurance (thanks to its cloud recording and motion alerts), the camera can also be used as a pet or baby camera. Its discreet and minimalist design allows it to be placed anywhere in the house (as long as there is a power point nearby), and its motion alerts can help you to identify when the baby is awake, for example. You can then use the built-in microphone and speaker to communicate while it keeps monitoring 24/7 and records every detected motion.
The quality of the clips are really good and the live view has also been very reliable so far. It can definitely connect faster than Ring security cameras I have at home, and the motion alerts are also reliable – thanks to the heat infrared sensor.
At A$129.95 RRP, Swann Wi-Fi Indoor Security Camera is definitely an affordable and reliable security for monitoring your home while you are away.
Disclosure: Swann Wi-Fi Indoor Security Camera review sample was supplied for reviewing but all opinions are mine and not paid
Swann Wi-Fi Indoor Security Camera Review