Synology DiskStation DS218j Review – Synology DiskStation DS218j is an entry-level, two-bay NAS (Network Attached Storage) for home users who would like to have a dedicated system & storage to backup and share their files with the family, stream movies or music from a centralised location to the TV or devices, and more.
It's much more powerful than the WD My Cloud Home, and those in the Australia's I.T industry are definitely familiar with Synology who makes many popular NAS systems.
While the DiskStation DS218j is supposed to be an entry level from Synology, I couldn't find anything "basic" about it. Sure, the system specifications seem minimal, but in reality, you'll hardly notice any slowdowns or freezes (unless maybe if you have experienced a more powerful or faster NAS system before). But if you do multiple things at the same time, you may have to wait longer as I did notice the CPU usage went red a few times.
Synology DiskStation DS218j Review – Packaging
Note that it doesn't come with any drives, so it's up to you to pick what capacities and drives you'd want to install here.
Synology DiskStation DS218j Review – Design & Features
Synology DS218j is quite light due to the hard plastic material but thankfully comes with four large, rubber feet to make the whole unit stay in place. I like the black-and-white finish with a minimalist touch. Opening the external cover reveals the two empty bays to fit the drives in. Supported drive types are 3.5″ SATA HDD, 2.5″ SATA HDD (with optional 2.5″ Disk Holder), 2.5″ SATA SSD (with optional 2.5″ Disk Holder).
I plugged the 1.92TB IronWolf 110 SSD from Seagate into one of the bays and it's been performing admirably.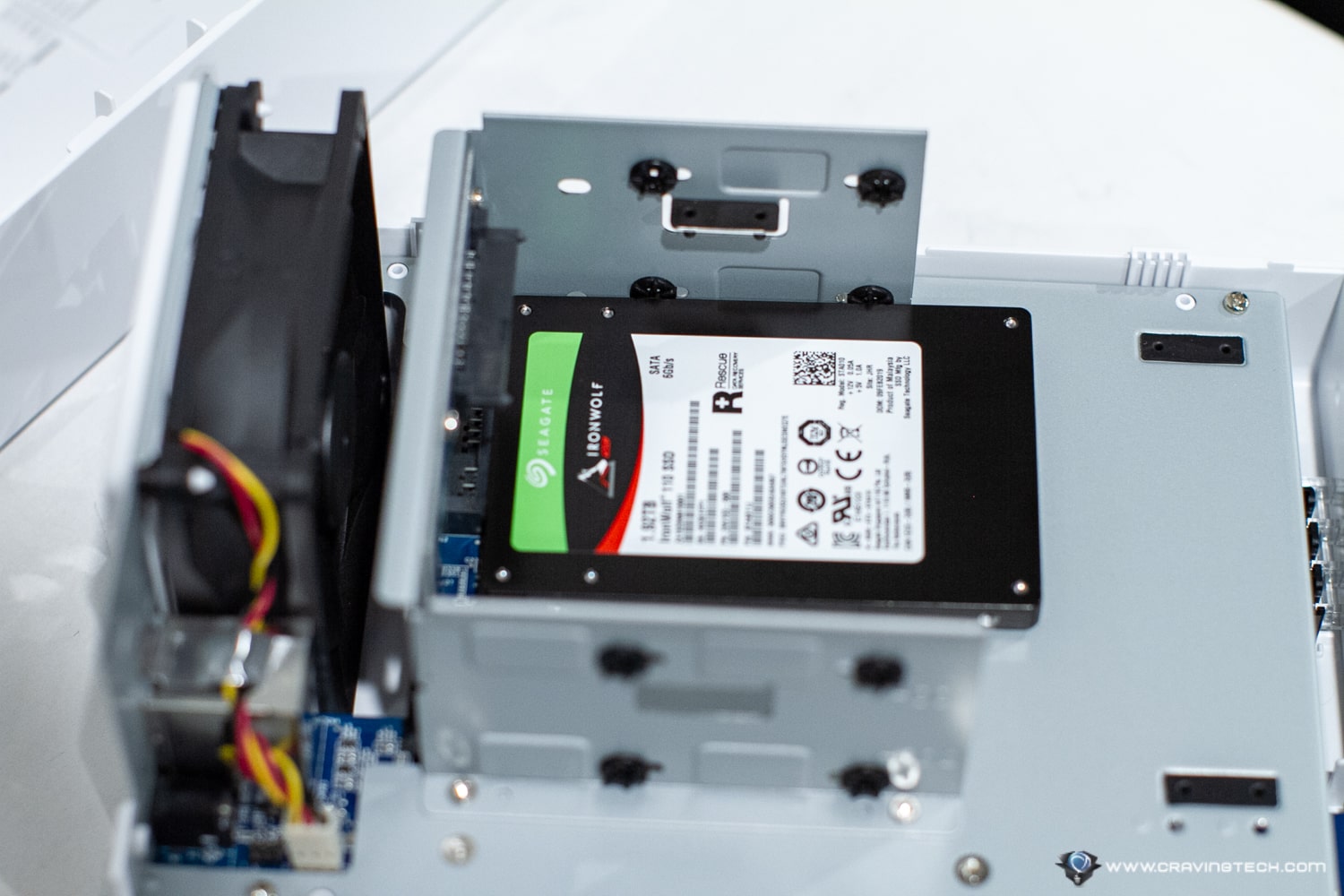 You don't have to get two drives unless if you want to setup mirroring through the RAID system. Economically as a casual home user, I'd suggest to just grab a single, large drive but again, it's really up to you.
Synology DS218j is powered by a Dual-Core 1.3GHz CPU with 512MB of RAM (DDR3). It supports up to 16TB of storage size for a single volume, or 2x 14TB for a two-drive volume setup.
Speaking of setup, the process was really easy and seamless, just like setting up their Mesh W-Fi System, the MR2200ac. With a similar easy-to-use interface and separation of features through different internal apps like Windows, the whole thing was set up within minutes. All thanks to Synology's web-based operating system, DSM (DiskStation Manager).
I also like that I can just type find.synology.com on my browser and it will find all Synology devices in my network automatically (i.e, you don't have to remember the IP address of the NAS internally).
Synology DS218j Review – QuickConnect
But you can also set up QuickConnect, where you can use a unique id and connect to your NAS remotely, anywhere. The best thing about this feature is that you don't need to setup port forwarding or even change any settings on your router. QuickConnect will also work with most NAS applications, mobile apps, and even a web browser (by typing YOUR_UNIQUE_ID.quickconnect.to.
I can then access all my files on the go, as long as I have internet connection. Sure, we have Dropbox, Google Drive, and other Cloud services nowadays, but if you have something more private that you are not comfortable of sharing to third party services, then you can store them on your NAS at home.
You don't just get access to your files remotely, but if you can even install third-party applications in your NAS and configure them remotely (assuming you log in as the admin). You have complete access, so if you want to share some files to a client or a friend while on holiday, you can add a new user or set up permissions (more on the next section of this review).
Synology DS218j Review – File Station
File Station app is like Windows Explorer (i.e all files & folders related), but more advanced. You can create folders and assign different permissions based on Users and Groups. It's also easy to upload files even remotely as I can just drag and drop multiple files (and folders) from Windows Explorer straight to the browser. These files and folders will automatically be queued. Super simple and amazing.
But what if I wanted to share some files to a friend or make them available for public? Well, there's a 'Share' feature as well built into the File Station app. Simply right click on a folder and select 'share'. You can then grab the share link and give it to a friend. You can also limit how long can the items be shared for, how many times they can be accessed, etc. Better than using WeShare or Firefox Send for sure (assuming you have a good upload speed at home).
Now, when I think of NAS, I only thought of all the things to do with files and folders. However, Synology apps (or packages) cover so much more that you can think of.
Synology DS218j Review – Surveillance Station
To my surprise, this budget friendly NAS can also be set up as an NVR (Network Video Recorder). I have DAHUA IP Cameras set up at home with its own NVR, but if you have not had one yet, the DS218j can be set up as one. This means you can add any IP cameras of any brand to the Surveillance Station package to manage.
You can set the video stream quality, set a live view layout for the mobile app (DS cam), and even have access to the recording files anytime, anywhere. For supported cameras, you can even tilt and pan them from here.
The Timeline feature allows you to get a specific recording clip based on date and time but I believe if your camera supports motion tracking and all that, you can search only the related clips with Smart Search. Mine is pretty basic so I could only do a date & time selection. This is really awesome, because even my DAHUA's NVR doesn't allow me to access the files remotely like this!
Synology DS218j Review – Other Packages
There are a lot more cool packages to install and explore, depending on your needs such as Hyper Backup – to backup your NAS files somewhere else. It can be an external device, another Synology NAS, or even to cloud services like Dropbox, Google Drive, Amazon Drive, etc. There are advanced options like incremental backups, multi-versions, etc.
There are also packages for backing up your computers like the Cloud Station Backup, or turn your NAS to a Cloud based collaboration server, or a Download Center where you set it up to download torrent files – and have the files ready by the time you get home.
Synology offers great support and knowledge base on their Synology Support Center. Whenever I got stuck, I went here and could always find my answers (for example, I set up SSL/HTTPS using Let's Encrypt certificate easily through the guide). They are very well written, easy to follow, and sometimes have step-by-step video tutorials.
Synology DiskStation DS218j Review Conclusion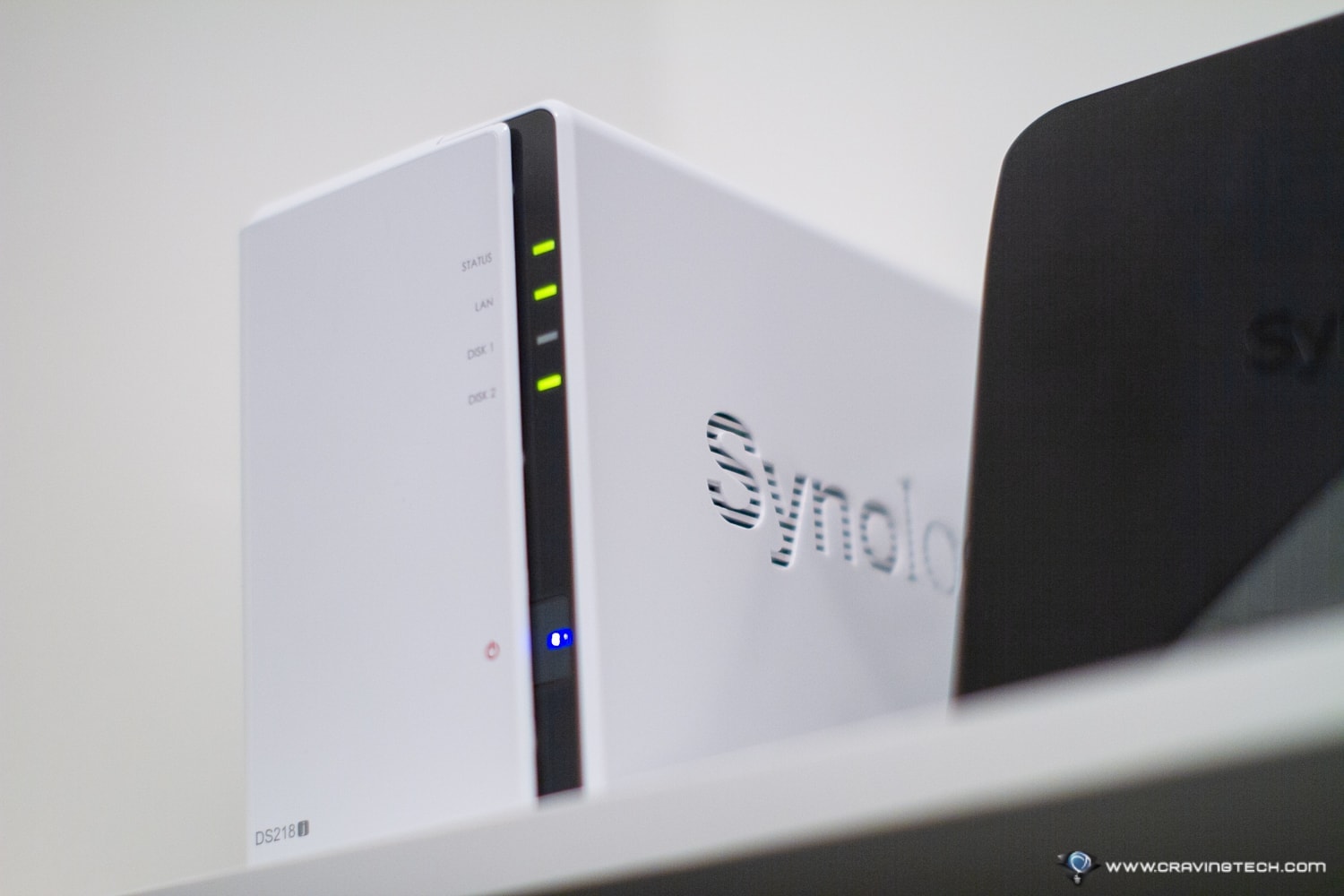 Synology DiskStation DS218j is an excellent, affordable entry-level NAS for home users which is powered by Synology's also excellent Operating System, DiskStation Manager. Synology DiskStation Manager is fast, responsive, smooth, and also powerful, thanks to the third party apps that can later be added in.
Everything is user friendly, from the initial setup of the NAS to managing many things within the OS and third-party apps. Even if you've never plugged a hard drive before or set up a real NAS in your whole life, you'll be up to speed in no time with the DS218j.
Synology DiskStation DS218j is definitely perfect for home users but also allows a small business or office to setup a mirroring disk system for backups, collaborations, and more. It's selling at AU$239 at the time this review was written at PCCaseGear.
Disclosure: Synology DiskStation DS218j review sample was supplied for reviewing but all opinions are mine and not paid
Synology DiskStation DS218j Review