PaMu Slide Review – Apple AirPods are everywhere now and with the recent AirPods 2 release, we'd see more and more AirPods users on the streets.
But a company that not many may know about, has prepared something similar, but better. They claim to have made a product that's going to be the AirPods killer – the PaMu Slide. We've got them for a review and I've been using them daily for almost a month now.
PaMu raised over $3.3 million at Indiegogo on their previous earphones product called the PaMu Scroll, which was "The most funded audio gear campaign" and "The most backer campaign" ever at Indiegogo. Will the PaMu Slide succeed? Judging by the number of backers and how the funds raise has exceeded more than 10 times than its original goal after the page was live for just a day, I'm sure it will.
PaMu Slide Review – Packaging
It's good that PaMu offers different ear buds sizes in the packaging (Small, Medium, and Large) so you can pick the one that fits well into your ear canals.
PaMu Slide Review – Design & Features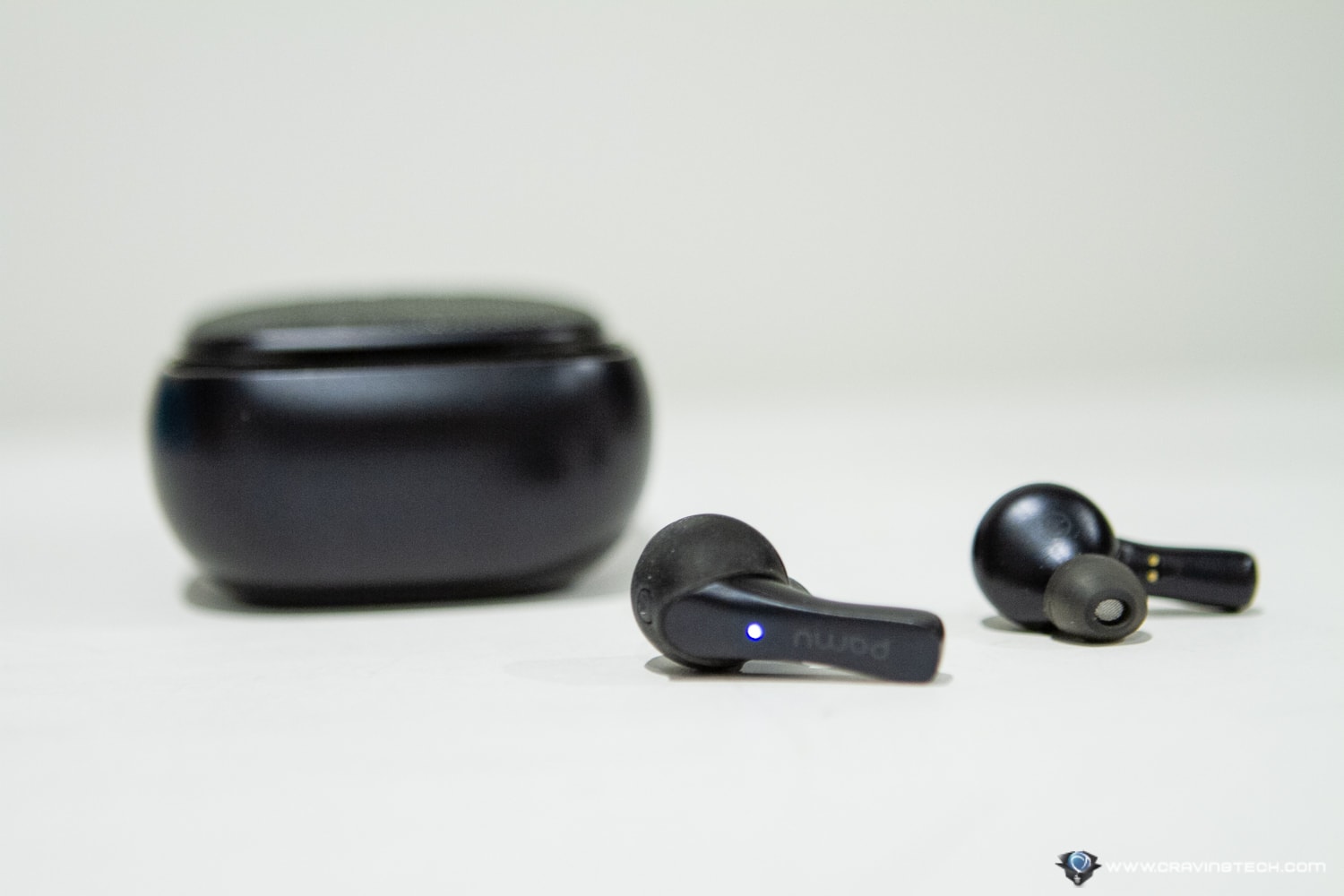 At a glance, the PaMu Slide has a similar look and feel to the Apple AirPods, but has different design decisions all around. For example, it doesn't have the unibody design and it looks a little bit bigger. The charging box is also heavier & bulkier. But, all these design differences can be justified because the PaMu Slide delivers more than the AirPods.
For a start, PaMu Slide is powered by the Qualcomm QCC3020 processor which is the most advanced TWS chip in the market. Bose, Sony or Jabra are still using the Qualcomm CSR8000 chip, which is a generation behind (according to PaMu). Thanks to the new TWS chip, PaMu Slide can deliver great sound to these tiny earphones! PaMu Slide also supports aptX audio codec, which is superior in quality over Bluetooth connection.
And oh, have I mentioned that they also come in Black, unlike Apple AirPods? Looks so much better & cooler than white in my opinion. But you can also grab the White (or Green) if you like, though.
PaMu Slide has an IP6 water resistant rating, which means that your sweat won't ruin the earphones but more importantly, even when it's raining while you are wearing it. When I tested this for a straight month, Melbourne had many rains and thunderstorms – and it survived.
PaMu Slide comes with amazing touch controls on both earphones. For example, a quick tap on any will play/pause your music. A "tap and hold" action on the left unit will lower the volume, and raise the volume if you do it on the right unit.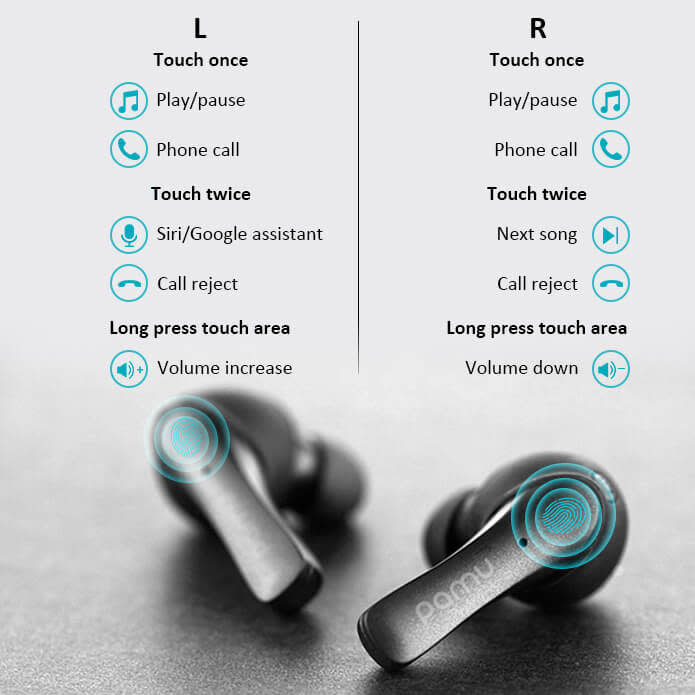 Controls are intuitive and they never failed me either. You may accidentally tap and play your music when you take the ear buds off your ears, but once you understand that you're supposed to grab the stick part, you're good. The earphones are automatically turned on when you take them off the charger by the way, and turned off when you place them back. Quite intuitive.
Let's talk about the charger, which is my favourite part. The charger acts like a hard case to carry your PaMu Slide, but also wirelessly charges the battery. I commute daily to work by train and I never find my PaMu Slide to be out of charge, ever. It charges the ear buds fast and has a good amount of battery capacity in it as well.
You open the case by sliding it up (cool!) and will magnetically hold the PaMu Slide in place securely. The slider also gives a satisfying click when closed. You can see how much battery the case has left through the LED indicators on top of the case cover.
To charge the case itself, you have to plug the included USB Type-C cable to a USB slot (on a power board or your computer). While the case doesn't support wireless charging (to charge its battery), the back of the case can actually wireless charge your phone (the model I have is the one with wireless phone charger)! As crazy as it sounds, it actually works. Definitely a great addition for emergencies when your phone's battery is going flat.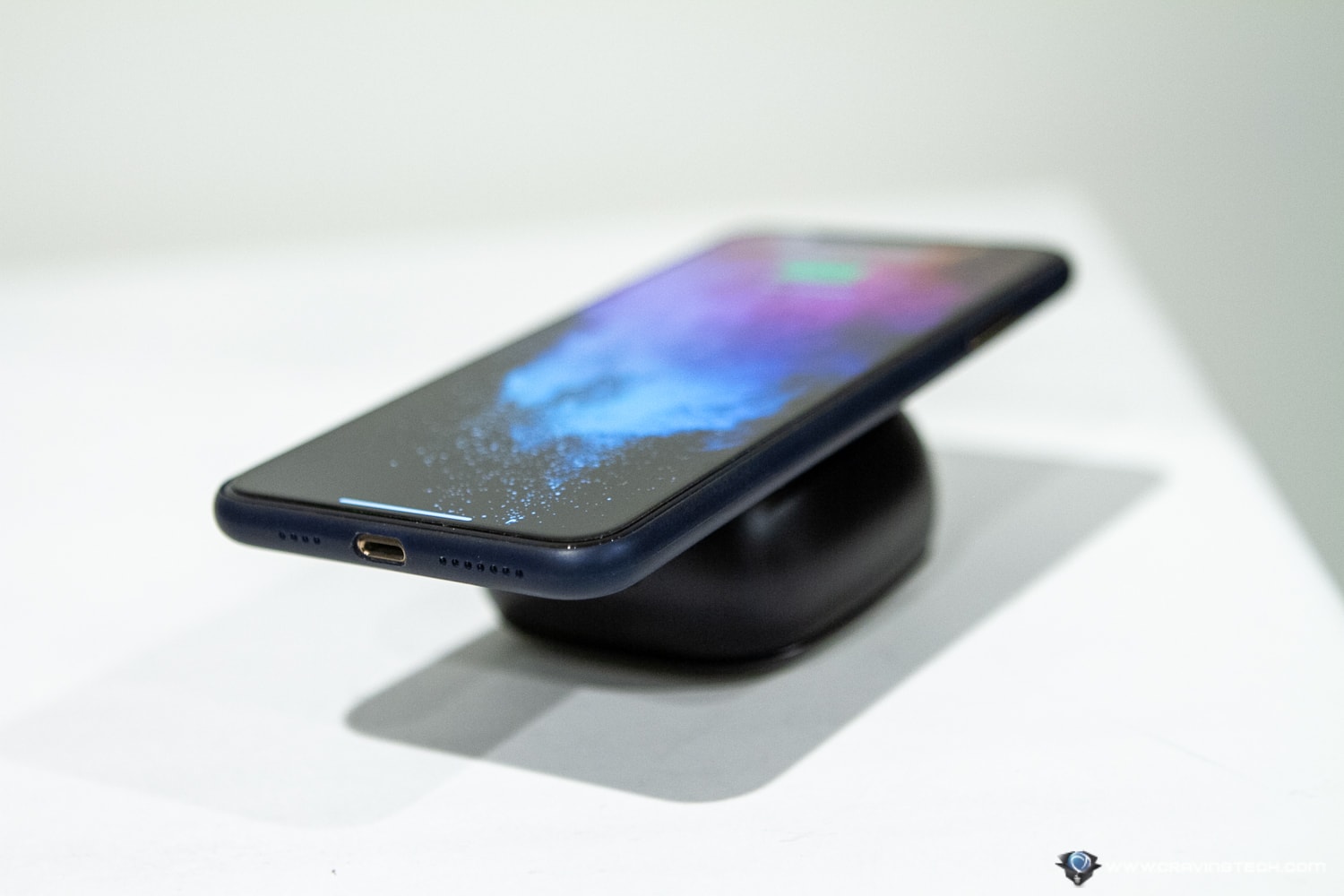 The charging case itself has a 2,000 mAh built-in battery, which provides ample amount of power to charge the PaMu Slide and also your other devices. Using the USB Type-C cable, a 5 minute charge will give you about 1 hour of battery. So if you are about to jog and realise that you're out of power, just plug it for 5-10 minutes and you're good to go!
Battery life will depend on many factors, including volume level. I was playing music non-stop for 6 hours (at around 1/4 volume) while working and I've found that PaMu Slide still had 70% of battery left (you can see how much battery each ear piece has left on your phone).
PaMu Slide Review – Listening Experience
I wasn't expecting much when I placed the PaMu Slide in my ears for the first time, but I was completely surprised. The sound is pretty rich and detailed, especially on the treble. I've also noticed the details of the music are there – things that usually get lost when you are listening from smaller earphones unit like the PaMu Slide.
It has a good stereo separation where I can hear the acoustic guitar playing on the left ear and the electric guitar on the other side. While you can feel the bass, obviously it's not something that you'd expect to shine from a small ear piece like this. It also depends on how deep the ear buds go into your ear canals.
I've used the PaMu Slide for almost everything during my review period (listening to music, podcasts, and watching Netflix series) and in different situations (both in a quiet office to a noisy train station platform). Overall, I'm very pleased with the PaMu Slide and while I'd definitely recommend a headphone for serious listeners (like the Mobius Audeze with planar magnetic drivers or Bose QC35 II with Active Noise Cancelling), nothing beats the portability of PaMu Slide. It's also perfect for exercising compared to bulky headphones.
While it's a bit challenging to hear podcasts or make calls in a very noisy environment (I have to speak loud), everything else works pretty well.
The Bluetooth wireless signal is strong and stable and I've never experienced any drop or signal cut-off, thanks to the LDS antenna technology incorporated in the PaMu Slide.
PaMu Slide Review Conclusion
PaMu Slide has definitely surprised me. I was thinking to grab the new Apple AirPods 2 but has been hindered by the colour & sound quality. While they are convenient to connect if you have multiple Apple devices like a MacBook & iPhone, I value sound quality above others most of the time.
PaMu Slide offers all the things I'd love to have on an earphone: aptX Bluetooth 5.0, stable signal, portability, sound quality, ease of use & charge, and design. And for the price, nothing beats PaMu Slide at the moment.
PaMu proves that you don't need a famous brand label on your product to be successful and the PaMu Slide definitely deserves to be heard of and known to the audio & fitness market!
If you are looking for an alternative to AirPods, look no further and grab the PaMu Slide now from Indiegogo (where you can also check out more info on the product).
Disclosure: PaMu Slide review sample was supplied for reviewing but all opinions are mine and not paid