The Tranya Nova is a wireless active noise-cancelling earbud packed with features with a relatively affordable price. Powered by the Qualcomm QCC3072 chip and aptX technology, which ensures reliable connectivity and audio quality, it has an excellent battery experience (with fast charging in the case and wireless charging options), multi-device pairing, low latency, good noise cancelling, and good call quality. While the touch controls and passive noise cancelling have room for improvement, the Tranya Nova delivers a compelling listening experience overall.
Tranya Nova Review – Packaging and Design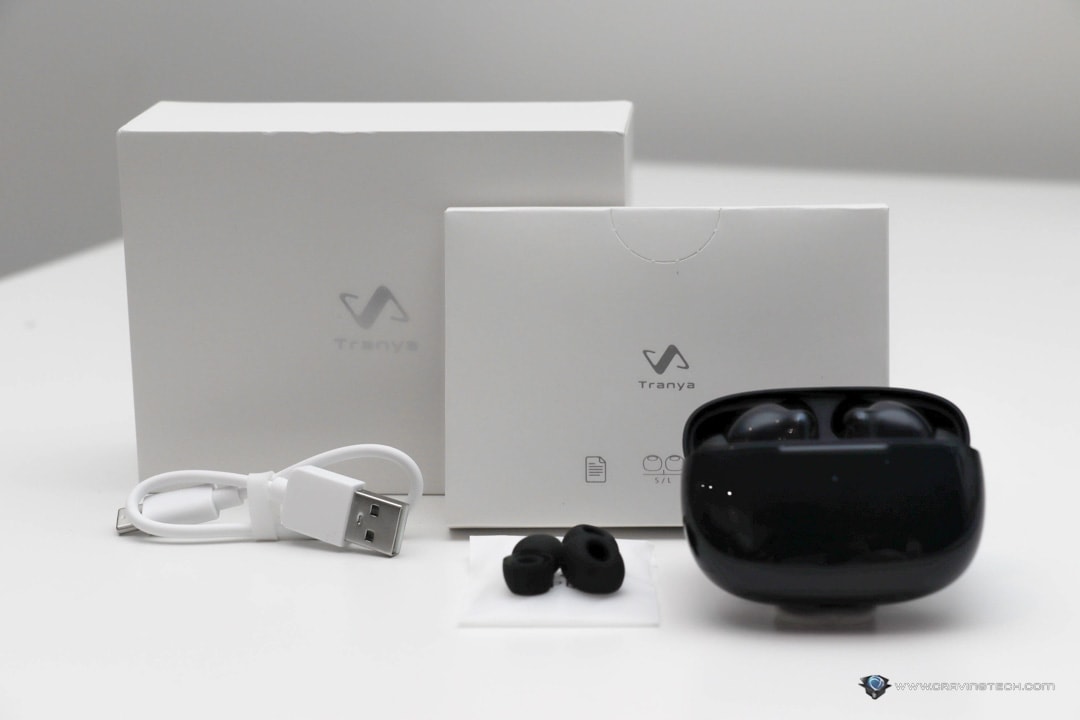 The Tranya Nova's packaging includes instruction manuals, the charging case, 2 pairs of differently sized rubber ear tips, and a USB-C charging cable. The compact case, made of glossy plastic, has convenient portability due to its pocket-friendly size and shape. It features a straightforward LED power display with green, yellow, and red lights signifying the charge level, accompanied by a Bluetooth connection reset button.
The earbuds themselves feature a stem design with a rubber tip for a modern look. In terms of overall build and design, I would personally give the Tranya Nova a B-. It feels reasonably robust for its price, though a matte finish would have added a touch of premium appeal. However, this is largely a matter of personal preference.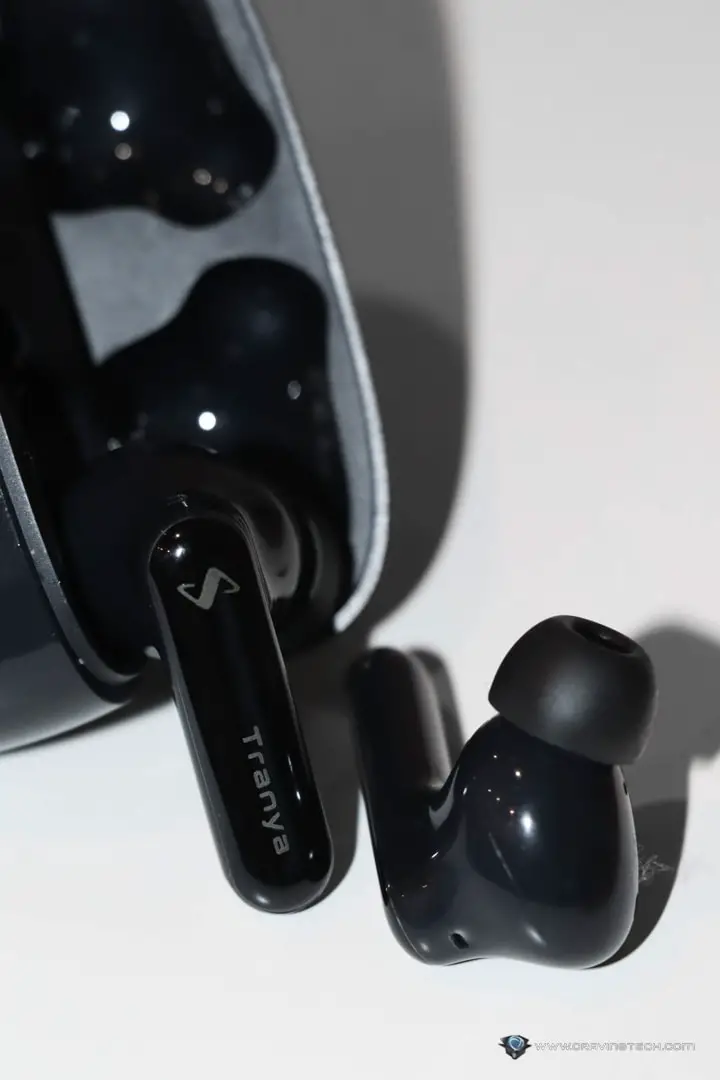 Tranya Nova Review – Features
The Tranya Nova is packed with features which includes three modes (including noise cancelling and ambient sound), touch controls, IPX5 waterproof rating that ensures resistance against splashes and sweat, great battery experience, a 6-mic system for clear calls, and Bluetooth 5.3 for low latency.
Noise Cancellation and Ambient sound
The earbuds offer three modes: Normal, Noise Cancelling, and Ambient sound.
Before diving into noise cancellation, it's worth addressing the Tranya Nova's passive noise isolation. Regrettably, it falls a bit short in this department, as even the largest ear tips have some difficulty in effectively blocking out external sounds. However, the Active Noise Cancellation (ANC), more than makes up for this limitation.
Its ANC, to my pleasant surprise, emerges as a reasonably impressive feature. In my daily commute to work or placement through the city on my bike, the street traffic, bustling crowds, and ongoing construction can be quite disruptive when I try to enjoy music or podcasts. The Tranya Nova's noise cancellation performance surpasses what I anticipated within this price range. If you share my preference of avoiding excessively loud volumes, the ANC provides a significant advantage. While I wouldn't say the Tranya Nova reaches a level of jaw-dropping excellence for its ANC, it is certainly sufficient for its purpose, especially considering its price.
The ambient sound mode in the Tranya Nova earbuds offers a reasonable level of awareness of your surroundings. This mode subtly introduces external sounds into your listening experience, making it easier to hear conversations, announcements, and potential hazards without the need to remove your earbuds. However, it's worth noting that although quite satisfactory, it might not match the quality found in higher-priced alternatives (like the Bose QuietComfort Earbuds II). More premium earbuds can provide a more seamless integration of your external sounds, which can make you feel like you're not wearing earbuds at all. The Tranya Nova still, however, does its job in ensuring you stay aware of your surroundings when needed.
My only small complaint is the touch controls, which require a relatively lengthy tap (1.5 seconds) on either side to switch between modes. In my experience, there were instances where this action took a bit longer than anticipated. Releasing too early triggers play/pause, which can be frustrating when quickly cycling to ambient sound.
Touch Controls
The touch control functions are outlined as follows:
A single tap on either side controls pause/play and call answering.
Holding a tap for 1.5 seconds cycles through modes and rejects calls.
Double tapping on the right skips to the next track, on the left replays or goes to the previous track, and on either side ends a call.
Triple tapping on the left decreases volume, on the right increases it.
I have a bit of a mixed opinion about the touch controls. While they do have their advantages (such as not having to press the earbuds into your ears), I've found that accidental touches occur quite frequently, possibly due to the slightly awkward size, shape, and placement of the touch sensors. For instance, I've noticed that the single tap for pause/play often triggers unintentionally when adjusting the earbuds or placing them back into the case.
Interestingly, the touch areas are actually relatively small, which can lead to unintended touches that don't register. For example, while attempting to tap 3 times to increase the volume (based on the position of the controls in space), I might inadvertently touch away from the sensor initially before adjusting my touch, resulting in only the 2nd and 3rd touches registering and causing an unintended skip to the next track. This may, however, just be due to my lack of familiarity with the position of the controls.
You can, however, customise the number of touch interactions in the app's touch settings or disable the touch function altogether.
Tranya Audio App
The Tranya Audio app offers a range of useful features. It includes a "Find My Device" function, ensuring you can easily locate your earbuds if they go missing. The app also provides an equalizer (EQ) with preset options, allowing you to tailor the sound profile to your preferences. Additionally, the app offers custom control options, enabling you to configure the touch gestures to your liking.
Sound Quality
When it comes to sound quality, the Tranya Nova offers a decent performance, earning a respectable C+ grade. The bass boasts a punchy presence, while the midrange and treble fall a bit short, lacking the clarity I'd prefer. The default volume levels are relatively loud, and I found myself rarely needing to increase them, except in noisy environments where the passive noise cancelling struggled.
While the adjustments available through the companion app might offer some improvement, particularly for optimising the sound profile, I still found the midrange and highs to be somewhat lacking in crispness and clarity. The Tranya Nova's sound quality remains suitable for casual listening and communication, but audiophiles seeking intricate detail might notice some room for improvement in these aspects.
Battery Experience
With a promoted 36 hours of playtime with the charging case, the Tranya Nova lives up to its claim. I had no problems with 3 days of regular use without charging the case. Furthermore, even a brief 10-minute charge provides an additional 2 hours of usage, ensuring that worries about battery life are kept to a minimum. The case also includes a wireless charging feature for added convenience. There isn't many that offer this feature at that price. Overall, I had no complaints, and would give the battery experience an A.
Tranya Nova Review Conclusion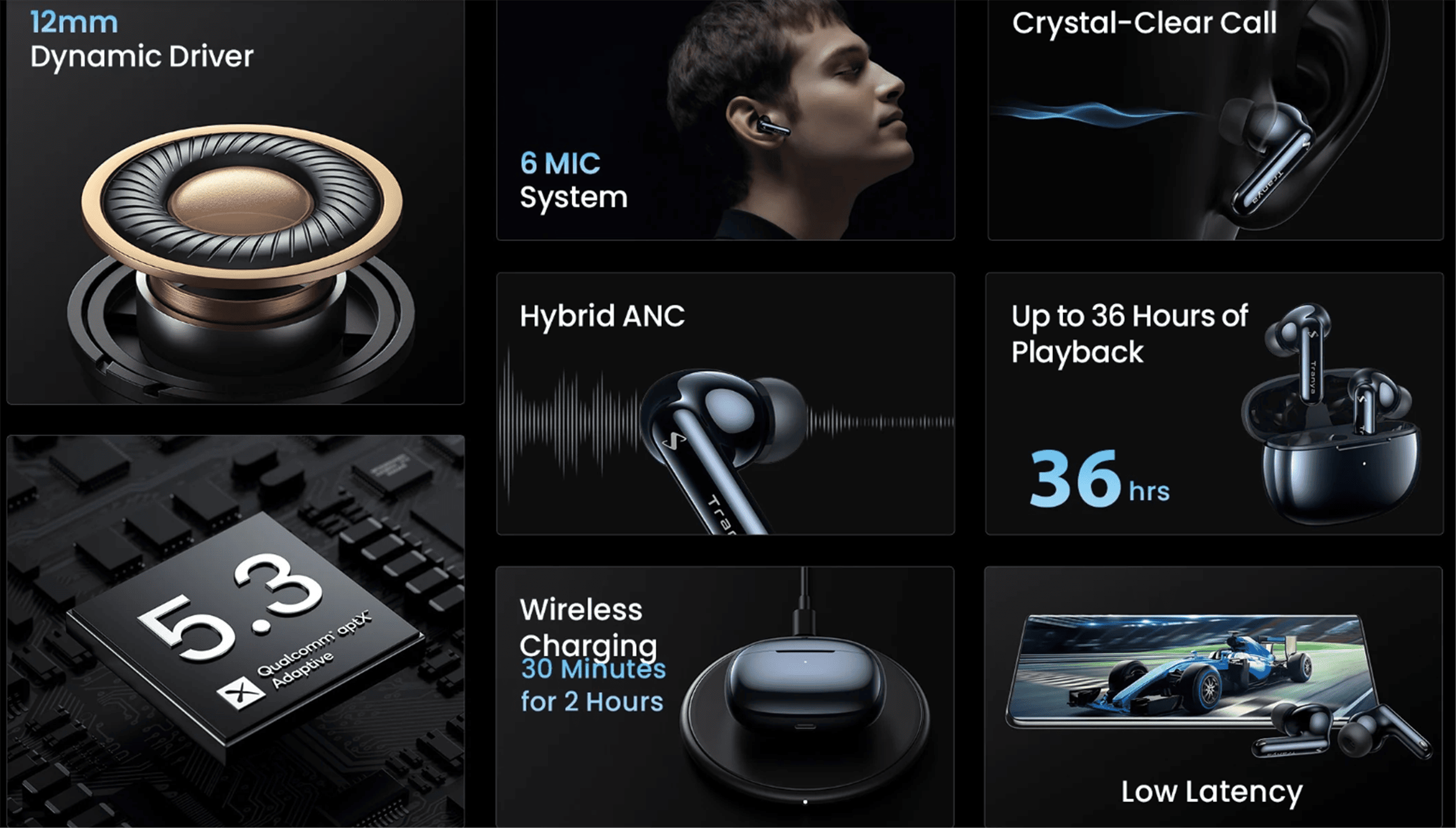 The Tranya Nova wireless active noise-cancelling earbuds offer a compelling package of features at a relatively affordable price point. With the Qualcomm QCC3072 chip and aptX technology, the earbuds deliver reliable connectivity and audio quality, while boasting an impressive battery experience with fast charging and wireless options. The multi-device pairing and low latency Bluetooth 5.3 connection enhance user convenience, and the effective active noise cancellation proves advantageous in bustling environments.
Despite a few shortcomings, such as touch controls prone to accidental touches and room for improvement in passive noise isolation, the Tranya Nova showcases its value through clear call quality, comfortable fit, and the added benefits of the Tranya Audio app. While its sound quality exhibits strengths in bass but falls short in midrange and treble clarity, the overall listening experience remains suitable for everyday use.
With its competitive pricing and a comprehensive range of features, the Tranya Nova offers a commendable option for those seeking a budget-friendly and feature-rich wireless earbud solution. The Tranya Nova is currently available for purchase for 79.99 USD. And if you use this coupon code NOVA15US, you'll get a further 15% OFF! You can purchase it at Amazon and official website.
Tranya Nova Review
Summary
A compelling package a relatively affordable price point
Pros
Good value for money with impressive features
Effective active noise cancelling
Rapid pairing and multi-device switching. Low latency Bluetooth 5.3 connection.
Good battery life and fast charging options. Wireless charging case.
Reasonably comfortable fit for prolonged usage
Clear calls
Tranya Audio app with "Find My Device," equalizer, and custom control options
Cons
Touch controls prone to accidental touches
Passive noise isolation/cancellation could be improved
Mid-range and treble lack clarity in sound
Cycling through noise cancellation, ambient sound, and normal modes can be relatively inconvenient