Bose QuietComfort Earbuds II Review – When Bose brag about having made new earbuds that has the best noise cancelling in the world (compared to every other competitor out there), you know that it's a big statement. There are so many players in this field from various big brands like Sony, Apple, and many others.
But the moment I placed these earbuds into my ear canals, I know exactly that this is not pure arrogance and they have every right to brag. Bose QuietComfort Earbuds II simply is the best noise cancelling earbuds (and even triumphing headphones) out there.
Bose QuietComfort Earbuds II Review – Packaging Contents & Unboxing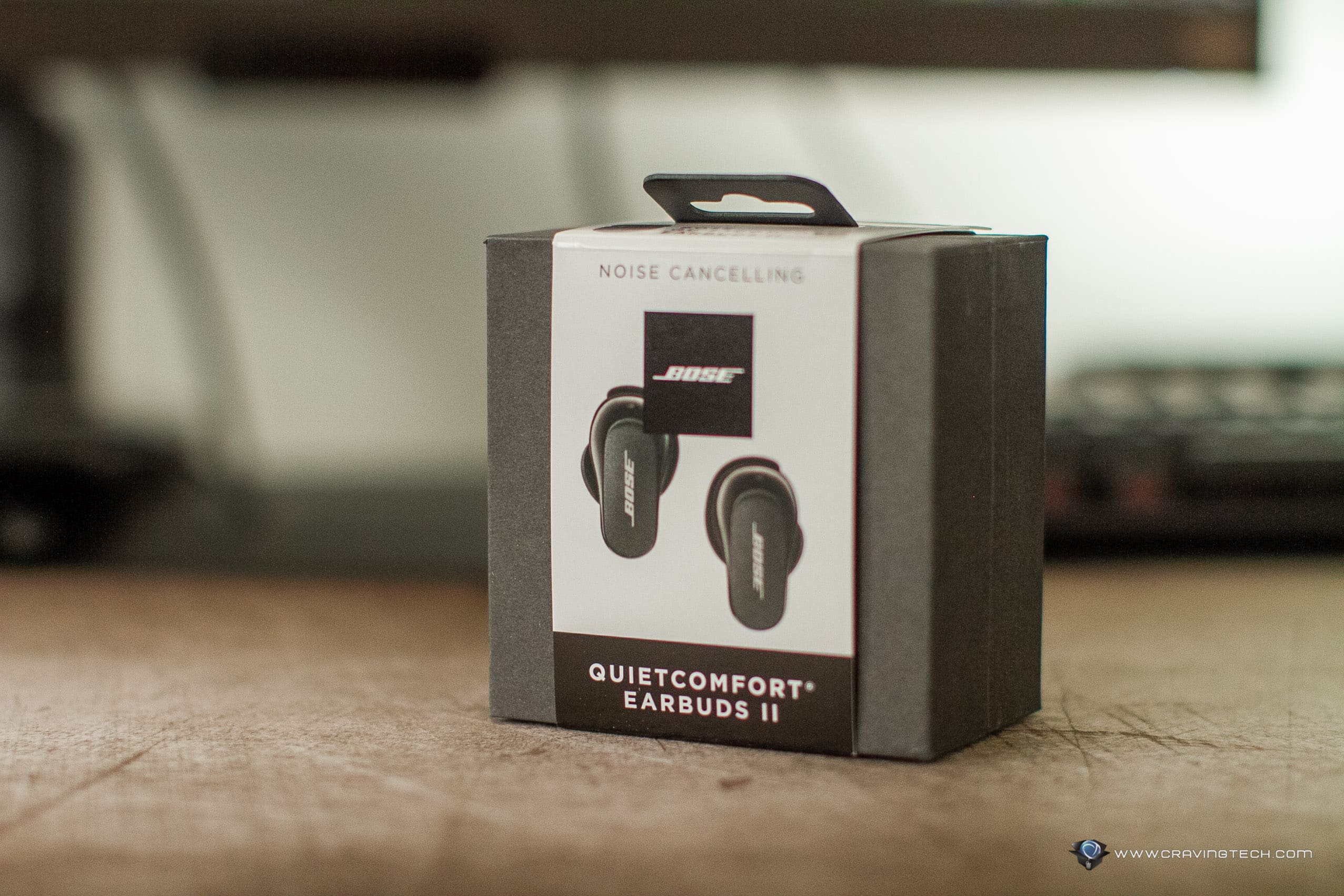 The packaging includes different sizes of eartips and stability bands. This two-system design improves the fit of the earphones inside your ears, giving a tighter feel and following the natural shape of the ears better.
Bose QuietComfort Earbuds II Review – Design and Features
I didn't have or review the first generation before so unfortunately I can't give any personal experience comparisons between the old and new. According to Bose however, the second generation has 30% smaller earbuds and 40% smaller charging case so that does sound really good on paper.
I have no issues with comfort while wearing these earbuds. The stability band gives me assurances that they won't fall off my ears and they never did. You do need to jiggle around a little bit to make sure the bands get a snug fit, but they stay there after.
There is also a cool way to find out whether you have chosen the right ear tips and stability bands. Through the Bose Music app, you can do a quick Eartip Fit Test with just a quick tap.
Switching between ANC and Aware mode can be done by holding and tapping the earbud, and there are other touch controls to control the media playing as well such as swiping up and down for volume control, or tapping once to play/pause music.
As for battery life, the earbuds can last up to 6 hours in a single charge with up to 24 hours of listening time with the charging case. A quick 20-minute charge can give you up to 2 hours of listening time. While I never wear any earphones or headphones for 6 straight hours, this can be a bummer to those who like to listen to music on a really long flight.
Bose QuietComfort Earbuds II Review – Personalised Sound Technology
One of the unique features that these earbuds has is sound personalisation, audio that is tailored just for you. This is done instantly behind the scene as you (or someone else) place the earbuds into your ears. There is no initial setup or picking through a series of sound tests (like what Jabra does on the Elite 85t or newer models). It's done automatically by playing a tune each time you place these earbuds on.
Through Bose CustomTune Sound Calibration technology, the earbuds will measure how your ear canal warps the played sound, compensates for any distortion (i.e dynamically adapts), and then tailors personalised sound performance and noise cancellation to your ears. It's like magic, really.
Since these measurement and personalisation processes are done each time you wear the earbuds, you can simply share the earbuds to a partner or friend, and they will also get the same treatment. Every ear canal is different (resonance, peaks and depths, twisted, etc) so this will make sure you'll always get the best audio and noise cancelling tailored to your ears structure.
Bose QuietComfort Earbuds II will flatten the audio curve to make your tunes sound as natural as possible but you can always adjust the EQ through the app later.
I tried listening to songs of different genre and glad to find that they sound great. I did play around with the EQ but really like that Bose isn't just focusing on noise cancelling performance alone. The Bass is good and has that Bose sound signature.
Bose QuietComfort Earbuds II Review – Noise Cancelling Performance
The main reason you are eyeing for the QuietComfort Earbuds II is most likely for the noise cancellation. How good is it? Is it really as good as they say? Is it really the best noise cancelling earbuds you can buy in the market?
While I haven't tested the earbuds in all kinds of environments, I can definitely say that these earphones offer excellent, if not the best noise cancellation performance of any earphones or headphones I've ever used and reviewed here at Craving Tech. That includes Bose's own ANC headphones, the QuietComfort 45 (QC45).
All noise cancelling earphones and headphones I've tried usually struggle to dampen people's voices or conversations. If you use one on a plane, you'd usually get a good cabin noise cancellation but you can probably still hear babies crying the background or passengers having chit-chats. These "mid-band frequencies" are the ones that Bose targeted this time and man, it works.
I actually didn't know about this before. I was watching a YouTube video in the background and I thought, hey, it's time to test and review these earbuds. So I put them on and got surprised by the muffled sound. These earbuds also manage to completely silent the voice of my wife in the background while she's on the phone downstairs (I normally can hear her in my Study area upstairs). I tested these without actually playing any music through these earbuds so that's pretty awesome.
I can already see how good these earbuds are for studying libraries, working in open space offices, watching movies on a plane or train, or chilling in a busy cafe.
While taking my dog out for a walk, the earbuds did a great job in muffling Melbourne's windy day, a loud car engine noise a few blocks away, chirping birds, and even the sound of gushing water inside the gutter. And when I turned my music on, they can no longer be heard in a sense.
The good thing is that you can also create your own, custom modes so for example if you are at home, you may not need the highest, most aggressive noise cancelling. So, you can lower the ANC level – which will also reduce that air pressure feel inside your head.
Bose QuietComfort Earbuds II Review Conclusion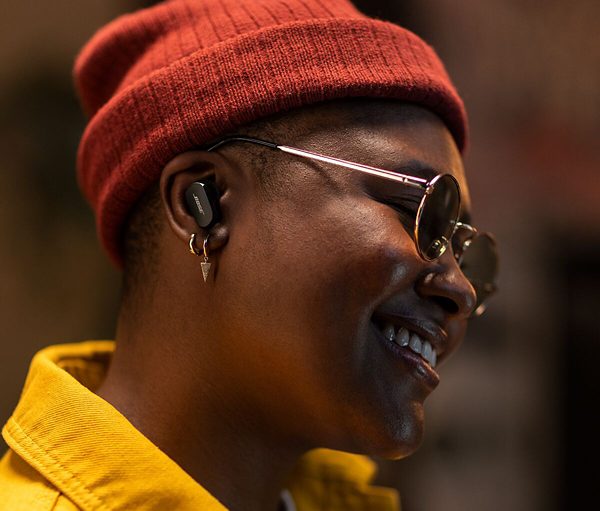 Bose QuietComfort Earbuds II is definitely the best active noise cancelling earbuds right now to eliminate or greatly reduce all noise you can think of, including TV sounds and conversations (depending on distance and loudness).
The CustomTune technology also auto adjusts the earbuds to optimise noise cancellation and sound performance automatically each time you put the earbuds into your ear canals. This means that if you are sharing your earbuds with someone else, every one will always get the best audio possible tailored to their unique ear canals' properties.
While I don't have any issues with comfort, the earbuds are definitely not the most lightweight earbuds out there and you'll feel them on your ears. It's the price you pay to get that awesome noise cancellation and CustomTune Sound tech. Would I prefer this than Bose QC45 headphones? I'm not sure. For train or daily commutes, definitely yes. But for travelling on the plane, I might still carry my Bose QC45 for better, longer comfort + it has a 3.5mm option just in case my AirFly Pro stops working.
And oh, speaking of price, they are not cheap either. If you really need to have the best noise cancelling earphones though, Bose QuietComfort Earbuds II can be purchased for A$429 at retailers around Australia. Also available at Amazon.com
Disclosure: Bose QuietComfort Earbuds II review sample was supplied for reviewing
Bose QuietComfort Earbuds II Review
Summary
Bose's best noise cancelling earbuds, and also world's best you can find right now in terms of noise cancellation
Pros
The best noise cancelling earbuds you can get in terms of noise cancellation performance
Great sound
Stay on your ears no matter what you do
Intuitive touch controls
Has Aware mode and can custom-make your own noise cancellation performance through the app
Bluetooth 5.3
Cons
Only six hours of battery life on the earbuds
Bulkier earbuds due to the tech and noise cancelling performance within
Larger case compared to competitors and no wireless charging support
Price