Airfly Pro Review – Ever wish you can use your noise-cancelling headphones with the aeroplane's flight entertainment system without the pesky cable? Or ever wish your favourite speaker at home has a Bluetooth functionality? Ever wish to be able to share a song or gaming on a console using your own headphones? Ever wish you can watch a movie airing on the hotel room's TV using your wireless headphones? Ever wish your old car supports Bluetooth so you don't have to listen to the radio all the time?
And many more examples to be explore here, all thanks to this very handy little gadget named the Airfly Pro. As TwelveSouth puts it, AirFly Pro is "the missing link between wireless headphones and wired headphone jacks."
Packaging
Design & Features
Airfly Pro is a tiny gadget that can fit inside your shirt's or pants' pocket comfortably. A protection cap for the 3.5mm plug is also included in the packaging when you are storing the gadget away.
The battery is rechargeable via USB Type-C and can provide up to 16+ hours battery life in a single charge (depends on usage, of course). The main button is used to turn the Airfly Pro on and off, but there is also a toggle which will set the device into either Transmit or Receive Audio mode.
Whichever mode you are in will require you to connect to AirFly Pro via Bluetooth, which is surprisingly easy. Simply hold & press the main button to set it to pairing mode. Do the same with your favourite wireless headphones like the Bose QC35 II or Beats Solo Pro, or wireless earbuds like the Jabra Elite 75t or Beats Powerbeats Pro. They will automatically pair without having to open any app or settings on your phone.
Receive mode means it will receive Bluetooth audio signal/data and the audio will be played on whatever 3.5mm device it's plugged to (i.e speakers, or your car audio input, etc).
Transmit mode means it will send the audio from the device it's plugged to, straight to your Bluetooth device (e.g your Bluetooth headphones/earphones). For example, if you plug it to your Nintendo Switch, you can use any Bluetooth earphones/headphones with the console.
There is also a tiny reset button which will reset all the pairing list to factory settings when you press & hold the button for 4 seconds.
The promise is simple, but it really works and it feels like magic. With the dongle, you can pretty much make any old, dumb, traditional 3.5mm audio devices into smart devices (i.e adds Bluetooth support instantly). Similarly, you can enjoy your music or playlist on your phone on any audio output devices like speakers – assuming they have a 3.5mm audio input jack.
When I flew overseas last week, I've got a good test on the AirFly Pro with the in-flight entertainment system & my Bose QC35 II noise-cancelling wireless headphones. Unfortunately, the plane does not have a 3.5mm jack so I had to use Bose's flight adapter on the AirFly Pro and plug it in.
Sure, it feels weird as the Airfly Pro dangles on the hand rest but hey, better that than having wires all around your neck and chest. I usually had to wrestle with the cables before I could actually stand up and leave my seat to the restroom. With the Airfly Pro, I could just walk out straight with the headphones still on the ears, or around the neck. Awesome!
There was a slight audio latency when I tested Airfly Pro (about half a second or so) while watching the in-flight movies. The delay was not huge and might not be a big deal to some, but I could notice it. This is because I was using Bose QC35 II which has a Bluetooth 4.1 (doh, silly me). Airfly Pro actually supports Bluetooth 5.0 aptX Low Latency which will cut this latency to 1ms, almost negligible.
So if you have a wireless earphones or headphones that supports Bluetooth 5.0 like the new Apple Airpods Pro, Bose's new 700, or the Beats Solo Pro I use for my daily commute, you should be good. If you only have headphones that support the older Bluetooth version, you can still use the Airfly Pro for music (and movies or games, but with a slight delay that I told you about). I wish I paid attention to this before I took my old Bose instead to fly!
You can also share audio with the Airfly Pro. For example, you can watch something together but wearing your own, different Bluetooth headphones. Or you can play Mario Kart 8 Deluxe on Nintendo Switch on the plane and have the sound played on your own earphones/headphones separately.
Airfly Pro Review Conclusion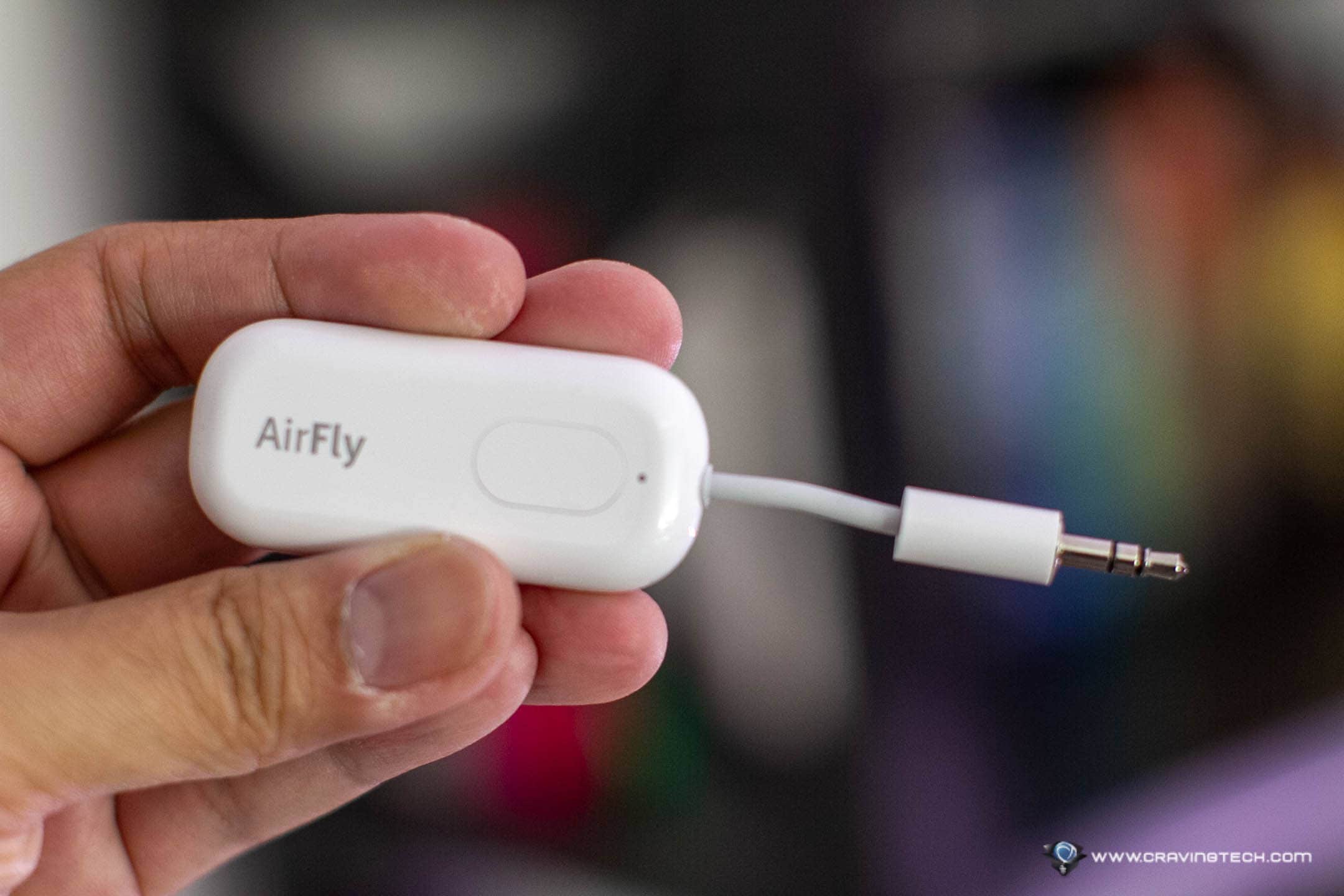 Airfly Pro by TwelveSouth is truly a magical device made for the consumer audio industry. It can make any device with a 3.5mm jack to support Bluetooth audio instantly in both ways, i.e receiving sound wirelessly from your phone and play it (e.g speakers), or transmitting wireless sound to your favourite Bluetooth earphones/headphones (e.g in-flight entertainment system, consoles, audio devices, etc).
It also supports Bluetooth 5.0 with aptX Low Latency Codecs so if your Bluetooth headphones or earphones support Bluetooth 5.0, you won't get any audio latency when playing games or watching movies with the Airfly Pro.
I'm looking forward to test the Airfly Pro with my Jabra Elite 75t as a "wireless in-ear monitoring" on my next music practice with my Bass guitar, and more exciting things to test with the Airfly Pro. It truly is a must-have gem to have around as it serves all kinds of different purpose, and definitely a must-have gadget for travelers!
Airfly Pro is available to purchase at JB Hi-Fi for AU$79.95. Also available at Amazon.
Disclosure: TwelveSouth Airfly Pro review sample was supplied for reviewing but all opinions are mine and not paid
Airfly Pro Review
Summary
A must-have impressive gadget for audio lovers. Really, just go and grab it.
Pros
Super useful, super handy, magical 
Compact size, pocketable 
Long 16 hours of battery life, rechargeable
Can transmit or receive, I'd be happy if it can only do one, but it supports both ways!
Bluetooth 5.0 support
Cons
Can't do both transmit and receive at the same time
Doesn't include an airplane adapter
No battery left indicator (just charge it after a long travel)