Jabra Elite 85t Review – I love the Jabra Elite 75t/Elite Active 75t (check out my reviews on them) but as soon as I hear of the updated model, it's an easy decision. I've gotta give it a try and see what else can Jabra do.
Jabra Elite 85t takes the series with larger 12mm speakers to improve upon sound quality, better & fully adjustable Active Noise Cancelling, and more comfortable to wear.
Packaging
Jabra includes different earbuds sizes in the packaging but there is now a feature called MyFit that will test whether the size you pick is the right one for your ears. Check out our MyFit update article to find out how it works.
Design & Features
Jabra Elite 85t definitely borrows the successful design from the previous Elite 75t, so they really look alike at a glance. Sure, there are small changes if you look at them closely such as a different, new semi-open eargels design (oval silicon) to offer you more comfort by removing that "earplug effect". If you prefer earphones that don't penetrate your ear canals too deep while listening to music, you are going to love the Elite 85t.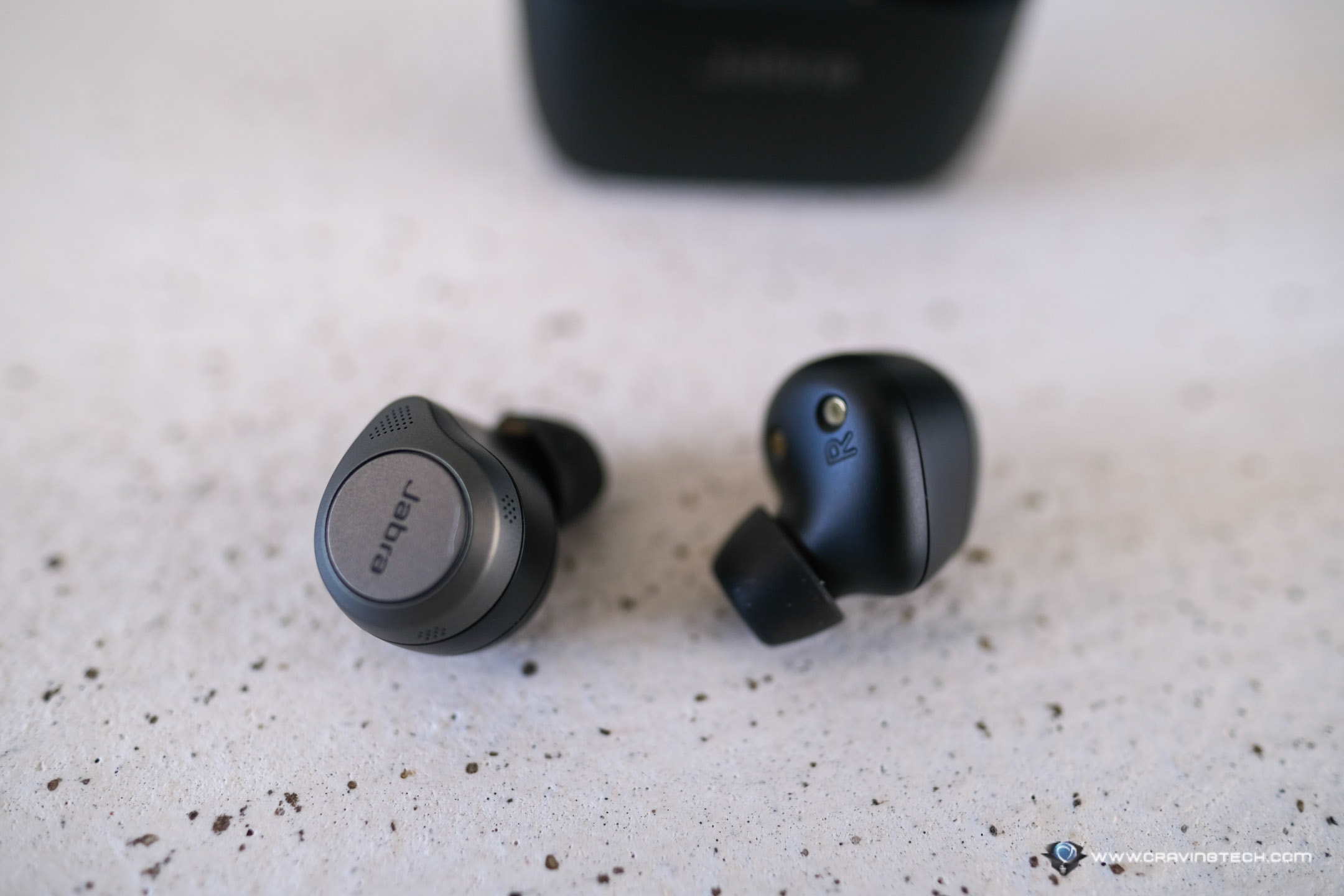 They sit comfortably in the ear, with each earbud weighing 7 grams but you won't feel the weight dragging you down. Controls are located on each earbud with different presses mechanisms. A single press on the left earbud while listening to music will cycle between using ANC or HearThrough, but the same button will function to mute/unmute microphone when you are on a call. Then, you have double presses and press+hold action. So it may take some time to remember which earbud and how many presses do what, but they feel natural after a while. You can also customise these with the Jabra Sound+ app.
The app is also useful to analyse your hearing capabilities and optimise the audio experience based on your personal hearing profile. The test plays a series of tones in different frequencies so I'm assuming the earbuds are going to try customise some sound channels and frequencies based on your hearing. It's pretty cool.
There is also a bonus feature on the Elite 85t called Soundscape, accessible from the app. You can pick a loopable sound to mask the noise around you which can help you go to sleep. I'm sure this will be the most favourite feature to travelers. My favourite is the "Perfect storm" but there are other options too like "White noise", "Ocean Waves", and more. The quality of the sound is also excellent and lifelike.
I've also tested a few video conference calls with the Jabra Elite 85t and the experience was great. However, our neighbour has started to build their house and for some reason, the Elite 85t boosted the sound of the carpenters banging their hammers to my call recipients (they said they could hear the banging very clearly, loud and distracting). Apart from that, I don't have any complaints and we can hear each other really well and clear.
While having a walk outside with ANC on, the wind and outdoor ambience get shut off while listening to my favourite music and the ANC doesn't change the tunes or create an air pressure effect too. The earbuds definitely have great Active Noise Cancelling overall and also an excellent HearThrough that lets you hear your surroundings while you are listening to music.
I always like Jabra's HearThrough technology because they feel really natural. Combined with the new semi-open design, it is as if you are not wearing any earphones at all.
New to the Jabra Elite 85t is the capability to adjust your ANC & HearThrough within the app, up to multiple levels. For example, some might like the middle ground where you want some sort of noise-cancelling while being able to hear the outside more, for example.
According to Jabra, battery life is around 5.5 hours for music listening with ANC on (with additional 19.5 hours from the charging case), and 7 hours without ANC (and extra 24 hours from the charging case). Charging is up to 3 hours for full charge through USB-C, but the case also supports wireless charging on a Qi wireless charging pad. Standby time is about 6 months, which is pretty good.
Jabra Elite 85t Review Conclusion
Jabra Elite 85t is the best wireless earbuds I've ever used and reviewed here at Craving Tech, beating the Elite 75h by a good margin. The larger speaker drivers definitely boost the overall call and sound quality further, and the new semi-open earbuds design make them easier and more comfortable to wear for longer music listening sessions.
The audio quality is powerful, crystal clear, with strong, powerful bass to complement. Elite 85h also has a really good ANC for earphones and an amazing HearThrough that sounds completely natural. Both can now be tweaked further to your preference.
Top these up with a handy charging case with wireless charging support, you get all the bells and whistles in this latest Elite earphone series. The earbuds have an IPX4 rating with a 2-year extended warranty against dust and water, but if you want a higher IP rating, you may want to wait for the Elite Active 85t (assuming it exists and coming).
But if you want to grab these babies now, they can be purchased at A$349 now from Jabra's website or retailers around Australia and you won't be disappointed.
Disclosure: Jabra Elite 85t review sample was supplied for reviewing but all opinions are mine
Jabra Elite 85t Review
Summary
Earphones with Advanced ANC and amazing sound quality, design, & comfort.
Pros
Comfortable to wear
Great audio clarity
Strong, powerful bass
Great Active Noise Cancelling & HearThrough
USB-C & wireless charging support
Bluetooth 5.1
Soundscape feature auto-loops your favourite ambience sound like rain to help you sleep. No, this is not a gimmick, it's really good.
Cons
Doesn't look that much different to the previous models
Only IPX4 rating
The open design ear tips don't give a snug fit