Jabra Elite Active 75t Review – I'm a big fan of the Jabra Elite 75t wireless earbuds (check out my review here), which I think has the best sound on any wireless earbuds I've ever reviewed here at Craving Tech. While "best sound" is definitely subjective, I find that the Elite 75t sounds crystal clear and has the power to deliver all the sound channels.
But if you have a really active lifestyle, you might be better off with the new Elite Active 75t – which literally has all the goodness in the Elite 75t, but with an IP57 rating (the original Elite 75t has an IP55 rating) plus a 2-year warranty against dust and sweat.
So what does this mean? How different is IP55 to IP57? If you look at the comprehensive guide to IP ratings, the second digit difference means:
5: Protection against low-pressure jets (6.3 mm) of directed water from any angle (limited ingress permitted with no harmful effects).
7: Protection against full immersion for up to 30 minutes at depths between 15 cm and 1 metre (limited ingress permitted with no harmful effects).
That is actually quite a big difference, which makes the Jabra Elite Active 75t more than waterproof, really. But while you are not going to wear these while you swim, this means that even during a very intense training with all the sweat dripping from your ears, you shouldn't worry at all.
Or when the thunderstorm hits but you still want to finish your run, again, you can.
With around 7.5 hours of battery life in a single use, you can definitely finish your exercise session, plus some more. With the included charging case, you'll get up to 28 hours of battery life in total.
Surprisingly, the Elite Active 75t has a really good, passive, noise isolation. It actually feels as if the earphones have noise cancelling once the music starts and you can really get immersed into your music. But if you prefer to be able to jog while being able to hear your surroundings, Jabra's HearThrough is accessible with just a press of the Left earbud's main button. This allows you to hear both your music and surroundings in the most natural sound possible. The technology is really good, a feature I first found in their premium noise cancelling headphones, Jabra Elite 85h.
The main button on both earbuds do different things, like answering or ending calls, enabling HearThrough, muting or unmuting the microphone, controlling volume, etc. They buttons are easily accessible for sure, but quite sensitive to trigger if you are the type who like to re-adjust your earbuds in the ears every now and then.
Jabra Elite Active 75t Review Conclusion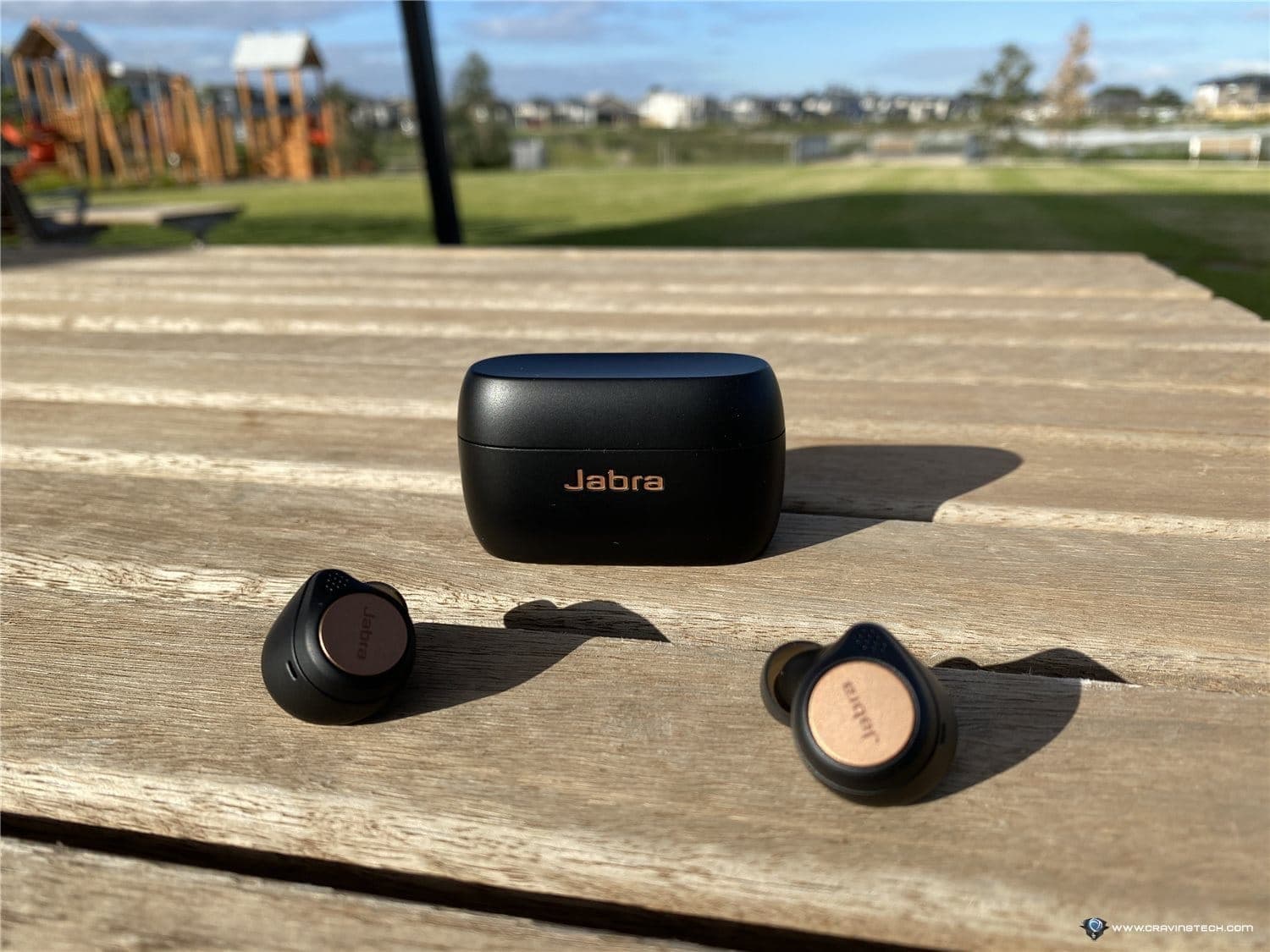 Jabra Elite Active 75t is my wireless earbuds of choice at the moment for music listening and exercising. They deliver rich and crystal clear sound, have great passive noise isolation thanks to HearThrough with just a simple tap, and durable to use even during the most intense exercise.
I used the earbuds daily to make calls and Zoom meetings, with a mix of listening to music and podcasts.
If you already have the Jabra Elite 75t, then there is not much point in grabbing the Elite Active 75t, unless if you really want that extra durability with IP57 rating.
Jabra Elite Active 75t retails for AU$329 and available at major retailers around Australia.
Disclosure: Jabra Elite Active 75t review sample was supplied for reviewing but all opinions are mine and not paid
Jabra Elite Active 75t Review
Summary
Great wireless earbuds with IP57 rating for those having an active lifestyle and still want to hear the best out of their music
Pros
Comfortable fit
Compact design
Rich and clear sound
IP57 rating
HearThrough feature sounds really natural
USB-C charging
Clear calls
Cons
No wireless charging
Need to remember which button does what, and how to perform the actions (tap, tap & hold, etc)