Jabra Elite 85h Review – The Jabra Elite 85h is Jabra's wireless, active noise cancelling, flagship headphones that comes with a new feature called Smart Sound. With Smart Sound, the headphones can detect where you are by listening to your surroundings continuously, and then activate a sound profile that you've created for that particular situation.
Combined with seamless navigations and interactions, Jabra Elite 85h is going to be many's favourites Bluetooth headphones, and face head to head with Sony, Plantronics, & Bose.
Jabra Elite 85h Review – Packaging
A hard case is included for travelling (but kind of huge) and surprisingly, an airplane adapter, which is a nice touch. Even Bose does not include one in the QC35 II packaging.
Jabra Elite 85h Review – Design & Features
The review unit I have here is the Navy model. You can grab the Titanium Black (which looks nicer in my opinion), Copper Black, or Gold Beige for the same price. If you don't like cheap, plastic-looking headphones, you are in for a treat here. The Elite 85h has a premium woven fabric look with soft, yet thick padding.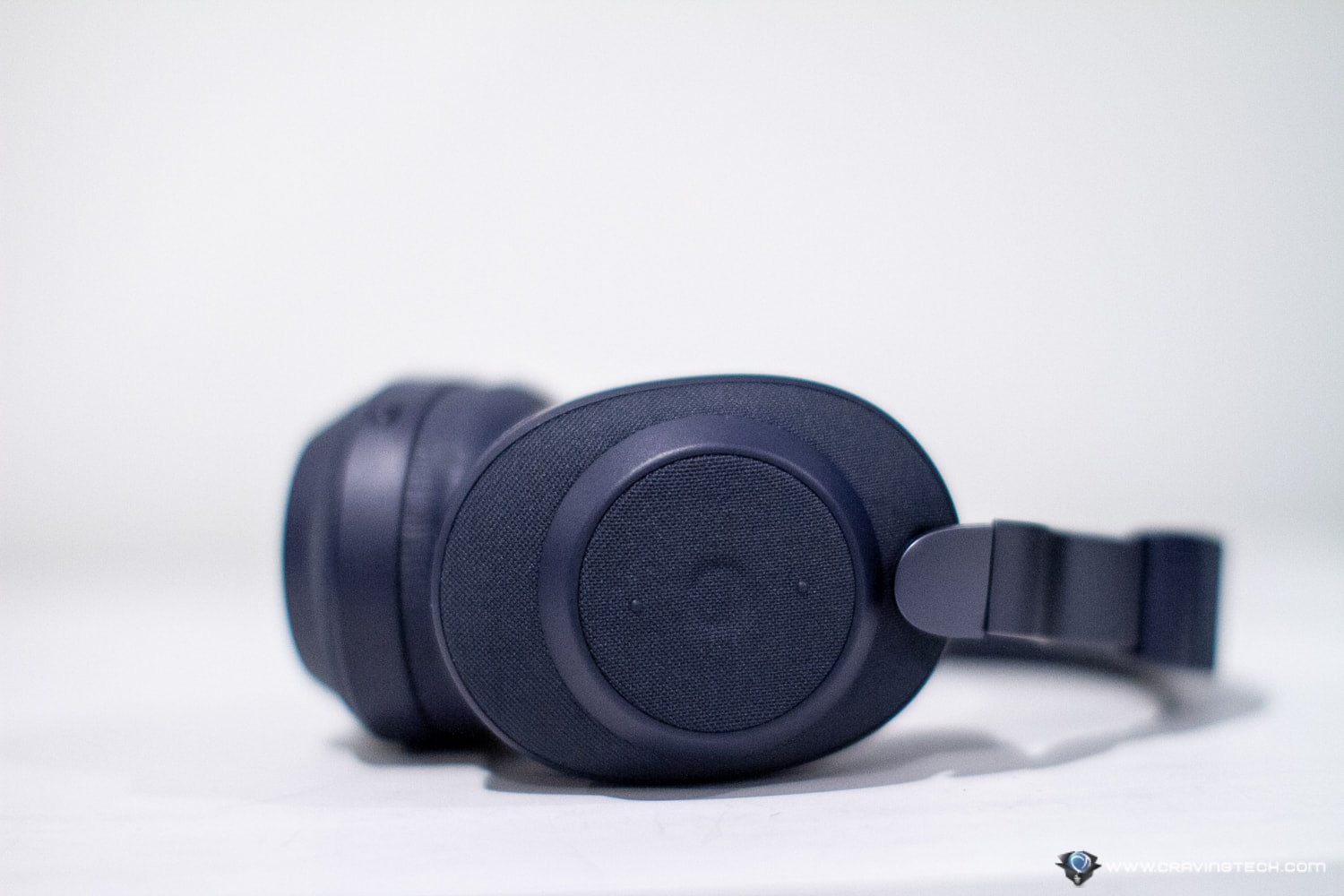 Compared to the Beats Studio 3 Wireless, it doesn't feel as tight on the head (which is going to be a relief to some people) but stays in place and comfortable to wear. The headphones are quite flexible that you can stretch without fear of breaking them apart. And oh, it is also rain ressistant!
Interestingly, there is no actual power button because the headphones can only be turned off by rotating the ear cups flat, and turned on when you rotate them back to a wearing position. It took me a few days trying to figure this out because I assumed it'd auto turn off when I'm not wearing the headphones. I was scratching my head because my phone decided to "mute" itself, only to realise that the headphones are still actually connected to the phone! Only by reading the guide that I finally find out how to turn the headphones off manually (apart from disconnecting them from my phone's Bluetooth settings).
Taking the Elite 85h off the ears will auto pause the music and actually make it go to standby mode after some time. Wear it back, and music will resume. It's seamless and intuitive. Only after some time have passed that the headphones will turn off automatically (or you can fold it flat to force it to).
There are some buttons for sure and they are used to activate your personal voice assistant like Siri, cycle between different sound modes (Active Noise Cancelling, HearThrough, or Off), media controls, and call controls.
No icons or labels are visible, which offers a clean design but requires you to have a quick look at the guides to find out which button does what at first.
The volume buttons are like tiny bumps on the ear cups area so they are easy to spot by running your finger around the area.
There is also a dedicated button to cycle between Active Noise Cancelling, HearThrough (where you can hear your surroundings), and Off (no ANC, no HearThrough). Jabra Elite 85h contains 8 built-in microphones: four will be used by the ANC feature to filter the noise around you, six will be used to enhance call quality. During the 2 week period with the headphones, I found that the ANC worked really well in blocking most noise out and I'm very pleased with it. I use the headphones mostly outside (which includes busy Melbourne CBD traffic and train stations), so I had a good play with the ANC and can recommend it.
The HearThrough is pretty interesting. It uses the built-in microphones to boost your surroundings so you can hear through the noise-isolated headphones. It actually works pretty well like magic, as if you are not wearing headphones at all yet can still hear your music. I thought I wouldn't really need this feature until I stumbled upon a train incident some nights ago.
There was an accident on my train line that we had to be moved to a different train route, got off and hopped into a bus that would take us to another train station, and then took another non-express train home. It was a chaotic situation and I wasted an extra one and a half hour that night just to get home.
Times like these are where listening to announcements gets very crucial. Normally, I'd take my headphones off so that I could listen to announcements as we got updates. But this was a good test case for the Jabra Elite 85h's HearThrough feature.
As a result, the Elite 85h was still on my head as I played games and watched my TV series – but at the same time, I could also hear all announcements clearly without having to take the headphones off. It's an understated feature crucial for all daily commuters.
Now, Jabra Elite 85h also has a unique feature called SmartSound which can analyse your sound environment and apply your personal settings to that environment (commuting, while in public, and in a more private, quieter area). For example, you might want to automatically turn the active noise cancelling off when you are in public places so that you can hear what's going on around you, etc.
It sounds great in theory but in practice, I don't really find it that useful. For a start, you first have to open the Jabra Sound+ app and wait for the app to analyse the environment. Only then you can close the app off – but you'll have to have it reopened again at some point and wait for it to connect to your headphones, and for it to analyse.
Even when the feature is on and working continuously, it's kind of a hard and miss. For example, I commute daily to work by walking and taking the train. At times, I do not want Jabra to switch to HearThrough because I'm in "Public places" – I definitely want to shut the noises out. So, while it's a cool feature, I prefer to set what I want manually.
While this means that it feels like a wasted feature (that I don't use it), at least it's there and you might use it where I don't. But if they can make the headphones cheaper by taking this feature off, I'm sure not many people will miss it.
Sound wise, the headphones have a balanced sound signature, good stereo separation and sound stage, but not as detailed as other headphones with this price range. Music sounds good though, especially if you like listening to acoustic and easy listening.
Jabra also emphasizes a lot on call quality even in most challenging situations, so I took the headphones around the busy CBD and to a super windy alley. My wife said my voice was very clear and when I asked about the windy situation, she did acknowledge hearing the wind but it didn't affect the call quality. So far, so good! If you take calls frequently while wearing headphones outside, this is it.
Jabra Elite 85h Review – Conclusion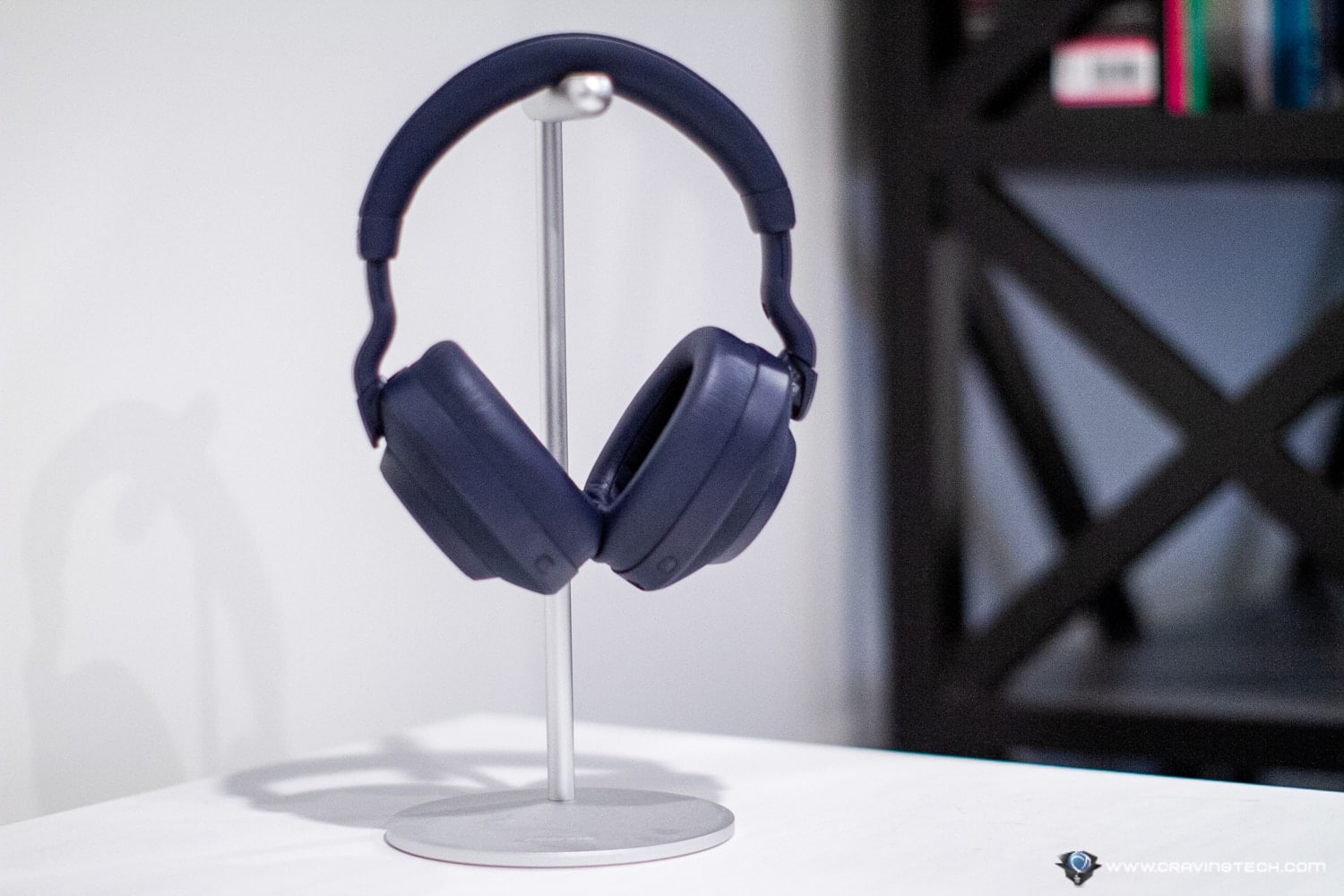 Jabra Elite 85h offers one of the best active noise cancelling features out there, especially with an understated feature, HearThrough, that let you hear your surroundings AND your music at the same time as if you are not wearing any headphones.
It is sold at quite a premium price, and I wonder if it is because of the SmartSound feature – which unfortunately a hit and miss. It's definitely an interesting technology but I'm not sure how useful it'd be for some.
For daily commuters, Jabra Elite 85h ANC and HearThrough are the ones that separate it from the rest of the competitions, not to mention the rain ressistant nano coating material. The headphones also have great battery life, sound, comfort, and non-cheap-plastic look. Jabra Elite 85h is truly an awesome headphones for daily commuters.
Jabra Elite 85h is available in Australia for AU$499 RRP at major retailers and also at Amazon Australia | U.S.
Disclosure: Jabra Elite 85h review sample was supplied for reviewing but all opinions are mine and not paid