Razer Raiju Tournament Edition Review – First of all, only a video game enthusiast willing to spend more than $100 for a controller. There are three Raiju controllers for PS4: The original $160 (not sold anymore), The Tournament Edition ($250), and The Ultimate Edition ($350).
I got myself the Raiju Tournament Edition review unit from Razer and here's what I think about it.
Razer Raiju Tournament Edition Review – Packaging
I must say that Razer has definitely given considerable thought for the overall packaging. The box is nicely designed and it oozes premium when I opened it for the first time. Inside the box, you'll find three things: The Razer Raiju Tournament Edition Gaming Controller for PS4, a USB to Micro-USB cable, and the Product Information Guide.
Razer Raiju Tournament Edition Review – Look and Feel
The first impression, the Raiju TE definitely feels better ergonomically than the regular PS4 dual shock controller as it is much like the Xbox controller. However, it's definitely heavier (322 grams) than the standard PS4 controller (192 grams). If you are used to play with a chunky Xbox controller, then this Raiju controller will give you the similar vibe. 
The exterior built is made of high-quality plastics. Plus, it's worth noting the Mecha-Tactile Action Buttons are so satisfying to press. It gives you the feel of mechanical press of an expensive gaming keyboard. Too bad not all buttons are Mecha-Tactile.
It may take some time to get used to the new buttons layout, especially the M3 and M4 buttons behind the body. I kept accidentally pressing either one of those two buttons when playing Spiderman on PS4. 
In my opinion, this Raiju controller isn't built for fighting games. I played Street Fighters V with it but it just didn't feel right for me. Or maybe it's because I haven't played that game for a while.
I've tried playing racing games (like Gran Turismo Sport) with the Raiju TE controller, and I'd say it handled racing game better than the standard Dualshock controller.
The Raiju TE is available in three different colours: Black, White, and Pink. Well, I'd wager that the last colour might be more appealing to female gamers.
Razer Raiju Tournament Edition Review – Other Features
PS4 and PC Support
This has to be one of the selling points here. The Raiju Tournament Edition works with both PS4 and PC (Windows 7 and above). PC gamers? No worries! I didn't test this controller on a PC though since I've retired from PC gaming world many years ago. But if you are just getting this to play RAGE 2 on the PC, for example, you're good to go!
Connectivity
If you are concerned with latency, then no worries, as this controller can be hooked up with a wired connection. But for those who don't like cables (like me), Bluetooth is the preferred choice. One caveat: the audio jack only works in wired mode. This can be a deal breaker for some but hopefully Razer will sort this one out in the next generation model.
Mobile app for easy configuration
Did you know that it's super easy to remap the button configuration? You can easily remap the multi-function buttons and triggers, adjust sensitivity clutch, or fine-tune the intensity of rumble motors. It's available on both Android and Apple AppStore.
Battery life
Raiju TE claims 11 hours of battery life which is double than the standard Dualshock's battery life.
Tech Specs
– 4 multi-function buttons
– Mecha-Tactile triangle, circle, X, square action buttons
– Trigger stops for quick-firing action
– 3.5 mm audio port for stereo audio output and microphone input 
(Audio function only available in USB mode)
– Up to 19 hrs battery life – On a single charge
– Detachable 2 metre lightweight braided fiber cable with Micro-USB connector
– Approximate size: 104 mm (Length) x 159.4 mm (Width) x 65.6 mm (Height)
– Approximate weight (without cable): 322 grams
System Requirements:
– PS4 or PC (Windows® 7 and above)
– Mobile app for iOS 9.0 and Android 6.0 (or higher)
Razer Raiju Tournament Edition Review – Verdict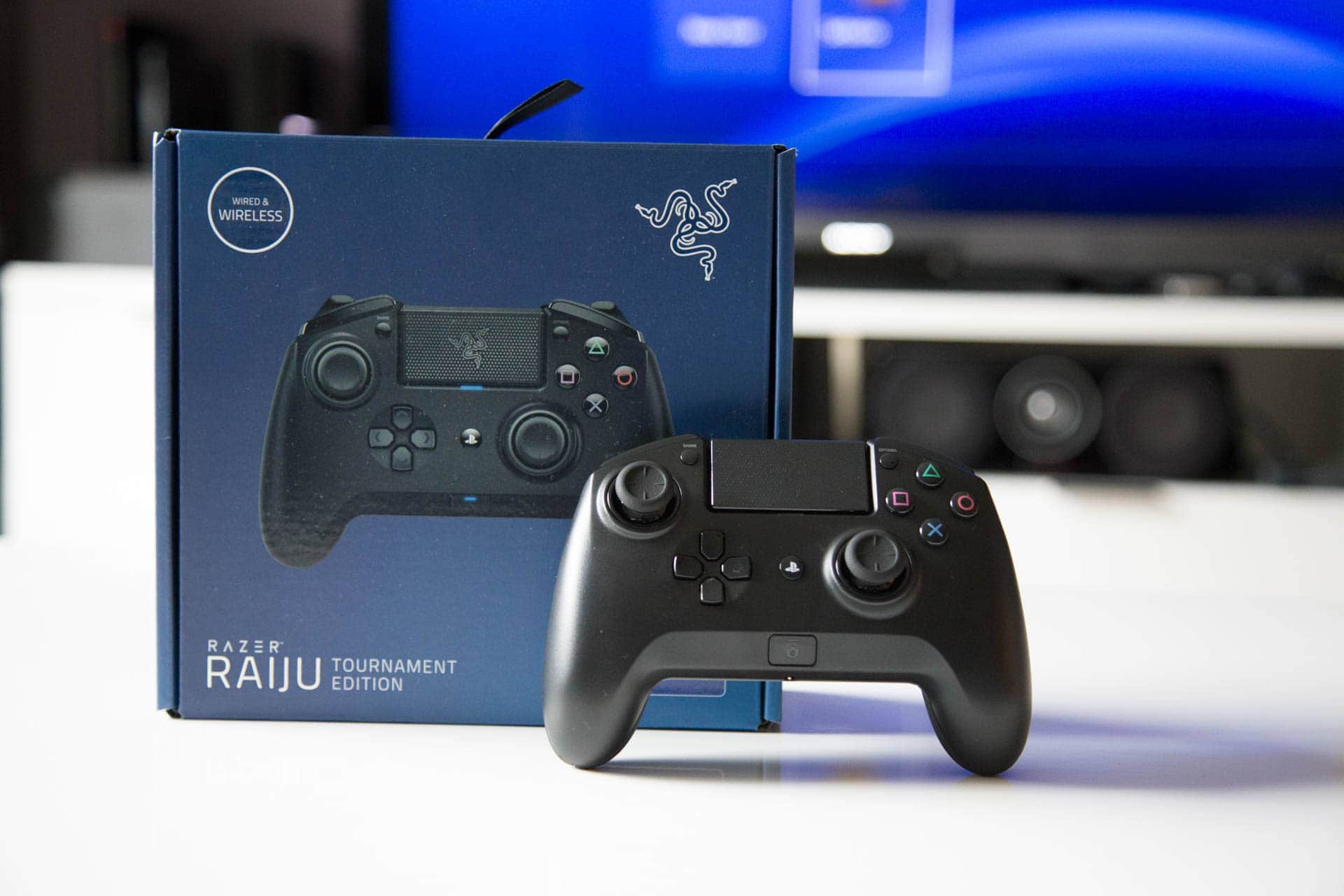 I'd give it a solid 8/10. If you're a serious competitive gamer, then this is your weapon of choice to get that advantage. 
The good:
– The ergonomic multi-function button layout
– Solid handheld feel
– Awesome battery life
The bad:
– The price
– Takes some time to get used to
– Audio only works when it's wired

The Razer Raiju Tournament Edition is available at Razer Australia's website with an RRP of AU$259.95 and retailers around Australia. It's also available at Amazon U.S.  
Disclosure: Razer Raiju Tournament Edition review sample was supplied for reviewing but all opinions are mine and not paid
Razer Raiju Tournament Edition Review