Arlo Pro 3 Wireless Security Camera Review – Arlo have released a variety of wireless security cameras in the past, and their latest Arlo Pro 3 is an updated model from the Arlo Pro line. Despite of it being the latest Arlo camera release, the Pro 3 is not to be mistaken to be better than the Arlo Ultra we reviewed before.
Arlo Pro 3 (with 2K video recording) is to be positioned somewhere between the Arlo Pro 2 (1080p) and the Arlo Ultra (4K).
Being wireless, the Arlo Pro 3 can be installed anywhere around the house to cover those entry points that your IP camera can't cover. Or if you already have the other Arlo cameras, the new Arlo Pro 3 cameras will also work nicely together.
Packaging & Unboxing
A quick unboxing video: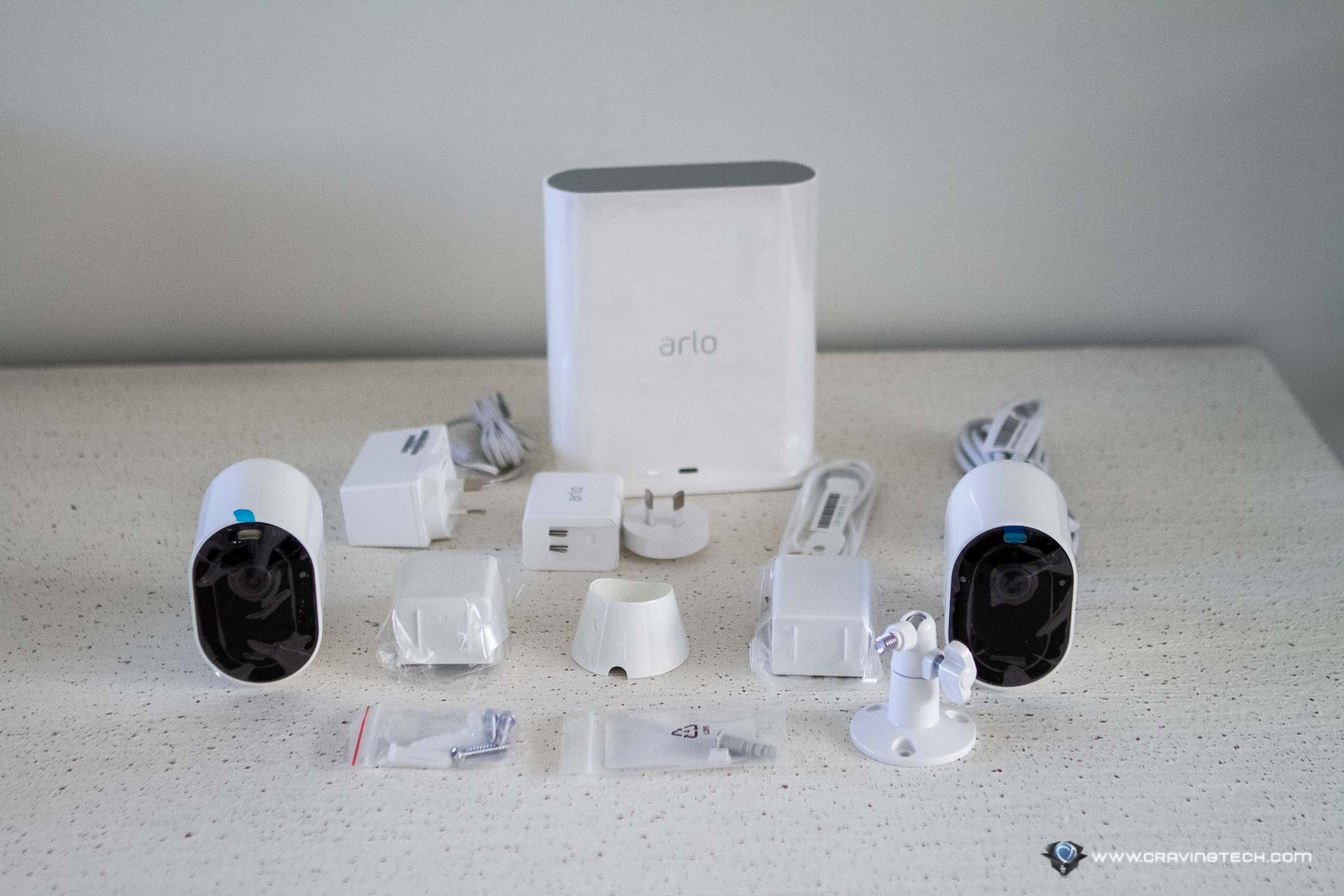 Setup & Installation
The Arlo Hub needs to be plugged to your wireless router, but if you already have one like myself (from Arlo Ultra), you can just add the new Arlo Pro 3 cameras without having to use the included Hub (if you buy a single Arlo Pro 3 camera, it doesn't come with the Smart Hub and costs cheaper). Through the Arlo app on the smartphone, you can add devices pretty quickly and I setup my Arlo Pro 3 literally within minutes.
A wall and magnetic mount are included in the packaging so you can set them up differently. While I wish we can get 2 of each mount types (I love those magnetic mount, easier to charge the camera with it), I understand that including them will increase the product's cost further.
Design & Features
Arlo Pro 3 supports 2K, HDR recording with 160-degree viewing angle, has a built-in microphone and speaker, siren, night vision, and also an integrated spotlight. With the help of the spotlight, you can get Colour Night Vision clips to help you identify what's going on in a scene.
The spotlight can be activated manually, but also whenever the camera detects a motion. Thanks to this, Arlo Pro 3 can also be used as a spotlight near your side gate, garage, patio, shed, or wherever you need a short continuous light occasionally. I place one of the Arlo Pro 3 near my side gate to help me out in monitoring (as a security camera), but also to lit me up whenever I need to take the rubbish bin out.
I'm actually quite amazed at how wide the camera angle is. For example, the camera monitoring my side gate doesn't even point exactly at the gate, but I actually get a good view of it, plus more.
2K recording is also a big step up from 1080p, but this can only be done if you are recording locally, or if you subscribe to Arlo's monthly plan. A 3-month Arlo Smart trial is included in the package.
But here's the thing. Arlo Pro 3 and Arlo Ultra do not support Cloud Recording on the free plan (compare to Arlo Pro 2 with 7-day free Cloud Recording). While it can still record the clips locally on the Hub, detects motions, and supports other things, you need to go for a subscription after the trial is over. That is, if you want the cameras to be able to store the footage in the cloud. In my opinion, local security footage isn't that useful because most burglars will trash your hub and security drives, leaving you with zero evidence for the insurance.
However, if you want to invest in Arlo security cameras and beyond, it is definitely worth going for the monthly subscription as you also get smart notifications and more. And if you own a non-Arlo camera, you must know how annoying it is to get all sort o unrelated motion notifications daily.
With Arlo Smart, you can prevent seeing notifications on those swaying trees with the Smart Person, Animal, Vehicle, and Package detection. Plus, unlike other security camera notifications that require you to open the app to see what's going on, Arlo smart notifications mean you can just tap & hold on the phone notification to see a frame still of the scene. This definitely saves a lot of time and hassle because you can check beforehand what to do before opening the app.
It also has a quick shortcut to activate the siren if you see a burglar coming into your premise quickly!
To make sure Arlo only monitors area that you want to monitor, zones can be created easily through the app so you can highlight the bits that you want the sensors to monitor:
Arlo Pro 3 Sample Clips
Arlo Pro 3 Review Conclusion
Arlo Pro 3 delivers clear, 2K video recording with advanced motion sensing & tracking, along with Arlo's Smart AI and zoning to make sure you only get notifications that you care about. The built-in spotlight is handy for all things, and not just for security purposes.
Arlo also has the most advanced and user friendly application compared to the other competitors in the wireless home security market.
However, Arlo Pro 3 has fairly limited features if you don't intend to pay for a monthly subscription – meaning, it's probably worth getting the Arlo Pro 2 instead. But if you are already invested in the Arlo ecosystem or don't mind paying for the monthly plan, Arlo Pro 3 is definitely a steal. Check out their smart plans for more details on pricing and what you get.
Arlo Pro 3's Two cameras bundle with the Smart Hub like my review unit here, retails for A$949 at JB Hi-Fi, but also available at other retailers around Australia. Also available at Amazon.
Disclosure: Arlo Pro 3 review sample was supplied for reviewing but all opinions are mine and not paid
Arlo Pro 3 Review
Summary
Arlo Pro 3 comes with 2K video recording, built-in spotlight and siren to scare intruders away, and advanced motion detection with smart notifications 
Pros
Clear 2K video quality
Coloured night vision
Easy to setup
App is easy to use
Built-in spotlight, siren, microphone, speaker
Advanced notifications & detection if you subscribe
Cons
Pricey
Many of the good features including Cloud Recording requires monthly subscription