Amazon Echo Show 8 Review – The Amazon Echo Show 5 was a really good Alexa smart device with display, but in large rooms, it can feel too small. It has a 5.5-inch display and a compact size that makes it perfect for bedside tables and a few other compact places. However, if you want to opt for a bigger screen (just because you can), well, you now can.
Amazon Echo Show 8 comes with an 8″ HD screen, which is quite a significant size upgrade from the Echo Show 5, without taking too much space on the desk. It sits between the Echo Show 5 and Echo Show (10″). The result is a perfect size for the kitchen bench, so you can sing along while you are preparing for today's dinner.
Packaging & Unboxing
Installation is very simple. Plug the power cable in, connect to your home Wi-Fi network, and done – assuming you have Alexa set-up already on your phone. As I have a lot of Echo devices in my household from all the reviewing, it only took me a minute or so to set the Echo Show 8 up with my other smart home devices ready to integrate.
The touch screen makes it easy as I didn't need to use the Alexa app on my smartphone to set the Echo Show 8 up. All was done through the large screen with my finger, which is awesome.
Design & Features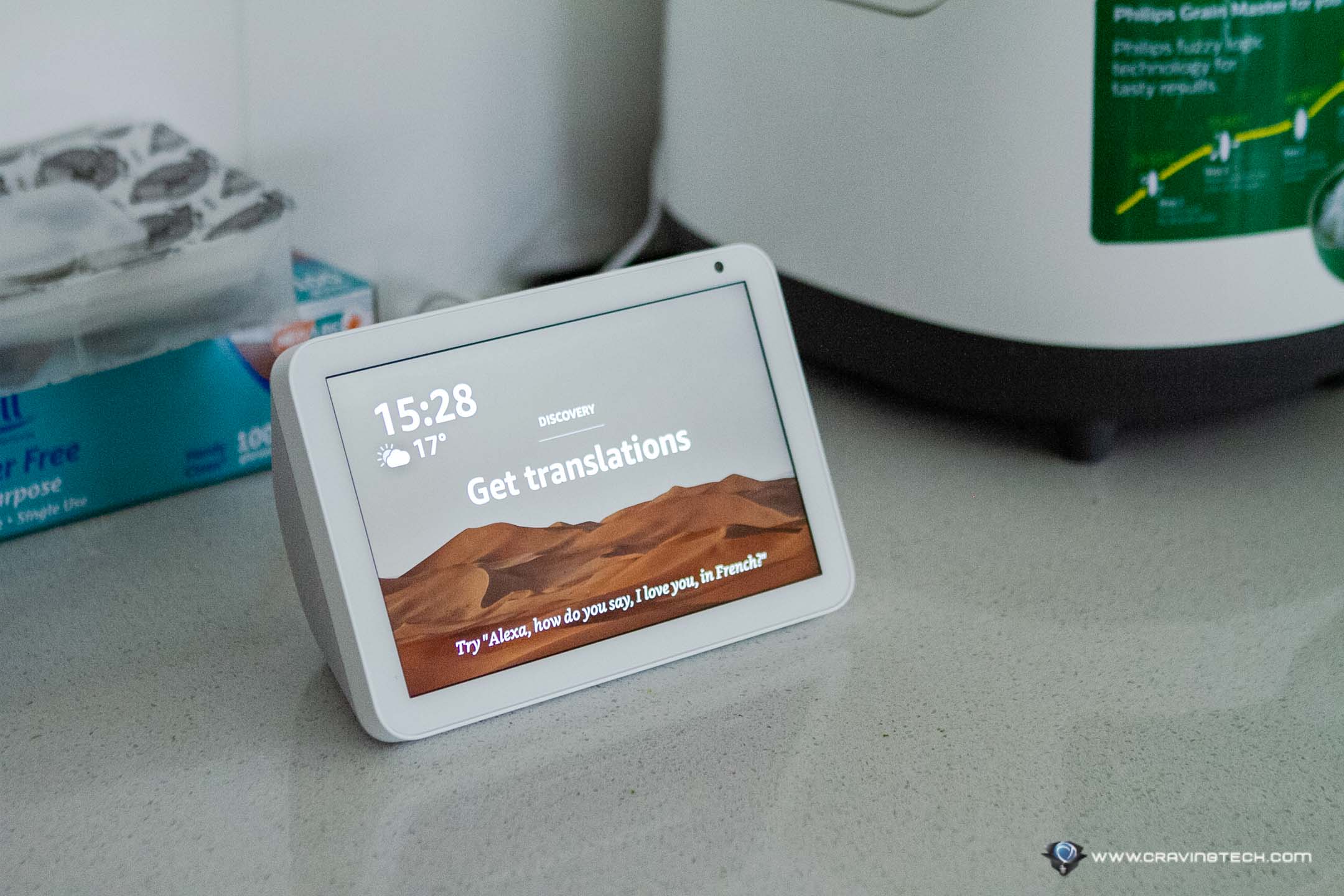 Like the other Echo Show devices, controls are located at the top of the unit such as volume controls, microphone mute button, and also a camera cover. If you are super concern about privacy or not going to use the video call, you can close the front camera. Microphone can also be muted in case you are paranoid about having your conversations being listened to. But to be honest, there's no point in buying an Alexa-powered smart device but having the microphone disabled.
After all, almost all interactions on the Echo Show 8 are done by saying "Alexa". Thanks to the big speakers (2 x 2.0" @ 10W per channel), Alexa voice is louder than ever. Music, definitely gets an upgrade to these stere speakers and it's easy to just get Alexa to play songs from your favourite artists or albums. I have Alexa connected with my Apple Music so I can also get her to play my Apple Music playlists.
Unfortunately you can't play your Netflix movies on this device, but if you have a subscription to Amazon Prime, you can watch the movies here. You can also play YouTube videos, which is quite handy so you can follow some cooking tutorial videos or watching trailers while your hands are busy with other things. There is no YouTube app in a way on the device, but it's done through a web browser – but whatever works.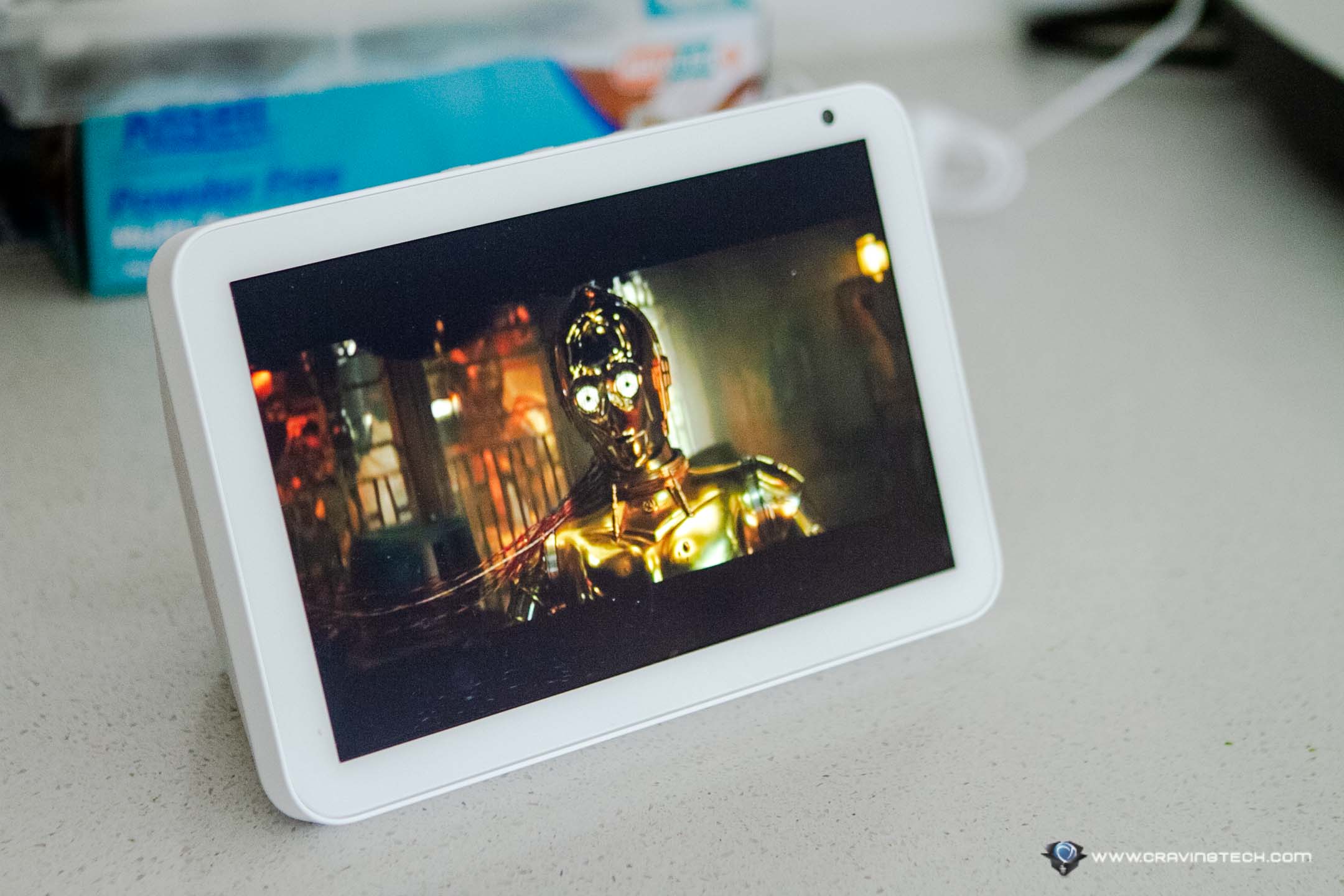 Amazon Echo Show 8 has 4 built-in microphones to pick up your voice and I've found that I don't even need to shout even while I'm standing far away. This way, I can wash the dishes while getting Alexa to show or tell me something interesting while I'm doing the chore.
Some settings and interactions can be done with your finger, and thanks to the larger screen, it is even easier to set some settings up.
If your home has smart devices that support Alexa, you can integrate and control them just by using your voice. For example, I have a few Ring security devices like the Ring Video Doorbell Pro and I can just say "Alexa, show me the front door" to have Alexa streamed the feed to the Echo Show 8. There are smart light integrations too, among hundreds if not thousands of Alexa skills that you can explore.
With routines, you can also say "Alexa, good night" to have a series of automation throughout your home.
Now, there is no clock customisation at the moment apart from changing its 12 to 24 hour format to display. So in a way, you can't see the clock in full screen – yet. But fret not, the feature seems to be coming soon as stated on the Amazon product page: "COMING SOON: An updated clock design that will display the time, weather, and date in larger digits."
We are not sure when the update will hit but rest assured that it is in the works.
Amazon Echo Show 8 Review Conclusion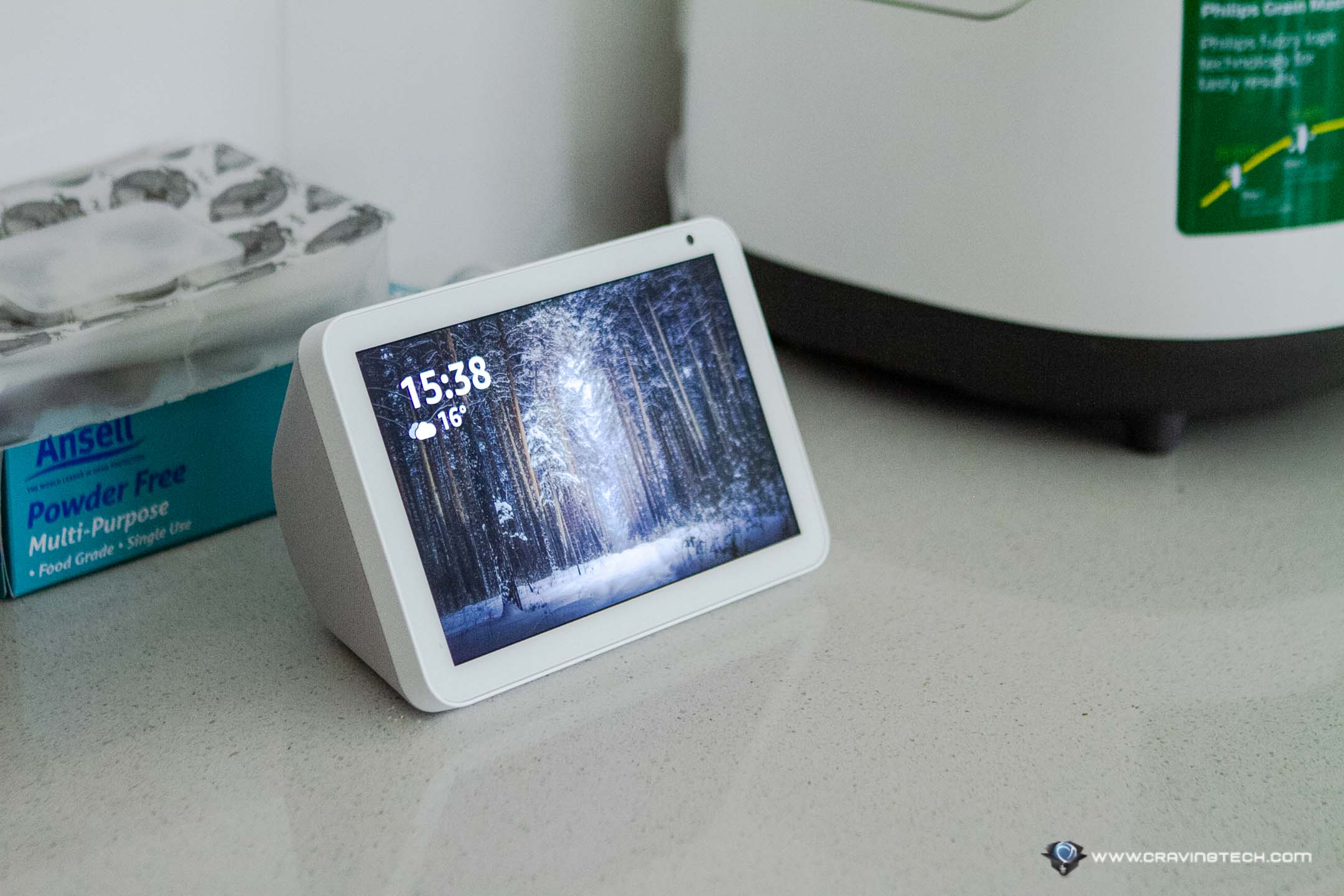 Amazon Echo Show 8 is a perfect Alexa smart display device on our kitchen bench. As my wife prepares the dinner for us, she often uses the Echo Show 8 to play some Disney songs and can easily change the station to something else just by using her voice. Her hands are usually very busy prepping for the food, so being able to control everything with a voice is godsend.
It's also cool that when you ask Alexa to play songs, lyrics will automatically come up (karaoke style) so you can sing along as well without ever touching the screen. Sure, this can be turned off if you don't like it, but we find it fun and useful.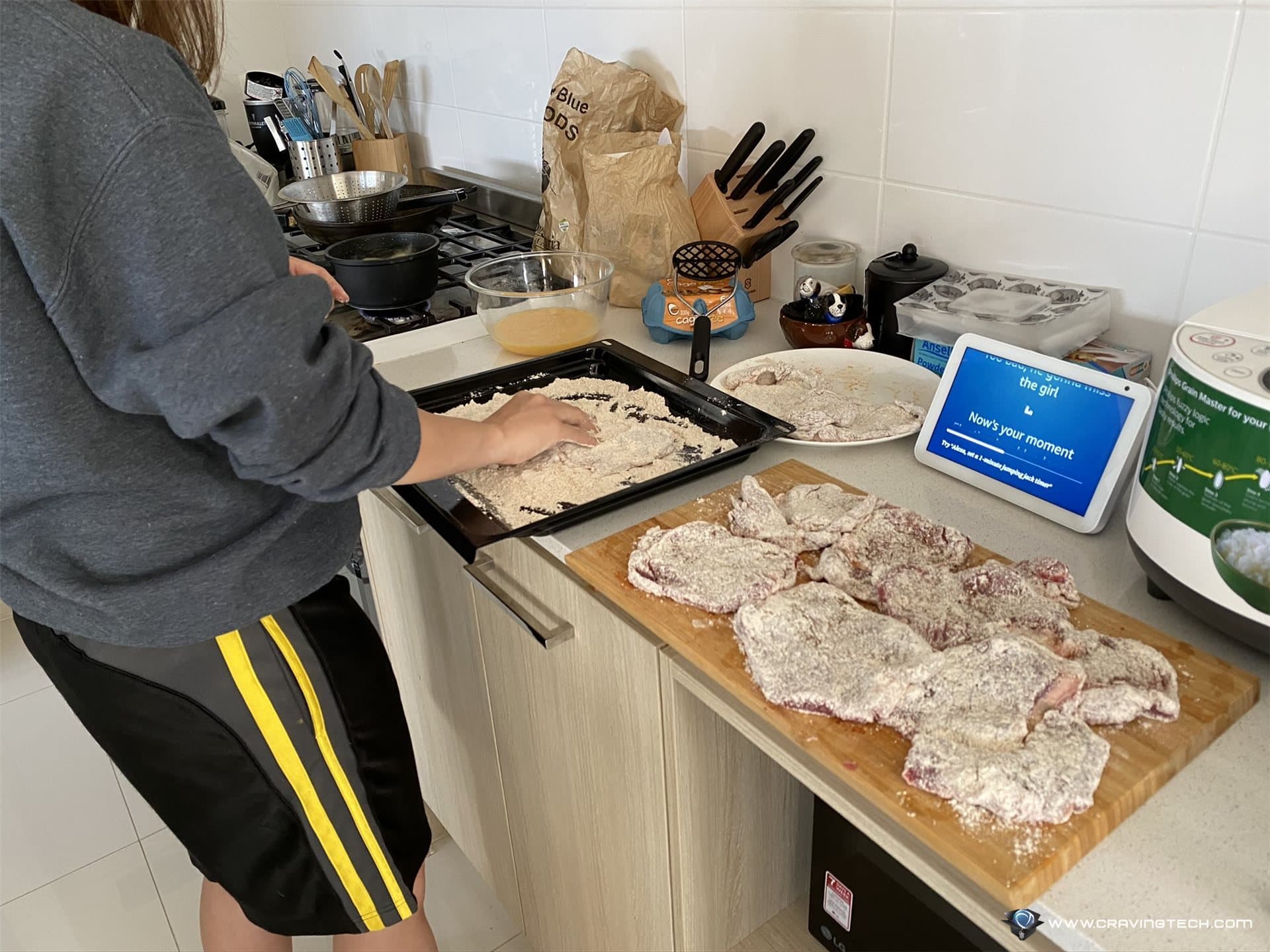 It sounds pretty good for music listening in general, but of course if you have a higher, premium set up like my Focal Chora 806 here, then you might want to use that instead – perhaps with the help of the Amazon Echo Input. I set up mine with the Amazon Echo Link Amp so I can stream my music to the Focal speakers via Alexa.
Getting news while you are having breakfast, get today's weather while you are grabbing your coat, controlling the lights while you are walking into the room, and more is just a taste of what you can do with Amazon Echo Show 8. Thanks to its big display and speakers, you can also experience better music listening and video watching while your hands are busy.
Amazon Echo Show 8 definitely offers the best Alexa experience with the right size and features. It retails at AU$229 and is available from Amazon (AU | U.S) or retailers around Australia.
Disclosure: Amazon Echo Show 8 review unit was supplied for reviewing but all opinions are mine and not paid
Amazon Echo Show 8 Review
Summary
Sits perfectly between the smaller Echo Show 5 and the larger Echo Show. The upgraded screen and speakers have proven to be useful to enhance music listening and video watching
Pros
Great screen & unit size
Touch screen
Camera shutter close & microphone mute available
Easy set-up 
Cons
Wish it has a smaller bezel
No full-screen clock, but in the works through an update later