Withings Steel HR Sport Review – The first time I heard about Withings was years ago. Back then, smartwatches were bulky and in my opinion, too "gadget-y" looking. But when they debut their first hybrid watch, I was in awe with the classic look of a traditional, analogue watch.
And with Withings Steel HR Sport, that classical, yet elegant design is still being maintained while adding fitness features and multiple sensors within. It has a similar design to the Steel HR, but with extras for the sports fanatics out there.
Packaging & Unboxing
Design & Features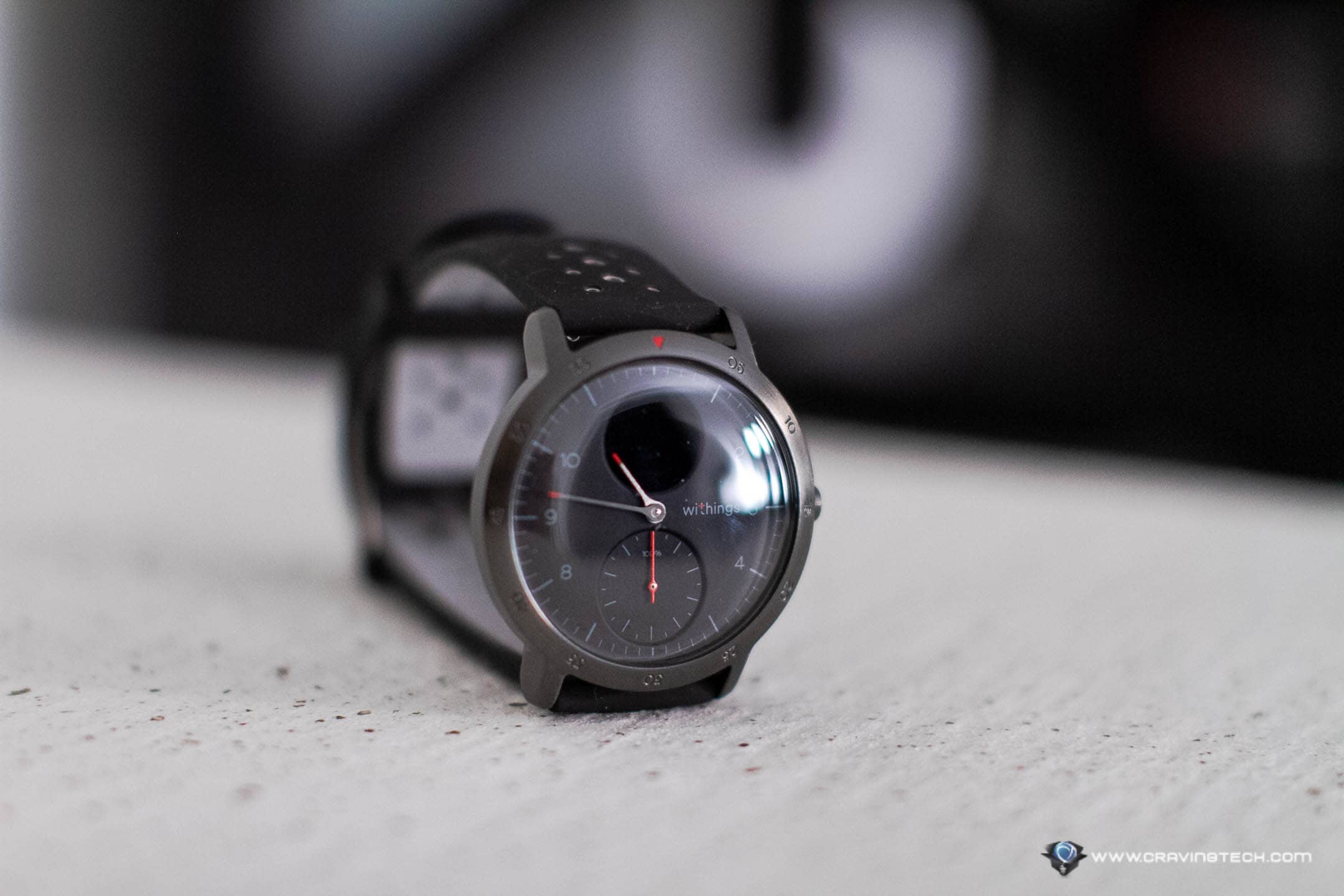 At a glance, the Withings Steel HR Sport looks like a traditional analogue watch with a sporty-looking band. I personally love the looks compared to modern smartwatches showing digital and funky things on the screen. Plus, on most smartwatches, people would only see a blank screen anyway, thanks to the needed battery saving mechanism.
Withings Steel HR Sport on the other hand, doesn't require much battery power at all because it really is utilising analogue watch hands to tell the time and only has a small LED screen for the smart notification and display like your goals, steps, incoming call notification, etc. The bad side of this is that it's hard to see notifications in its entirety and the watch face itself doesn't have backlighting, which is a challenge to see at night or when the sun glares too harshly.
The hybrid watch is comfortable to wear and I barely realise that it's there on my wrist after some time, even while I'm exercising or sleeping. When calls and notifications come, the watch vibrates to make sure I don't miss any important messages.
As you can probably guess from the "HR" label, the watch can measure your heart rate too. Simply press the main button to toggle between all these notifications and display to quickly see your progress for the day. Other settings and information about your daily activities can be access through the Health Mate app.
Apart from activity tracking, Withing Steel HR Sport can also track your sleep and display useful information about your sleep like your deep sleep cycles, duration, sleep heart rate, and so on.
Steel HR Sport features automatic exercise recognition which is amazingly accurate in my experience. Sure, most trackers can recognise if you are running or walking, but playing badminton? To test this, I actually did play a badminton session (before the whole COVID-19) using the Steel HR Sport and the watch picked my sessions up really well.
It displays how long my badminton session was and how many calories I burned. To some, it's probably a good indicator whether they should eat some treats after the session. For example, one of my half-an-hour badminton sessions showing I was burning 161kcal but a Bubble Tea has around 230kcal at least. So… yeah, maybe not a good dessert to pick up after your hard work!
Unique to Steel HR Sport is the ability to measure your VO2 max (the amount of oxygen you can consume over a minute during intense physical effort). This will then measure your Fitness Level and you can trigger it by wearing the Steel HR Support and run for at least 10 minutes.
Note that the watch doesn't have a built-in GPS so it'll still rely on your smartphone for positioning (meaning, you still have to carry your phone while jogging if you want the stat). Apps integration like Strava are supported.
With 25 days of battery life, you'll rarely have to take it off the wrist and can just focus on other things. Even when the battery is about to run flat, you still get 20 extra more days out of it to check the time and track activities without the heart rate tracking. Pretty awesome, in my opinion.
Withings Steel HR Sport Review Conclusion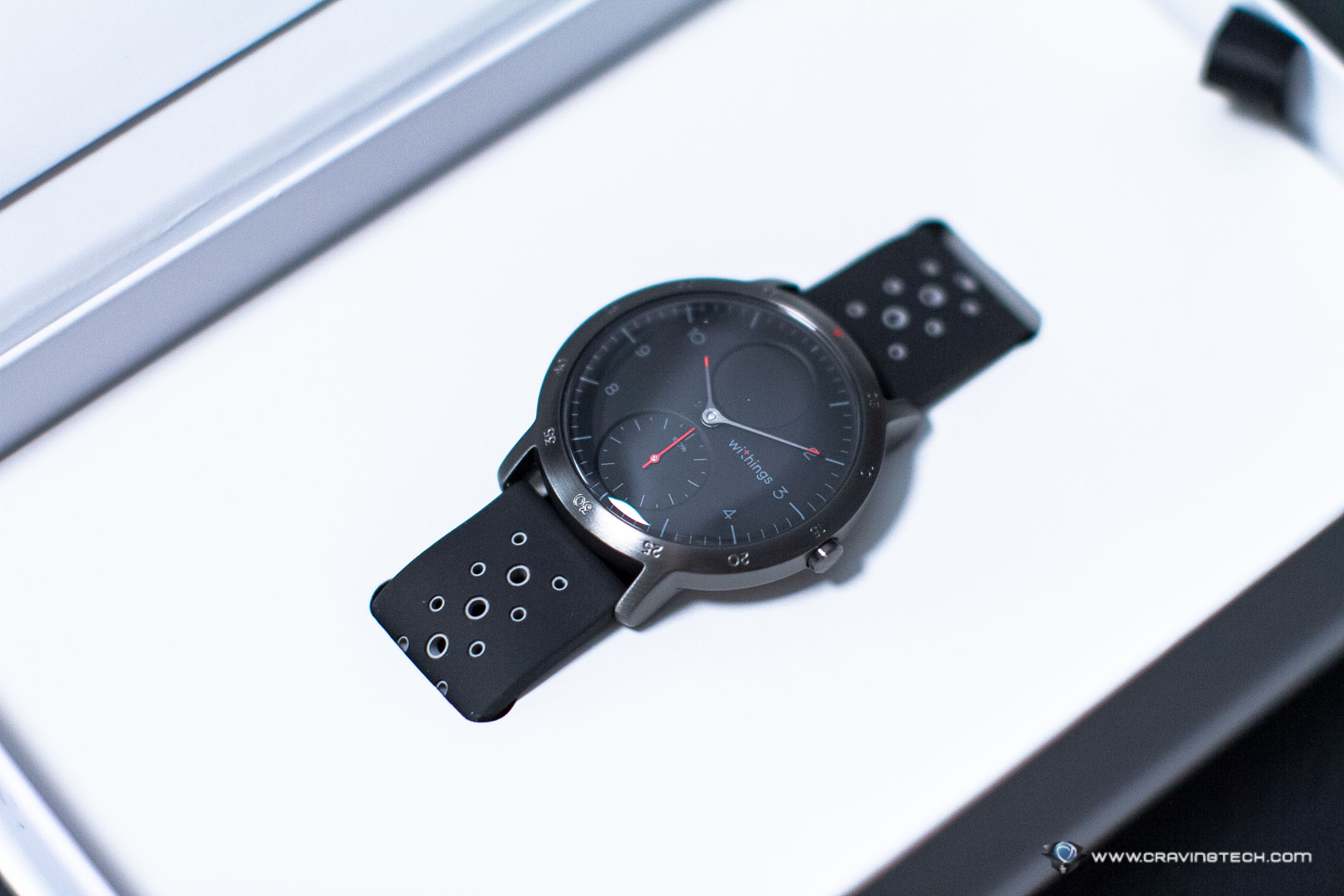 Withings Steel HR Sport is a great and elegant looking hybrid, sporty smartwatch. It has a classical analogue watch look with modern smartwatches features. Sure, this means that it is not really a "full-blown" smartwatch in that you cannot reply messages or interact with the screen directly. However, 3 weeks of battery life with additional 20 extra days for time checking & basic tracking when the battery is low, you really can't complain with that.
With activities tracking, sleep tracking, auto-sport recognition feature, and VO2 Max tracking, Steel HR Sport goes toe to toe with Fitbit Versa 2. They do offer similar, yet not the same features. I personally love Withings Steel HR Sport looks but it's because I like classical watches. Those who like modern LCD display and touch-screen interactions will definitely think otherwise.
Withings Steel HR Sport retails at AU$329.95 and available at retailers around Australia like JB Hi-Fi and The Good Guys. Also available at Amazon.
Disclosure: Withings Steel HR Sport review sample was supplied for reviewing but all opinions are mine and not paid
Withings Steel HR Sport Review
Summary
A hybrid smartwatch with classic and elegant looks, yet maintaining the core features to track your health and daily goals
Pros
Stylish, elegant
Comfortable to wear
Light and slim design
Very good battery life
Many powerful sensors, including VO2 Max
Water resistant up to 50 meters
Auto sport recognition, including Badminton
Cons
Tiny LCD for the smart display means you still have to rely on your phone most of the time
Watch face can be hard to see at certain times