JJOBI Toy Sterilliser Box Review – Here we are in 2020, beginning our year with the horrible Corona Virus (Covid-19) infection. People are panicking about toilet paper and food supply, while I'm more concerned about what I touch and use around me. And whether they are germ free.
I'm soon to be a mother and I'm trying to ensure my son-to-be to at least be germ free as well – which is why I've decided to buy this JJOBI Toy Steriliser Box.
What is Jjobi Toy Box? How effective UV light is to kill bacteria and viruses?
It seems to be impossible to be able to wash or wipe all toys every day in order to maintain their cleanliness. Most wipes are also not environmentally friendly and not cost effective if you use them everyday. And when kids go to bed, you'd probably prefer to spend your spare time with your partner instead of having to clean their toys one by one.
JJOBI Toy Steriliser Storage Box (or JJOBI Box) is a toy box that will sterilise your kids' toys using UV light. UV light has been proven to kill 99.9% bacteria & germs, thus more people is using UV light devices to sterilise their belongings: phones, tablets, clothing, kitchen utensils, etc.
When it comes to UV light, not all UV light can sterilise effectively, but only UVC light (100-280nm) that has enough energy to kill microorganisms. So, make this note when you are shopping for a UV steriliser product.
Studies have shown that 254nm UVC light is already effective enough to kill bacteria, virus, and other things such as foodborne pathogens, natural microbiota, mold, and yeast. The time to kill these microorganisms might vary, but a one-hour operation is enough. It works by breaking down the structure of DNA, RNA, and proteins which cause the microorganism unable to multiply and considered dead because they are no longer be able to reproduce and becoming infectious.
JJOBI Toy Box has 50-liter in capacity that's big enough to sterilise small toys. Jjobi Toy Box is easy to set up and comes with a manual/warranty, power adapter, the box, and the lid which contains the UV light probes. I love how they design the box; it has a wooden feet, adding aesthetic to your room. The product comes in three colours here in Australia: Blue, Light pink, and Grey.
What can I sterilise with Jjobi Toy Box?
Literally, almost everything! The UV light sterilises the surface of toys and other stuffs within it.
Plastic and plushie toys
Battery-operated devices and toys
Wooden toys
Clothing
Silicone toys
Your personal belongings like your wallet, your cosmetics, etc.
Books, but please note that it only sterilises the surface, so it might only sterilise the front and back cover (unless you open each page of the book in order to sterilise them one by one!)
Cutleries or some baby stuff like bottles, etc.
You don't want to sterilise food inside the JJOBI Toy Box because UV light may destroy some nutrition in the food. Oh, and you don't need to worry about whether the UV light will generate any heat or ozone. It's safe.
How to sterilise with JJOBI Toy box?
There are several things to know about using the JJOBI Toy Box:
For maximum results, do rearrange the toys since UV light can only sterilise the surface parts. I do wish they put more UV light surrounding the inner box to maximise the 60 minutes sterilisation.
The sterilisation will only start when the lid is closed properly.
When you open and close the box, ensure that power has been disconnected from the toy box. This to to minimise the UV light from going to your eyes and skin for safety.
The battery lasts for up to 50,000 hours
Comes with one year warranty but if something happens to the toy box and you want to send it back to the manufacturer (for example to replace the UV light because it has exceeded the 50,000 hours life span), you need to send it to their base in Singapore and there might be an extra fee to replace the UV light, up to AU$100 to replace the bulb itself. Otherwise, you can contact the store where you purchased it from.
Personally, I will use this toy box for my daily's cleaning routine. However, every once a month I will still wash the toys to get rid of the dust and other particles.
How to clean the JJOBI Toy Box
First, you need to unplug the cable from the main body to avoid the UV light going to your skin and eyes. With the box itself, you can clean it with regular or disinfectant wipes but with the lid, use a dry towel instead. This is because of the electronic components are on the lid. If you really need to clean the lid, make sure not to let any water drops on the UV LED. Do not use solvent, thinner, bleach or detergent that contains chlorine and abrasive.
JJOBI Toy Sterilliser Box Review Conclusion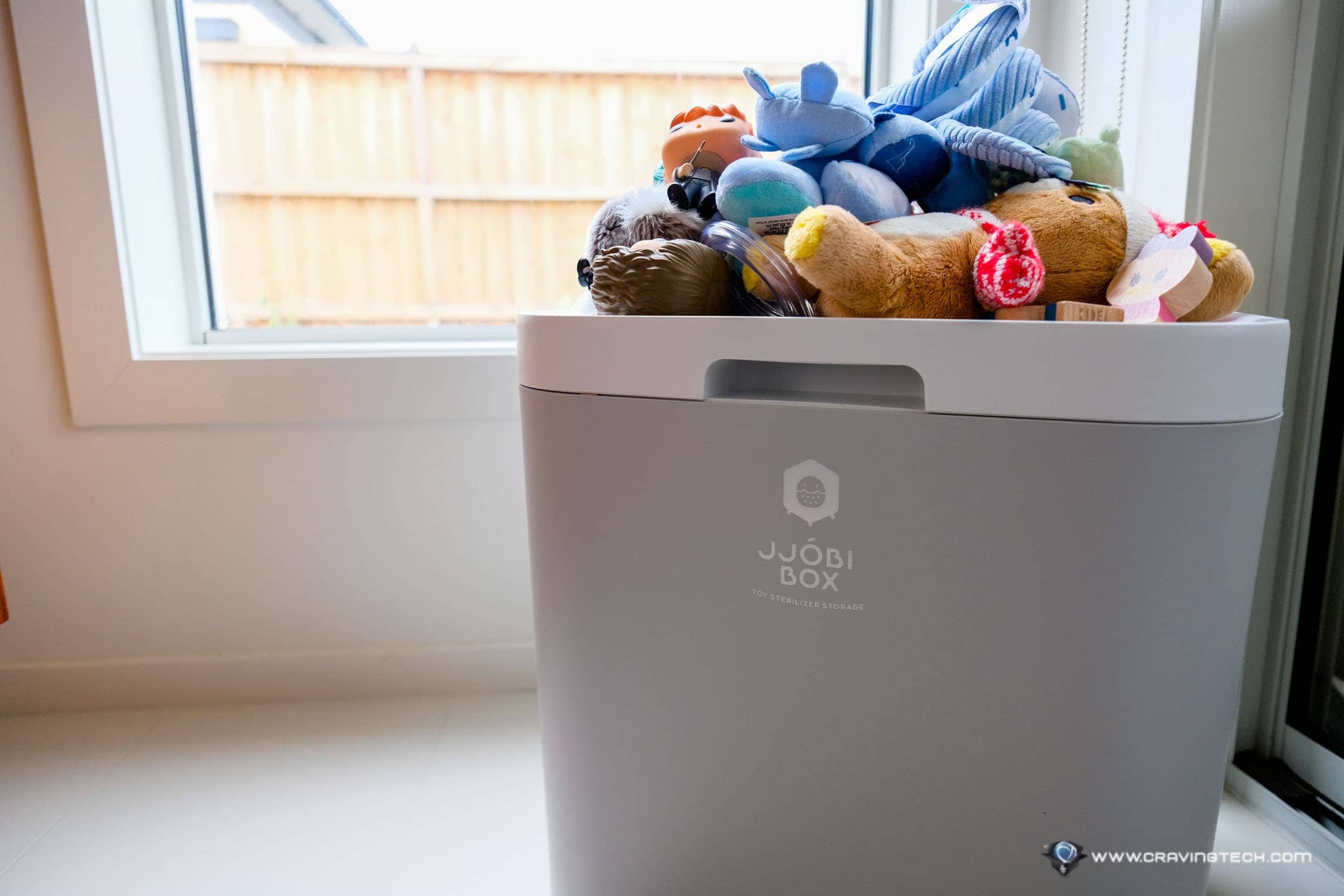 I love this product so much and so glad that I bought it especially in the middle of these circumstances. This is exactly what I need.
Although it takes around 60 minutes to sterilise the stuffs inside, at least I don't need to worry about wasting my time cleaning my soon-to-be son's toys every day and I can get more time for myself effectively, thanks to JJOBI Toy Box!
JJOBI Toy Steriliser Storage Box retails for around AU$279 here in Australia.
JJOBI Toy Steriliser Storage Box Review
Summary
A storage box to hold your items and kids' toys, and sterilise them at the same time with UV lights