Goodpapa K1 is a multi-purpose 4 in 1 spin scrubber device that you can use for… well, scrubbing. As simple as that may sound, it is one of the handiest gadgets I have around the house and you'll see why soon.
When you clean certain areas around the house like the kitchen stove or BBQ Grill, you normally have to scrub those stubborn stains numerous amount of times to make them go away. It gets tiring and no one likes doing that anyway.
Goodpapa K1 is a battery-powered scrubber where you basically just have to press a button and hold it while the device scrubs endlessly to remove any stubborn dirt and stain. It's super handy.
Goodpapa K1 Review – Packaging Contents
The packaging includes a few brush heads for cleaning different things:
Wire Brush (for cleaning metal areas like BBQ grills, pan bottoms, microwave oven, range hood, etc)
PP Flat Brush (for cleaning sink or any flat surface areas with corner and narrow spaces)
Scratch-free Triple Head (for surface cleaning of dishes, cabinets, glass, ceramic tiles, or anything that can get scratched)
Bottle Brush (for cleaning cups, bottles, cans, etc)
You'll also get the Triple Head extras and a Bottle Brush attachment inside the packaging.
Goodpapa K1 Review – Design & Features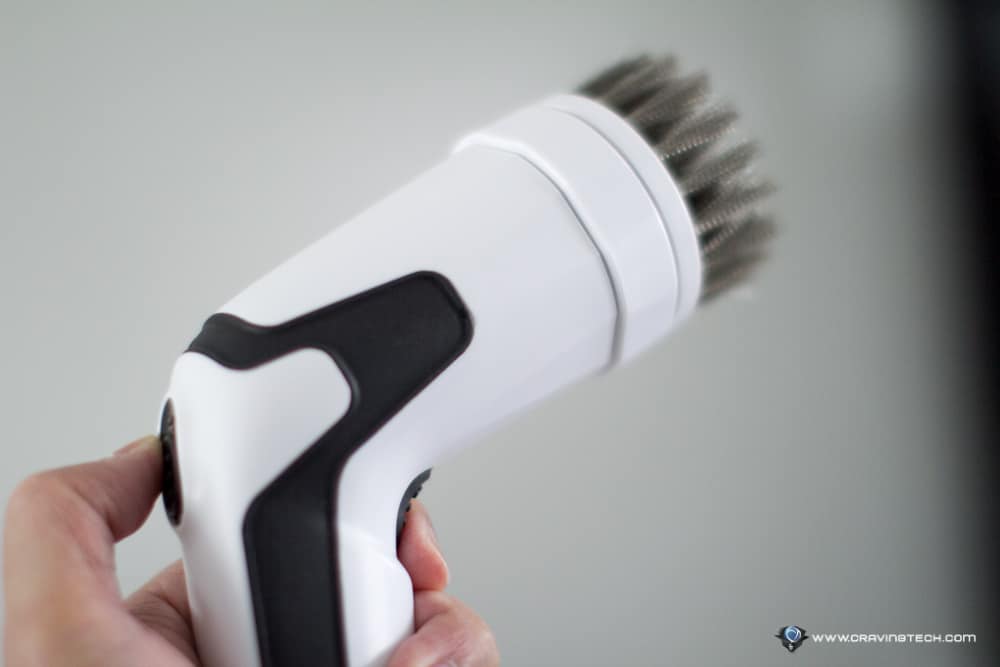 Goodpapa K1 can be used single-handedly and it's also easy to maneuver.
All brush head components can be attached magnetically to the main unit, so it's easy to swap them around as needed. The main unit has a built-in, rechargeable battery and you can recharge it by simply placing the machine on the included charging stand.
The base is really good as a stand and charger, which reduces clutter around the house (compared to having a power adapter and cable). It's rechargeable via USB too so you can plug it to a computer as well to charge (preferably to a USB powerboard though).
There are two power buttons on the main unit – which actually do the same thing. To start cleaning, simply press any of the buttons and the head will start to rotate. According to the spec, it has up to 350rpm of rotating power with 90 minutes of cleaning time on a full charge.
In my experience, it rotates powerful enough that you can simply press the head stronger on the surface for those stubborn dirt and stains. I do wish that it can go stronger/faster, but you can't expect that amount of power from having a convenient, portable unit.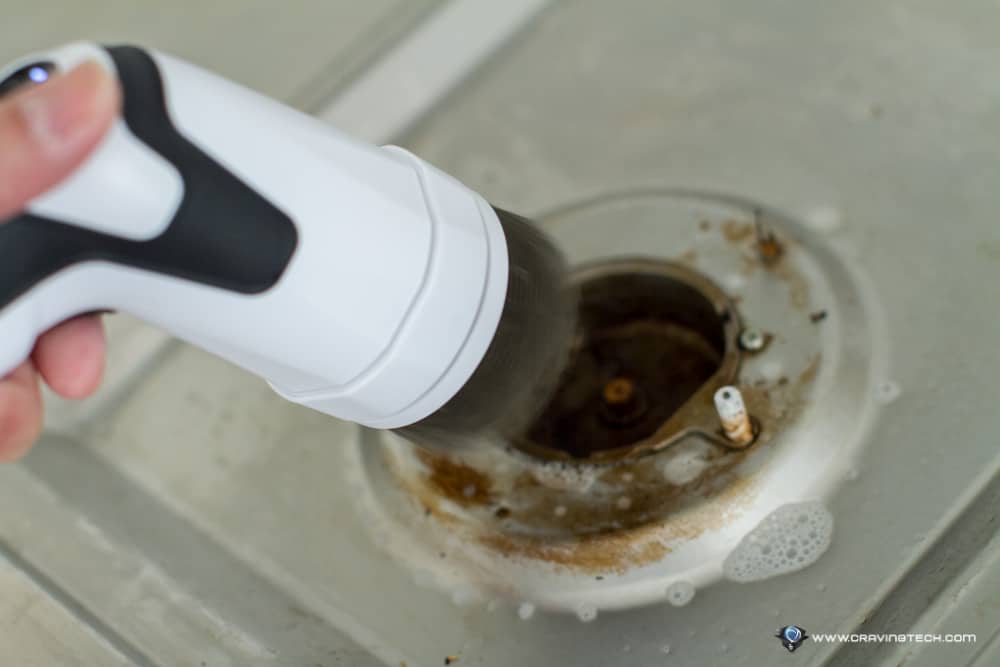 And who likes scrubbing with your hands? When we first bought our Weber BBQ machine, we thought of many endless days where we would invite friends to come over and use the BBQ machine. And we did, for a while. But cleaning the grills and the machine afterwards, ugh, endless scrubbing is not so fun.
Thanks to Goodpapa K1, the Wire Brush head would make an easier work to clean your BBQ machine. It's still Winter and we have restrictions here in Melbourne for partying unfortunately, but I was able to put the head to good use for cleaning our stove and pan bottoms!
See the before vs after photos here:
For a more stubborn stain, it'd definitely take longer to scrub but at least you don't have to use your arm to scrub endlessly.
Plus, the results are great too. While washing the pans with a sponge, I usually tried to remove the stain on the pans' bottom but was rarely successful (unless if I used a Stainless Steel Scrubber, perhaps). But with the K1, I can just let the handy gadget does its work.
Once you've done with cleaning, you can also rinse the K1 under the running tap because it's IPX7 waterproof rated.
Goodpapa K1 Specifications
| | |
| --- | --- |
| Color | White and Black |
| Material | ABS |
| Item weight | 270g |
| Size | 165*92mm(main body), 165*125mm(product) |
| Charging voltage | 5V 2A DC |
| Power | 5V 2A DC |
| Continuous use time | 24W |
| On-load torque | 90mins |
| Revolutions | 230~350 rpm |
| Battery capacity | 2000mAh |
| Operating noise | <70dB |
Goodpapa K1 Multi-Function Spin Scrubber Review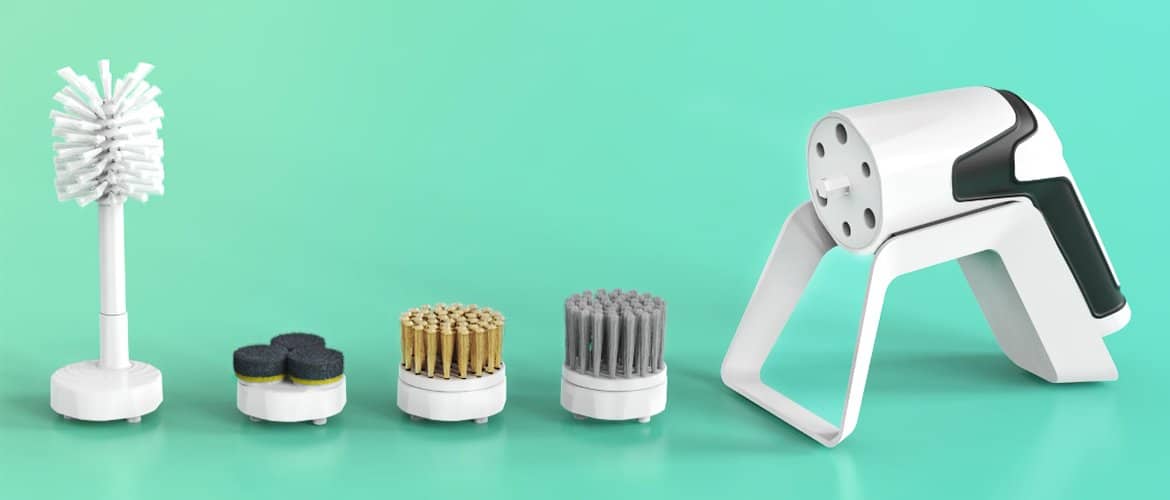 Goodpapa K1 is a handy, portable scrubber around the house that you can use to clean many things that require scrubbing. While scrubbing endlessly with your arm can be very tiring, Goodpapa K1 makes the dirty work easier and painless.
Simply press the button to make the scrubber head spin (with any of the included head attachment) and you can clean many different surfaces easily: bathroom grouts, kitchen stove, pan's bottom, etc.
Once you've done with the clean, simply rinse it with water, and place it on the included charging stand. That simple and very useful to have.
For more information and how to purchase one, head off to Goodpapa K1 Kickstarter project page.
Disclosure: Goodpapa K1 review sample was supplied for reviewing