Amazon Echo Show 5 Review – If you have smart speakers like a Sonos One, Amazon Echo Dot, or even dumb ones connected by an Amazon Echo Input, then you have probably enjoyed having Alexa voice assistant around. She can play some music for you just by using your voice, and even tell you other things like news, weather, and so on.
But what if you want Alexa to help you with a step-by-step visual instruction on how to cook things, or you need to check on your security camera while your hands are full?
Amazon Echo Show 5 takes a step further from just having the popular voice assistant tell you things. She now can show you as well, thanks to the smart display.
Amazon Echo Show 5 Review – Packaging
Amazon Echo Show 5 Review – Design & Features
Amazon Echo Show 5 is a compact, smart 5.5-inch display with 960×480 resolution powered by Amazon Alexa. It's a perfect companion to your bedside table as an alarm clock but also for other things because you can speak to it while you are still lying on the bed.
The clock faces are large and the screen automatically dims at night (thanks to the built-in ambient light sensor) when you turn the room lights off. The screen can also be set to be turned off if you like. More importantly, if you use Philips Hue bulbs to light your room, you can just ask Alexa to turn the bedroom lights off as you tuck yourself in under the blanket. However, the Echo Show 5 is also great to be placed on a kitchen bench, study area, or even your work desk.
As an alarm clock, you can set it to tune into a radio station like morning news or with a music of choice. You can then ask Alexa for today's weather forecast, all this while you are still under the blanket.
It's touch enabled, has a built-in speaker & two microphones to accept voice input, and interestingly, a front camera so you can make video calls on the Echo Show 5. I find that I don't need to shout for Alexa to be able to hear me, which is great.
Buttons wise, it has dedicated volume control buttons accessible on top, a misc/camera button, and also a camera shutter. It's great that Amazon includes a camera shutter so you can cover the camera lens when you are not using it. To those who value privacy or are careful with hackers hacking cameras, this will give them a peace of mind when purchasing the Echo Show 5.
There is also a 3.5mm audio output so you can hook it up to a better speaker system. While the Echo Show 5 has a speaker of its own, it is not powerful enough, considering the size. If you are planning to listen to music or watch Prime videos often on the Show 5, you do want to connect it to another speaker.
Unlike Google Nest Hub that relies most setups and settings using the Google Home app, many of the setup and settings can be changed directly on the Echo Show 5. You can swipe right to access your devices, and also your routines.
If you've been using Alexa on your phone or other devices, you'll pretty much know the capabilities of the Echo Show 5 already. You can listen to songs on Deezer, or even Apple Music (but I don't like that fact that I can't just see my playlists and select it on the screen, or do a type search).
You can also watch videos but unfortunately there is no YouTube and Netflix support. I don't have an Amazon Prime or Hulu subscription so if you don't as well, there aren't much videos you can watch here. You can still watch news however, which is great, and I like how the Echo Show 5 recommends me updated news daily on the screen. I can then say "Alexa, tell me more", and the Echo Show 5 will show me the news related to the one displayed on the screen. Neat.
Lots of interactions can be done to your smart home devices as well, such as asking Alexa to show you your "Front Door" if you have a Ring Video Doorbell or the Stick Up Cam like myself. I can also ask Alexa to "Turn my bedroom lights off", etc.
But the good thing about the Echo Show 5 is that you can swipe on the screen to see menus and shortcuts directly, so you can access your devices and other features with your finger too.
Amazon Echo Show 5 Review Conclusion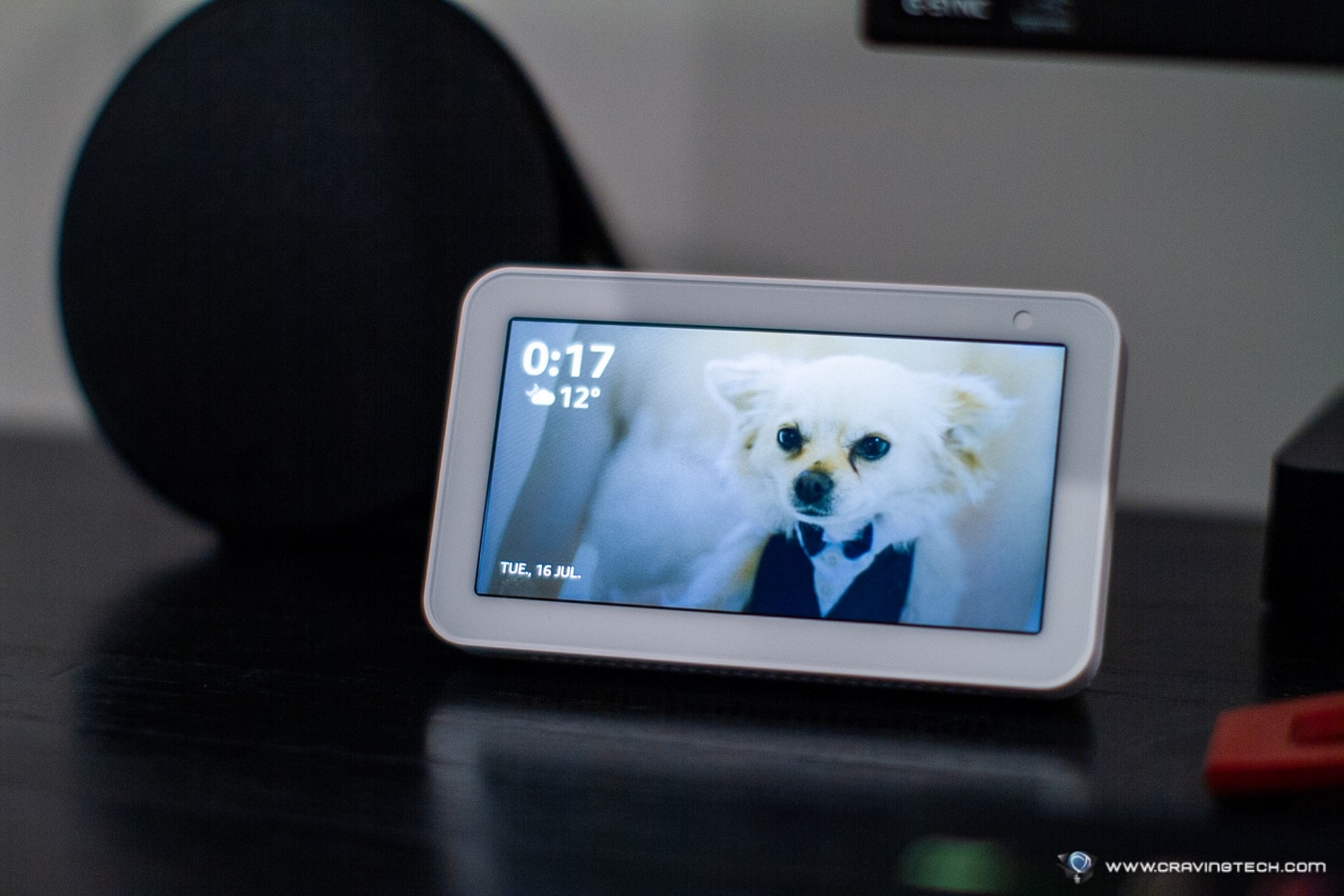 There's so much to love about the Amazon Echo Show 5. If you have not had a cool alarm clock yet on your bedside table, the Echo Show 5 is an easy buy as it offers you many other things as well like interaction with your smart home devices, and more.
With a built-in front camera, you can make video calls through Skype (for example) all without the need of having a phone in front of you. In fact, much of the things you'd normally do with your phone can be eliminated now, thanks to the Echo Show 5. Things like setting alarms, checking for the weather, turning lights on and off, or to see when someone rings your Ring Video Doorbell.
Plus, you can hook it up to another speaker system for more oomph in your music listening and movie watching experience. Unfortunately, there is no Netflix and YouTube available on the Echo Show 5.
Amazon Echo Show 5 is available for purchase at Amazon Australia (or U.S) for AU$129 which is not a bad price in my opinion. It also looks good aesthetically and should fit any bedside table pretty well.
Disclosure: Amazon Echo Show 5 was supplied for reviewing but all opinions are mine and not paid
Amazon Echo Show 5 Review