Oral-B GENIUS 9000 Review – Oral-B GENIUS 9000 is a smart electric toothbrush equipped with sensors and Bluetooth connectivity to serve a single purpose: making sure you brush your teeth properly and regularly.
The GENIUS 9000 is designed by Braun and it does not just look good, it performs admirably as well in the tooth cleaning department.
Dentist-inspired round brush head surrounds and cups each tooth with dynamic oscillating, rotating and pulsating movements to remove up to 100% more plaque than a regular manual toothbrush. Is it as good as advertised? Let's find out.
Oral-B GENIUS 9000 Review – Packaging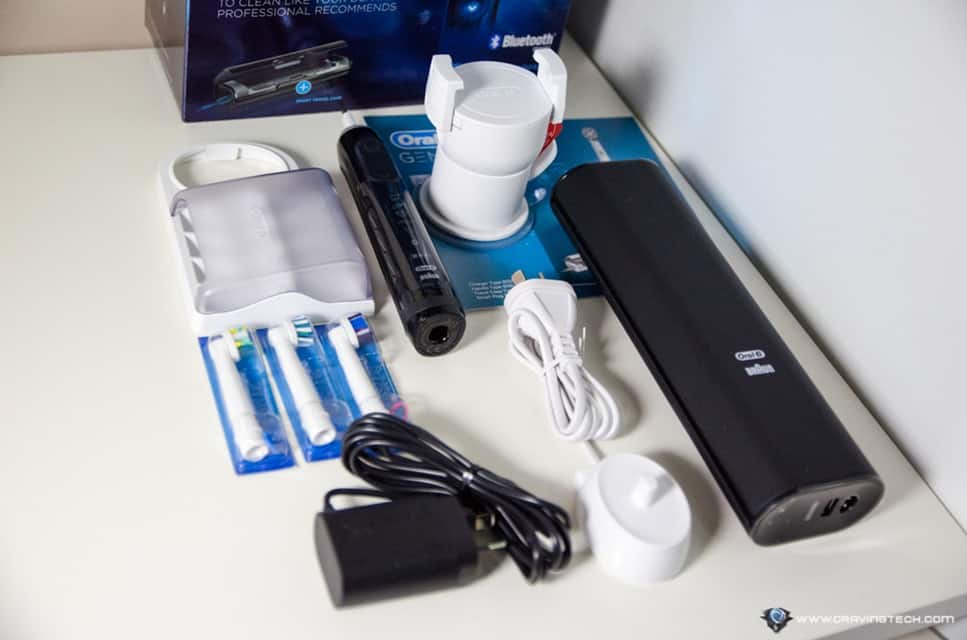 Apart from the electric toothbrush unit, the packaging also includes a really cool, luxurious carrying case, a few toothbrush heads, suction cup to hold your smartphone on the bathroom mirror (more on why you need this later), the charging station, and a storage compartment for the toothbrush heads.
The case is a smart travel case that fits the electrical toothbrush unit and up to 2 different brush heads. The cool part is that the toothbrush is also rechargeable while it's in the case and even better, you can also charge your smartphone (or other devices) at the same time.
There is a handy smartphone holder on the case too so you can place your phone for charging and also to be used with your brushing session (more on this later).
Oral-B GENIUS 9000 Review – Design & Features
The Oral-B GENIUS 9000 looks great (I have the Black coloured version) in the bathroom, thanks to its stylish and modern design. However, we don't buy an electric toothbrush because of the looks, so let's get down to business. What does the GENIUS 9000 do differently?
For a start, it has Bluetooth connectivity so you can pair it up with your smartphone. Once you've downloaded the Oral-B free app, it then opens up many possibilities – such as the Position Detection feature.
Like the Oral-B SmartSeries 7000, there is a built-in 2 minute timer on the toothbrush to make sure you brush properly (30-seconds in each mouth quadrant). There is, however, a new Position Detection technology that utilises your smartphone's camera to "see" where you are brushing in each quadrant. This ensures you to properly clean every corner of your mouth and teeth.
It requires an initial setup of properly placing the smartphone holder on the bathroom mirror. Afterwards, you still need to place your smartphone each time you want to utilise the Position Detection feature.
As cool as this may sound, I actually find it tedious having to place my smartphone on the holder each time I want to brush. Not to mention that the smartphone holder has to be placed exactly in front of your face.
There is another advantage for this, however, such as distracting myself with today's news or checking the weather while brushing my teeth
You can view your past brushing sessions within the app and even export them to be passed on to your dentist.
There are also achievements and goals to further motivate you to brush your teeth properly and regularly.
The Oral-B round brush head has also been designed to surround each tooth nicely, as it oscillates, rotates, and pulsates to clean your tooth thoroughly with its dynamic 3D movement. I find that the round brush head design makes it compact in size and allows you to reach even the farthest corner of the mouth easily.
You can also change to different modes such Tongue Cleaning or Gum Care to clean other areas of your mouth with proper pressure and movement.
The built-in Triple Pressure Sensor makes sure that you don't brush too hard which will make the SmartRing glow red if you do. From the app, you can change the default colour of the SmartRing to match your bathroom theme – if you have one.
If your phone is not around, the toothbrush itself can manage to store some brushing sessions locally (up to 30 sessions) before you need to sync it with the smartphone app.
Oral-B GENIUS 9000 Review Conclusion
Oral-B GENIUS 9000 is a great electric toothbrush to properly clean your gum and teeth and so far, it does its job really well. It encourages me to do the 2-minute Dentist recommended tooth brushing (something that I normally couldn't be bothered doing) and also to properly clean each tooth. My teeth looks great and I can really feel that the brush cleans them properly and thoroughly.
Many of its cool features such as Position Detection and Pressure Sensor may be an overkill to some, but for those who need some sort of encouragement to do their tooth brushing properly, the Oral-B GENIUS 9000 will not disappoint you.
For others who already regularly brush their teeth, the GENIUS 9000 will still give you a proper teeth cleaning technology with a handy smart travel case, and good battery life. Cleaned teeth and fresh breath are guaranteed.
Disclosure: Sample was supplied for reviewing but all opinions are mine and not paid