Braun Multi Grooming Kit 9-in-one Trimmer (MGK3080) Review – Braun understands the need for men to groom and to be stylish. That, is obviously behind the design philosophy of Braun's grooming products, especially the kit that I'm reviewing today: the Braun Multi Grooming Kit 9-in-1 Trimmer ("Braun All In One", MGK3080).
It is definitely a complete set. You do not need anything else for your grooming needs, literally.
The box showcases all nine attachments covered in a hard molded transparent plastic packaging to resemble the all in one range. Every attachment covers specific grooming needs: two beard trimmers with variable precision length settings, two trimming combs for the tiny last millimeters of hair or beard, a foil attachment for body grooming, an ear & nose trimmer, a precision trimming for maximum style, and a clean shaving Gillette Fusion ProGlide razor with FlexBall technology are included.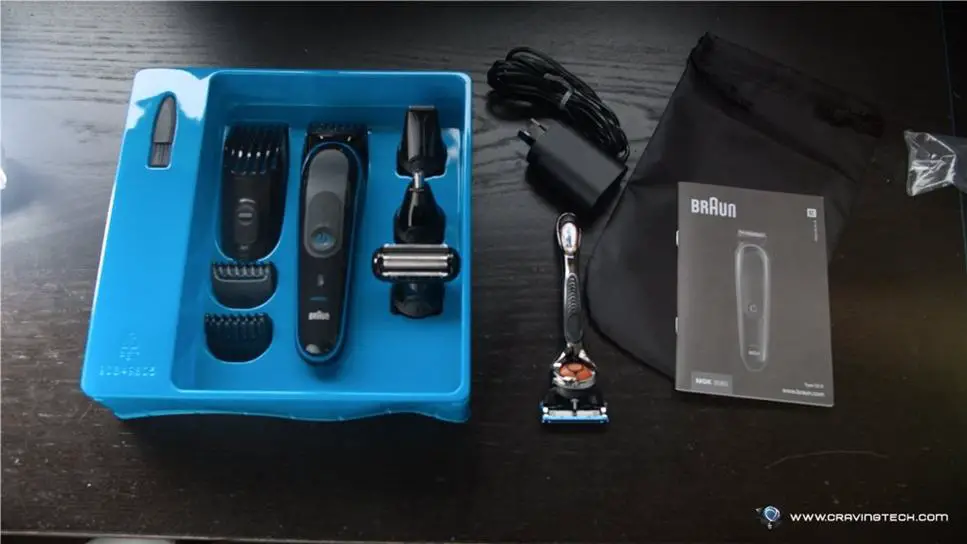 This is great for having just one device to fit all your grooming jobs, fast and fuss-free. The original product packaging also includes a charger and a pouch for travelling.
My Experience is almost Perfect
I have let one hour to charge the  trimming device with the supplied charger. The charging cable connects to the bottom part of the device and an LED indicator blinks when the device is charging. It will go to full green when the it's fully charged.
I have a semi-bald head and it's a perfect time to trim my hair & beard as I've been so lazy to do so lately. My first impression in holding the Braun's trimming handheld is really pleasant, thanks to the anti-slip rubber area. Attaching the 3-11mm attachment is also quite straight-forward as it just slides and fits nicely.
I usually use the shortest 3mm to evenly trim my whole head, beard, and moustache. The device glides smoothly and Braun's sharp blades produce superior result.
I'd then switch to the 1mm attachment to finish off those last millimeters of hair. The rubbery handle once again gives me the confidence of movement for the last bit of trimming.
My experience with the Braun multi grooming is almost perfect. I had Phillips as my daily driver before Braun's but in my opinion, Braun MGK3080 trimming experience is more superior than Phillips. Both do the job well, but Braun's lets me groom in shower and that's definitely a step up from the Phillips' kit I used. My experience with Braun MGK3080 would be perfect if the whole experience can be finished with an appropriate stand or docking for storage. At the moment, it is resting wobbly on my bathroom vanity.
Braun multi grooming kit MGK3080 Review – Is This for You?
Braun multi grooming kit MGK3080 is intended for every men who wants to accomplish an all-around grooming job, and has the desire for a superior look and style with precise hair & beard trimming. Braun has established great credentials for its German quality craftsmanship along with a strong history of superior styling power.
The Braun multi grooming kit MGK3080 can be purchased at the Shaver Shop Australia for an RRP of $119 AUD. It's also a good gift for the upcoming Father's Day, if you are looking for one. Michael Aulia is currently using the electric shaver, Braun Series 9, so make sure to check his review on that as well.
Disclosure: Sample was supplied for reviewing but all opinions are mine and not paid