HP Sprocket Review – Taking pictures is what today's people love to do. Most of them capture moments of their lives using their smartphone's camera and assuming enough light, you can always get great results.
Some might consider printing their favourite photos and saving them in their wallet, or placing them inside their mini album. However, they'd have to go to the nearest printing stores, carry the photo files in a USB drive, and line up in the queue just for printing one or two photos. To some, it's basically just too much effort. If you are one of them, there's good news for you because HP has just launched their new, compact, instant mini portable photo printing – the HP Sprocket.
And this thing works like magic!
HP Sprocket Review – Packaging
Inside the packaging, we can find the Sprocket unit itself and a micro USB cable charger. I was also given the 10 sheets of 2"x3" HP Sprocket ZINK Paper for reviewing purposes.  The HP Sprocket ZINK Sticky-based 2"x3" Photo Paper can be bought for $20, which contains 20 sheets – so a dollar per photo, if you want to think it that way.
HP Sprocket Review – Design
HP Sprocket comes with a compact design that even fits in my make up pouch. It is of similar size to a mobile phone. Although it is pretty thick in design (as it houses a two-cell 500 mAh Li-Polymer 7.4 V battery + up to 10 sheets), it's convenient to be carried around in your bag and not as heavy as you might think.
With a weight of just 0.172 kg, it is definitely lighter than your portable phone charger or your external hard disk. HP Sprocket comes with two colours, Black and White. As you can see here, my review unit is the White model.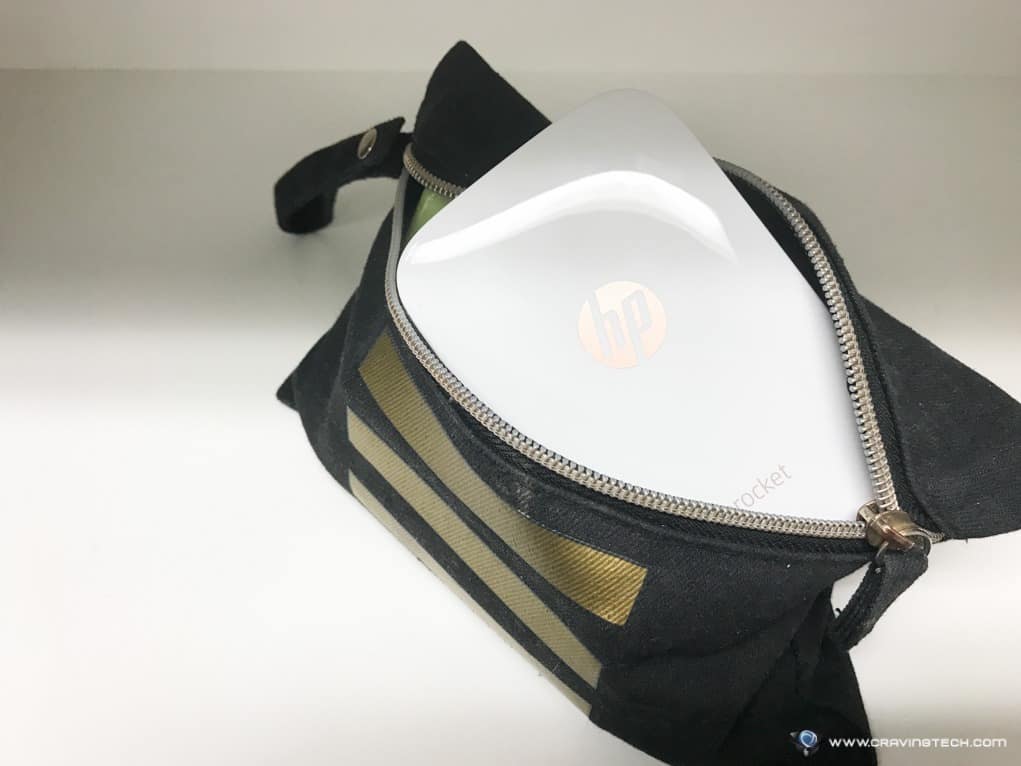 HP Sprocket Review – Features
The main feature of the Sprocket is being able to print 2"x3'' photos straight from your smartphone. This is done by placing the papers into the Sprocket unit (up to 10 sheets per input), turn it on, and download the app from the App Store or Google Play. Then, pair your smartphone via Bluetooth. Once it is paired, you may start using your Sprocket to print your favourites photos. Very easy, isn't it!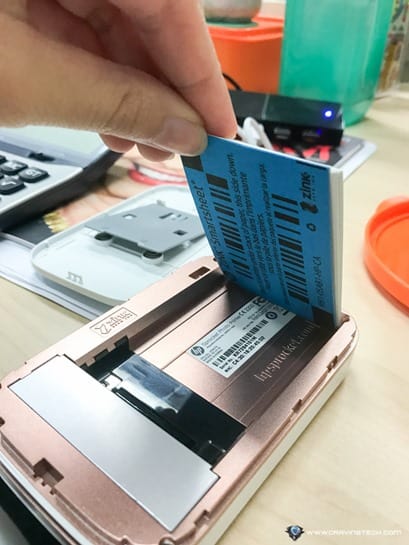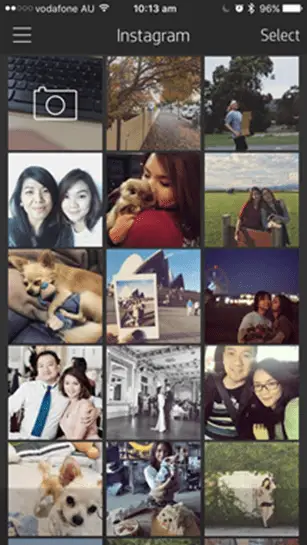 At first, I thought I can only print pictures from my Camera Roll, but apparently the app does more than that. You might think that you need to save pictures from your social media network first to your camera roll and then print them. Well, the Sprocket app does this for you. It connects to your social media network, such as Instagram, Facebook, and Flickr, then prints from there.
People love to apply filters to their photos and amazingly, Sprocket does this too. You may apply filters and adjust them to your photos before printing. Apart from filters, you can also add frames, texts, and Emojis to spice your photos up. There are 17 filters, with over than 15 frames and stickers that can be added to your lovely pictures. You are able to adjust the size of the picture and rotate it from the app as well.
If you compare it to a Polaroid camera printing with white border on it, Sprocket printing result is actually borderless. But if you want, you can have a white border just like a Polaroid's by simply editing the picture and adding a white border frame to it.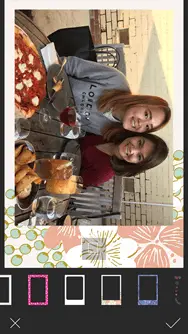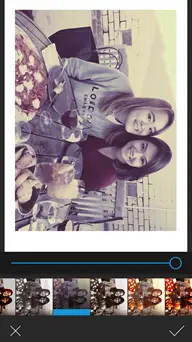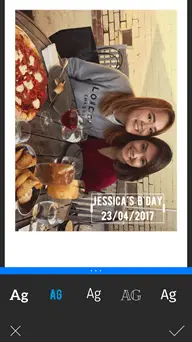 Now, let's talk about printing quality. With ZINK Zero ink technology, no ink cartridges are actually required for this magical pocket photo printer! HP Sprocket delivers a 313×400 dpi printing quality, which is not bad for a 2"x3".
In my opinion, HP Sprocket actually offers a better printing quality compared to some Polaroid cameras that I used in the past. As for the speed, it prints up to 40 seconds per print which is pretty fast for a portable printer this small. Surprisingly, the paper can be used as a sticker as well! It is not necessary to use a double tape to stick it somewhere.  Simply peel the back of the paper and voila!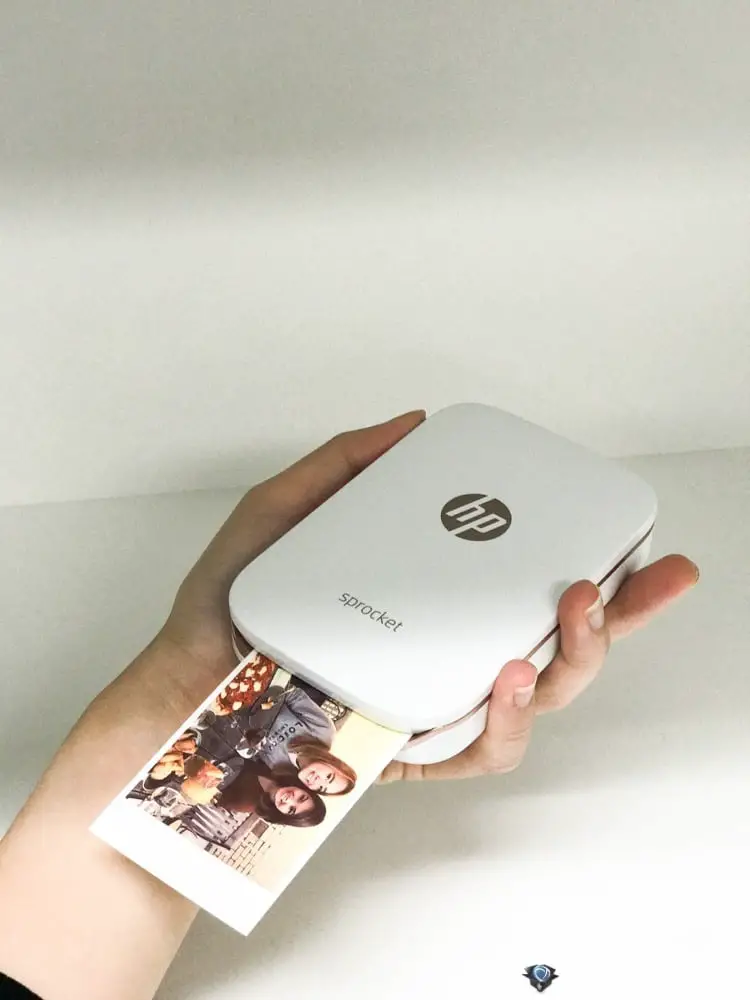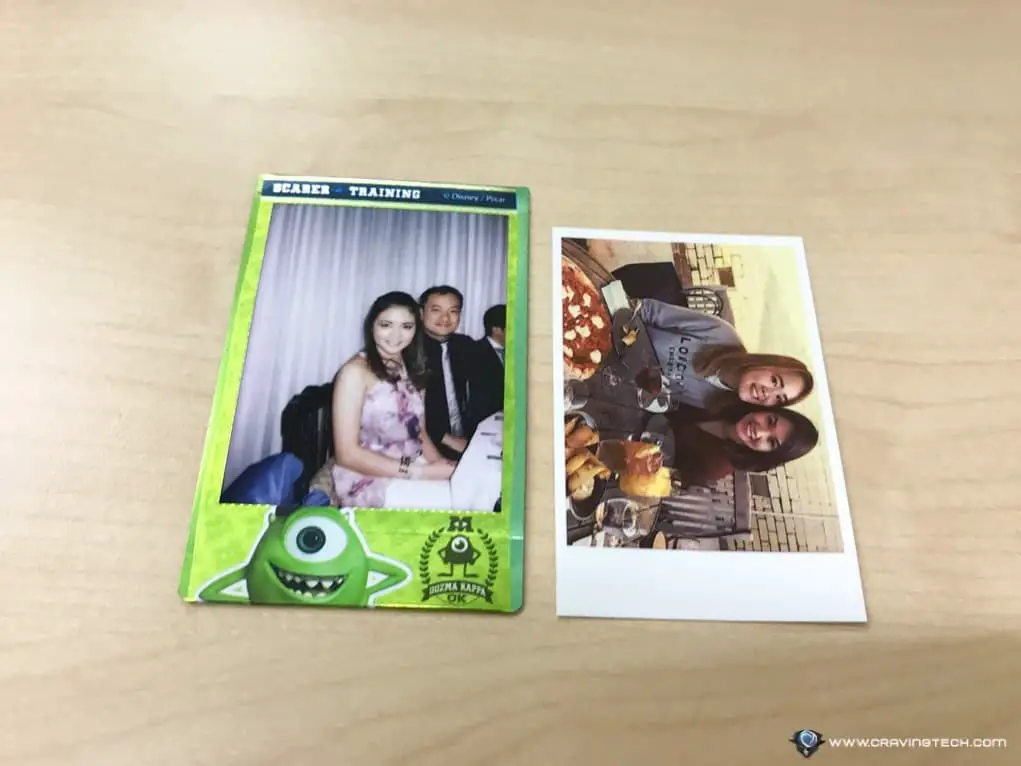 The other feature I like is the Auto Off technology, which automatically turns HP Sprocket off to save battery for the next printing sessions.
HP Sprocket Review – Conclusion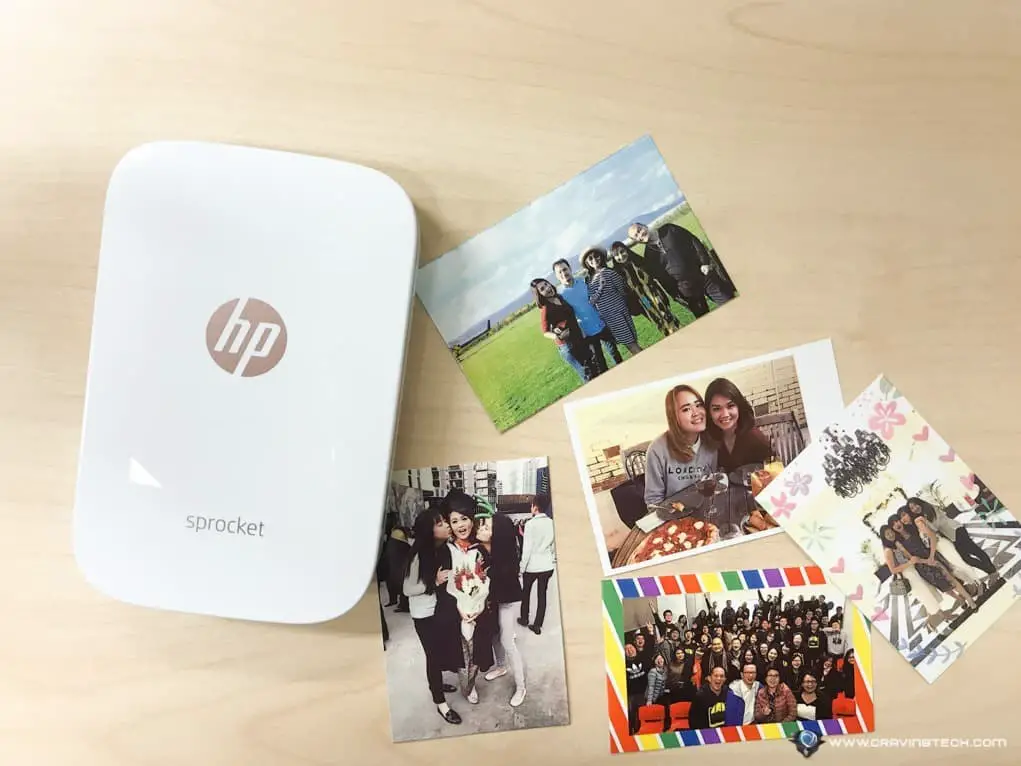 HP Sprocket is so convenient to be carried around thanks to its compact size. It can hold up to 10 ZINK Paper Sheets with 313 x 400 dpi of print quality, making it a handy, magical gadget to have with you at all times especially in parties and meet-ups.
There is no ink cartridge to buy and replace, plus no ink mess to take care of, thanks to the ZINK® Zero Ink® technology. The paper refill is not as costly as a Polaroid refill ($40 for a 30-sheets pack at Officeworks), though obviously not as cheap as printing from a store in bulk. However, you can print anywhere, any time and have fun during parties and events.
Overall, I'm pretty confident that the HP Sprocket is going to be included in the top "X things to buy" list in the moments to come. When I got the Sprocket and shared it on my Instagram story, 5 friends asked me straight away where they could get this product and wanted one.
HP Sprocket has now become my favourite device and will be in my 'must to bring' list when catching up with friends!
https://www.youtube.com/watch?v=BxZmXnkf8Ac
HP Sprocket Photo Printer can be bought for $199 AUD by the time this HP Sprocket review post is written.
Disclosure: Sample was supplied for reviewing but all opinions are mine and not paid