Braun Series 9 Silver with Clean & Charge Station and Travel Case Review – Having to shave every couple of days or so, I'm always looking for the best shaving experience possible. That means a quick and clean shaving experience using an electric shaver that I can just use and forget after.
Having used a variety of shavers from Philips Arcitec,  Braun Series 5, Braun Pulsonic 7, and Philips Shaver Series 9000, the latest Braun Series 9 with Clean & Charge Station and Travel Case has now become my go-to electric shaver.
It just performs well in all areas and gives me one of the best shaving experience possible.
Braun Series 9 Review – Packaging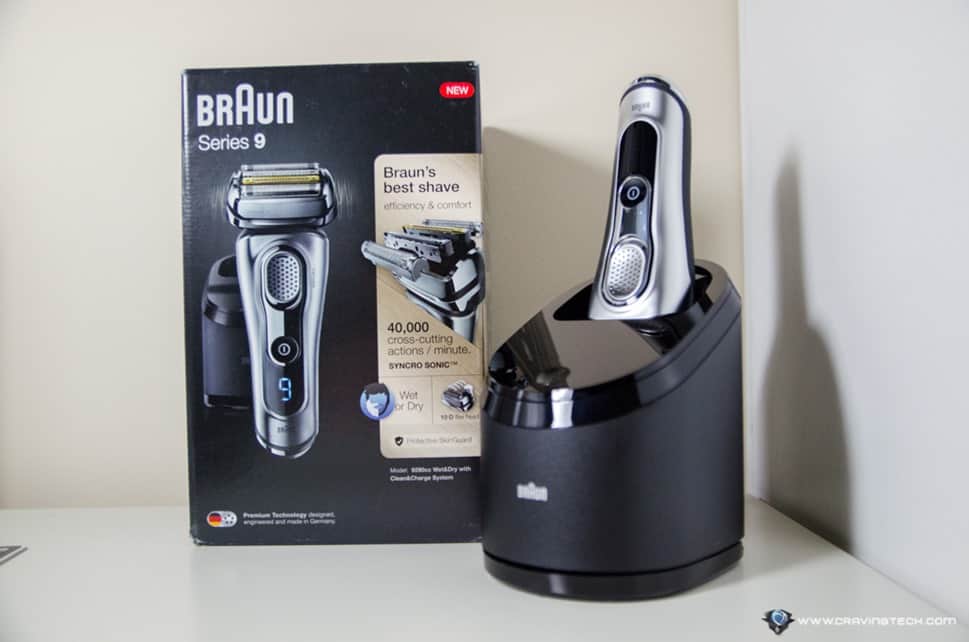 The packaging includes a hard carrying case that fits the shaver nicely. The case is sturdy and will protect your Braun Series 9 shaver safely inside the luggage. You can also lock the shaver with the Travel Lock function.
Braun Series 9 Review – Design & Features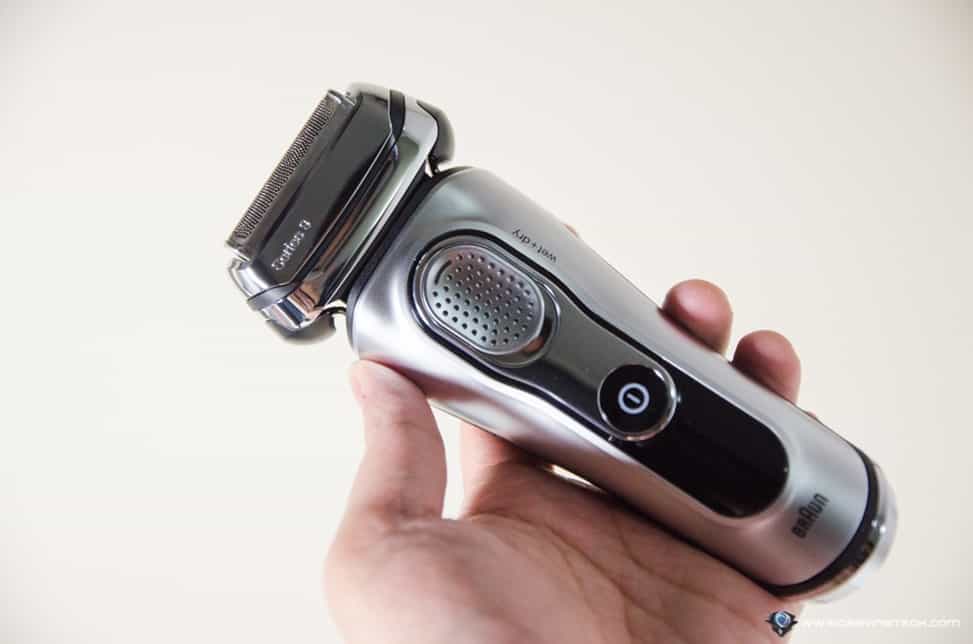 The latest Braun's electric shaver comes with cool technologies such as the SyncroSonic to make your shaving experience as best as possible. In a way, I did find it geeky to be excited about a mere shaver (or even a shaver head) when looking at the materials, but it is the truth. It's probably the Gold-looking part on the shaver head, I don't know.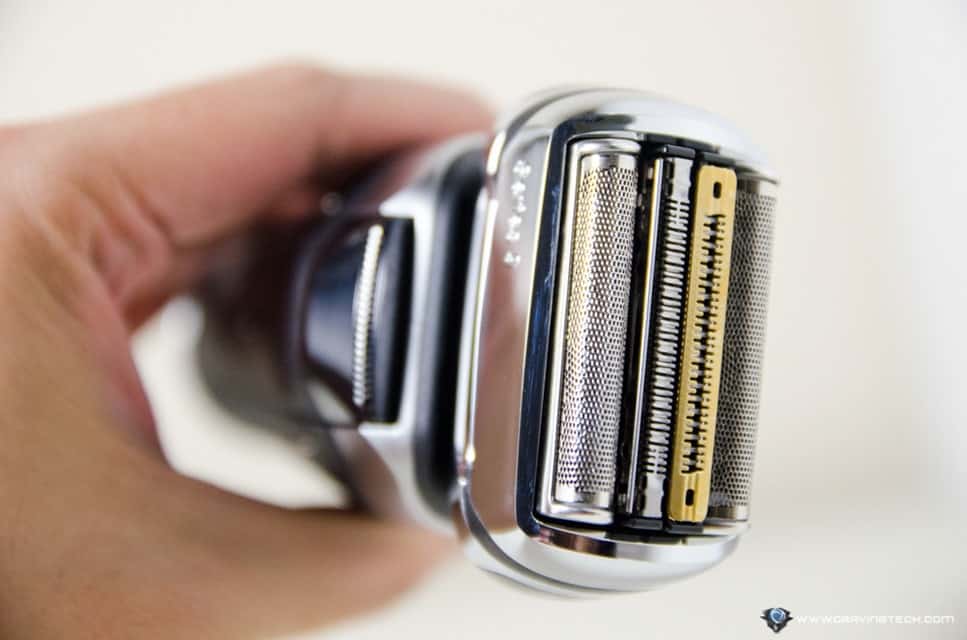 Speaking of Gold, if you notice from the photo, part of the shaver head (the HyperLift & Cut Trimmer) is Titanium coated in Gold colour (a white metal, not Gold) for better sturdiness and corrosion resistance.
The SyncroSonic technology, if you read it on the product page, helps you in getting the closest shave possible with comfort, even in a more challenging area around the neck. The shaver head does feel warm on the skin considering how fast the things spin, but it does not affect any comfort whatsoever and performs the job well.
Braun's design on the Series 9 shaver is definitely top notch and remarkable in terms of materials used, looks, comfort, and performance. If you are looking for the best designed electric shaver of 2016 (and possibly a couple of years to come), this is definitely it. No parts on the shaver body feel flimsy and they work in tandem. I guess a Made in Germany" tag really has an effect.
https://www.youtube.com/watch?v=5IDSWX5MHp8
The shaver feels good in hand and the rubberised textured grip zone offers an excellent grip even in wet conditions (i.e if you like to shave in the shower).
The shaver's battery gives a 50 minute shaving time with 60 minutes charging time (from zero to full). According to Braun, a 5-minute charge should give you enough battery to do one shaving session – in case your shaver runs flat at a time you need it the most.
Braun Series 9 Electric Shavers Review – Shaving Experience
All these goodies and techs don't matter much if the end result is disappointing and thankfully, it does not. In my personal experience of using the Braun Series 9 for around 5-7 times within 2 weeks, it delivers. Shaving is easy and I'm happy with the final results as it gives a really good, close shave.
I tested it with different beard length and the shaver always deliver its promises. Some not-so-good electric shavers normally struggle with long hairs on the neck and at times, I had to manually use scissors to cut a few hairs down. I never had to do this with the Braun Series 9.
No shaving foam is needed to shave and surprisingly, my neck does not feel itchy at all afterwards. As mentioned, you can either do a wet or dry shave and the shaver will deliver the same results.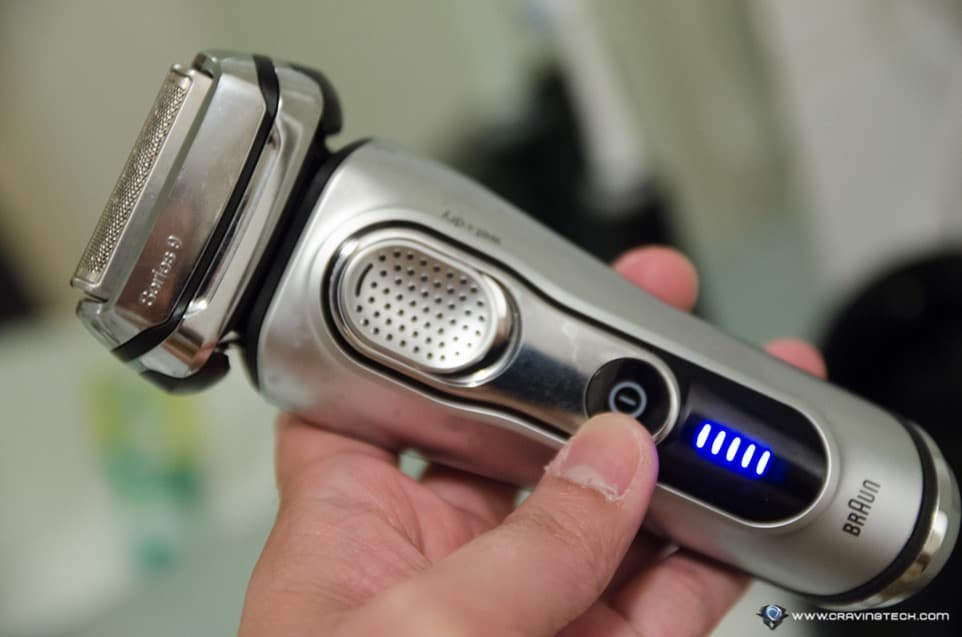 Braun Series 9 Electric Shavers Review – Clean & Charge Station
The Clean & Charge Station is really handy for charging, cleaning, lubricating, and drying your brand new shaver. It only has one button and that's all you need to press to let the machine does its magic.
Cleaning cartridge can be replaced easily like Braun's previous machine and does not leave a mess around the area.
I find that it's always more economical to wash your shaver head through a running tap water first before placing the shaver on the cleaning machine. This is because most shaver cleaning machines, including Braun Series 9's, detect the condition of the shaver head and choose the right cleaning mode. Having it cleaned beforehand means less fluid consumption and you don't have to replace the cartridge too often.
The machine is noisy (as with other cleaning solution) but interestingly, runs quicker than the other machines I've tried and it also has a built-in fan. You can hear the fan running after the machine does its cleaning and it actually makes the shaver dry quicker – which is a bonus if your hair grows fast and you shave frequently. I found that sometimes my old Philips 9000 Series shaver was still wet if I didn't give it enough time to dry out.
https://www.youtube.com/watch?v=lrOaGGF1qts
Braun Series 9 Review – Conclusion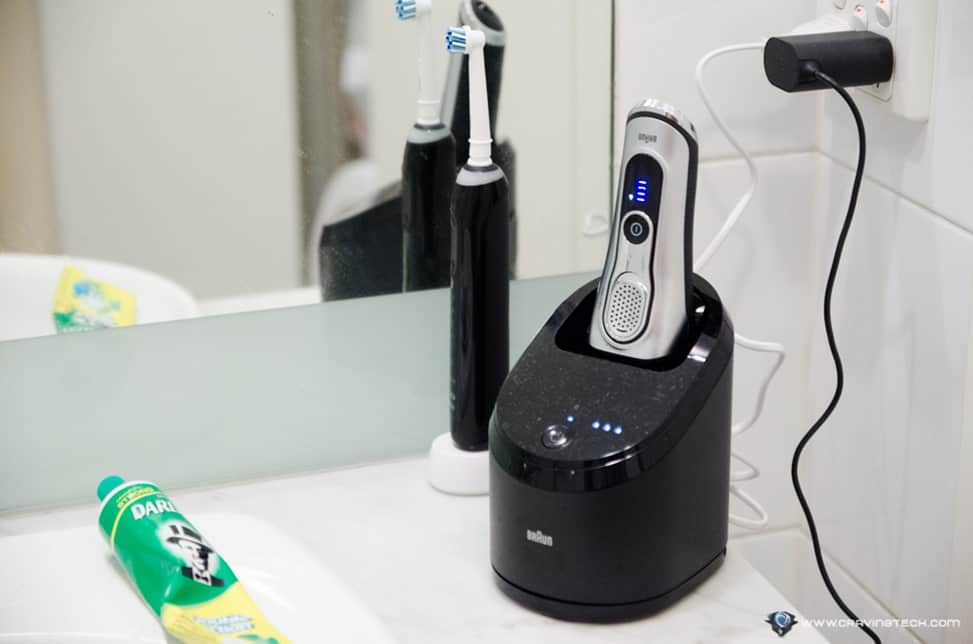 Made in Germany, the Braun Series 9 shaver with Clean & Charge Station delivers the best shaving experience possible to this date. The shaver looks stunning and well-designed, the shaver head gives a close shave with comfort and high performance, and the Clean & Charge Station automatically charges, cleans, lubricates, and dries your shaver with a single magic button press.
There really is nothing to complain here as the Braun Series 9 delivers as promised and has now become my most favourite electric shaver to date. Shaving beard is no longer a chore with the Braun Series 9 and when you have to shave a few times a week, it is well worth the money.
You can purchase the Braun Series 9 at ShaverShop or other Australian retail stores. Also available at Amazon.
Disclosure: Sample was supplied for reviewing but all opinions are mine