Braun Series 5 Review – The Series 5 shavers were launched last year by Braun with an upgraded high-speed motor for more power and precision in shaving your facial hair. The last shaver by Braun that I reviewed was the higher model, Braun Pulsonic 790cc (from the Series 7 family) back in 2009.
The Series 5 shavers are more affordable than the Series 7, and yet able to deliver performance and a close shave.
The shaver itself is easy to grip and comes with a classic and simple design. The shaver body itself feels a bit bulky and heavy, but it feels comfortable in hand. Depends on the model, there are slight variations to the notifications displayed on the shaver body. For example, with my review model, you will only be told when the shaver needs a recharge (low battery) – which may be too late if you have to travel away for a few days without the power cable. If you rarely travel, you definitely don't need that luxury. So, have a look through the Braun Series 5 comparison charts to see whether you should go for a higher model or not (which has a cleaning system, better LED notifications, and other features).
You can also lock the shaver easily for travelling, so it won't accidentally get turned on inside your bag.
With the new Flex Motion technology, it is easier and quicker to shave hard-to-shave areas like the neck. The technology, combined with the 40 degree pivoting shaver head, allows the shaving foils to adapt to different contours nicely. You can also pick an angle and lock it in place.
When I use the Series 5 shaver compared to the other shavers I've reviewed, I find that I can use fewer strokes on the neck. According to the Braun's spec sheet, I can thank the UltraActiveLift oscillating trimmer for this. The middle trimmer actually lifts and cuts flat-lying and problem hairs. Normally, I would have to cut these flat, long neck hairs down with a pair of scissors after.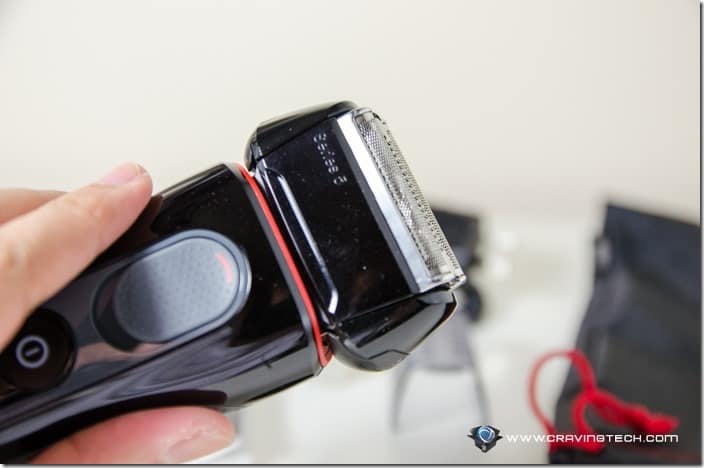 Less strokes means you get less skin irritation and a quicker shave. I'm also quite surprised as I don't have that sore feel and skin itchiness after shaving with the Series 5 shaver. I now have stopped using an aftershave balm/lotion altogether. Their new CoolTec Shaver should even provide a better sensation.
However, it feels harder to shave when your neck is kinda wet (normally after brushing my teeth), so I'd suggest to shave before you start brushing your teeth. After shower is find though, but the best experience is when your skin surface is dry.
The review unit I have from Braun is the lowest model (5020s) and doesn't come with the Clean & Charge Station. It is very affordable though for a good electric shaver and you can still clean it properly under the tap. So if you really want the best of the best, go for a higher range with the Clean & Charge Station as the system cleans but also lubricates the shaver.
Braun Series 5 Shaver Review Conclusion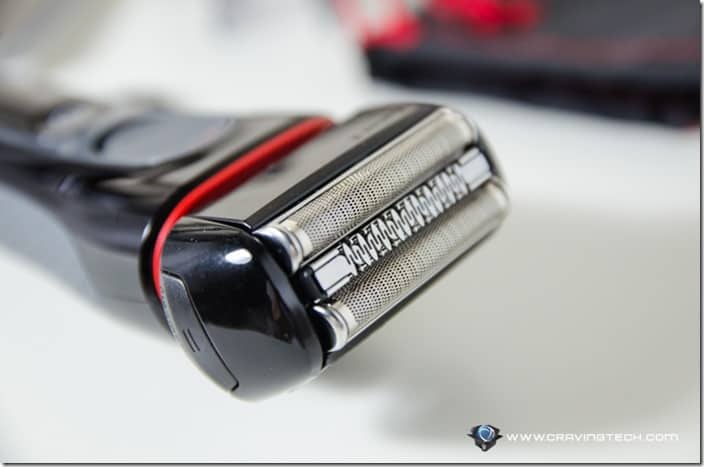 Overall, I enjoy shaving with the Braun Series 5 shaver. It's easy to grip and gives a fast and close shave. I find it easier to completely shave my neck clean without some stubborn, long, flat neck hair being left behind. Though it feels as if the motor doesn't spin as fast as the Philips StyleShaver that I recently reviewed, it definitely shaves better with less strokes.
If you have the money, though, I'd recommend to go for their higher model, as the 5020s is the lowest entry model without the cleaning system, minimal notification display, and comes without a travelling pouch or a cradle to showcase your shaver.
Disclosure: Sample review was sponsored for the review, but all opinions are 100% mine.
[AMAZONPRODUCTS asin="B00JGN2HU8″]