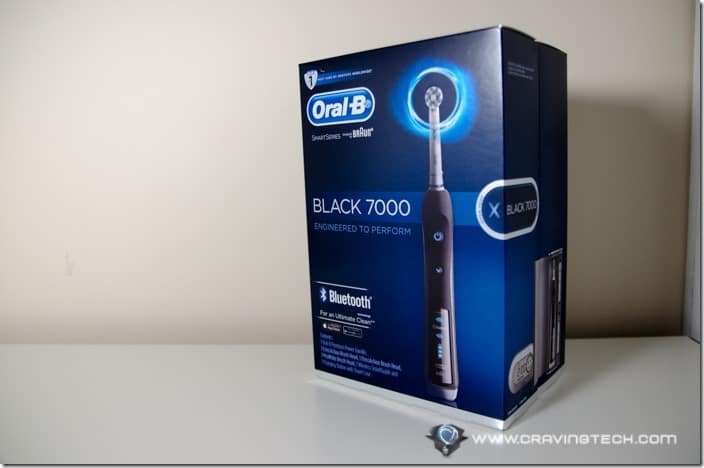 Oral-B Black 7000 Electric Toothbrush with SmartGuide (Oral-B SmartSeries 7000) Review – Technology never sits still. Thanks to the smartphones, tablets, and apps explosive growth in the past few years, there will be inevitable range of apps to connect and manage every little thing in our household. That, my friend, includes having a Bluetooth 4.0 toothbrush and a dedicated smartphone app. A "Bluetoothbrush".
Why would you need Bluetooth on a toothbrush? Oral-B has an answer to that. We all like to keep record of things: how many steps we take in a day, how many words we type, how many calories we eat, how many steps we take. Why not add records of your tooth brushing sessions in? And that is only part of what the Oral-B SmartSeries 7000 toothbrush can do.
Packaging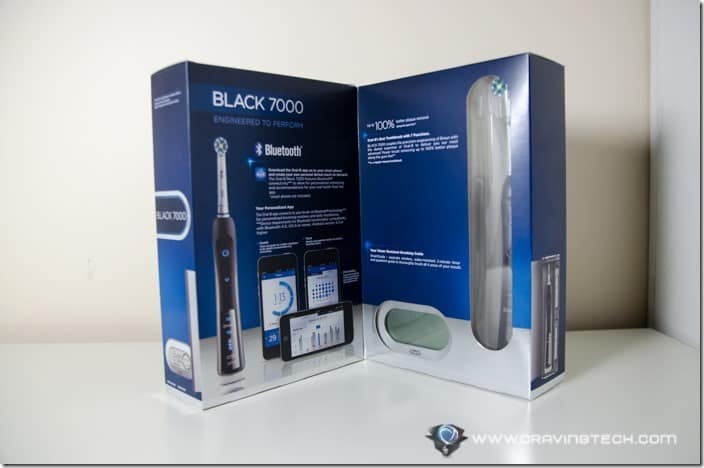 For a "mere" electric toothbrush, the packaging is huge and there are lots of goodies included inside my Oral-B Black 7000 edition. The rechargeable Black 7000 body unit, a compact charging station with a brush head storage (detachable), a sleek-looking hard case for travellers, the Wireless SmartGuide, and various brush heads for different purposes.
I love how sleek the case looks. Makes me feel like I want to travel more to show it off.
Design & Features
The Black version of the SmartSeries 7000 looks really good on my bathroom bench, though I wish the brush heads are available in black too. The Bluetooth logo printed on the body unit clearly indicates how high-tech the toothbrush is. Different LEDs on the body unit will indicate battery levels, charging activities, connectivity, and brushing indicators (green when you are meant to move to a different mouth quadrant or red if you are pressing the head too hard on your tooth).
These LEDs also serve as additional stylish points while you brush in front of the mirror. If you love technology, you'll love looking at these lights while you brush (no matter how weird this may sound). Press the mode buttons while the brush is turned on to switch between different modes (Daily Clean, Deep Clean, Sensitive, Whitening, Massage, and Tongue Cleaner). The icons appearing on the Wireless SmartGuide will help you to see which mode you are currently on.
There is a rubberised material at the back of the unit which improves your grip while brushing your teeth. The handle is also somewhat ergonomic, making it more comfortable to hold.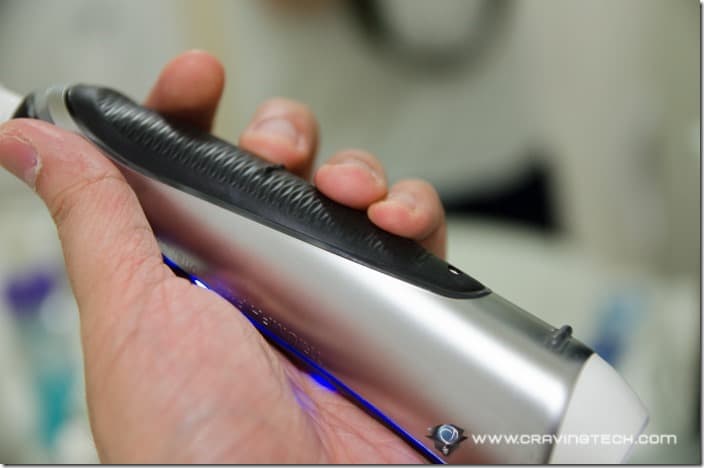 Oral-B App & Bluetooth
Connecting the brush with your iOS or Android phone is as easy as taking the brush out of the charging dock (assuming you have turned the Bluetooth on your smartphone). The Wireless SmartGuide also seems to get auto-connected and run when you press the power button on the toothbrush.
The app (available for free) helps to record all your brushing sessions and also serves as a smart timer while you brush your teeth (the app can even listen when the brush starts using your phone's microphone). The timer screen can be set to show the teeth region you are meant to brush (30 seconds each on the Daily Clean mode). While brushing, the app can also be set to show today's weather, snippet of news, or appointments from your calendar for the day. Great for killing time. Or, you can just admire yourself in front of the mirror as usual.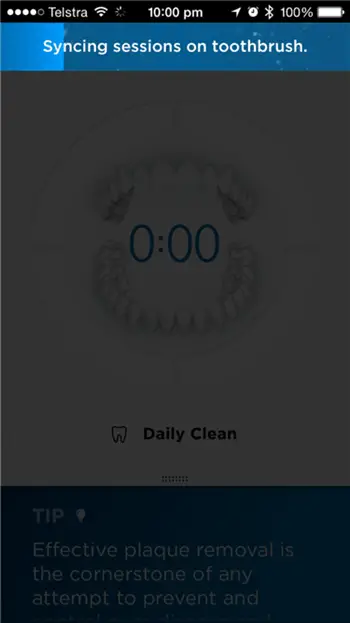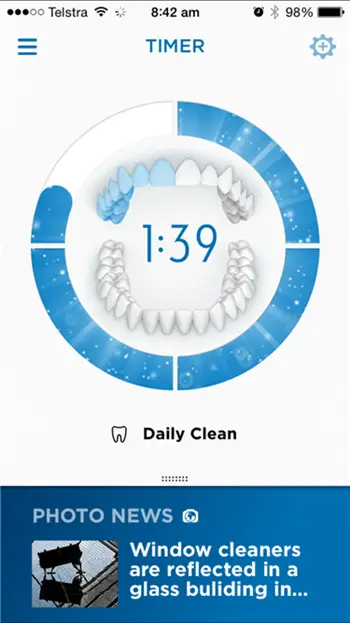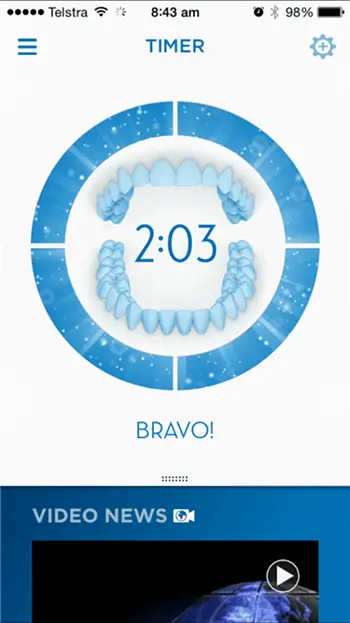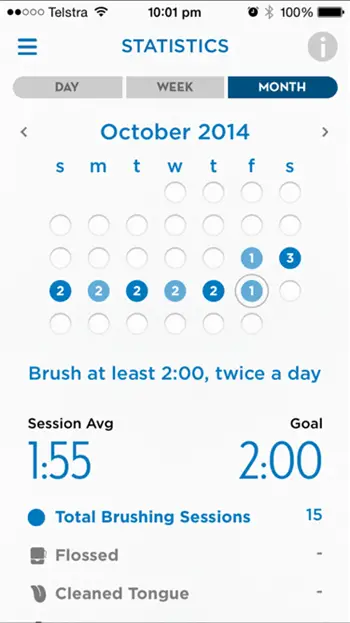 Daily, weekly, and monthly statistics of how diligent you are with brushing can be viewed in-app, and there are achievements to unlock too. All these are definitely to motivate you to brush your teeth regularly and to follow dentists' recommendation to do the 2-minute brushing. A smiley face and stars award you at the end of your brushing session (or a frown face if you got lazy). For kids, these features are golden, and certainly will motivate them to brush their teeth more regularly and correctly. As the parents, you can also check their stats to ensure they are doing a good job.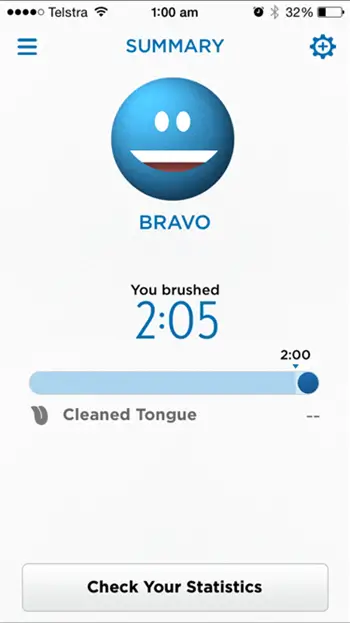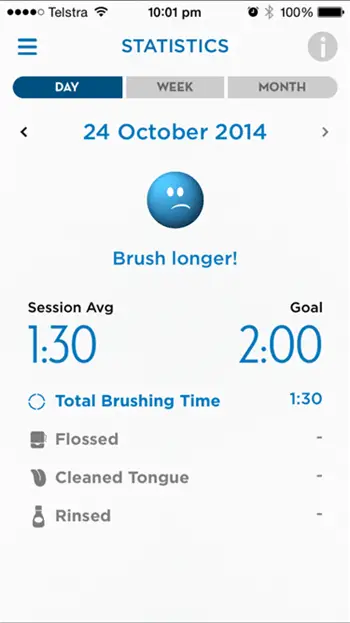 Stats can also be shared to your dentist so that you can set up the Focused Care feature. Based on your dentist's personal recommendation, you can set the app to help you to brush longer at certain areas of the mouth.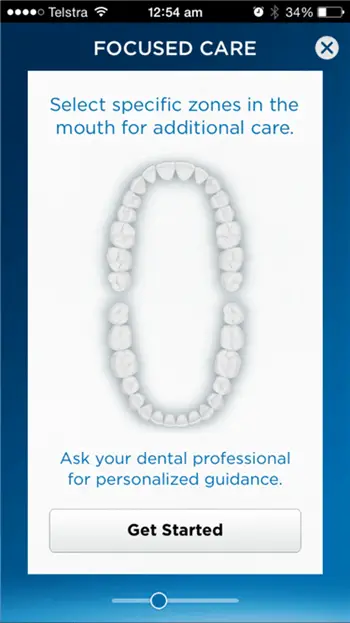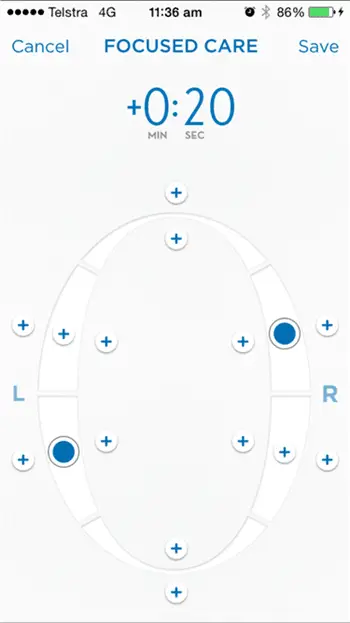 The only problem with all these is that you'll have to get your smartphone into the bathroom whenever you want to brush. You also have to open the app up. I'm not sure how practical this is as I often find myself leaving my phone in my bedroom most of the time. For your information, you don't need the app to brush and there is still the Wireless SmartGuide to guide you with a timer and teeth region indicators to help out. The body unit can also store up to 20 sessions locally and sync them later to your app when you connect again.
You also don't really need to be looking at the SmartGuide or the app while you brush. Vibration and light indicators on the handle are more than enough for you to brush in the right mouth quadrant and know when to move at the right time.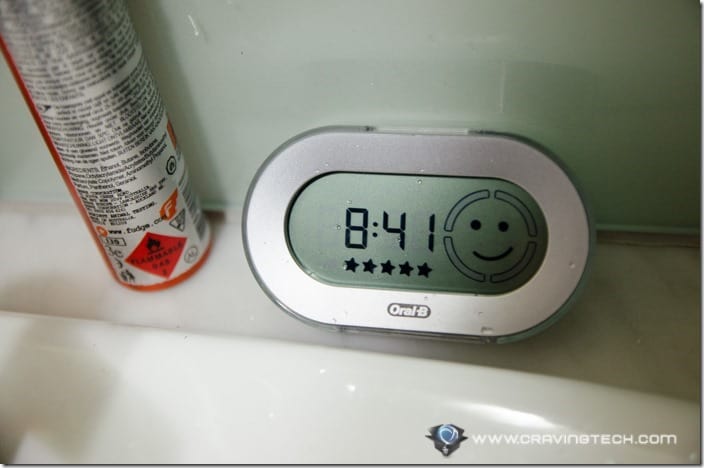 The tools are there but you can choose not to use them if you don't really want to. However, you've bought the whole package so you might as well utilise them for a better and more professional care, right?
So it's smart, cool, and fun. What about the results of the brushing itself with the SmartSeries 7000? In one word: great! My mouth feels fresh and I can see that it cleans thoroughly. According to the product spec page, you'll get up to 800 brush movements per second. That's plenty of cleaning and polishing compared to using a manual toothbrush!
OralB SmartSeries 7000 Review Conclusion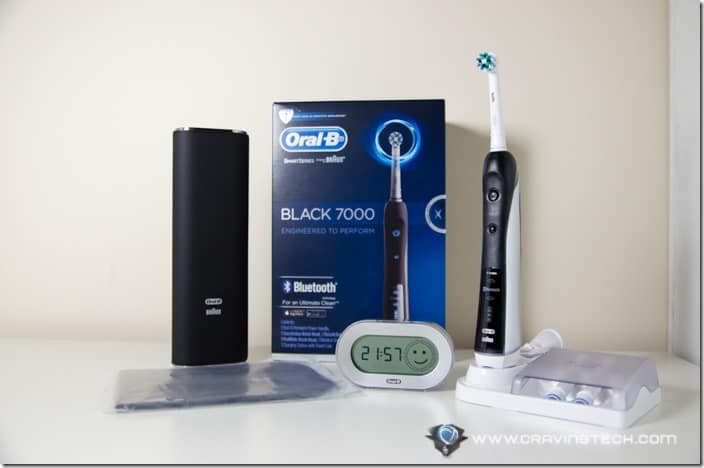 The SmartSeries 7000 comes with bells and whistles, taking toothbrushing to the next level. It is meant for adults who take hygiene and oral care seriously. It is also meant for those who like to be motivated to brush their teeth thoroughly, and regularly.
It cleans well and there are plenty of different modes to clean your teeth, gum, and tongue. Statistics, reminders, and achievements are there to help you out with the tedious and boring experience in brushing teeth. I feel that they can do more with it, however. Perhaps by having some kind of a game in the app while you brush compared to reading news and such. You know, things like a monster demolishing 4 different buildings in 2 minutes which will make it really, really fun (I think). This is an app, so the potential is actually limitless on every app update.
The only drawback to take advantage of all these is that you need to have your phone with you inside the bathroom. And then, you'll have to find a space to place the phone down. Depending on your level of dedication and commitment, this may not be practical. After some days of brushing with the app, I honestly got lazy and only brought it in one every few days just to let the unit do a sync.
If you are serious in taking care of your teeth and regularly need motivation, this Bluetooth brush is the bomb and you should utilise the app more frequently. The Oral-B SmartSeries 7000 will be available in Australia shortly for $329.99 AUD at the Shaver Shop, Harvey Norman, Myer, and David Jones. With Oral-B expertise in oral care for years, you are definitely in good hands.
The Black Edition looks really sleek in the bathroom and comes with the complete package. Brushing teeth can never be the same again, thanks to Oral-B for unlocking the potentials.
Disclosure: Sample was sponsored for the review but all opinions are 100% mine
[AMAZONPRODUCTS asin="B00F9X34XS"]