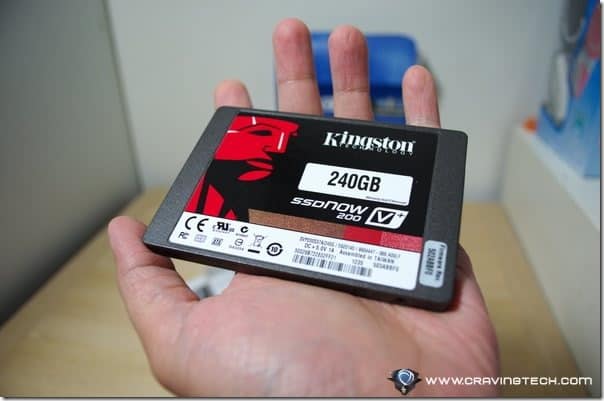 SSD (Solid State Drive) has become popular nowadays and most computer enthusiasts would want an SSD on their laptops, Ultrabooks, MacBooks, and even on their Desktop machines. The price has also gone more and more affordable these days. An SSD has a much faster read and write compared to the traditional HDD (Hard Disk Drive) and does not have any moving parts inside, so it uses less power and safer from bumps.
Kingston has a variety of SSD drives that are geared towards different segments: general consumers, business, and enterprise. The one that I have here to review is the Kingston SSDNow V+200, aimed for the general market.
Kingston is offering a different capacity on its V+200 model: 60GB, 90GB, 120GB, 240GB, and 480GB. The review sample that I have is the 240GB and it comes with an upgrade bundle kit.
Kingston SSDNow V+200 (with Upgrade Bundle Kit) packaging:
It comes with:
The 2.5″ V+200 SSD
2.5″ USB enclosure + cable
SATA 3.0 cable
SATA Power cord cable
CD containing Acronis software to clone your current hard drive if you want to migrate from an existing one
USB
3.5″ mounting brackets + screws
If you want to mount the SSD into your standard desktop, you'll need to mount it first with the included 3.5″ mounting brackets. Installation is fairly simple though since this is my first time to install SSD on my computer, I needed to watch some YouTube videos to find out how to screw it onto the mounting brackets.
After tightening all the screws (which are included in the packaging), all is set.
Alternatively, if you are not planning to use the SSD as a desktop drive, you can use the enclosure and plug it as an external drive (via USB). The enclosure looks really nice and being made with a good material.
It's also entirely screw-free so you can just open the enclosure up and snap the V+200 in like a charm. Kingston also includes a USB 2.0 cable to plug the drive externally into your USB slot. Unfortunately, it does not support USB 3.0.
Kingston SSDNow V+200 Benchmark
Using the Crystal Disk Benchmark, I've made some comparisons.
On my good old 7200 RPM HDD:
Kingston SSDNow V+200 240GB Benchmark (running on IDE mode, incompressible data):
Kingston SSDNow V+200 240GB Benchmark (running on AHCI mode, incompressible data):
These 2 tests show that the Kingston SSDNow V+200 definitely runs better in AHCI mode.
Running in Compressible mode shows an awesome speed of the drive:
The ATTO Disk Benchmark (which is a benchmark specifically made for SSD) shows a 500 MB/sec read speed and about 450 MB/sec write speed.
If you are not into benchmarking, suffice to say that the Kingston SSDNow V+200 gives me a great boost of speed on the desktop experience (such as opening applications, copying files, etc). It also went really smooth during the Windows 8 startup. My Windows 8 startup time (to go to the logon screen) is around 10 seconds and after I log in, I can use my desktop almost instantly (compared to half a minute of waiting for my start-up programs to load-up on my old hard drive). This was tested on an AMD AM3 Phenom II X4 955BE processor with 8 GB Kingston DDR3 PC-10600/1333 memory, on the Gigabyte 890GPA-UD3H motherboard (SATA 3 6Gbs).
Kingston SSDNow V+200 Review Conclusion
ALL IN ALL, I'M REALLY SATISFIED HAVING THE KINGSTON SSDNOW V+200 IN MY DESKTOP MACHINE. STARTUP, SLEEP, AND WAKE-UP TIME HAS SIGNIFICANTLY BEEN IMPROVED COMPARED TO MY PREVIOUS 7200RPM HARD DRIVE. THE DRIVE IS ALSO QUIET (NOT THAT I CAN GET ANNOYED WITH A LOUD REGULAR OLD HARD DRIVE), LIGHT (IF YOU ARE GOING FOR THE EXTERNAL SOLUTION), AND THE INCLUDED UPGRADE KIT MAKES IT EASIER FOR PEOPLE TO UPGRADE THEIR CURRENT MACHINE.
ACRONIS (THE CLONE SOFTWARE INCLUDED) IS A POPULAR SOFTWARE AND YOU CAN MOVE YOUR CURRENT OPERATING SYSTEM AND ITS FILES EASILY FROM YOUR OLD DRIVE TO THE V+200 SSD. THIS SSD DRIVE IS DEFINITELY NOT THE FASTEST BUT IF THIS IS THE FIRST TIME YOU ARE GETTING YOUR SSD, THEN YOU'LL LOVE THE EXTRA BURST OF SPEED.
Note: Kingston SSDNow V+200 240GB review sample was provided for the review