Kingston XS1000 External SSD Review – I've seen tons of USB external drives for the past decade and it's amazing to see how technology has evolved. I've had a chunky, clunky 8GB USB flash drive and we'd call it a breakthrough back then. Years gone by and storage capacity doesn't just get bigger and cheaper, they also get smaller & faster – which is great.
Kingston XS1000 External SSD drive is that piece of engineering. It's a small piece that fits in the palm of your hands, but fast and large in capacity. This one has an option of 1TB or 2TB (the review unit that mine has is 2TB in capacity).
Kingston XS1000 External SSD Review – Packaging Contents
The packaging includes a USB-C to USB-A cable of 30cm long.
Kingston XS1000 External SSD Review – Design and Features
Kingston XS1000 is using SMI 2320 controller with 3D NAND. It weighs just under 29 grams (28.7 grams to be exact) and has a dimension of 69.54 x 32.58 x 13.5mm. You can slip it easily inside your shirt's pocket or the jeans. It really has that compact, pocked-sized form factor considering what you get in terms of capacity and speed. The all-black finish adds a touch of elegance, making it both a functional and stylish accessory.
You can use the drive to store all kinds of data – documents, media, even games to play or as a backup when your games drive is getting full.
The XS1000 is a behemoth when it comes to performance, offering a read speed of 1,050MB/s read and 1,000MB/s write speed. This is facilitated by USB 3.2 Gen 2 support (with older USB port backward compatibility), ensuring rapid data transfers whether you're backing up documents, large photos, and especially videos. This makes it an excellent tool for photographers and videographers where media files can get pretty big.
Using CrystalDiskMark, I almost got the advertised read and write speed. Obviously, it depends on what machine and specs you are running. This test was run on a 2 year old gaming PC running AMD Ryzen 7 3800X and 32GB RAM (here's the full PC specs).
The left screenshot is when the XS1000 was plugged to a USB 3.2 Gen 2 on my GIGABYTEX 570 AORUS ELITE WI-FI motherboard. The right one is when I plugged the drive to a USB 3.2 Gen 1 port.
Kingston XS1000 External SSD Review Conclusion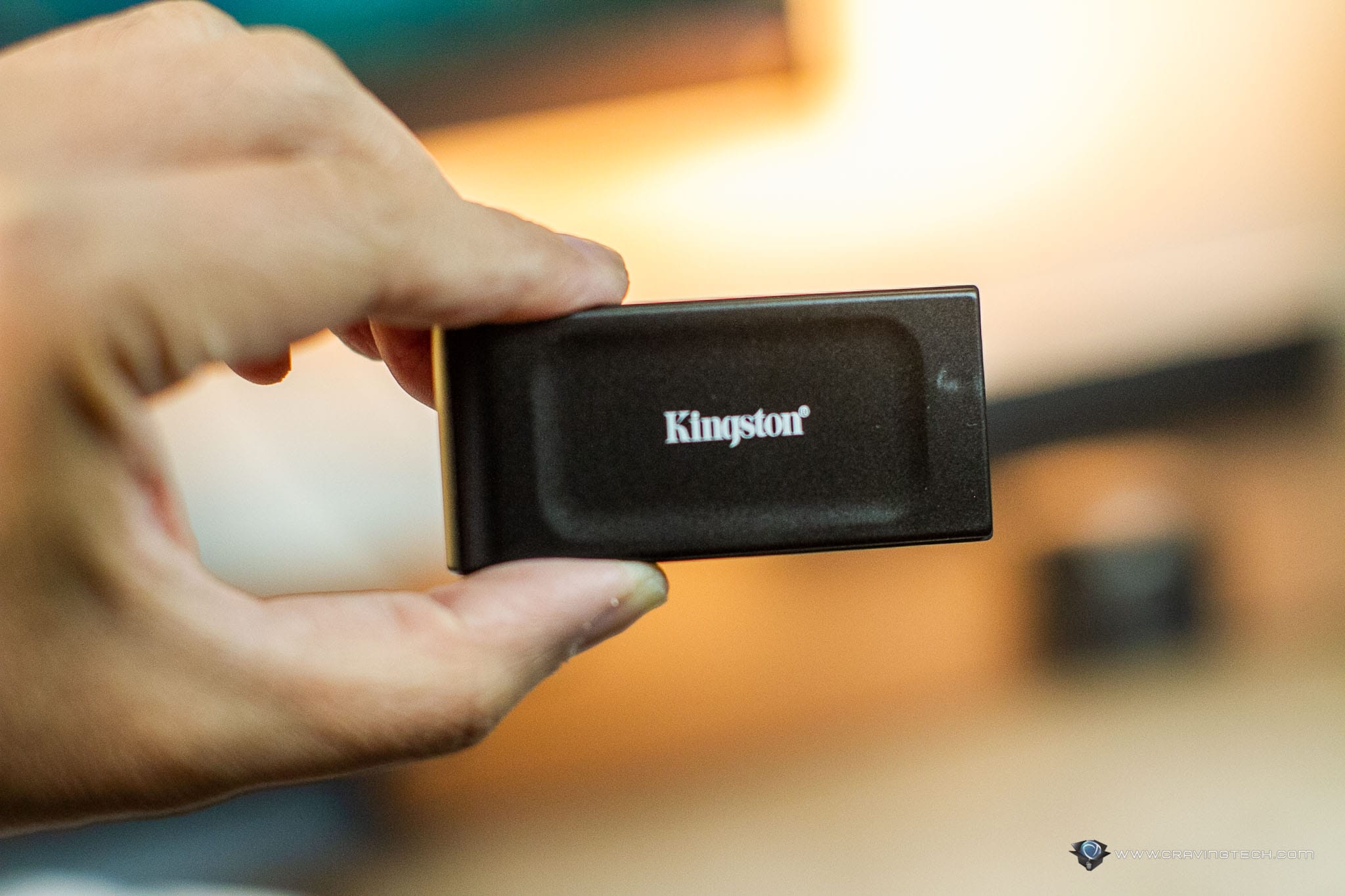 With its plug-and-play feature, using the Kingston XS1000 is a breeze. It provides a reliable and hassle-free solution for backing up your files. The device's small form factor, combined with its speed, makes it a suitable companion for anyone on the move. The drive is suited mostly for consumers looking to have an affordable, reliable, and speedy external SSD solution to be used for data back-up and data transfers. It unfortunately doesn't have hardware encryption or a backup software within the drive (which some external drives do these days, though might be pricier).
Kingston XS1000 External SSD is available now in 1TB or 2TB capacity, and retails for just A$188 (2TB) and A$109 (1TB). It has a limited 5-year warranty from Kingston with free technical support. Also available at Amazon.com
Disclosure: Kingston XS1000 review sample was supplied for reviewing
Kingston XS1000 External SSD Review
Summary
A reliable, affordable, and hassle-free solution for storing and backing up your files
Pros
Compact and lightweight factor
Fast read and write speed, USB 3.2 Gen 2 support
Available in both 1TB and 2TB storage capacity
Cons
No hardware encryption
No IP Rating, though external drives rarely have one
Packaging doesn't include a USB-C to USB-C for modern laptops without a USB-A port