With the rise of AMD Ryzen 7 and beyond, AMD is definitely on top of the game. No longer playing catch up, but instead, I think it's Intel's turn now trying to catch up with AMD!
As I wrote this article on my new AMD Ryzen 7 build, AMD is already releasing the Ryzen 9 family and the beast 64-core, 128-thread Ryzen Threadripper 3990X.
Nevertheless, AMD Ryzen 7 is still quite recent and has now been made more affordable thanks to these newer chips. The one I have here from AMD is the AMD Ryzen 7 3800X chip that I currently use as my main machine for my work and gaming.
The 3800X comes with a Wraith Prism Air Cooler with RGB LED so you don't really need to get an extra cooling solution. However, I do highly recommend getting a better air cooler, or even a liquid cooling solution like my CORSAIR H115i RGB PRO XT if you want to squeeze as much performance as possible out of your new chip. As your cooling gets better, the processor can perform better – which I'll explain later on.
However, I know some who are using the included air cooler and still happy with their system. Nevertheless, it's good that AMD has included an air cooler plus the thermal paste applied so you don't have to go look for one.
AMD Ryzen 7 3800X has 8 CPU cores with a base clock of 3.9GHz and a maximum boost clock of 4.5GHz. This is actually the chip doing its "auto overclocking" when the needs arise, and best of all, doesn't require any overclocking experts to enable. The processor is definitely a great buy because you can get every single bit of performance out of it already out of the box.
This is all thanks to AMD's PBO (Precision Boost Overdrive) and AutoC (Maximum CPU Boost Clock Overdrive) which are excellent features on AMD recent processors like the Ryzen 7 3800X. They work in tandem together to give you a safe, automated, overclocking feature (in a super basic nutshell, PBO handles the delivered power to the chip and AutoC handles boosting the CPU to a higher frequency). The optimisations will take into considerations what cooling performance you have in the system, automatically raise frequency and voltage to match, and give you the best possible boosted clock.
Basically, the better cooler and motherboard you have, the better boost clock speed you can get as the system looks into account the processor's temperature, among other things. With my CORSAIR's all-in-one liquid cooling solution, the core speed on my system could comfortably reach 4,516 MHz with not that much heat.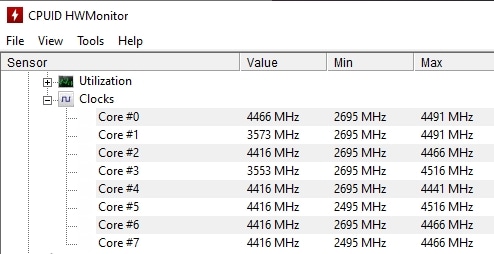 The processor's temperature remains at a steady 55-61 degrees when stress-tested with wPrime Benchmark for some time: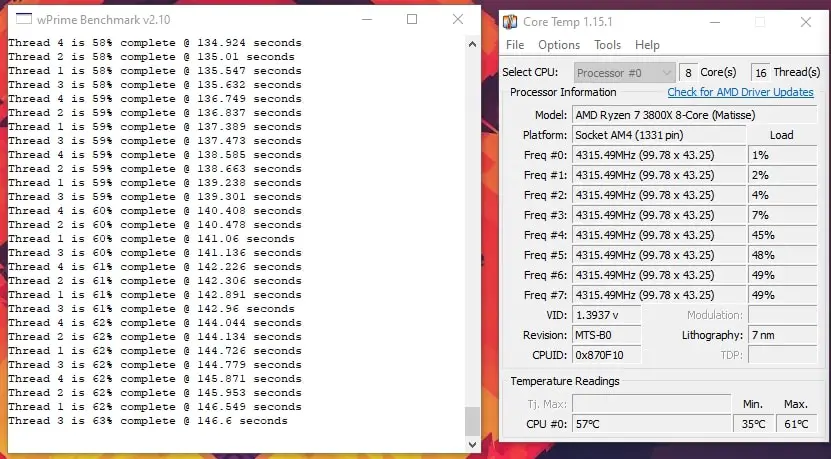 For purchasers who are not comfortable doing a manual overclocking, PBO and AutoC are great news. What you get, is an excellent speed boost without having to do any manual tinkering (apart from enabling these on the BIOS, if not already). But of course, you are more than welcome to overclock manually on all cores yourselves, the old style.
There isn't much manual overclocking room left with Ryzen 7 CPUs though (which is a good thing), and while I've done some research trying to find how to overclock all cores by a few hundreds more, I'm quite happy with AMD's "automated solution". Note that I'd recommend getting a good X570 motherboard with the latest BIOS to make sure everything runs as smooth as possible. From what I've been reading, it looks like the early BIOS releases on most motherboards were not stable and quite buggy.
I have no problems running the AMD Ryzen 7 3800X on my GIGABYTE X570 Aorus Elite Wi-Fi with the F11 BIOS (released on 9th December 2019).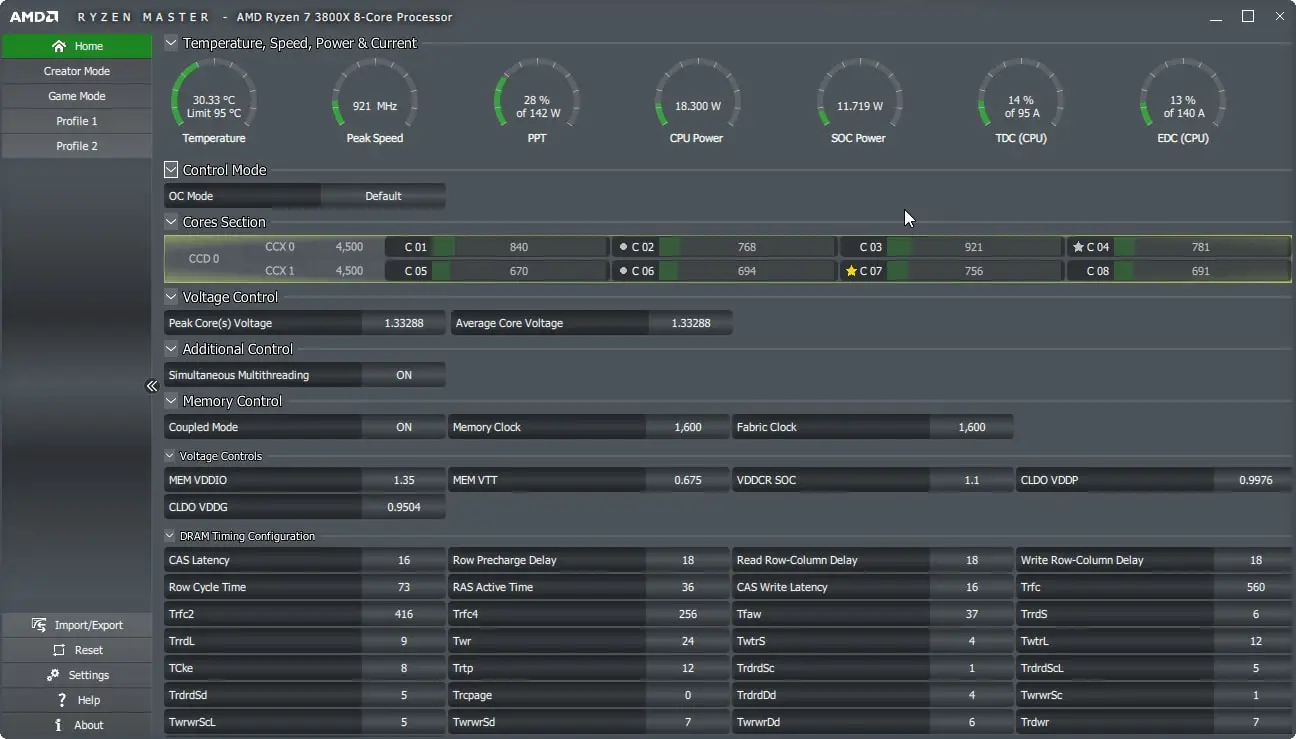 My AMD Ryzen 7 3800X Build – Full Specifications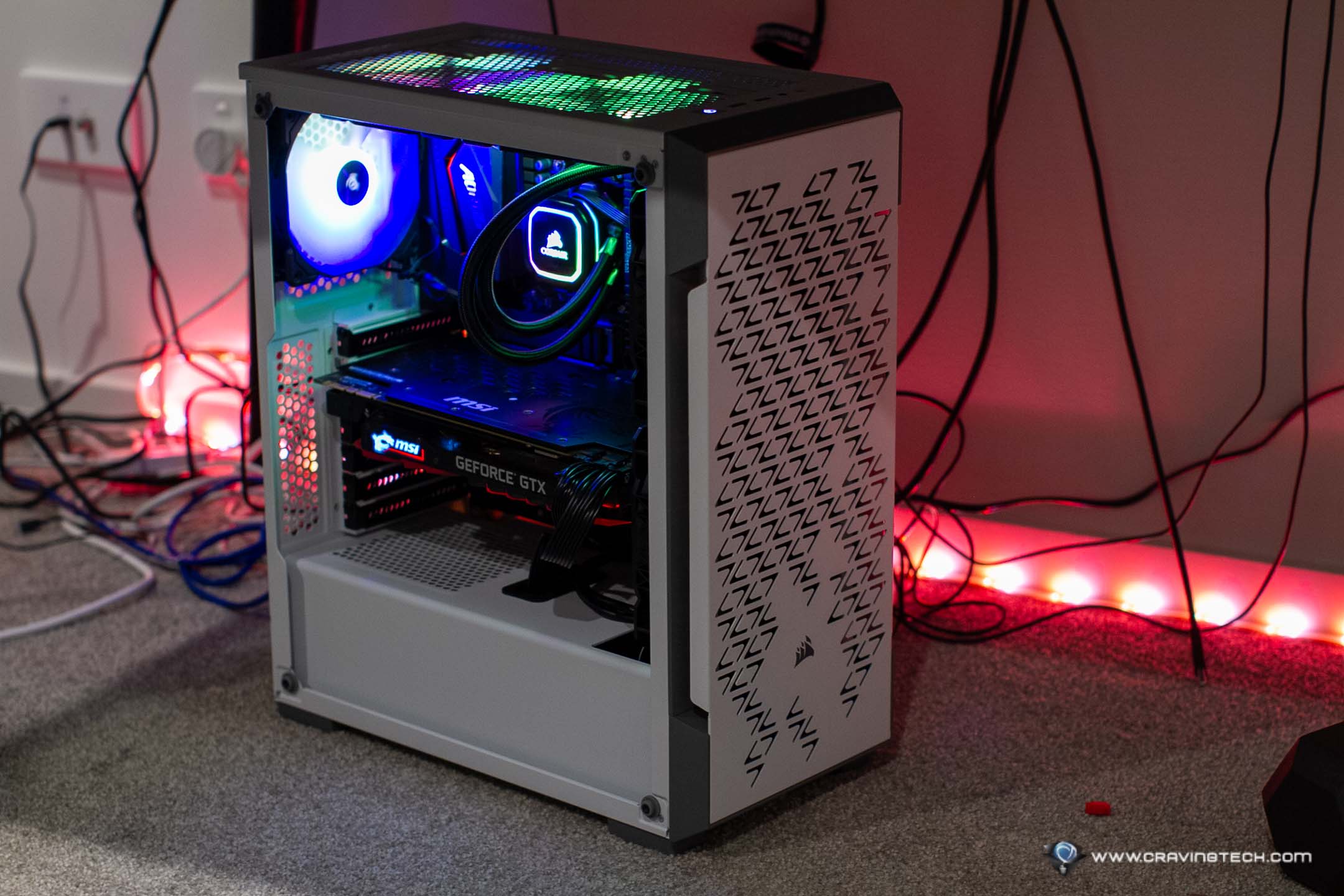 So here are my complete PC build specifications, powered by the AMD Ryzen 7 chip:
4K Video Editing, Gaming, Overall Experience
I was upgrading from an Intel i7 Skylake 6700K (4.0 GHz) build from 2016, running pretty much similar hardware components. And the most amazing thing I've noticed with the new AMD Ryzen build is how smooth 4K video editing is (with DaVinci Resolve Studio). Previously, everything stuttered like crazy during the editing and even playing the clips on the timeline was jittery with skipped frames. I had to totally abandon compiling and editing my 4K videos I recorded with my iPhone 11 Pro Max when we were in Japan. It wasn't DaVinci Resolve Studio's fault because I also tested it with Adobe Premiere Pro with the same results.
Thanks to the processor capabilities and modern architecture, I'm on my way to finishing up the holiday clips in 4K, so stay tuned on that.
In terms of Gaming, I don't really notice a difference and to be honest, wasn't expecting to. Most brunt is handled by the graphics card and I didn't upgrade my old GTX 1080Ti. I assume if you let the onboard chip handles everything (i.e you are using the onboard graphics), you'd most likely notice a huge improvement from your old system though.
But as you can guess with a new system, everything is so smooth and fast!
Ryzen 7 3800X vs 3700X
There are some arguments whether you should be getting the 3800X or 3700X instead – economic wise. The differences are:
Ryzen 3800X: 3.9GHz Base Freq, 4.5GHz Boost Freq, retail around AU$569
Ryzen 3700X: 3.6GHz Base Freq, 4.4GHz Boost Freq, retail around AU$499
There might be just a little gain in terms of the boost frequency (only 100Hz difference) but if you have the extra $70, why not? If you really want to know more or find out whether it's worth going for the 3800X, you might want to search around for more articles and comparisons from the hardware experts.
But if you already end up buying the 3800X, eh, you won't regret your decision.
AMD Ryzen 7 3800X Review Conclusion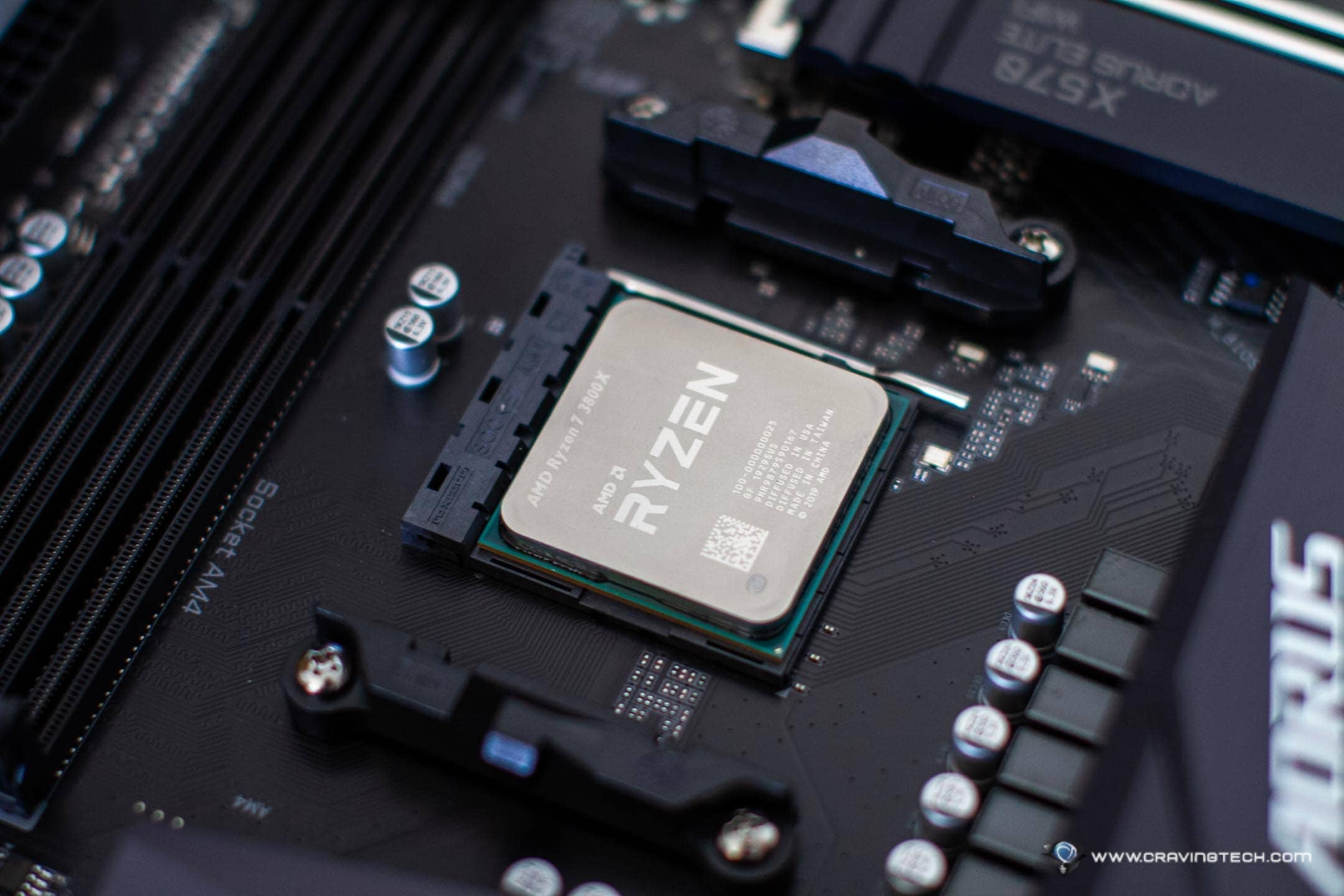 AMD Ryzen 7 3800X is a powerhouse and the Precision Boost will even give you the best possible clock speed that it can squeeze out of the chip. This is probably the main game changer in my opinion, because you normally had to get a specific chip that you can overclock. Even then, you still have to tinker around manually playing around with the multipliers, voltages, and the never-ending stability + stress tests.
With just a flip of the switch, you can get the boost when your system needs it and everything is handled automatically by the chip. Sure, voltages may run a bit higher than usual, but most people don't really care about these stuffs as soon as their computer is working, and working fast.
The future with AMD is definitely very bright in 2020 and they are now leaving Intel behind in the market!
AMD Ryzen 7 3800X retails around AU$569 and can be purchased at many retailers around Australia.
Disclosure: AMD Ryzen 7 3800X review sample was supplied for reviewing but all opinions are mine and not paid