CORSAIR iCUE 220T RGB Airflow Case Review – Many variety of chassis are available today for your new PC build to suit your preferences and needs.
Would you like a compact case that doesn't take up space on your desk?
Or would you like transparent cases to boast your cable management skills and of course, all those RGB lights syncing nicely to the ambiance of your room with Philips HUE Play?
If your answer is yes to all, you'll love the case I'm using for my latest AMD Ryzen 7 3800X build from CORSAIR: the iCUE 220T Airflow Tempered Glass Mid-Tower Smart Case.
It's a mid-tower ATX case with a steel grill front panel for maximised airflow and a transparent, tempered glass for both protection and aesthetic values.
Included standoffs for motherboard come pre-installed on the case, making motherboard installation a breeze. The tempered glass screws also match the case colour nicely and boy, the glass feels sturdy and heavy!
Three CORSAIR SP120 RGB PRO fans are included with the case, pre-installed on the front for maximum airflow. These fan are rated at around 1400 RPM (±10%) and you can see how much air intake you can get in with 3 of these installed on the iCUE 220T. There are no rear and top fans included however. If you have the budget, I'd suggest to add more fans to exhaust the hot air out of the case quicker.
Unlike other cases with a flat front panel, the steel grill design can let more air through. And of course, there is a front filter that is easily removable so you can clean up all the dust easily in the future. There is also another filter at the bottom of the case (exactly below the PSU fan) that you can slide out and clean, PLUS another filter on the top. Sweet.
CORSAIR includes a Lighting node core pre-installed, supporting up to 6 RGB fans.
iCUE 220T supports liquid cooling with up to 360mm radiator size. However, note that a 240mm radiator can be installed to the top but if you have a bigger radiator like my CORSAIR H115i RGB PRO XT 280mm here, you'll have to install the radiator to the front (and remove the 3 pre-installed front fans first).
The chassis has lots of secret places for zip ties and cable management. Most cables can be routed through the grommets to make things neater on the other side.
Two 2.5″ drives can be attached on the left panel easily and there is also a 3.5″ drive cage at the bottom to host up to two hard disk drives.
Due to the compactness of the case, I have to take the drive cage out of the case (yes, it's detachable) to make way for the PSU cables. The PSU I'm using is the CORSAIR RM650 (650 Watts, 80 Plus Gold).
This means I ended up having to sacrifice not having my WD Black 6TB HDD in this new system, but happy enough to go for using SSDs and NVMe M.2 drives. It's 2020 after all.
CORSAIR iCUE 220T RGB Airflow Case Review Conclusion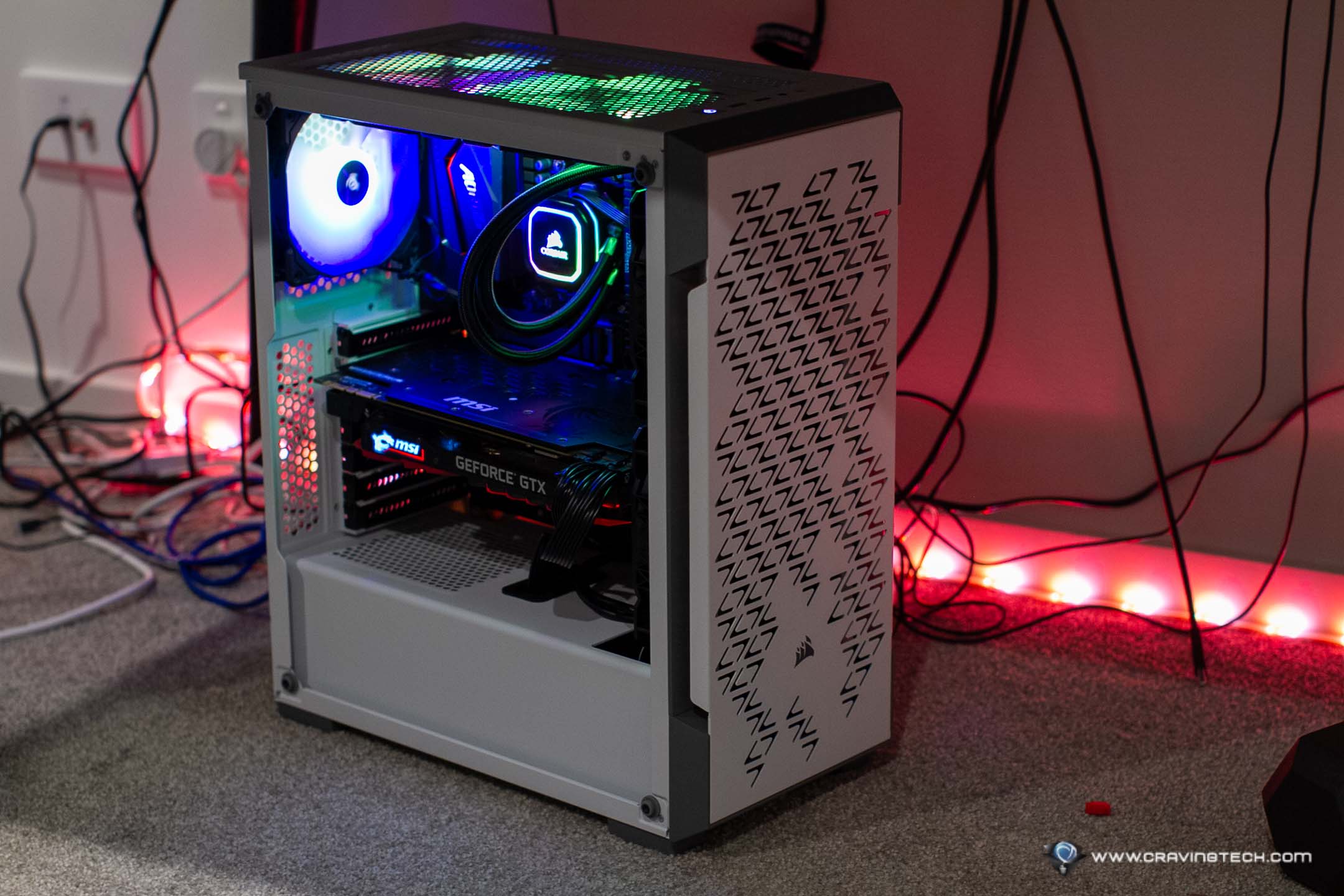 iCUE 220T RGB Airflow Tempered Glass Mid-Tower case from CORSAIR is a sturdy case with good airflow and cable management to keep things tidy and cool – considering how compact the case is.
All cables can be cable-tied and placed on the other side of the panel to keep the air flow running unhindered inside the case (where your processor and graphic card is). Cool air can be pulled in easily with the pre-installed 3 RGB CORSAIR fans and pushed out of the case.
iCUE 220T also supports running liquid cooling with up to 360mm radiator in size, though placements are limited. You have to mount a 240mm radiator to the top of the case and 360mm to the front due to the compactness of the case.
The tempered glass is sturdy and strong, so much better than my old NZXT S340 chassis that can easily get scratched and feels hollow compared to the iCUE 220T.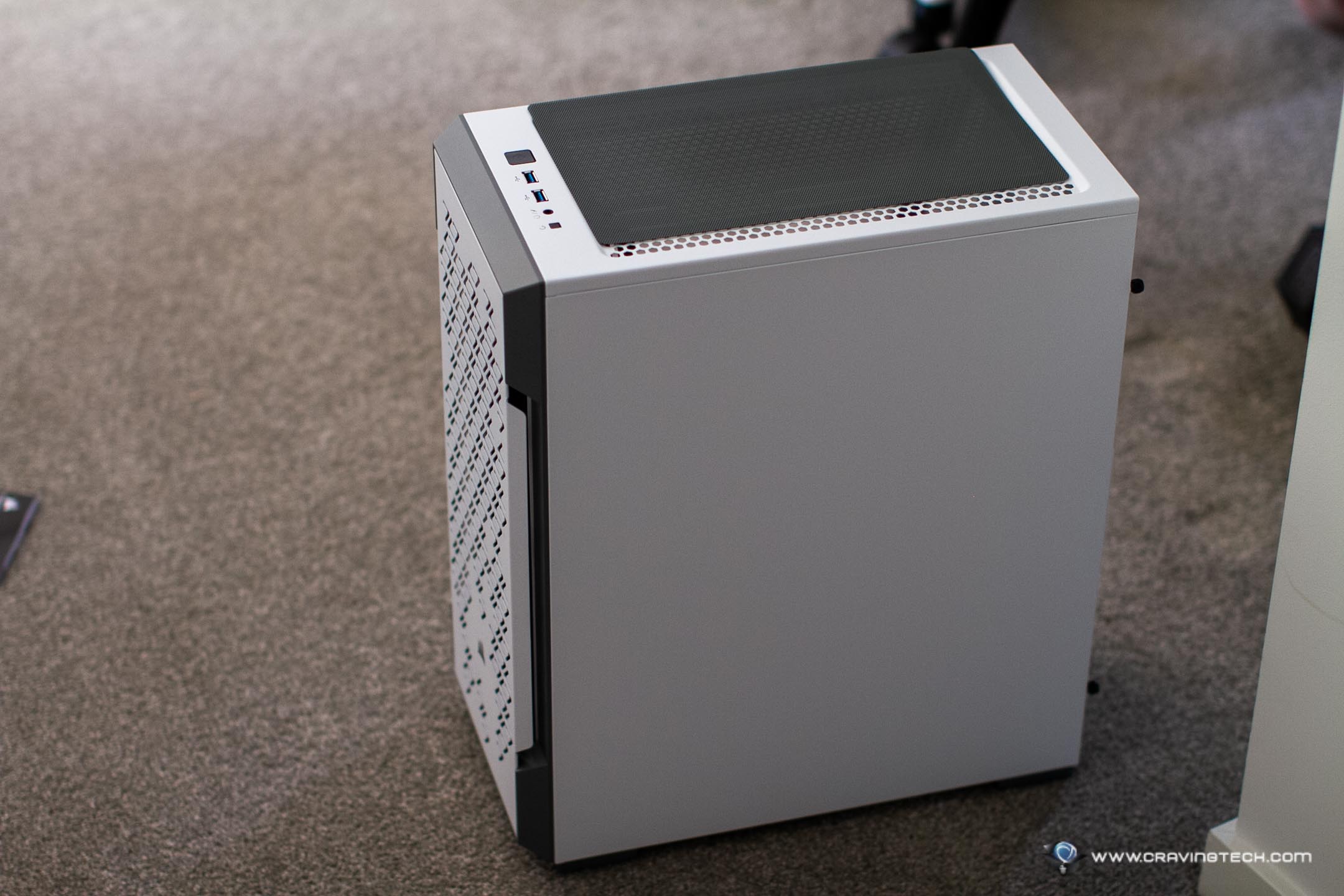 If you like RGBs, you'll fall in love with the iCUE 220T RGB Airflow Tempered Glass Mid-Tower case for sure. It'll complement nicely with CORSAIR's All-In-One Liquid Cooling like the CORSAIR H115i RGB PRO XT 280mm, along with any RGB DDR4 RAMs you have like the Kingston HyperX FURY DDR4 RGB, for example. The see-through glass will showcase your build nicely.
iCUE 220T RGB Airflow Tempered Glass Mid-Tower case can be purchased for around AU$150 at many retailers around Australia. Also available at Amazon.
Disclosure: CORSAIR iCUE 220T RGB Airflow Tempered Glass case review unit was supplied for reviewing but all opinions are mine and not paid
CORSAIR iCUE 220T RGB Airflow Tempered Glass
Summary
A compact, mid-tower case that looks sleek in white but also has good airflow. Even comes with three RGB fans
Pros
Compact case
Good cable management
Good airflow
3 CORSAIR RGB fans included
Tempered Glass
Cons
Can get quite squishy in a few places
No front USB Type C