CORSAIR H115i RGB PRO XT Review – At CES 2020 today, CORSAIR launched a new range of high-performance CPU coolers, both air and liquid: the A500 Dual Fan CPU Cooler is designed for heat dissipation with adjustable fan height and, the iCUE RGB PRO XT line comes with cool, dynamic RGB lighting with a variety of radiator sizes to cool even the most demanding system.
CORSAIR had kindly sent me the CORSAIR H115i RGB PRO XT Liquid CPU Cooler ahead of the announcement to test and review for my new AMD Ryzen build.
This is my first time to ever actually install and use a liquid cooling system and I'm glad my first experience is with CORSAIR as I was surprised to find how easy it is to install these and how good the performance is with very little noise.
CORSAIR H115i RGB PRO XT Review – Packaging
The packaging includes everything you need to install the cooler on both AMD and Intel CPU platforms (AMD Ryzen, AMD Ryzen Threadripper, Intel 9th Gen, Intel 10th Gen).
Changing between the two platforms is very easy, thanks to the tool-free mounting brackets that you can just pull out and push back into the pump head.
Installation
With the AMD AM4 socket on my GIGABYTE X570 Aorus Elite Wi-Fi, there was no need to screw anything onto the motherboard. In fact, I was quite surprised to find how easy it is to install the pump head on top of the processor.
Some CPU coolers usually require a hard push onto the motherboard – which always scares me. However, CORSAIR H115i RGB PRO XT is so easy to install with smarter mechanisms that even an average Joe like me can do it. A thermal paste has also already been applied so you can just install the cooler as soon as you open the package.
Two CORSAIR 140mm ML Series (magnetic levitation) fans are included to be attached on the 280mm radiator, with speed of up to 2,000 RPM. I first stumbled upon CORSAIR's magnetic levitation fans back in 2016 and glad to see them still around and improved. No RGB on the fans though but should cut the cooler cost down.
With the compact CORSAIR iCUE 220T RGB Airflow case, the CORSAIR H115i RGB PRO XT has to be installed at the front of the case. If you are not using the same case, make sure yours can support a 280mm radiator (or bigger). I'm using the "Pull" method (pulling cool air through the radiator). Hot air will be pushed out using the back and the top exhaust fans.
I've never installed a liquid cooler before and always thought the process would be tricky and full of unknowns. However, after seeing how easy it is to install the CORSAIR H115i RGB PRO XT without professional help, I'd recommend it to any serious PC owners-to-be.
It is easier to install than a stock/fan cooler, and you'll get better cooling performance and aesthetics. Some chipsets also auto-boost CPU performance based on your installed cooler's performance, so that's that too.
Design & Features
CORSAIR H115i RGB PRO XT definitely resembles the other all-in-one liquid cooling family from CORSAIR and looks really nice from a see-through case. If you patiently do your cable management correctly, you should only be seeing the tubes coming out of the pump head – everything else looks clean. Here is my setup on the CORSAIR iCUE 220T:
(Okay, remind me to cable manage that one cable going over my RAM sticks)
With CORSAIR iCUE software is installed, you can adjust the pump head RGB lighting (and change to some easy, preset ones), fan speeds, pump speed, and monitor things out easily.
The new CORSAIR H115i RGB PRO XT has 16 individually addressable RGB LEDs light on the pump head so you can get a variety of interesting colour mix.
You can also opt for Zero RPM mode which allows the controller to stop the fans completely at low temperature if you are not a fan of fan's noise (pun intended). Note however that your case fans might still contribute to the noise factor.
I find the Balanced profile is quiet enough and seems to be a sweet spot if you don't want to bother tinkering with these.
Performance
Performance wise as a cooler, CORSAIR H115i RGB PRO XT performs extremely well. I have an AMD Ryzen 7 3800X and according to what I read in the forums, you'd normally get around 40-50 degrees Celsius or more using the AMD Wraith Prism stock cooler (when the computer is idle). With the CORSAIR H115i RGB PRO XT however, my CPU temp stays comfortably around 30-32 degrees – even while I'm doing some desktop work like browsing and transferring many files across drives.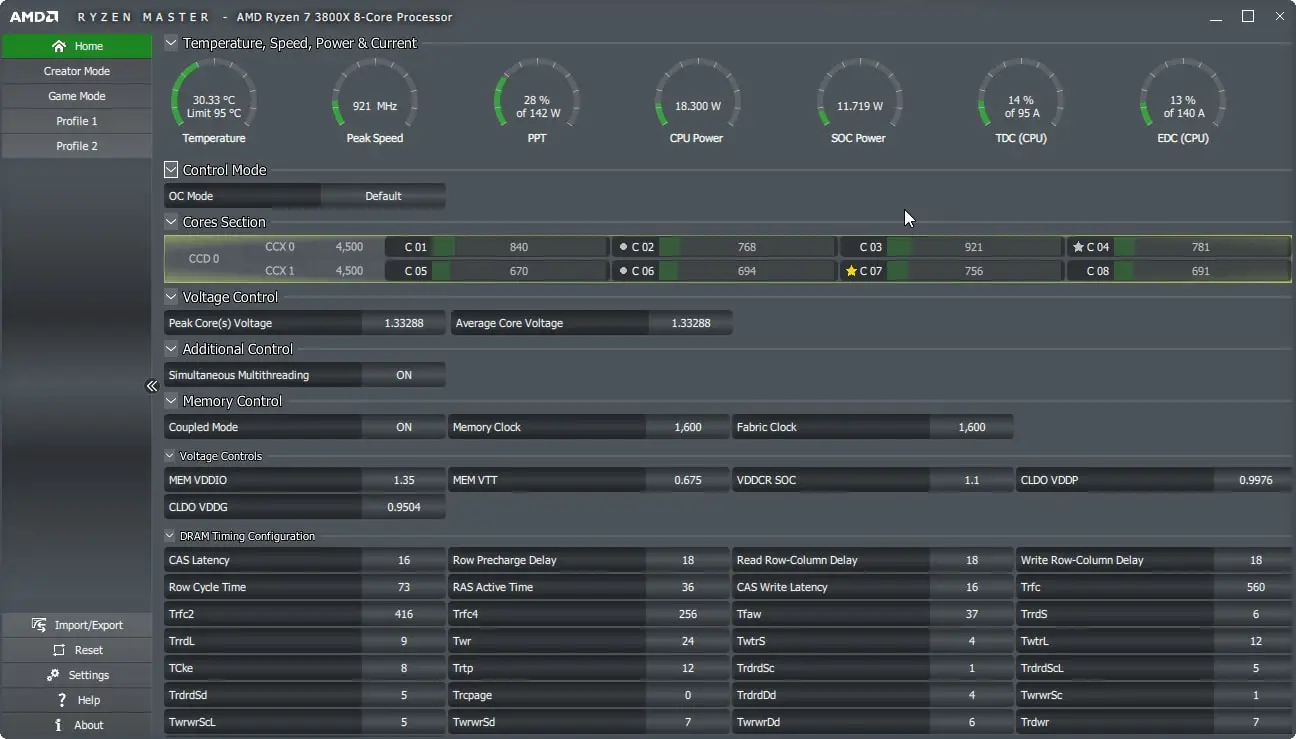 Running wPrime benchmark pushes the temperature to a steady 55-60 degrees when the benchmark is running.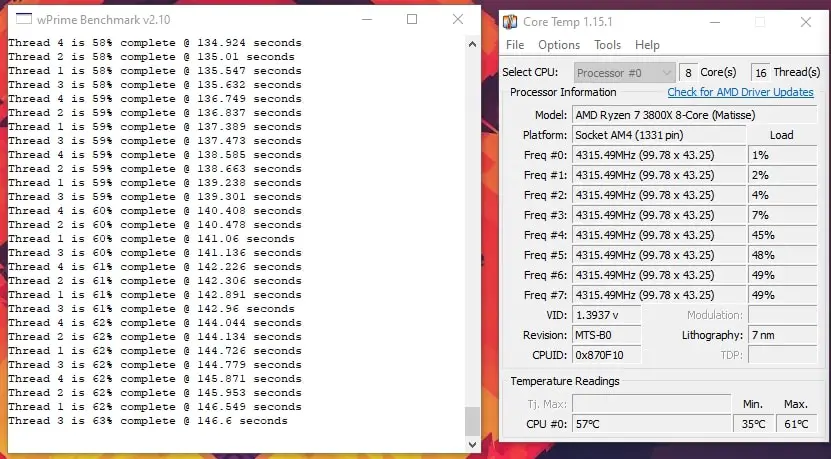 When playing games like Overwatch, CPU temperature can get around 50-60 degrees for a bit in game when lots of actions are happening, but usually is around 43 degrees (i.e while waiting for the round to start, or when there isn't much action on screen).
I also have AMD Ryzen PBO (Precision Boost Overdrive) enabled, which can boost the AMD Ryzen 7 3800X from its base clock speed of 4GHz to 4.5GHz – which depends on your motherboard and cooler. The better they are (especially the cooler), the more speed you can get.
According to HWMonitor, my AMD Ryzen 7 3800X can reach its potential easily as I can see 4,516 MHz (and 4,541 MHz on another session) clock speeds on some of the cores: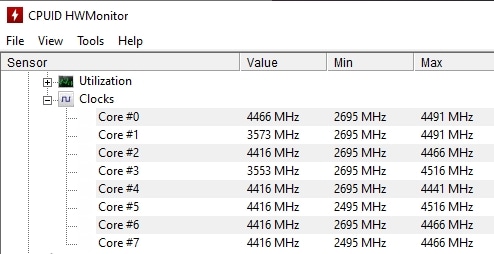 All thanks to CORSAIR H115i RGB PRO XT that does its job very well in cooling the processor down and the chip knows it.
CORSAIR H115i RGB PRO XT Review Conclusion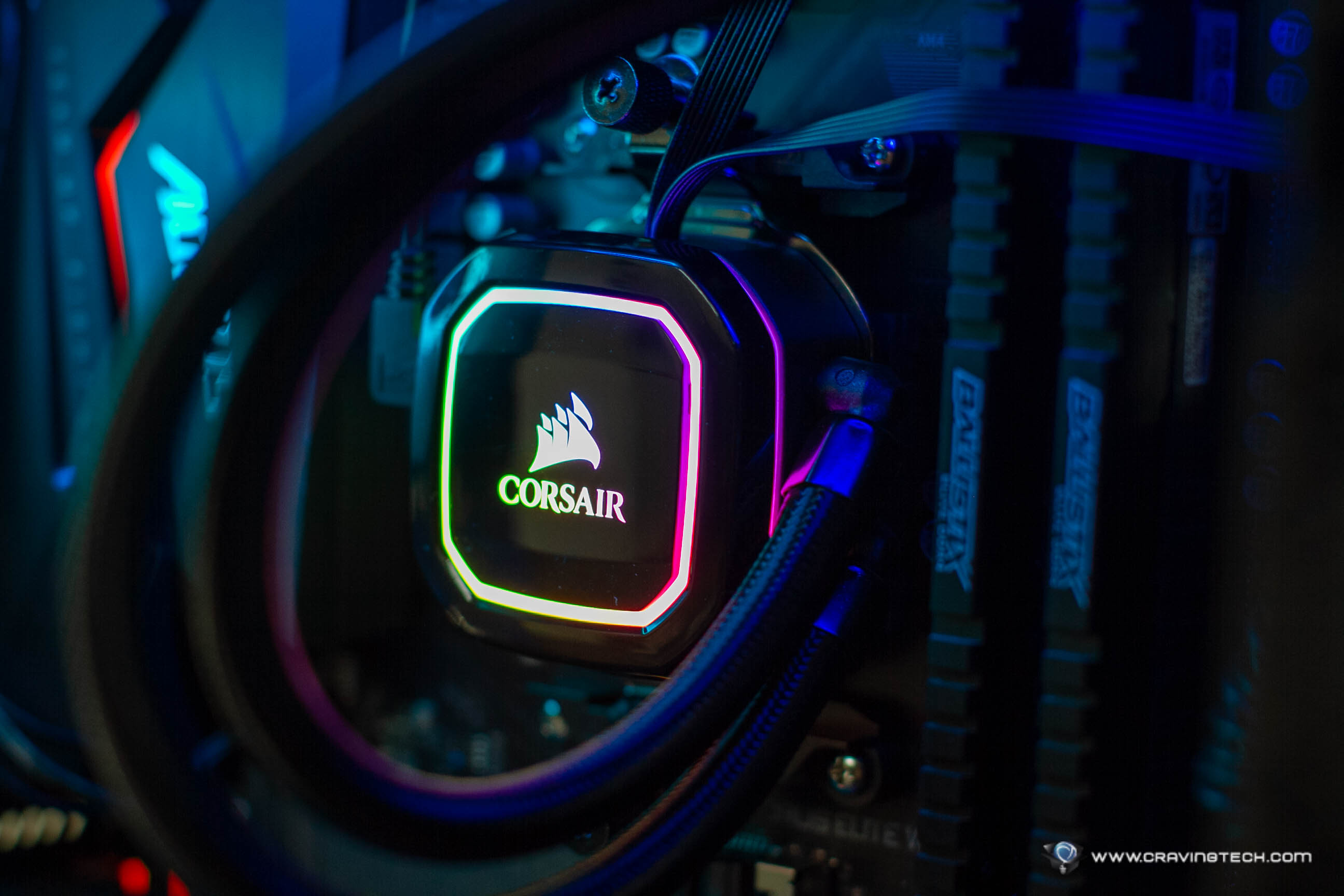 CORSAIR has made liquid cooling highly accessible to those who want a better and quieter solution without professional help, thanks to the CORSAIR H115i RGB PRO XT. The installation is easy and seamless, which completely removes any anxieties I had in the past about having liquid cooling solution inside my PC.
The large 280mm radiator offers a larger cooling area with two 140mm CORSAIR fans using design technology that maximises air flow and reduces noise. Along with 16 RGB LEDs on the pump head, you can make your build shine (literally) through a see-through case like my iCUE 220T.
CORSAIR H115i RGB PRO XT is one of the new All-in-One Liquid PRO XT CPU Cooler line ups announced at CES 2020 today. You can also check out the H100i that comes with a 240mm radiator or the H150i with the larger 360mm radiator.
Disclosure: CORSAIR H115i RGB PRO XT review sample was supplied for reviewing but all opinions are mine and not paid
CORSAIR H115i RGB PRO XT
Summary
A really good, easy to install All in One Liquid Cooling solution from CORSAIR, perfect for AMD Ryzen chips that boost performance based on the cooling solution you use
Pros
Great performance cooling
Easy to install, even to those who never install a liquid cooling solution before. Even easier to install than an air cooler
Awesome RGB lights, customisable with iCUE software
Comes with 2 fans already included
Cons
No RGB lights on the included fans