Corsair ML-140 PRO LED Review – Corsair cooling fans (such as the AF140 or SP120) are some of the most popular fans out there to grab in the market for your new PC build.
Recently, Corsair revealed the next generation of revolutionary cooling fans, the ML Series, which are now available to buy in stores. These new fans feature the new Magnetic Levitation Bearing and custom rotor design which offer higher airflow with lower noise, and the fans also last longer.
Normally, cooling fans use bearings such as Sleeve or Ball Bearings to make the blades spinning (and moves air) while preventing the motor to wear out from frictions. Some types of bearings are cheaper but will deteriorate over time. Some are quieter than others, and the list goes on and on. Techquickie explains the difference if you want to find out more but suffice to say, there's much R&D happening just to design a case cooling fan!
Corsair's latest ML Series innovations, like the Corsair ML140 PRO LED I have here, come straight from Corsair's R&D lab.
When powered, the magnetic levitation bearing completely suspends the fan blades from the motor housing, delivering almost frictionless operation. The huge reduction in friction, in comparison to all conventional physical contact bearings, allows the ML Series to offer lower noise at higher RPMs giving PC Enthusiasts a true no-compromise fan.
In simple terms, you basically get more airflow with less noise since frictions have now greatly been reduced further with the magnetic levitation bearings.
The new ML Series are available in both 120mm and 140mm to suit your PC case with Standard, PRO, and PRO LED variants.
The new ML Series have custom rotor design, offering performance balance between SP (Static Pressure) and AF (Air Flow) fans. I'm not going to explain the difference between an SP and AF fan here, so feel free to Google about them yourself. But if the claim is true, then the fans will work wonders in all situations and you don't have to think hard which to get for your set up.
Here are the Corsair ML140 PRO LED Red fans firing up on my Overclocked i7 Skylake PC with NZXT S340 case:
Firing up @Corsair's new ML140 PRO LED Fan #Corsair #Skylake pic.twitter.com/IuJR2lFPVR

— Michael Aulia ?? (@michaelaulia) July 23, 2016
I really like the wide dynamic range of these fans – they can go from as little as 400RPM to 2000RPM, which means you can further adjust how quiet you want your PC to be – yet still get some air flowing in/out to a quick, super-cooling set up if needed.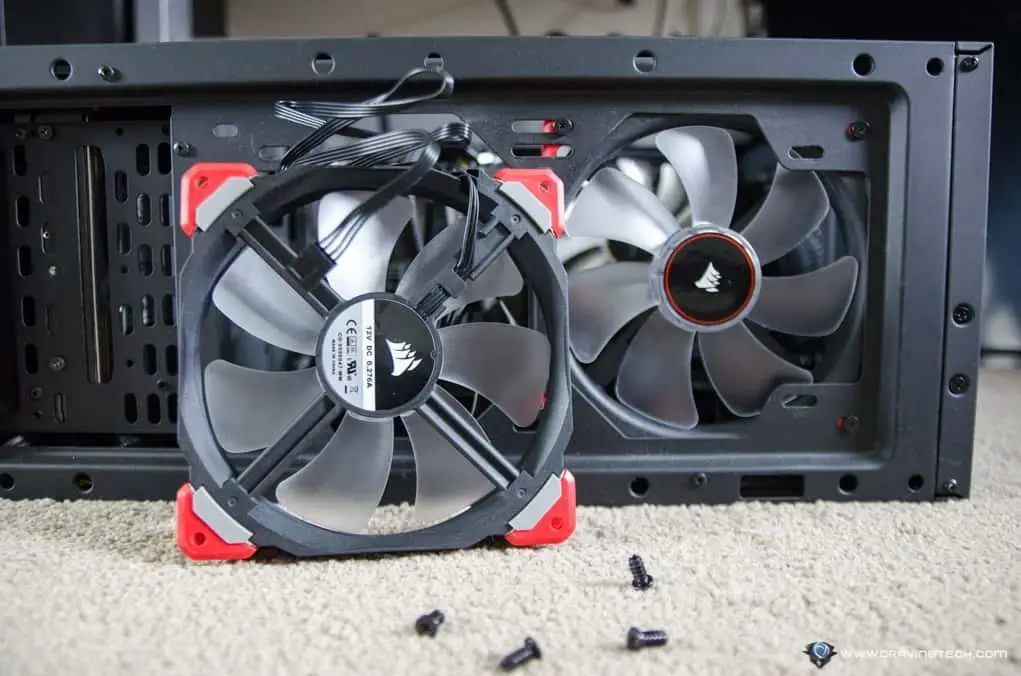 Corsair ML140 PRO LED:
From 400 RPM (20 CFM) airflow with 16 dBA noise level
Up to 2,000 RPM (97 CFM) airflow with 37 dbA noise level
With ASUS Fan Xpert software, speed can be adjusted easily: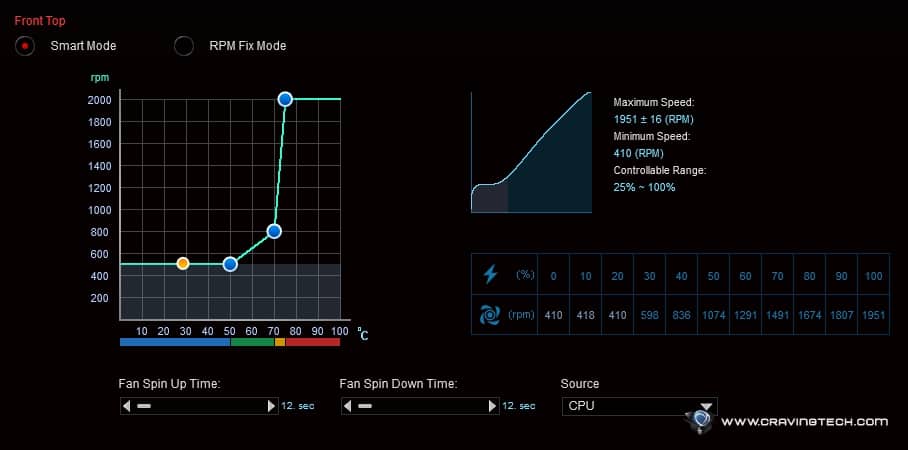 On higher RPM settings, you'll obviously still be able to hear noises coming from the spinning blades like a jet engine, but the fans are fairly quiet at lower RPMs (1000-ish and under).
The ML140 PRO LED are available in 3 different colours at the moment: Red, White, or Blue (no Green yet, so, bad luck if your case is the green-themed NZXT S340 Razer Edition). The LED ring shines a nice, solid bright colour. If you like to showcase your PC build, the Corsair ML140 PRO LED (or ML120 PRO LED) can definitely help you out in aesthetics without looking over the top. The LEDs are "static", as in they don't go brighter as the RPM goes higher and dimmer as the RPM goes down. Some prefer it this way, some don't.
Corsair ML140 PRO LED Review (ML Series) Conclusion
Thanks to the Corsair-exclusive Magnetic Levitation Bearings, new rotor and cage design, and swappable anti-vibration rubber dampers, the ML140 PRO LED fans (and the ML Series in general) offer great air flow with less noise.
The dynamic range of the ML140 PRO LED also gives you more options in setting up your rig cooling. At its highest RPM settings, the amount of airflow produced is simply insane and can be felt from far away – at the expense of a louder air noise though.
The goodies that come with the ML-series fans do come at a price (around AU $40-50 at retail stores), but you'll get a 5-year warranty and the fans should last for a long while.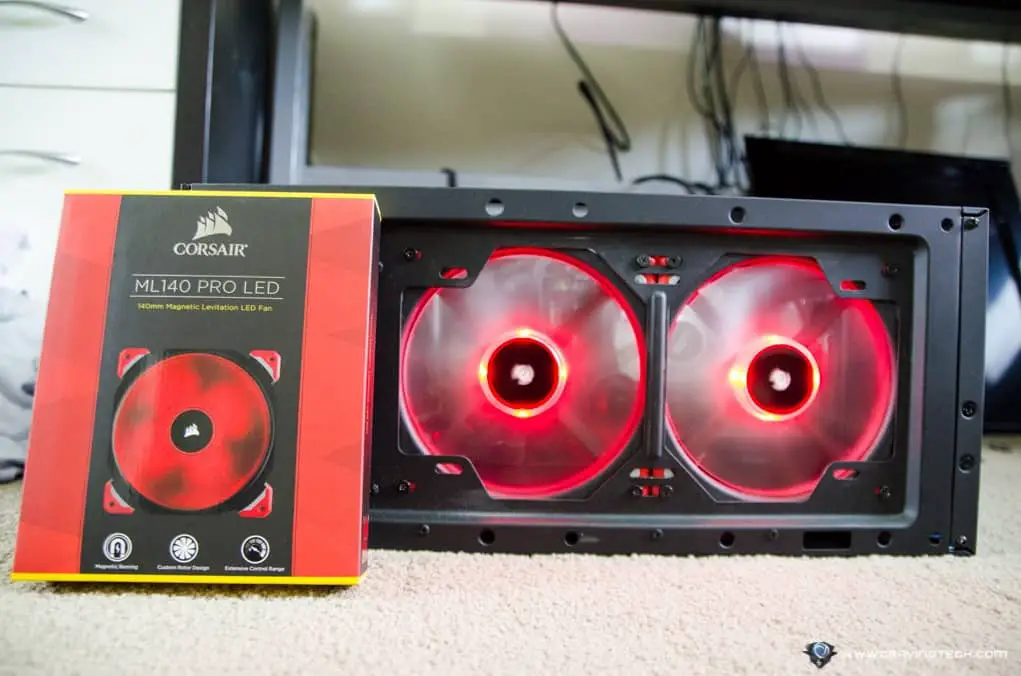 Disclosure: Samples were supplied for reviewing but all opinions are mine
[AMAZONPRODUCTS asin="B01G5I6QH6″]