Philips Hue Play Review – Philips Hue Play offers the ultimate entertaiment experience from Philips Hue range, at a good price range. The Hue White & Colour Ambiance Light Bar is designed specifically to enhance your TV or movie viewing experience.
Like the other Hue range, you can also select from a number of millions different colours, change the colour themes, and integrate them into your smart home setup.
The one I have here is the Philips Hue Play light bar double pack, containing 2 Hue Play light bars. You can just get a single light bar if you want, but trust me, just grab both.
Philips Hue Play Review – Packaging
Note that the Hue bridge is required so if you have not had any Hue setup at home, you need to purchase this separately. I only have one bridge but it can connect and handle numerous amounts of Philips Hue lights around my home (1st Gen light bulbs, 2nd Gen light bulbs, Lily Outdoor Spotlights, Lightstrips, and Hue Lamps.
Philips Hue Play Review – Installation
You can place the Hue Play in a variety of positions and locations. You can stick them at the back of your TV or PC monitor if you like, or lie them flat on the table, or vertically using the stand. All the necessary components (table stands, mounting supports) are included in the packaging so you can pick and choose.
I kind of like having the light bars to lie flat on the table, projecting lights onto the walls. The bar unit itself is slightly slanted to a nice angle that you can project the lights perfectly along the wall.
Philips Hue Play Review – Design & Features
The light bars are quite compact, flat, and don't take a lot of space. I set these up on my gaming/work area to be synced to my gaming monitor through Hue Sync. Even if you are not planning to use Hue Play on your TV or monitor, you can still use it like other Hue bulbs and lamps to create great room ambiance.
Once the Hue Play light bars are connected to the Hue Bridge, you'll have limitless potentials to create an aesthetically pleasing ambiance around the room they are in. You can set the colour and brightness with the Hue app, and more.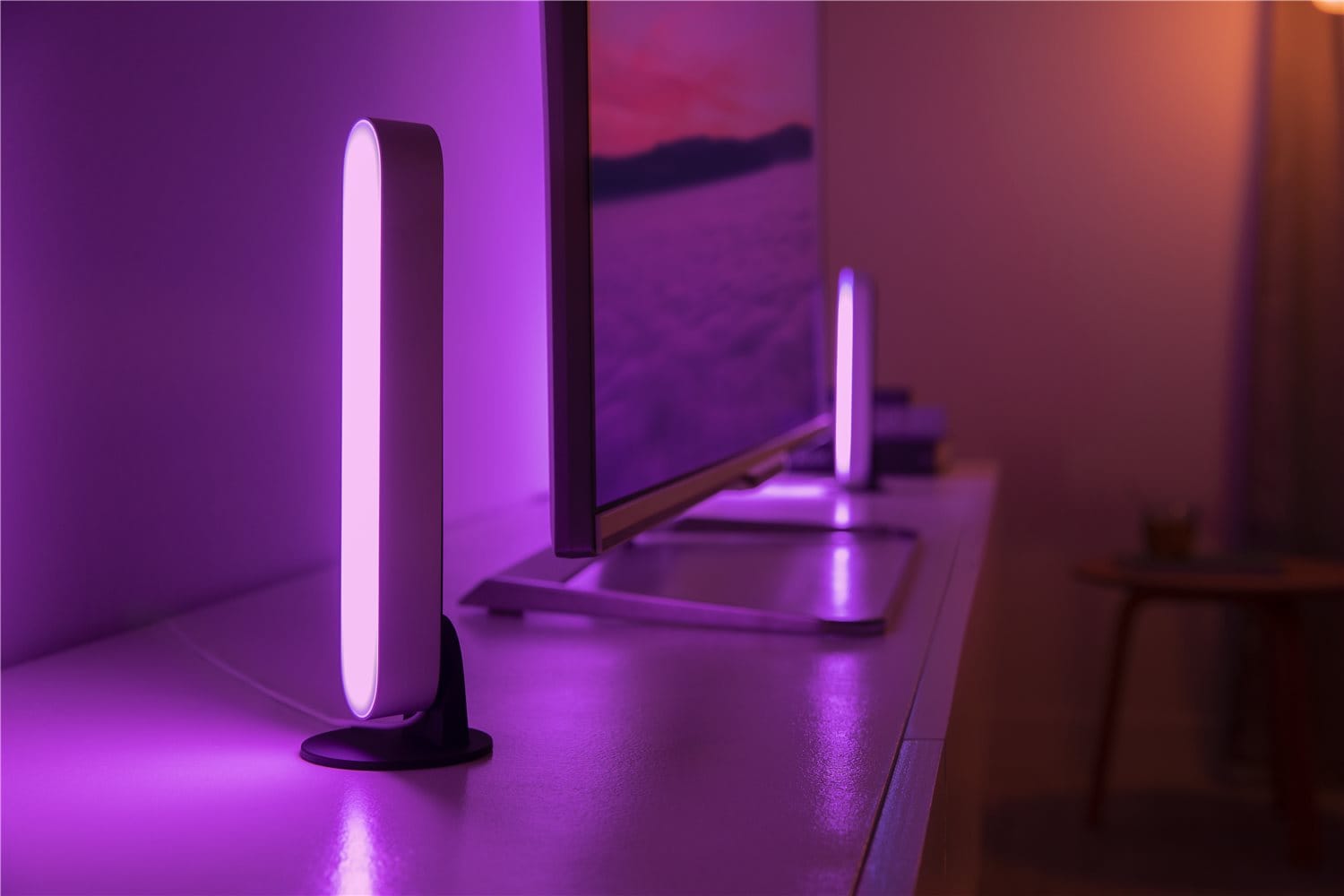 For example, you can set these light bars to turn on at a specific time every day (say, after Sunset), or as you are coming home. These lights can be set to deter thieves by turning them off and on with random intervals, and work great with your other smart devices through IFTTT, Razer Chroma, Amazon Alexa, Google Assistant, and Apple Siri.
Using Alexa on the Amazon Echo Show 5, or Google Assistant on the Google Nest Hub, or Siri from my iPhone XS Max, I can simply say "Turn Study On/Off" to turn these Hue Play light bars on and off. It only takes a second.
BUT!
You don't buy the Philips Hue Play for the smart light features alone. They can serve as a dynamic backlight for your television or monitor, matching what's on screen. This does not just enhance the viewing experience, but also better for your eyes – especially if you like to turn your lights off to watch movies or play games.
Hue Play will sync with movies, games, and music if you set it up correctly. The easiest way is to set it up next to your PC monitor and then install Hue Sync on Windows. The app will automatically detect what's on screen and sync the colour automatically to the Hue Play light bars. If you want these on the TV, unfortunately there is no plug and play method. You need to hook the TV up with a Windows laptop or desktop.
I've enjoyed the Hue Play in a variety of different ways: as an amazing room ambiance and also for a better entertainment experience while playing games and watching movies on the PC. You can also use Vivaldi browser and let the light bars sync to the colour of the site's theme you are on with its direct support to Philips Hue.
But a video speaks a thousand words, so here is a short video from YouTube, syncing with Hue Play:
Or a snippet from Blizzard Overwatch game:
Last weekend, a group of friends came over to my house and played Counterstrike:Global Offensive with the Hue Play on. There were plenty of praises and curiousity in finding out what these light bars were. The only "complain" they had was when an enemy flashbanged them and the screen turned to white, along with the Hue Play projections – creating a very bright light around the wall. To me, that's realism and immersion, but hey, each to their opinion.
While these light bars are cool, if you are looking for something tighter and can cover all edges of the screen, you might want to look at Lightpack 2 instead. Especially if you are planning to use it on a TV:
The Lightpack plugs directly to your TV's HDMI, so no PC is needed (also if you don't have a Philips Hue Bridge, the cost will end up to be similar with better results). However, Lightpack is not a smart light in a sense like Hue Play where you can have tons of integrations and setup to match with your smart home overall setup. So, your call.
Philips Hue Play Review – Conclusion
Philips Hue Play is one of the most interesting Hue products I've encountered. The Hue Lamp is fairly similar, but Hue Play design is more specific and tailored to be the perfect light projectors. Stick it at the back of the TV or monitor, use the stand, or just lie them flat on the table – the choice is yours.
The light bar has a nice, compact design that doesn't take much space. The light projections are bright and they sync fast with the Hue Sync Windows app.
Note that the screen synchronisation can only happen in a PC/Mac with Hue App installed. For the television, it can only be done if you connect your TV to a PC/Mac – which might turn some people off.
If you manage to set these up to sync with your screen, you'll get the ultimate viewing experience with Hue Play. But even if you don't, you can still get a great ambience for the room and these lights make it easier on the eyes when you switch your overhead lights off. But it might be worth going for other types of spotlights if you just want to get static backlighting at the back of your TV, unless you really like the Hue Play design and its smart home integrations.
Philips Hue Play has certainly enhanced the gaming experience around my desktop PC. Not only that, it has also enhanced the mood surrounding the study area, thanks to its integration with other Hue lights & smart devices around the house.
If you are already a fan of Hue lights and have some set up at home, it's a no brainer to recommend the Hue Play. The two-pack is priced at AU$179.95 at Amazon AU | Amazon U.S.
Disclosure: Philips Hue Play review samples were supplied for reviewing but all opinions are mine and not paid