Philips Hue Review – I never thought that I would ever wish to own a smart LED lightbulb which color I can change and control through my smartphone. It sounds like a novelty to me, a non-necessity to my life at home.
However, after using the Philips Hue Smart Lightbulb Starter Kit for a couple of weeks, I am now actually craving to have more. If you are a skeptical like me, I'm pretty certain once you have a few of them working in tandem at home, you'll find them irresistible.
Philips Hue Review – Packaging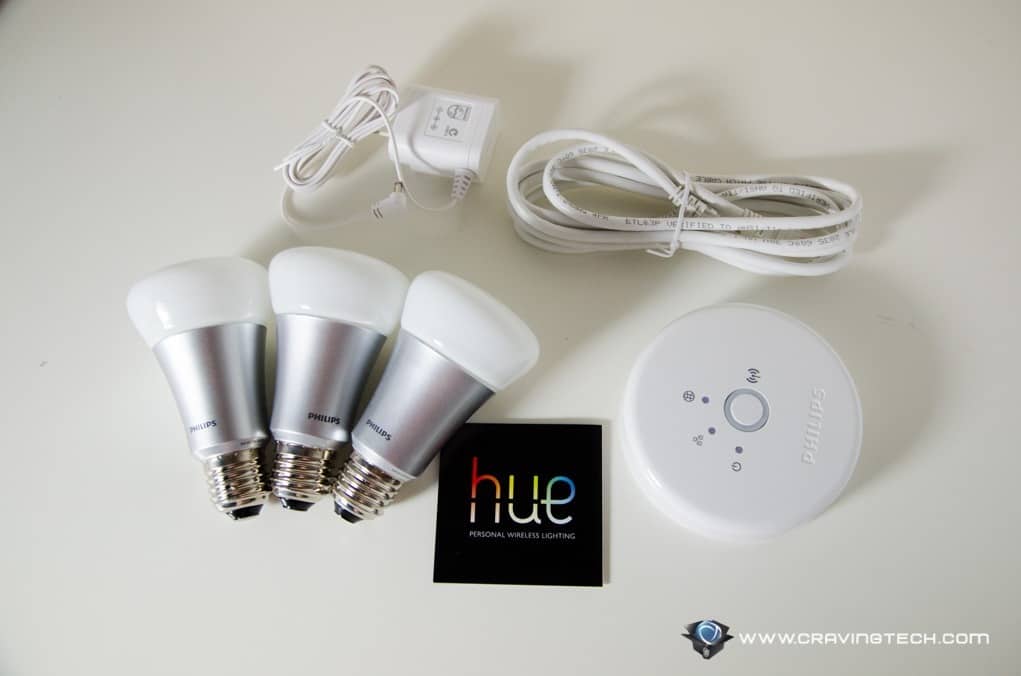 The Starter Kit includes 3 Philips Hue Smart Lightbulb with a bridge that you need to hook into your wireless router at home. This will enable controls to the lightbulbs through Wi-Fi and mobile data.
Philips Hue Review – Design & Features
Philips Hue Lightbulb is a 9W E27 Edison Screw Lightbulb that can deliver up to 600 lumens with 15,000 hours lifetime. According to the paper, Philips Hue uses 80% less electricity and longer lasting than a traditional lightbulb. It also supports up to 16 million colors that you can change easily with a simple tap.
Any Philips Hue products can be connected/paired to the wireless bridge so you can get more from the Hue products family in the future and get them in synergy. The process of pairing the products was very simple and straight forward (turn it on from the power & press a button on the bridge). Within just a minute or two, you can start playing around with scenes, colors, and more.
Everything is pretty much controlled by the Philips Hue app, which is available for free on iOS and Android. You can also access your favorite scenes as Widgets, allowing you to change scenes very quickly without having to unlock your iPhone.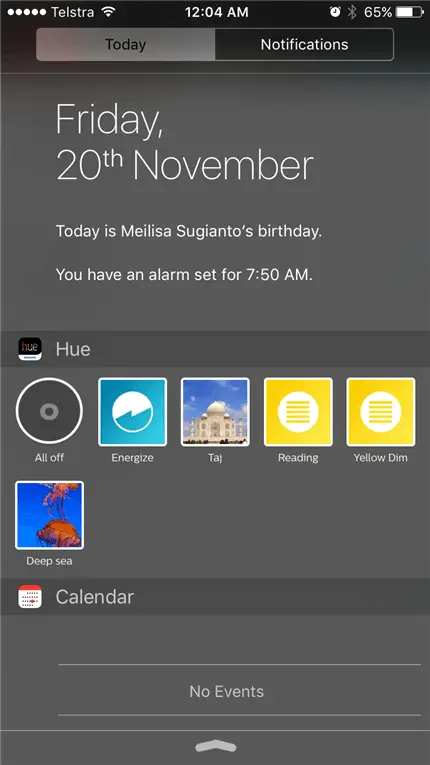 The Hue app is also used for:
Adding and pairing a new device in
Assigning colors (by picking from a picture you took or from a color map) and dimming
Setting scenes (like a group where you can assign different color to a different Hue unit, creating a scene)
Setting alarm & timers (to turn the lights on at certain time, for example).
Updating the Hue system (firmware update)
Geofencing settings (detects when you are in the vicinity and automatically turns the lights on) and more.
The scenes are the bread-and-butter of Philips Hue system. It allows you to quickly change from 1 setting (scene) to another with just a single tap. Browsing in front of the computer? Change all lights to bright white to concentrate. Reading books? Change them all to yellow (of multiple brightness, if you wish). Watching a Netflix movie? Dim them down. Note that you can mix colors as you see fit, allowing you to create great atmosphere and mood, no matter what activities you want to do in the house.
There are useful scene presets within the Hue app to start with, but there are tons of others from the online community. Many Hue third party apps are also available (both free and paid) that can give you more presets, access to some funky stuffs like candlelight effects, or even transform them to disco lights that listen to your music tune and change colors automatically – perfect for a home party.
The possibilities within the Hue community of users are pretty much endless – which is one of Philips Hue system strength points. The other is also flexibility – once you take advantage of IFTTT (IF This Then That).
Some cool & powerful examples you can do with IFTTT:
Blink your lights when you are about to reach home. Tell your kids that the boss is coming back with style!
Change a Hue lightbulb color to match the temperature outside (or a weather forecast – such as Blue if it's going to rain). No more app-checking every morning to check for the forecast.
Change a scene when someone replies your tweets, or mentions you on Facebook.
IFTTT supports many apps (and even the Belkin Wemo) so you can think of a good one to use at home (such as turning the lights on automatically every sunset). There are of course, limitations on the IFTTT itself that I wish can be addressed. For example, I can set my Hue lightbulbs to flash a few times when I have new emails. Unfortunately, I cannot set how long (or how many times they flash). In the end, they actually create a rather unpleasant experience in the room (especially if you get emails frequently!).
A ceiling or floor lamp, combined with this Fado lamp from IKEA, Philips Hue can definitely change the aesthetic of a room greatly.
Philips Hue Battery-less Wireless Switch
Philips innovation does not just stop here. A great complement to the Philips Hue system is this switch. It's wireless but most importantly, it is also battery-less. It is powered kinetically when you press a button on the switch, meaning you never have to worry about changing its battery. How cool is that? You can assign up to 4 scenes (including an "All Off") to the switch via the Hue app.
You can stick it onto a wall or just place it on a desk next to your bed.
Philips Hue Review Conclusion
Philips Hue changes the way I perceive smart LED lightbulbs. Sure, they are still a cool-to-have than a need-to-have thing, but they do make a difference once you have them in the house. With endless possibilities that set different mood and ambient to the room and house, you'll end up craving for more and more. I now have different presets that I use for taking review photos, playing games, watching movies, and a bit of reading before I go to bed each night.  It's addictive, especially combined with the other Philips Hue products like Hue Bloom and LightStrips. The new Bridge (not the one in this review) is also said to work with Apple Siri & HomeKit.
Philips Hue may be expensive to some and it's certainly not a necessity to have in the house, but when you have them, you will thoroughly enjoy setting them all up with scenes. At the right place with the right color, Philips Hue can convert an ordinary looking room to something special!
Disclosure: Sample was sponsored for the review but all opinions are mine
[AMAZONPRODUCTS asin="B014H2P4KW"]