Belkin WeMo Insight Switch Review – My daily morning chore involves having to iron a shirt that I would wear that day to work.
The other daily chore happens after, having to double check whether I have turned the iron off before I left to work. In fact, sometimes I had to walk back from my main door to my ironing board just to make sure that I have indeed turned the iron off.
This, ahem, frustration that goes on forever does not need to happen. Belkin WeMo Insight Switch offers a few smart solutions that I would never think possible.
The WeMo product range from Belkin focuses on Smart, Home Automation and all of them pretty are made to work in tandem, assuming you want to invest in Belkin's.
Belkin WeMo Insight Switch Review – Packaging
Belkin WeMo Insight Switch Review – Design, Setup, Features
The design is simplistic with a soft power button and LED color to indicate whether it is on or off (which can be seen quickly at a glance). Press it slightly with your finger to turn the power on and off the socket manually, like a regular socket. But that's boring, right? We'll come back to this later.
The WeMO Insight Switch plugs into one regular socket, though unfortunately due to the functionality it provides, actually takes 2 socket spots. A slight frown.
The setup initially requires you to switch between your home and the unit's Wi-Fi access point to access. Later, it can be hooked up to your Wi-Fi network so you never need to do this process again.
Should you enable "Remote Access" (and I recommend you to), you can have access to the smart socket anywhere through your smartphone, as long as you have an internet connection [i.e 3G/4G]. This is one of the things I love about the WeMo Insight Switch.
You're unsure whether you have left your iron or heater on at home? Just open the WeMo app and check. Then turn it off remotely.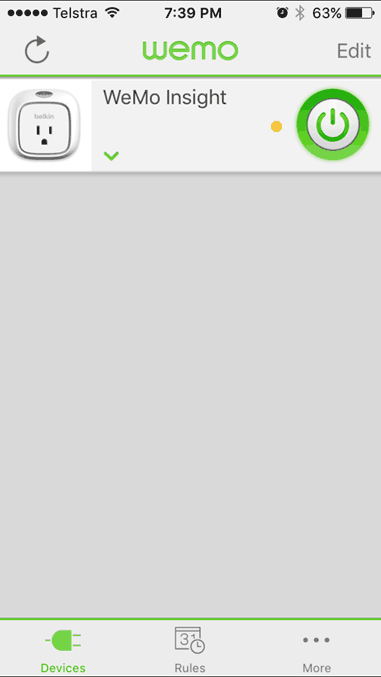 If you still think that it's not good enough and not cool enough, Belkin WeMo Insight Switch can actually do so much more.
Set rules up using Belkin WeMo app so it can dynamically adjust and turn itself on or off, based on rules and events you have set on the device. The simplest one would be a timer to turn the socket off after a period of time. Or at Sunset.
Still not good enough? How about linking it to the popular service IFTT ("IF This Then That") to have access to even more powerful and crazier sets of rules?
Some examples:
Set the plug to off while you are at work (i.e every weekdays from 9-5:30 p.m). This will prevent any accidents from happening while you are away.
Set your table lamp plugged into the socket to be turned on and off at different, random intervals. It tricks thieves into thinking that someone is home even when you are actually miles away on a holiday.
Send a notification to your phone when your kids are up and playing even if they are not supposed to (assuming they don't know that you'll get such notifications).

Turn the heater on as soon as you reach home (based on your location, through your smartphone). Similarly, once it detects that you are not home any longer, turn the switch off automatically – which covers my anxiety attack on the iron catastrophe earlier.
And many more possibilities. You can browse and grab IFTTT recipes that are available publicly to find out what you can do with a WeMo switch. Or specifically for the WeMo Insight switch.
Now, the rules can only work if you have the right appliances. For example, if you own a conventional heater with a rotary dial to turn it on/off, setting the WeMo Insight Switch socket on will turn the heater on. However for appliances that require you to press another button to turn it on such as my Dyson Hot & Cool or Dyson Humidifier, these tricks won't work.
Belkin WeMo Switch vs WeMo Insight Switch
Belkin WeMo Insight Switch also has a sensor (or monitor) to measure and calculate the power that goes through the switch (similar to the good old Belkin Conserve Insight I reviewed years back). It is handy if you want to know how much power an appliance consumes and how much will it cost you.
But more importantly, you can use IFTTT recipes that take advantage of it. For example, how about turning your heater off automatically after its energy costs more than $x in a day (to save you from an electricity bill shock)? Or do calculations on a Google Spreadsheet and turn it off once you've reached your daily budget for leisure? The possibilities are.. endless.
Belkin WeMo Insight Switch Review
Belkin WeMo Insight Switch is not just smart, it's crazy powerful. How smart can it be is as good as your creativity goes. If you are not feeling creative, don't worry, because IFTTT recipes can be downloaded publicly so you can search and find the ones you like or need.
The WeMo Insight Switch adds an ability to further customise what you can do with it based on power and running cost. This brings it ahead from the other competitors product offering a similar smart power socket.
Disclosure: Review sample was sponsored but all opinions are mine
[AMAZONPRODUCTS asin="B00EOEDJ9W"]